Golf is one of the oldest sports in the world, having been played for centuries. Over the years, it has grown immensely in popularity and even today, continues to be one of the most popular sports across many countries. US golf industry statistics have shown a consistent growth over the past number of years.
In recent years, there has been a massive surge in interest in golf, both as a leisure activity and as a competitive sport. This increase in popularity has led to an incredible growth in the size and scope of the golf industry globally.
Global Growth Statistics
Over the years, the annual global revenue from golf-related activities has risen dramatically. According to Statista, the total estimated value of golf worldwide was estimated at $11.5 billion U.S dollars in 2018 Source.
It is expected that this figure will continue to grow over time due to increased interest in golfing among younger generations who are actively engaging with this sport thanks to social media and new technologies.
Overall, it is estimated that the annual revenue from the global golf industry will reach $56 billion U.S dollars by 2030 (Statista). The United States alone accounts for an estimated $40 billion of this number, while Europe and Asia are expected to bring in a combined $7 billion.
Growth Drivers
The popularity of golf is encouraged by several factors such as television coverage, sponsorships from major international brands, increasing travel opportunities and access to courses, besides country clubs, on an international level Source.
These factors have allowed more people across all continents to participate more frequently and effectively contribute to economic growth through transactions related to quality goods, services and facilities related with playing golf.
In addition to these factors, the introduction of new technology in both golf clubs and apparel has created a new wave of interest by young consumers.
This dynamic is expected to positively impact the growth of the global golf market over the next five years.
The industry has also witnessed the development of a new, hybrid form of golf: Speedgolf. Speedgolf participants are encouraged to complete a round in less than an hour. The sport is gaining popularity due to its fast pace and competitive elements.
Future Prospects
The future looks promising for the Golf Industry given its steadily increasing popularity among different types of audiences around the globe.
According to estimates provided by Technavio, the golf tourism market is set to grow by USD 41.04 billion, progressing at a CAGR of 17.83% from 2020 to 2025. The demand for golf is expected to increase due to the increasing popularity of the sport in developing countries and the introduction of new technologies.
The U.S. and China are expected to be the key countries with a large number of golf courses in the coming years. The growing popularity of golf among middle-class families is also expected to boost the industry's prospects over the next eight years.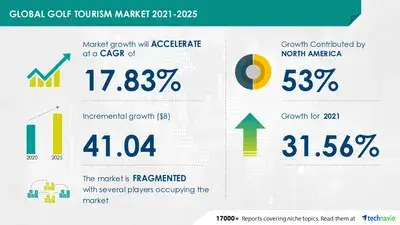 FAQs
What is driving growth in the golf industry?
Several factors such as television coverage, sponsorships from major international brands, increasing travel opportunities and access to golf courses, and the growing popularity of golf among middle-class families are expected to boost the industry s prospects over the next eight years.
What are the challenges in this market?
The high initial investment required to set up a golf course is one of the major factors restraining growth in the market.
How many people play golf globally?
According to the World Golf Foundation, there are an estimated 60 million people who play golf worldwide. This number includes recreational golfers and professional players, both men and female golfers.
The majority of the world's golfers live in North America, Europe, and Asia-Pacific regions. In North America alone there are approximately 24 million golfers, while Europe boasts 15 million and Asia-Pacific has 21 million.
The remaining players come from other parts of the world such as South America, Africa, and the Middle East. Golf is a sport that continues to grow in popularity around the world, with new courses being built each year to meet demand.
As more countries become exposed to the game through media coverage and international tournaments, it's likely that this number will continue to rise in the coming years.
Conclusion
The golf industry has seen tremendous growth in the past 10 years, becoming increasingly more accessible and popular to golf enthusiasts.
From advancements in technology to new courses being built and the introduction of fun activities such as Topgolf, the game of golf has never been more enjoyable or easier to learn. As a result, all demographics are enjoying the sport, making the golf industry even more dynamic and profitable with an increase in rounds played.
As technology advances, so does the golf industry as new golf equipment is developed to improve game playability. For those interested in getting involved in the game of golf, it offers great opportunities for career growth and investment opportunities.
Thank you for visiting, and we hope to see you back soon!