The Evolution of Golf: From Past to Present
Throughout history, golf has evolved from a simple game played with a stick and ball to a highly competitive sport embraced by millions around the world. One significant development in the evolution of golf was the invention of the gutta-percha ball in the mid-19th century.
This new type of ball replaced the featherie, which was made from leather and stuffed with feathers. The gutta-percha ball allowed players to achieve greater distance with their shots, revolutionizing the game.
Another pivotal moment in golf's evolution came in 1934 with the establishment of The Masters tournament. Considered one of golf's most prestigious events, The Masters introduced an entirely new level of competition and glamour to the sport.
Through its rich traditions and pristine course at Augusta National Golf Club, this tournament became highly sought after by both players and fans alike, cementing its place among golf's greatest moments.
From ancient roots to modern-day tournaments like The Masters, golf has truly stood the test of time. As we look back on its evolution from past to present, it becomes clear that this game has not only shaped our sporting history but also captured our imaginations along the way.
Though not nearly an exhaustive list of historical golf moments, here are our choices for some of the most memorable moments in golf.
The Birth of the Masters Tournament
The birth of the Masters Tournament in 1934 marked a significant moment in the history of golf. Conceived by golfing legend Bobby Jones and investment banker Clifford Roberts, this tournament was unlike anything seen before. Taking place at Augusta National Golf Club in Georgia, the event promised to bring together both amateurs and professionals for an unparalleled competition.
One of the most notable aspects of the Masters Tournament was its air of exclusivity. Unlike other tournaments at the time, which were open to anyone who paid an entry fee, the Masters had a strict invitation-only policy.
This added an aura of prestige that contributed to its appeal. The course itself played a part in creating this allure - with its picturesque landscapes and challenging holes, Augusta became synonymous with excellence in golf.
The Masters quickly gained recognition as one of the premier events on the PGA Tour calendar. Its rich history is filled with iconic moments that have shaped not only the golfer's legacies but also ignited fans' passion for this sport.
This tournament has become a symbol of sportsmanship and tradition in golf, embodying all that is revered about this timeless game. It continues to captivate audiences around the world each year, reminding us why it holds such a special place in our hearts.
Tiger Woods' Historic Win at the 1997 Masters
Tiger Woods' victory at the 1997 Masters is widely regarded as one of the most iconic moments in golf history. At just 21 years old, he became the youngest player to ever win the tournament and don the Green Jacket and did so by a record-breaking margin of 12 strokes.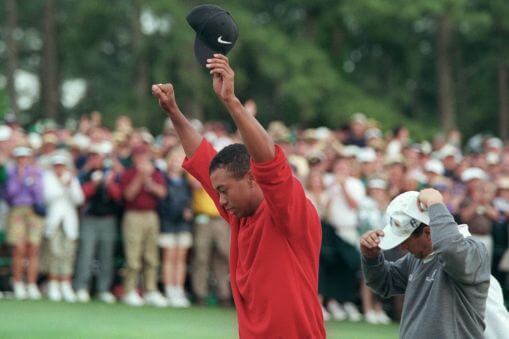 It was a performance that transcended golf, captivating audiences around the world and forever changing the perception of what was possible on the course. I remember being glued to my TV set during the final round waiting to see what the record-breaking score would be. When the ball dropped in at the final hole, we all knew golf would never be the same.
What made Woods' triumph even more remarkable was not just his skillful mastery of Augusta National Golf Club, but also its larger significance for breaking barriers in a traditionally exclusive sport. As an African-American/Asian golfer, Tiger Woods faced skepticism and discrimination throughout his career, but his undeniable talent helped him shatter those limitations.
His dominant performance at the 1997 Masters represented a defining moment for diversity in golf, paving the way for future generations of players from all backgrounds to compete at the highest level.
Beyond its symbolic impact on race relations within the sport, Tiger Woods' historic win also marked a turning point in how golf would be played going forward. His long drives and precision shots revolutionized the game while ushering in an era defined by athleticism and power.
With this incredible performance at such a young age, Woods announced himself as not only a prodigious talent but also as a force that would dominate golf for years to come. The 1997 Masters may have been just one tournament, but it set off shockwaves that continue to reverberate throughout both professional play and popular culture today.
Jack Nicklaus' Record-Breaking 18 Major Victories
Jack Nicklaus, known as the Golden Bear, is undeniably one of the greatest golfers all-time to ever grace the sport. With an impressive career spanning over three decades, Nicklaus achieved a record-breaking 18 major victories, a feat that still stands unmatched. What makes this achievement even more remarkable is how he managed to triumph in different eras of golf, against tough competitors like Arnold Palmer and Gary Player.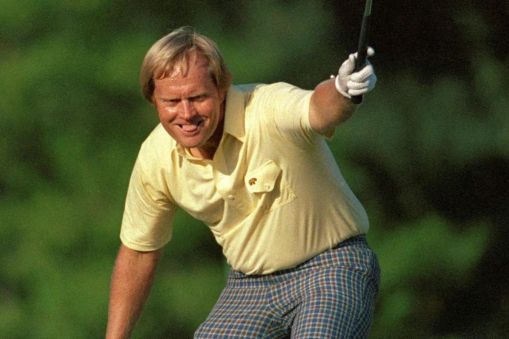 Nicklaus' ability to adapt his game to different conditions and courses played a significant role in his success. He possessed an uncanny understanding of his strengths and weaknesses, allowing him to strategize efficiently and navigate challenges with ease. His remarkable consistency across these 18 majors showcased not only his immense talent but also his relentless dedication to honing his skills.
Furthermore, Nicklaus had an astute mindset that was crucial in propelling him towards greatness. He remained focused under pressure, displaying extraordinary resilience when things didn't go as planned on the course. This mental fortitude enabled him to clinch victories from seemingly impossible positions, making every victory even more awe-inspiring.
One of his greatest achievements was the incredible birdie putt on the 17th hole during the final round of the 1986 Masters, which helped him win his sixth green jacket at the age of 46.
Overall, Jack Nicklaus' 18 major victories solidified his status as a golfing legend. Not only did he dominate multiple eras of the sport but also left an indelible mark on golf history that will forever be remembered as one of its greatest achievements.
The Miracle at Medinah: Europe's Ryder Cup Triumph
The Miracle at Medinah remains one of the most unforgettable moments in Ryder Cup history. The 2012 tournament, held at the Medinah Country Club in Illinois, saw Europe execute a remarkable comeback to claim victory against all odds. Trailing by four points heading into the singles matches on the final day, Europe needed nothing short of a miracle to secure the cup. And miraculously, they delivered.
Individual heroics played a crucial role in Europe's triumph. Ian Poulter emerged as the talisman for Team Europe, winning all four of his matches throughout the competition and igniting his team's spirits with his fiery determination.
Equally astonishing was Martin Kaymer's contribution in securing the deciding point for Europe with an incredible putt on the 18th green. The significance of these individual performances cannot be overlooked – it was their collective resilience and unwavering belief that propelled Team Europe to overcome seemingly insurmountable odds and etch their names into golfing folklore.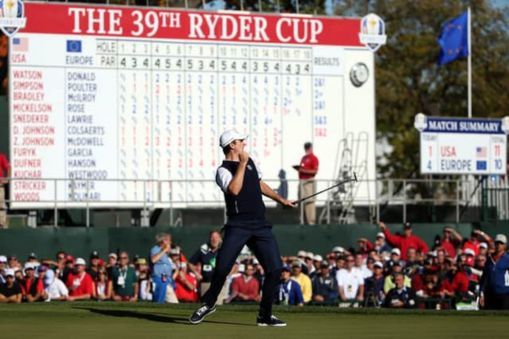 The Miracle at Medinah represents more than just a spectacular comeback; it epitomizes what makes the Ryder Cup so captivating and revered among sports fans worldwide: intense passion fueled by national pride intertwining with raw talent under immense pressure.
It highlights how this unique tournament can transcend individual achievements to become an unforgettable collective endeavor where legends are made and emotions run wild. This historic event will forever serve as a reminder that no matter how bleak things may seem on paper, anything is possible when golfers come together with a common goal.
The Ryder Cup, a biennial competition between the best golfers from Europe and the United States, is unlike any other tournament in the sport. It brings together players who are accustomed to competing against each other as rivals on tour and challenges them to form a cohesive team representing their respective continents.
Annika Sorenstam's Groundbreaking Performance in 2003
In 2003, Annika Sorenstam played in the Bank of America Colonial tournament, becoming the first woman in over half a century to join the field of a PGA Tour event.
Heading into the tournament, Sorenstam was at the peak of her profession and a dominating force on the LPGA Tour, having won 11 times in the previous year and finishing in the top-10 in 20 out of 23 starts. Sorenstam broke her own scoring average record of 69.42 set in 2001 with a new record of 68.70, which remains the best in LPGA history.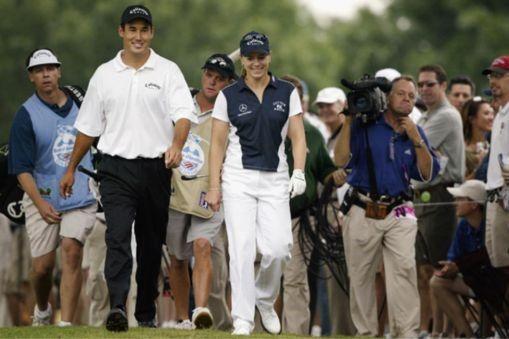 Sorenstam missed the cut at the Colonial, but her appearance was widely regarded as a groundbreaking moment for women's golf and a testament to her courage and skill as an athlete. The event generated significant media attention and controversy, with some male golfers expressing skepticism about Sorenstam's ability to compete at the highest level.
Despite the criticism, Sorenstam inspired many women and junior golfers, including Brittany Lincicome, who followed in her footsteps 15 years later. Sorenstam went on to win the next two tournaments she played on the LPGA Tour and captured six more Major Championships before retiring with 72 career wins in 2008.
Gene Sarazen's "Shot Heard Around the World"
Gene Sarazen's "shot heard round the world" at the 1935 Augusta National Invitation Tournament is one of the most memorable moments in golf history. During the final round of the tournament, Sarazen hit a double eagle on the 15th hole, which tied him with Craig Wood and forced a 36-hole playoff.
The shot was made with a 4-wood from 235 yards out on the par-5 hole, which was then 485 yards long. The shot was referred to as the "shot heard round the world" and is still remembered today as one of the greatest shots in golf history.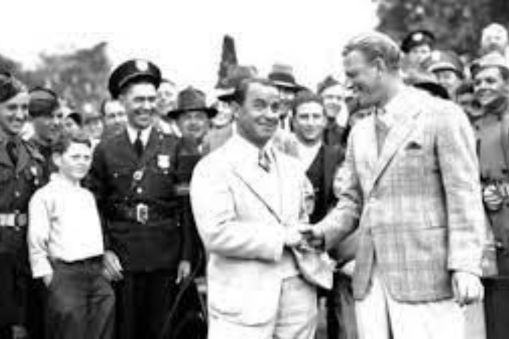 Sarazen went on to win the tournament in the playoff, cementing his place in golf history. The shot was so significant that Augusta National commemorated the 20th anniversary of the shot by building the Sarazen Bridge by the 15th green. The shot helped put the Masters on the map and inspired generations of golfers to come.
Conclusion
The sport of golf has given us countless incredible moments that will be remembered for generations to come. From Tiger Woods' miraculous chip at the 2005 Masters to Jack Nicklaus' stunning comeback victory at the 1986 Masters, the thrilling Ryder Cup matches and the intense battles for major championships have given fans around the world a reason to celebrate.
These moments have captivated audiences and left us in awe of the skill and determination displayed by these athletes. Whether it's a long putt sinking into the hole or a perfectly executed tee shot, these moments remind us why we love this game so much. So next time you step onto the golf course, remember that you too have the potential to create your own unforgettable moment in this timeless sport.
FAQ's - Celebrating Golf's Unforgettable Moments
Q: What are some of the greatest moments in golf?
A: Some of the greatest moments in golf include Tiger Woods winning his first major, Jack Nicklaus' career grand slam, and the clutch performances by Tom Watson in major tournaments.
Q: What is a birdie in golf?
A: A birdie in golf is a score of one under par on a hole. It means that a golfer has completed a hole in one stroke less than the designated par for that hole.
A: Jack Nicklaus is considered one of the greatest golfers of all time. He has won a total of 18 major championships, the most in golf history.
A: Tiger Woods is one of the most successful professional golfers in history. He has won 15 major championships and is known for his dominance in the late 1990s and early 2000s.
Q: What is The Masters Tournament?
A: The Masters Tournament is one of the four major championships in professional golf. It takes place annually at the Augusta National Golf Club in Georgia, United States.
Q: What is a playoff in golf?
A: A playoff in golf occurs when two or more golfers finish a tournament or round with the same score. They then compete in an additional game or series of holes to determine the winner.
Q: What is considered the greatest shot in golf?
A: The greatest shot in golf is subjective and varies among golf enthusiasts. However, notable shots include Jack Nicklaus' 1-iron at the 1962 U.S. Open and Tiger Woods' chip-in on the 16th hole at the 2005 Masters.
Q: What is the PGA Championship?
A: The PGA Championship is one of the four major championships in professional golf. It is conducted by the Professional Golfers' Association of America and is known for attracting top players from around the world.
Q: What is the Open Championship?
A: The Open Championship, also referred to as the British Open, is the oldest of the four major championships in professional golf. It takes place annually in the United Kingdom.
Q: What is a tee in golf?
A: In golf, a tee refers to a small peg or wooden/plastic device upon which the golf ball is placed at the beginning of each hole. It is typically made of plastic or wood and allows for a higher launch of the ball.
Thank you for visiting, and we hope to see you back soon!