Note: We use affiliate links and may receive a small commission on purchases at no additional cost to you.
Golf is a game that's close to my heart, but sometimes I'm physically unable to make it to a course. In those situations, I will watch TV to see PGA Tour pros on television, look at YouTube videos on golf lessons and golf course design, or one of my favorite pastimes, reading a book or listening to an audio book about golf history and it's legends.
Some of the very best golfers to compete in the world of golf along with several truly fine writers have taken to writing and sharing their knowledge of years of experience. There are those that just have an educational flavor to them while others simply tell great stories.
If you want to elevate your game or find yourself traveling a lot or not able to get to the course but still feel the need to indulge in golf in some way a great book is one of the best golf accessories you can purchase.
There are many golf books on the market written by a variety of authors. So, how do you know which ones are the best? We don't know which is the highest selling golf book but here are ten of the best golf books that you should consider reading if you want to improve your game.
Whether you're looking for instruction, inspiration, or just entertainment, these books are sure to please.
How We Choose
We've done the research to provide you with options to help you choose the one that best fits your needs. Some we've read, some on our reading list. Our experts have read through the reviews to find the ones that offer quality, value, and convenience. We only recommend products that have 4 or 5 stars and are backed by real customer reviews.
When ordering a book, make sure that it is the type you want, i.e, paperback, hardback or audio. The books below come in either format where available.
1. Little Red Book by Harvey Penick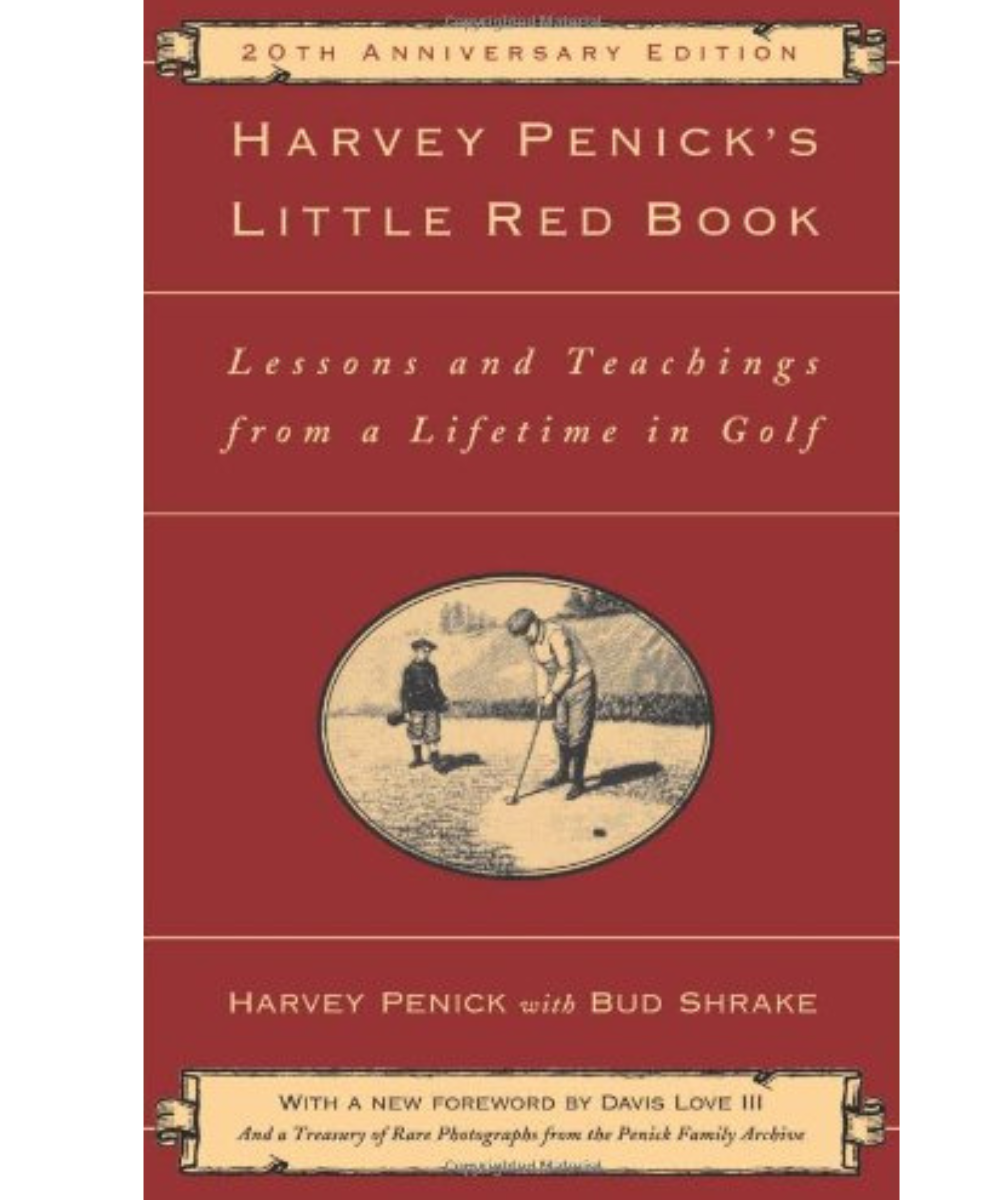 Harvey Penick's Little Red Book
The Twentieth Anniversary Edition of This Classic Work
Check Price On Amazon
This edition of a classic bestseller is celebrating the twentieth anniversary of popularity of a book regarded as the golfer's equivalent to The Elements of Style (New York Times).
With a new introduction by an illustrious golfer including twenty new illustrations, and materials not seen or published before from the Penick family archives are included.
Circa the late 1890s, legendary golf teacher Harvey Penick began caddying in Austin, Texas. Penick's entertaining teaching style and knack of working with many different golf professionals helped him develop a reputation as the "Socrates of the golfing world", a moniker shared by no other teacher.
This classic book, which is named for the red notebook Penick always used, gets rid of the highly technical jargon dominating todays' golf swing teaching and permits all golfers, regardless of ability level, to play their best. Harvey Penick association with the Austin Country Club spanned 82 years.
2. 5 Lessons by Ben Hogan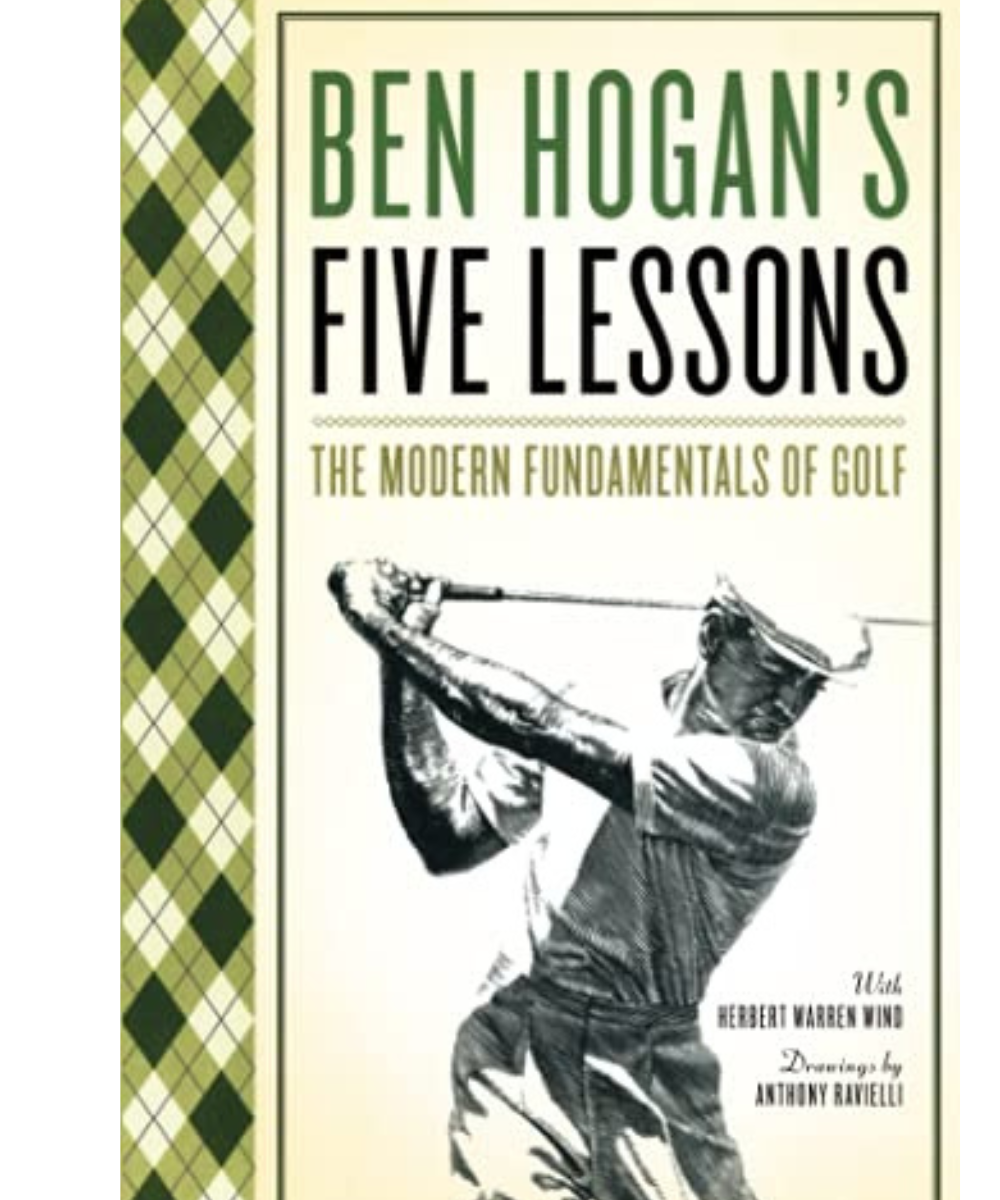 Ben Hogan's Five Lessons
A Timeless Classic With Nearly One Million Copies In Print
This is yet another classic golf book that will allow you to enhance your game by teaching you about how you can correctly eliminate errors in your game.
It is a short read that provides you with instructions on how to repair your golf swing faults, and it will offer you a variety of valuable options for repetitive training.
If there were any player you would like to learn the golf swing with, it would be Ben Hogan, still regarded by many as the greatest ball striker of all time. Ask Jack Nicklaus who he thinks is the greatest swinger ever, and he'll tell you it is Hogan.
The nine-time major winner believed that any golfer could break 80. The Five Lessons breaks the swing down into five parts – grip, stance, backswing, downswing and the swing process.
3. Golf My Way by Jack Nicklaus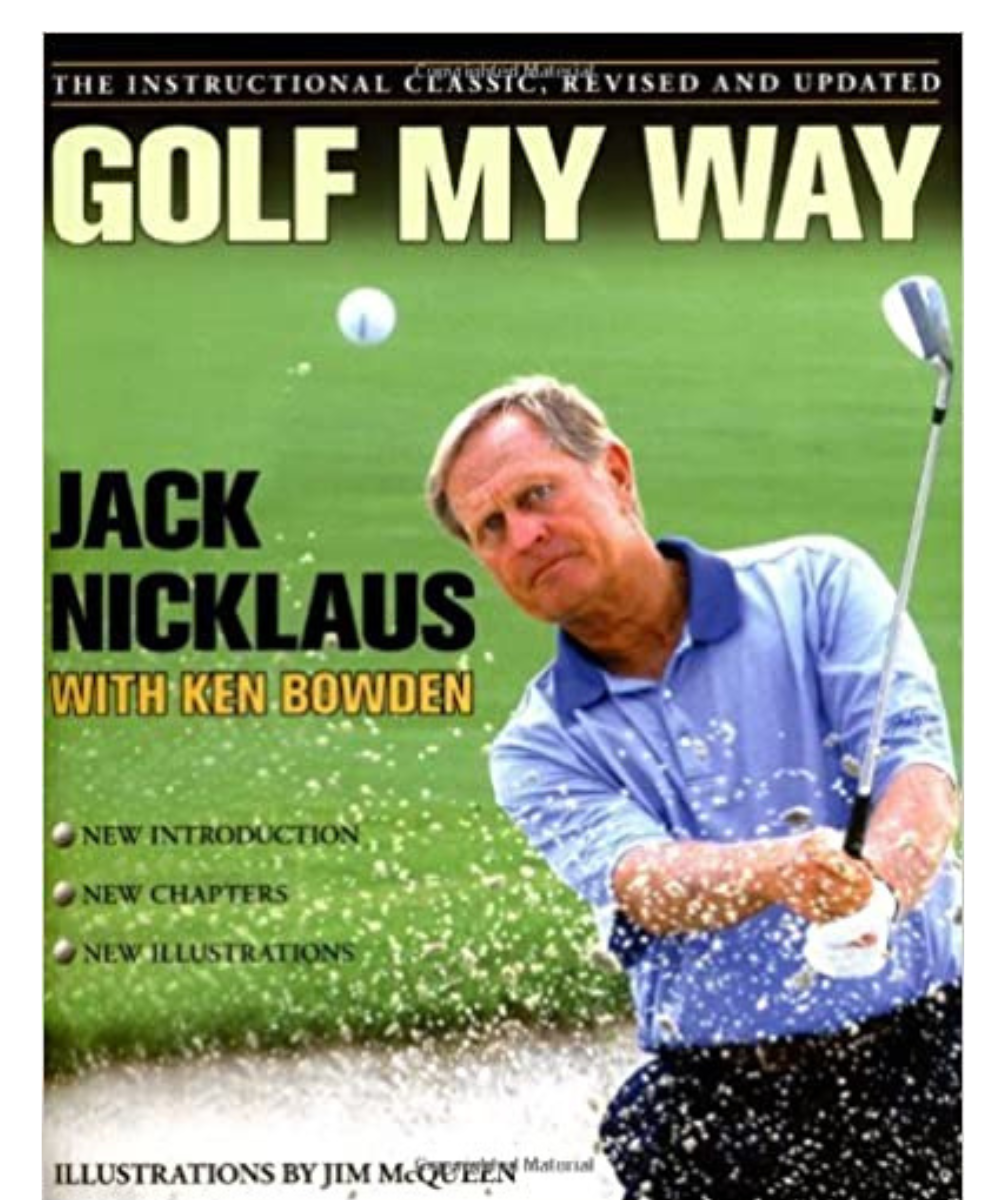 Golf My Way by Jack Nicklaus
Golf My Way: The Instructional Classic, Revised and Updated
Check Price On Amazon
People who are interested in golf will find this book to be a helpful reminder of how Jack Nicklaus became the world's greatest golf player. It reveals the way he sustained himself through failure to reach his goals, and it teaches you some of the things that he did to become the best at what he does.
4. "Golf is Not a Game of Perfect"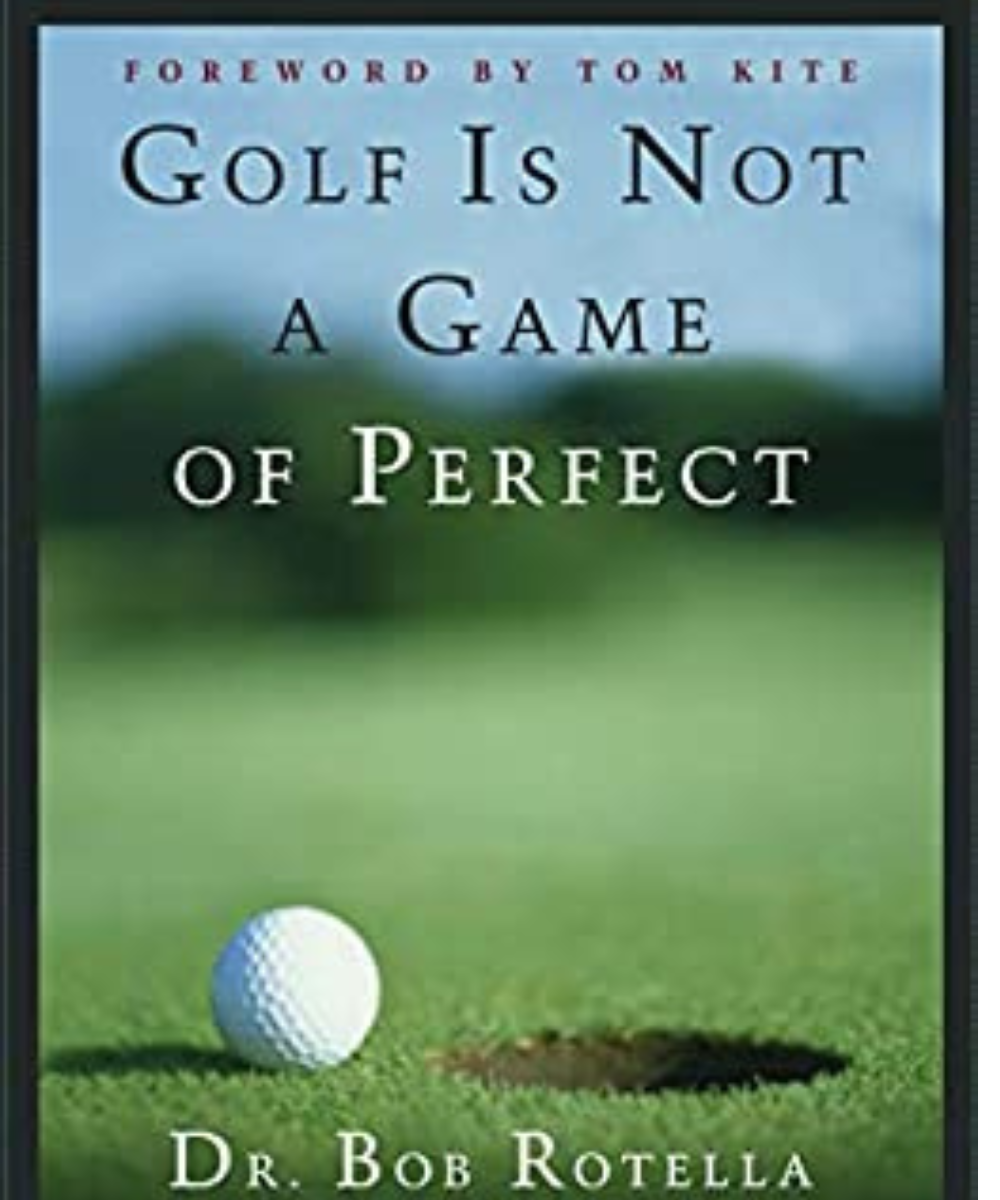 Golf Is Not A Game Of Perfect
This Book Is Considered A Classic In Golfing Literature
Check Price On Amazon
Dr. Bob Rotella has provided mental and psychological guidance to some of the most prominent athletes in the game, including Tiger Woods and Phil Mickelson. In this book, he outlines the philosophy he uses to approach golf and shares his advice on everything from mental preparation to shot selection.
5. The Inner Game of Golf by W. Timothy Gallwey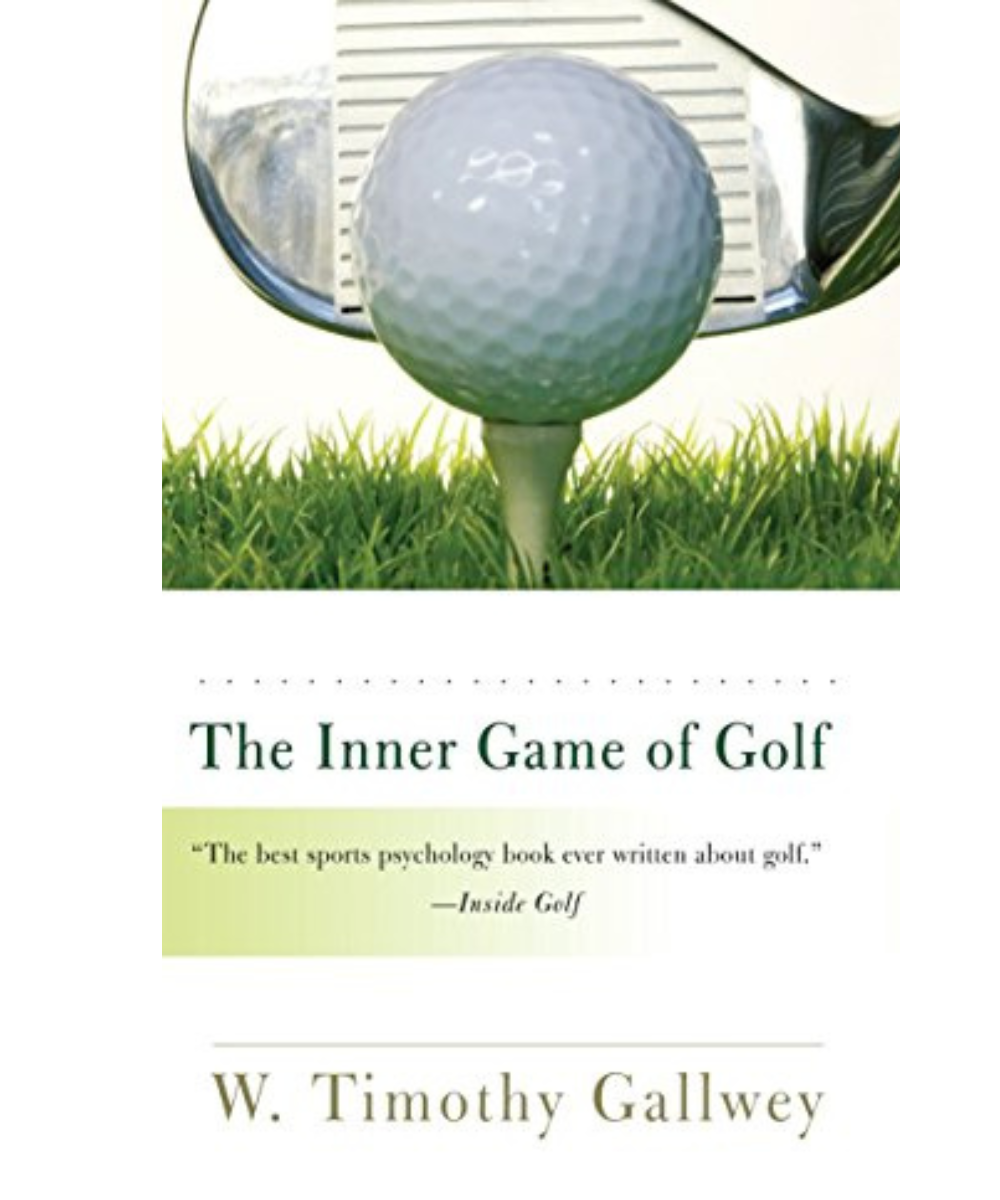 The Inner Game of Golf
"The best sports psychology book ever written about golf."—Inside Golf
Check Price On Mazon
This book is about mastering the psychological challenges associated with playing golf. It will help you overcome all of the hurdles that come with competitive play, and it will teach you to stay calm and composed when something goes wrong.
6. Butch Harmon's Playing Lessons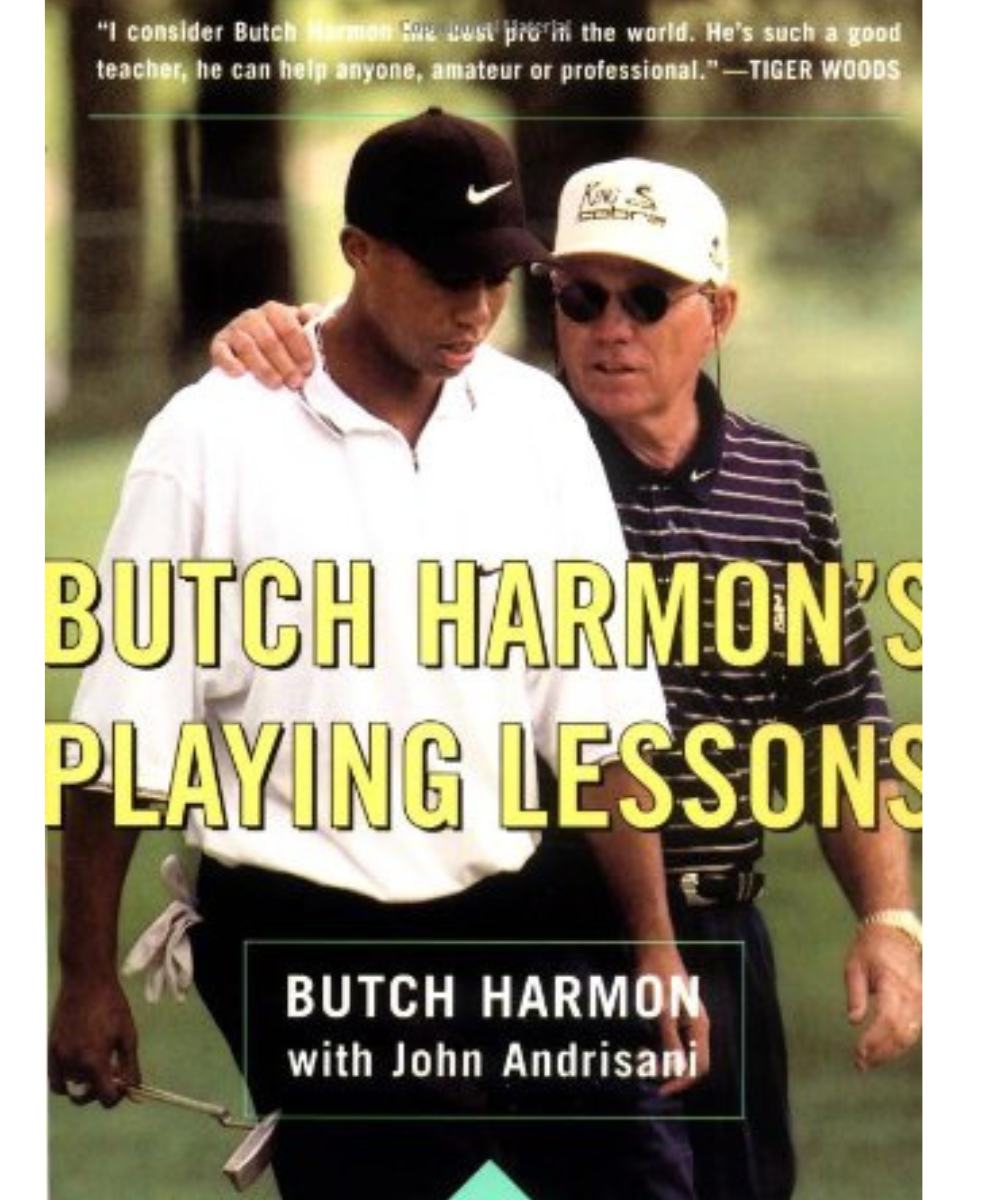 Butch Harmon's Playing Lessons
Presenting Strategies For Golfers oF All Levels
Check Price On Amazon
This book will teach you how to improve your game to help you increase your performance. It is written by a professional golf instructor who has worked with some of the best championship players in the world and deals with the game's mental aspects.
7. How I Play Golf by Tiger Woods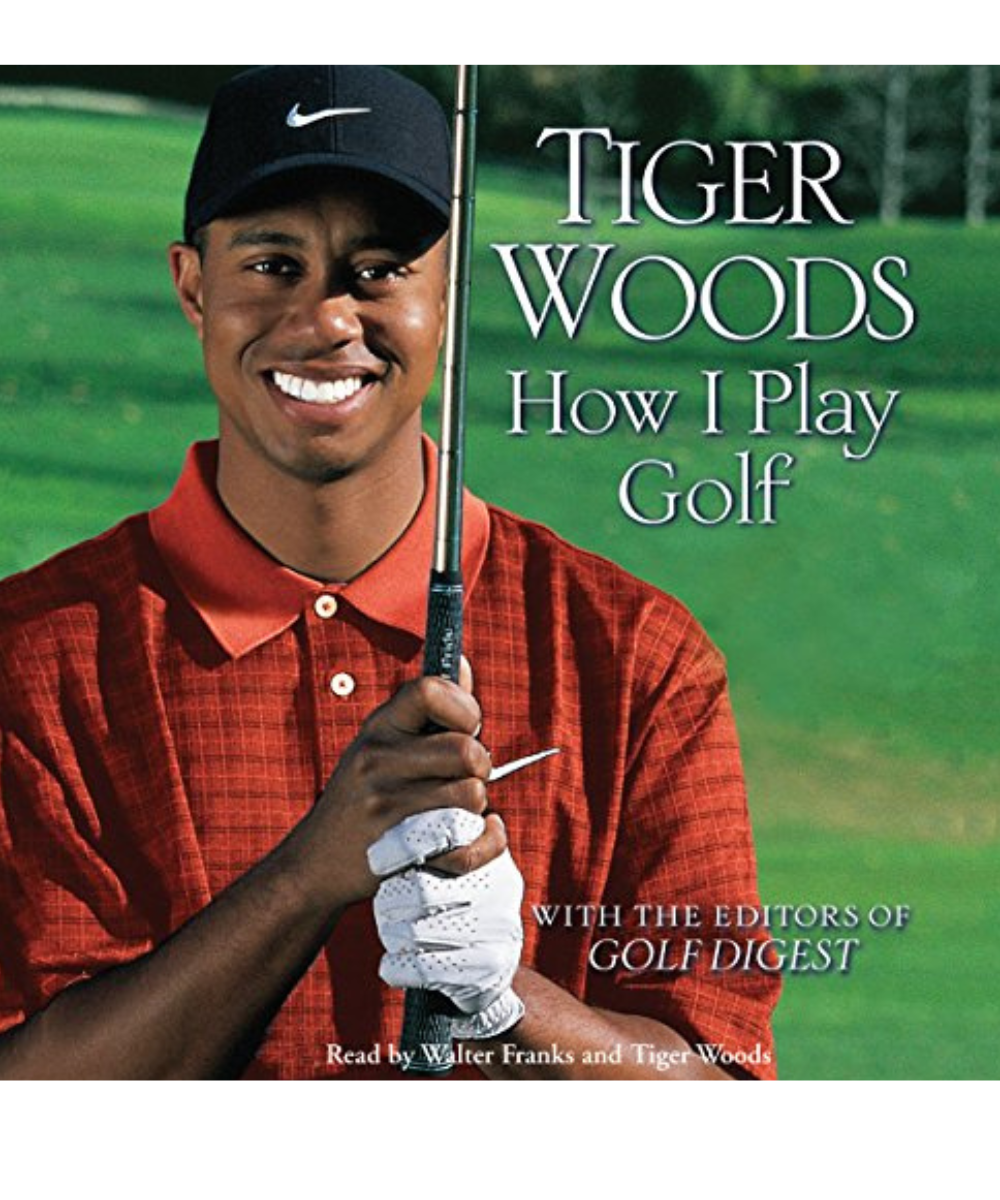 How I Play Golf by Tiger Woods
Tiger Woods Reveals The Five Secrets To His Amazing Success
Check Price On Amazon
Mega Champion Tiger Woods is for the first time revealing his five secrets to the amazing success he has experienced as a golfer. It is a combination of physical, metaphysical and psychological practices he has used throughout his career to keep his game in tip top shape.
8. Phil Michelson The Rip-Roaring (and Unauthorized!) Biography of Golf's Most Colorful Superstar by Alan Shipnuck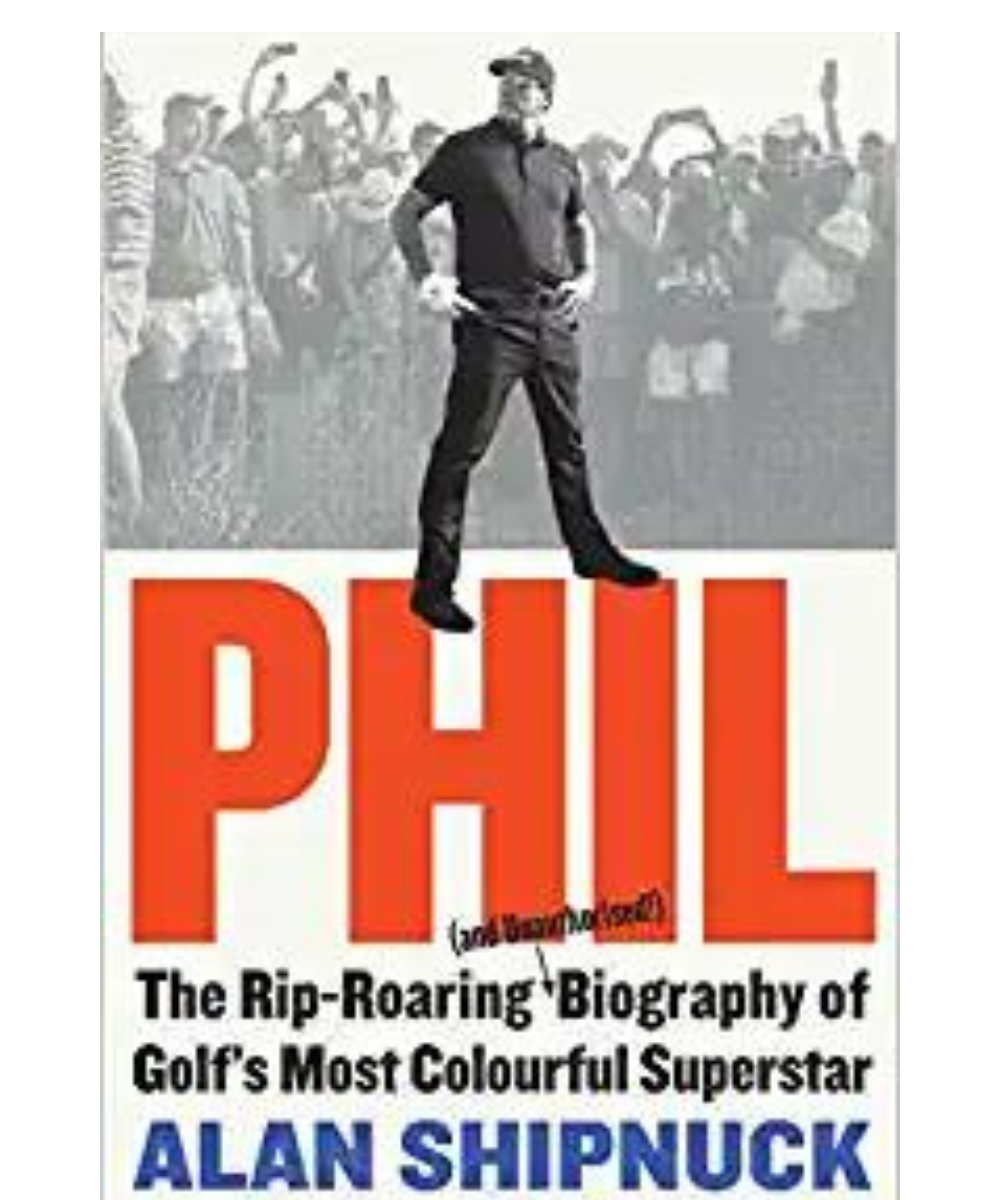 PHIL
The Life of Phil Mickelson
Check Price On Amazon
Alan Shipnuck, an acclaimed writer and longtime Sports Illustrated reporter, offers a compelling biography of Phil Mickelson, a legendary golf competitor.
Phil Mickelson is one of the most captivating individuals in the field of sports. For more than thirty years, he has been one of the best golfers worldwide. He displayed his ability to hold father time at bay when he won the PGA Championship golf tournament in 2021, when he was on the verge of turning 51years old.
In this unvarnished, raw, and unauthorized biography, Alan Shipnuck captures a life of remarkable highs, crushing lows, and many controversies. Mickelson is a multifaceted character, and all his feuding impulses are on full display in this biography. He is a hotheaded businessman who built his success on being the ultimate professional.
Personal Note - I'm surprised Phil didn't pick up the nickname "The Big Miss" having missed out on a number of Open majors during his career.
9. The Anatomy of a Golf Course by Tom Doak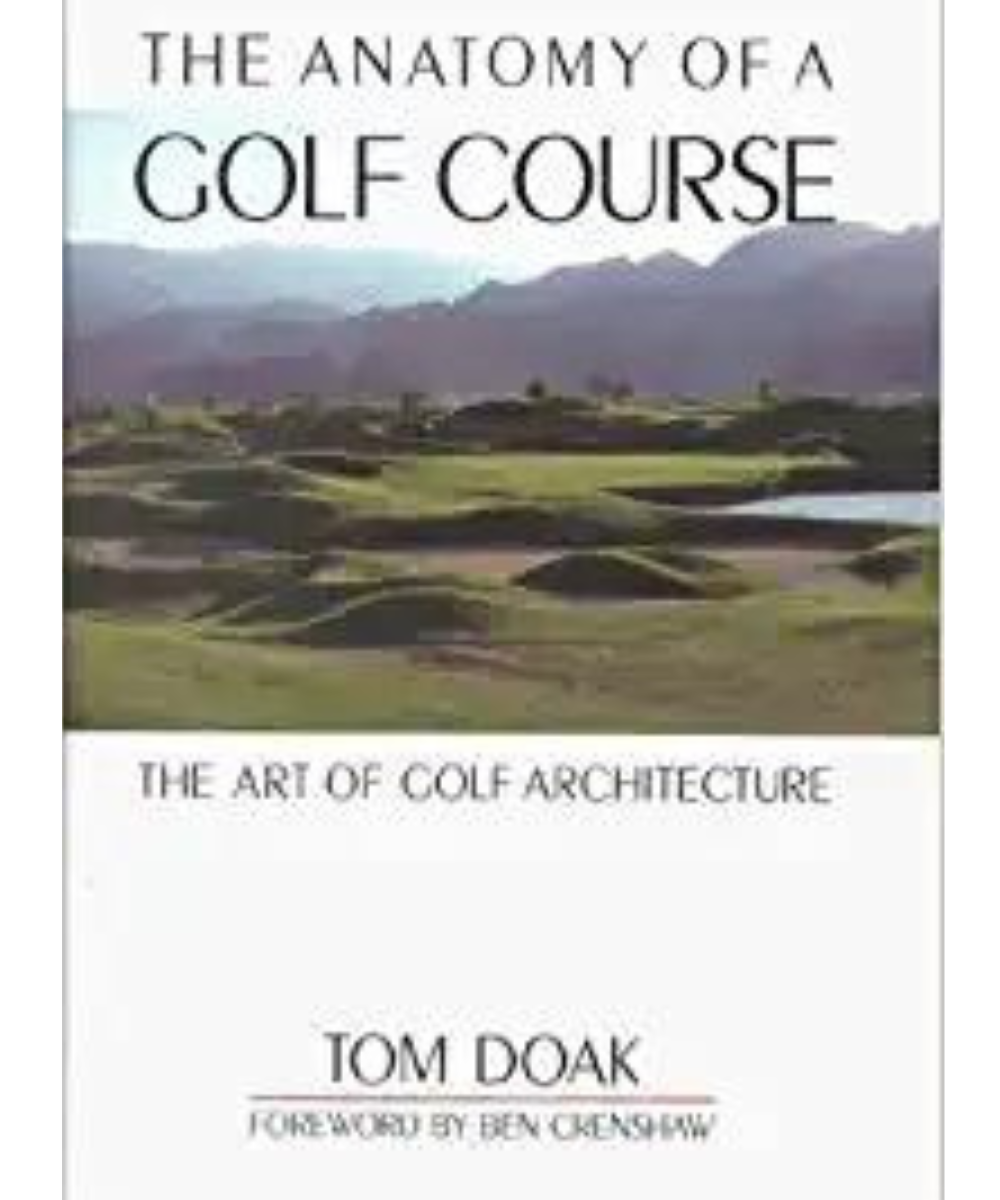 The Anatomy of a Golf Course
Behind Every Golf Hole Lies an Influence on Every Golfer's Game
Check Price On Amazon
Golf designers' choices regarding each golf hole's setup have a subtle but practical effect on the intent and tactics of players.
Why does a hole dogleg right and not left? Why are bunkers situated where they are? Why is a hole long or short, Why is the the view from the tee positioned that way? All of these factors and many more hinge on decisions by the golf designer to throw off or intimidate the golfer. The golf course architecture is a bit of trickery.
One of America's youngest and most successful golf designers, Tom Doak defends his work and explains how golf architects develop their strategies and decisions. Understanding why a golf course is designed as it is will help any average golfer play their best on that golf course.
Golf Is a Popular Sport With a Long History
Golf is a popular sport that has a long history. It is believed to have originated in Scotland in the 15th century. Golf is played by hitting a small ball with a club into a hole. There are many different types of golf clubs, including drivers, irons, and putters.
The game can be played on different types of courses, including traditional golf courses, executive golf courses, and pitch and putt courses.
The game of golf has evolved over the centuries and there are now many different variations of the game. These include match play, stroke play, foursomes, and Ryder Cup format. Golf is also played at various levels, from amateur to professional.
There are many famous golfers throughout history who have helped to popularize the sport. These include Tiger Woods, Jack Nicklaus, Arnold Palmer, and Phil Mickelson.
The Origins of Golf: Where the Game Began
Golf is a game that many people enjoy, but few know the history of. The game began in Scotland in the early 1400s. It is thought that the game was first played on the links at St. Andrews, which is now considered to be the home of golf. The game quickly became popular with the nobility and royalty of Scotland.
In 1457, King James II banned golf because he felt it was interfering with the training of his archers. However, the game continued to be played in secret until King James IV lifted the ban in 1502. Golf then became widely accepted throughout Scotland and Britain. It wasn't until the late 1800s that golf began to gain popularity in America.
The Evolution of Golf: How the Game Has Changed Over Time
Golf is a game that has been around for centuries, and it has undergone many changes over the years. The game was first played in Scotland, and it quickly spread to other parts of Europe and the United States. The early golf courses were very different from the ones we play on today, and the rules of the game have also changed considerably.
The biggest change in golf has been the introduction of new technology. Golfers now have access to much better equipment, and they can use GPS to get an accurate reading of their shot.
This has made the game much more accessible to people all over the world, and the popularity of golf has also made it possible for professional golfers to earn a living from playing the sport all over the world.
Another big change in recent years has been the introduction of Tiger Woods into the world of golf. Following his incredible success in the professional golf world, more and more people from all backgrounds and ethnicities have been inspired to take up the game.
Today, golf is played all over the world by people of all ages and abilities. It has evolved into a highly competitive sport, with professional tournaments being broadcast on television to millions of viewers. Playing golf opens doors to business opportunities and new relationships.
The Benefits of Reading About Golf: Why Learning More About the Game Can Improve Your Game
Golf is a game that can be enjoyed by people of all ages and skill levels. While many people play golf for the fun and relaxation, others take the game more seriously and strive to improve their skills. Regardless of your level of interest in the game, there are many benefits to reading about golf.
One of the main benefits of reading about golf is that it can help you learn more about the game. If you are new to golf, reading can provide you with valuable information about the rules, etiquette and strategy of the game.
Even if you have been playing golf for years, you can still learn new things by reading about the game. In addition to helping you learn more about golf, reading can also give you new ideas for improving your game.
FAQ's - Best Golf Books
Which Bob Rotella book is best?
There is no one "best" Bob Rotella book - it depends on what you're looking for. If you want a general introduction to his ideas, try "Golf is a Game of Confidence."
If you're looking for something more specific, like advice on how to deal with nerves or the mental game or how to improve your short game, check out "The Golfer's Mind" or "The Golf of Your Dreams".
What is the book that professional golfers carry?
The book that professional golfers carry is called "The Rules of Golf." This book contains the rules and regulations that govern the sport of golf.
How can I improve my golf book?
There are a few things you can do to improve your golf book:
- Make sure the cover is eye-catching and attractive
- Write a strong, attention-grabbing headline
- Use quality photos and graphics throughout
- Organize the information in an easy-to-follow format
- Use helpful tips and tricks to improve your game
What should a beginner learn in golf?
There are a few things that all golfers, regardless of experience level, should focus on.
First, it is important to learn the proper grip for your clubs. Second, you need to learn how to swing the club in a consistent manner. Third, you need to focus on your stance and alignment. Lastly, you need to develop a pre-shot routine that works for you and helps you focus on the shot at hand.
Does Tiger use a yardage book?
Yes, Tiger Woods uses a yardage book. It's one of the many tools he uses to prepare for tournaments.
Bonus Question: What do pros put in their yardage books?
A yardage book is used by golfers to record information about the course they are playing. This can include the length of each hole, the location of hazards, and the best place to land your shot. Many pros also take notes on wind direction and speed, as well as the conditions and contours of the greens.
Conclusion:
There are a few things to keep in mind when picking your next golf book. First, think about what level you are and what you want to learn. There are books for beginners, intermediate players, and advanced players.
Second, think about what style of book you want. There are golf instruction books books, books on the history of golf, and fiction books set at golf courses. Finally, pick a book that looks interesting to you and that you will enjoy reading.
The best golf books on the golf game are those that can improve your swing. They provide instruction and guidance on the different aspects of golf. With the help of a good golf book, you can learn new techniques and strategies to improve your game and play zen golf.
They should be easy to understand and have plenty of illustrations. If you're new to the game, start with a beginner's guide. For more experienced players, look for books that focus on specific areas of improvement.
No matter your level of experience, there's a golf book out there that can help you lower your score.
Thank you for visiting and we hope to see you back soon!