Nighttime Golf
If you've ever considered playing golf at night or in the early morning hours, glow in the dark golf balls can be a great way to enhance your experience. I remember the first time I played with these types of balls.
I was mesmerized with the balls flight path arching through the sky. Hard to explain unless you experience it for yourself.
But, if you're searching for a fantastic way to have a more enjoyable time on the course, then you need to give glow in the dark golf balls a try!
These unique balls are made to light up in the dark, so you can keep playing even once it gets dark outside.
There are different types of glow in the dark golf balls. Some use LED lights, then there are those that use UV light, and others can come with batteries or glow sticks on the inside.
All of These balls are designed to increase ball flight visibility in low light conditions, such as early morning or evening hours.
All of these balls are non-toxic and safe to use and environmentally friendly. Glow-in-the-dark golf balls are more expensive than regular golf balls but the fun they bring outweighs the cost for some people.
How We Choose
By researching the market, we have provided you with a variety of options so that you can select the one that best fits your needs.
Our professionals have chosen products that combine reliability, affordability, and efficiency based on the reviews. We only recommend products that have 4 or 5 stars and are backed by real customer reviews.
Note: *All products featured on GolfOften.com are researched and selected by our editors. However, when you buy something through us, we may receive a small commission at no additional cost to you.*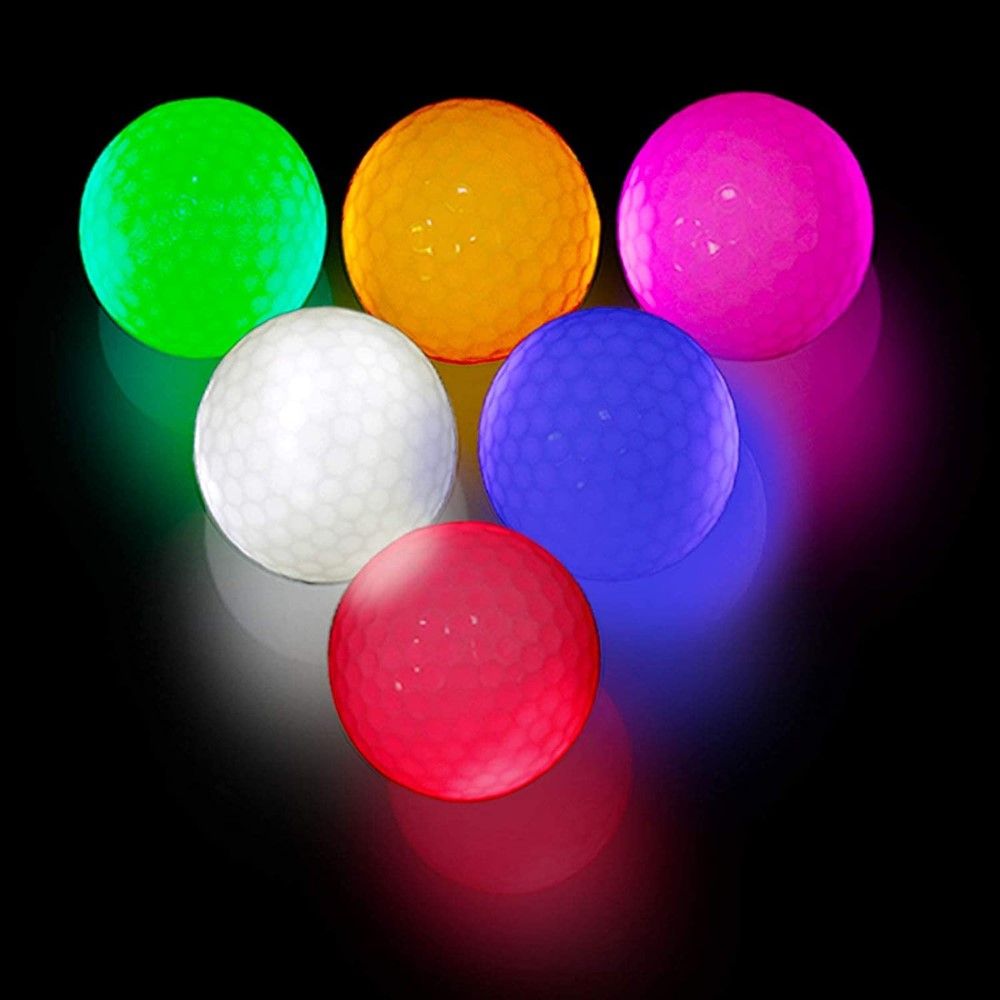 Usable All Year Through All Seasons
Check Price On Amazon!
This LED golf ball is designed for long time use and will stay lit for up to 8 minutes after hitting. The total time of lighting is up to 50 hours, so you can strike the ball over 800 times.
Why We're Fans
This eye catching ball is a great gift for both adults and kids. Usable all year and through all seasons. They will enjoy them and create lots of fun with them
When you hit it, the light will come on automatically and present an amazing color through the sky as you play at night. The long lasting glow golf ball is easy to find either outdoor or indoor
These LED night golf balls are made with surlyn, resin and LED wick and the golf ball emits a low temperature. It is durable when hit resists corrosion.
The ball is designed with 342 dimples on the surface so it can be played without any damage to your clubs
Comes with a money back or replacement warranty
What To Know
Some users felt the ball did not stay lit long enough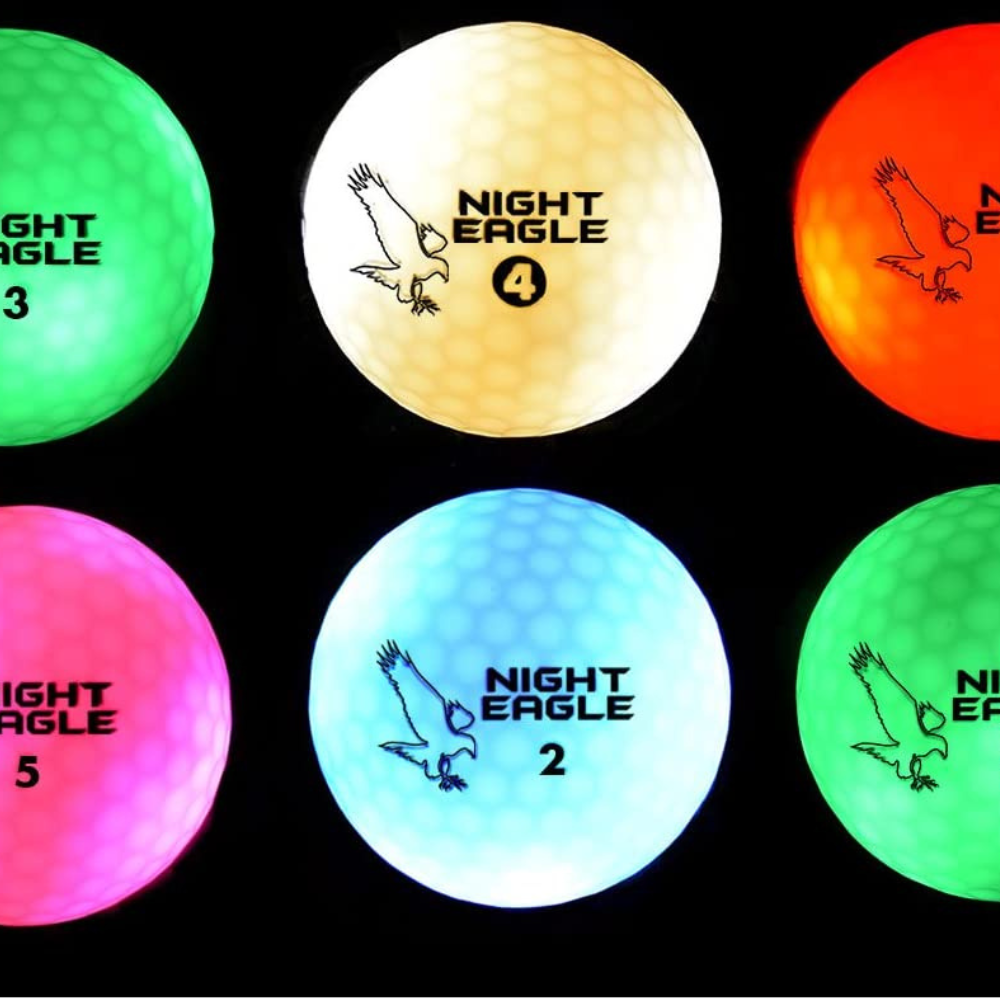 Constant On Technology
Night Eagle CV LED Golf Balls
Check Price On Amazon!
Try out the Night Eagle CV LED ball, a new golf ball with astonishing new constant on technology! The golf ball allows for easily beginning and ending a round of golf. The light is activated differently than the traditional LED ball.
To activate the light you use a strong light source, such as from your smartphone camera and hold it about one-half to one inch from the circle printed on the ball.
Once the on board computer senses the strong light, it will automatically initiate the LEDs light. When activated the light will continue until it senses another strong light and then shut off.
So, because there's no timer inside the golf ball, once it is activated it will stay on continuously until it is turned off. No more looking for your LED golf ball.
Professional golfer were in mind when this ball was designed and tested so you can enjoy the playability, performance, and control as you would with a real ball, only with the added glowing bonus.
Why We're Fans
You activate the light with a strong light source from your mobile phone camera by shining it directly onto the printed circle on the ball
There is no shut off timer so you won't lose your ball before you find it. Ball light turns off when you deactivate it
You get approximately thirty hours of continuous use. The battery in the ball usually outlasts the ball
You get high quality three layered golf balls in a choice of five highly visible colors
What To Know
Users felt these balls did not compress as well as regular golf balls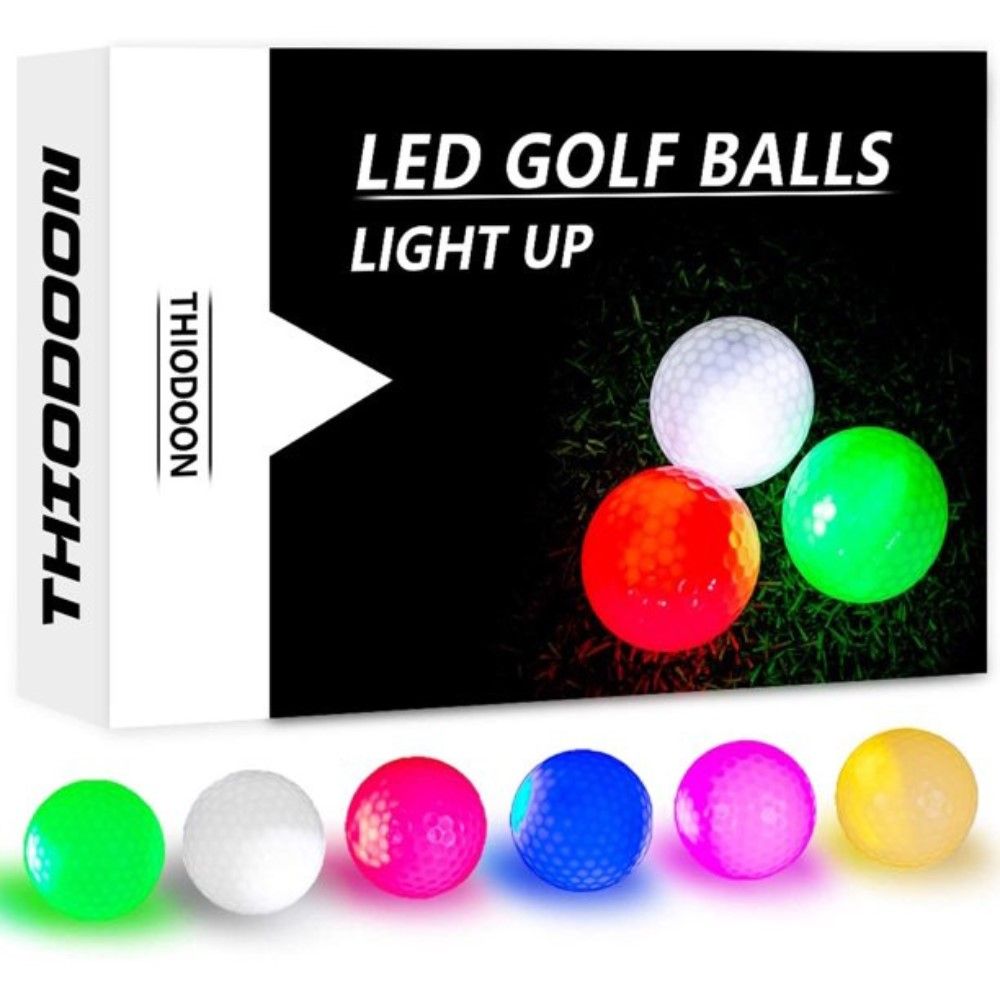 Constantly On and Do Not Flash
Thiodoon Glow In The Dark Golf Balls
Check Price On Amazon!
New Glow Dark Golf Balls are Resettable. Luminous Golf Balls, 6 Colors for Your Choice
Why We're Fans
These glow in the dark golf balls are very bright so you will have a ton of fun when playing them at night. They are easy to find when playing golf at night or early morning and are suitable for indoor or outdoor
These balls are constantly and do not flash. They stay lighted for eight minutes after each activation. That is more than enough time for you to find them and hit your next shot. The battery lasts for forty hours which means the ball light up at least 300 times
No charger or UV flashlight is required. The ball lights up with impact from the strike of your club and creates a beautiful colorful arc as it flies through the air.
There are 6 balls in pack and each ball has it's own color when it lights. Red, Green, Blue, Yellow, Pink, and White
This is a great gift idea family and friends. They will definitely thank you after their first round with these fun balls
30 day money back guarantee for a full refund
What To Know
Some users felt the ball did not provide enough distance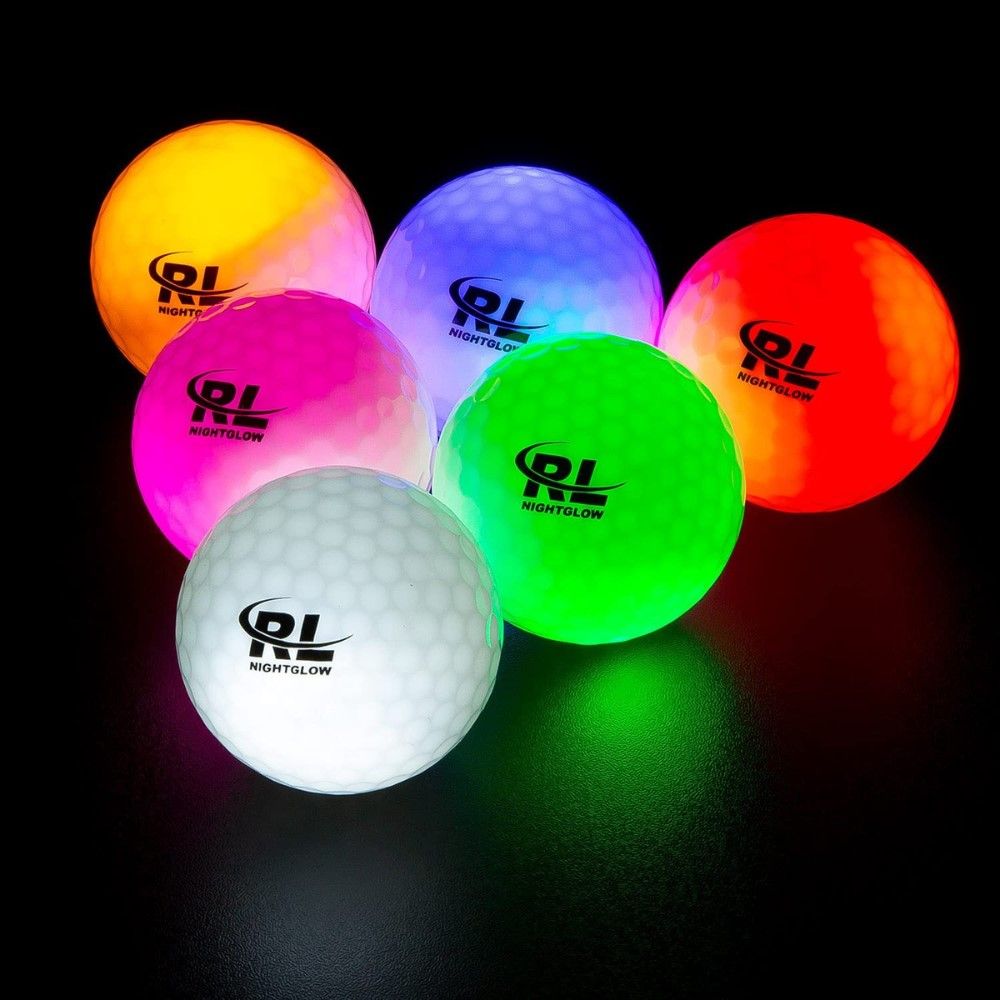 Two- Ultra-Bright Core With Built In Battery
R&L Glow In the Dark Golf Balls, LED
Check Price On Amazon!
Now you can keep playing even after the Sun has disappeared from the horizon. With the R&L LED light-up golf balls you can enjoy the game in the darkest night or early morning hours!
Why We're Fans
Each golf ball features a two ultra-bright LED core with a built-in battery. These batteries can last approximately thirty-five hours. Meaning 2100 minutes of play time when skies are dark
Even though the balls are still different from regular golf balls the R&L glow balls are significantly softer for better compression than other brands and are just 20% shorter in distance compared to traditional golf balls
You get six different colored balls in the pack (blue, pink, green, white, red, and yellow) that will bring you a bunch of fun during your night golf game
These balls do not break easily like other brands and are durable to provide consistent illuminated play time
What To Know
Some players felt the ball was harder than a traditional golf ball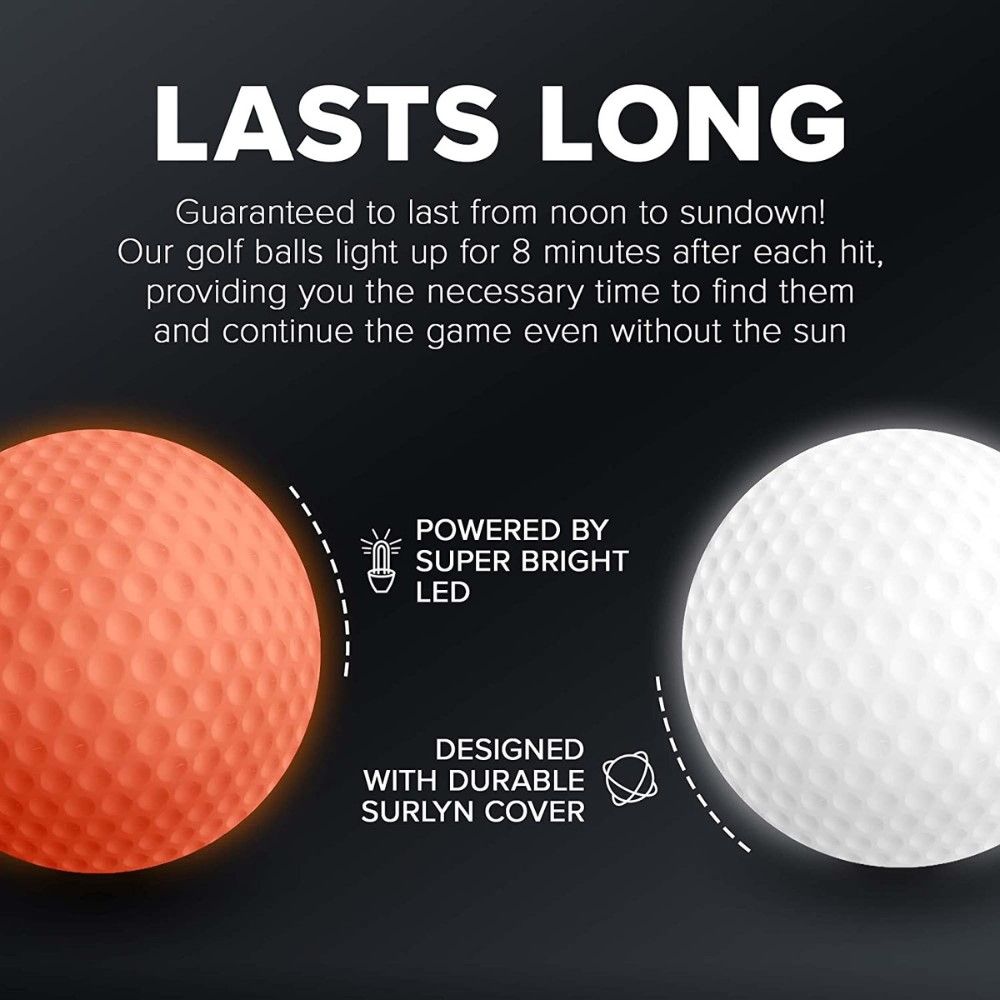 Comes With the Mustache Man Stamp To Distinctively Mark Your Ball
Juggle Life Long Glow in the Dark Golf Balls
Check Price On Amazon!
Have you been wanting to break your normal golf routine? If so, take the Juggle Life glow in the dark balls to your course for a dusk or nighttime golfing session.
With just these light-emitting balls and your extra-sensory perception to rely on, you can ramp up the fun while improving your golf game.
The set comes six distinctive colors: green, red, blue, pink, orange, and white. Besides the vibrant golf ball light, the self inked matching stamp increases the appeal of this golf ball set.
The unique Mustache Man design of the stamp provides players of all ages with a sense of pride and ownership.
If you get a set of new golf balls in bulk you will be provided with a drawstring bag to carry them. The bag can also help you keep these special balls separate from other balls.
Why We're Fans
The lighted glowing golf balls made with LEDs are super bright and vibrant and come in 6 different colors
The night glow balls package set comes with a cool gift box and 6 led glow golf balls, a mustache man golf ball stamp to identify your golf balls, and a carrying bag.
The golf ball mustache man makes it simple to identify your golf balls and make them stand out from the rest
Besides looking good, these glow in the dark balls also perform well. You can use these balls for golf at night golf, a fun competitions with friends, or in night golf tournaments. The balls will light up when struck with a golf club or bounced off a hard surface
The balls light up for eight minutes when hit which gives you enough time to find them in the fairway, rough or bunker
This is a perfect gift Idea for your loved ones who play golf or for those who just want to get out and enjoy themselves
What To Know
Some users found they didn't play enough night golf to justify the purchase
How to Choose the Right Glow in the Dark Golf Ball for You
Glow in the Dark Golf Balls are a fun way to add some excitement to your game. Whether you're playing a night round of golf or just want to keep track of where the ball lands, having a glowing golf ball can be really helpful.
Choosing the right glow in the dark golf ball for you can be tricky though. Here are some tips on how to make sure you pick up the perfect one for your needs.
First, determine how long the ball will glow, both in time after the shot and lifetime (minutes and hours). Secondly, consider the balls durability and what type of activity you'll be doing with your glow in the dark golf balls.
Some glow balls tend to succumb to marks and blemishes a bit easier than regular golf balls. Do you need them for tournaments or just casual play?
Depending on which type of activities you plan on using it for, there are different characteristics that will suit each situation better than others.
For instance, if you are hitting the links in a tournament, it is best to choose balls that are made out of durable materials. You don't want to be using a cheap ball that breaks easily and messes up your game.
You want to be using a ball that is made for long distance driving, as well as one that has a bright and colorful glow. This way you can easily spot your ball and make sure it is going in the right direction.
If you are playing a casual game with friends, then a budget friendly choice would be appropriate.
The Benefits of Glow in the Dark Golf Balls
Glow in the dark golf balls are becoming more and more popular among golfers of all levels. While they might seem like a gimmick, there are actually several benefits to using them.
For one, they can help you improve your game in early morning and evening rounds because they are easier to see in low light conditions so you can better track your shots and make adjustments accordingly.
Furthermore, playing with glow in the dark golf balls can add excitement to a game with friends. Hitting the ball into the night sky and then seeing it vanish into the darkness is an unforgettable experience.
If you want to improve your game or just have more fun while playing golf, glow-in-the-dark golf balls are definitely worth considering.
Tips for Playing with Glow in the Dark Golf Balls
Use your golf balls as intended by following these tips:
1. Get them charged up! Follow the manufacturer instructions for getting your balls to glow. This will give them the longest possible glow time.
2. Play in the dark! For the best glow effect, wait until it is really dark outside before beginning your game.
3. Play on a course with closely cropped grass! If the grass is too long, your golf ball may get lost and be difficult to find. Short grass will also help keep your ball from rolling too far when you make a shot.
The Pros and Cons of Glow in the Dark Golf Balls
Pros:
1. They are fun and entertaining to play with.
2. They make the game of golf easier to play in low light or dark conditions.
3. They help golfers quickly and easily find their balls after hitting them.
4. They make it possible for people with impaired vision to play the game of golf.
5. Glow in the dark golf balls have good visibility even at a distance, making them helpful for tracking trajectory and measuring distances on the course.
Cons:
1. Glow in the dark golf balls can be difficult to find in grassy areas during daylight hours without assistance from a flashlight or other light source.
2. The cost of glow in the dark golf balls is high compared to traditional golf balls, making them less accessible to some players.
3. Some users have complained that night flyer golf balls lack durability when compared with traditional golf balls, which impacts their lifespan and value
FAQs about Glow in the Dark Golf Balls
What is the difference between night golf balls and glow in the dark golf balls?
Night golf balls are specifically designed to be more visible in low light conditions. They typically have a matte finish that is brighter than regular golf balls and can be used with or without a light source.
Glow in the dark golf balls are made of a special material that absorbs UV light while LED lights are energized with a battery.
How long do glow in the dark golf balls last?
The longevity of glow in the dark led golf balls depends on the type of ball and how much it is used. Generally, they will last up to 8 hours after being charged with a light source. If you take good care of them, they can last for many rounds of golf.
What is the best way to store my night golf balls?
The best way to store your night golf balls is to keep them in a cool, dry place. Avoid direct sunlight and extreme temperatures. You can also store them in a plastic container or a box with a lid to keep dust and dirt out.
Make sure the container is well-ventilated so air can circulate and the balls don't get too hot. Another great way to keep them together and organized is by using a golf ball tube.
Bonus Question - Are glow in the dark golf balls any good?
Yes, glow in the dark golf balls are great for playing at night. They provide enough visibility to see where you're aiming and make it easier to track the ball in the air.
Plus, they're fun to use and add a bit of excitement to your game. I do want to make it clear though that these balls do not provide the performance, feel and distance that you get with normal golf balls.
The dynamics of manufacturing do not allow for the superior performance of the major brands.
Conclusion
Glow in the dark golf balls are a great way to add some fun to your game. They provide an exciting and unique twist to the traditional game, while still maintaining its classic feel.
Golfers of all ages and levels of experience can enjoy the night golf ball on the course at night or during the early morning hours. Not only can it enhance your enjoyment of the game, but it can also improve your accuracy and help you keep track of your shots more easily during these times.
Thank you for visiting and we hope to see you back soon!