Attention golfers: have you been struggling with your score lately?
Want to improve your swing and drive longer distances? Well, look no further as the new golf craze, impact tape, could be just what you need. Impact tape is a simple yet powerful tool that can help golfers of all skill levels take their game to the next level with instant feedback.
In this blog post, we'll explore how impact tape can help you hit those hole-in-ones and make better shots in no time! So keep reading while we dive into the details of this revolutionary swing improvement product - it could just change up your game.
Consistency
Every club golfer strives to be consistent. How frequently do one or two errant drives ruin a solid round? Impact tape labels capture the exact moment your golf ball makes contact with the club face. This enables easy analysis of your strike pattern following each shot.
You may increase your accuracy and aid in the promotion of longer distances off the tee by taking them to the driving range and including them into your regular practice or warm-up routine.
Before sticking the labels on, make sure the club head is dry and grooves are clean. Align the bottom of the label with the bottom of the club for optimal results and to guarantee uniformity of analysis.
How We Choose
Golf can be an intimidating sport, but with the right tools, you can make steady progress in no time. Impact tape is one of those tools that can help you understand what's going on during your swing and how to fix any issues.
Our team of golf experts has researched hundreds of products to find the best impact tapes for every budget and skill level. We've done all the hard work so that you can easily find and purchase the perfect impact tape for your needs.
No more guesswork or wasted money - just top-notch impact tapes designed to help you take your game to the next level.
All products featured on GolfOften.com are researched and selected by our editors. However, when you buy something through us, we may receive a small commission at no additional cost to you.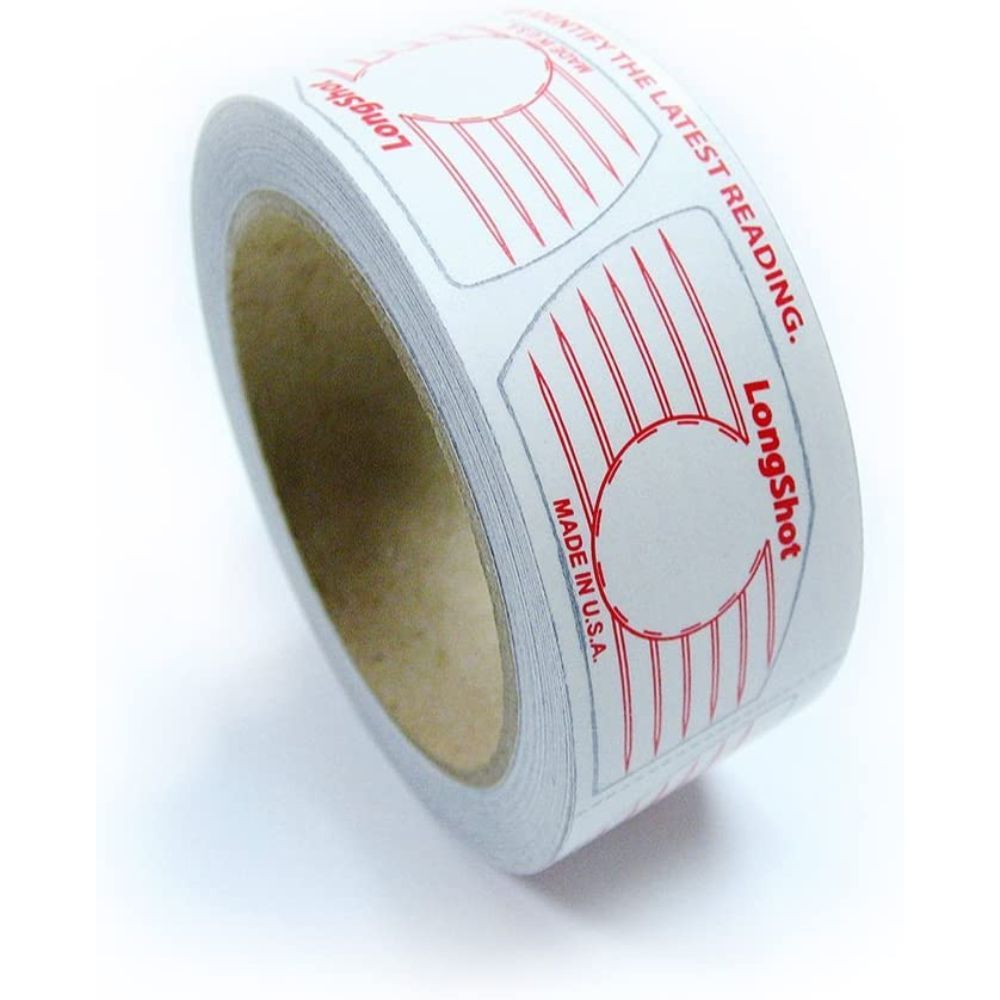 Original Impact Tape Inventor
Check Price on Amazon!
Why We Love It
The LongShot Golf Standard Iron Roll is the original, the best, and 100% American made. They invented the Impact Label, and believe all other products pale in comparison. This unique product has become the most widely used practice, teaching and club fitting tool in the world, with no other product able to improve your game as much as LongShot Golf Standard Iron Roll at any price.
This proprietary material and process, with over 30 years of refinement, guarantees performance and accuracy. Each roll comes with its own dispenser box for protection and ease of use, and includes a full color Correction/Instruction Guide.
What You Should Know
The LongShot Golf Standard Iron Roll is made with the highest quality materials, designed to resist moisture and shredding. It's specifically designed to be used on golf clubs. Overall, it's the perfect tool to help golfers get the most out of their clubs.
So if you're looking to up your golf game, the LongShot Golf Standard Iron Roll is the perfect choice for you. It's made in the United States, so you know you're buying a quality product.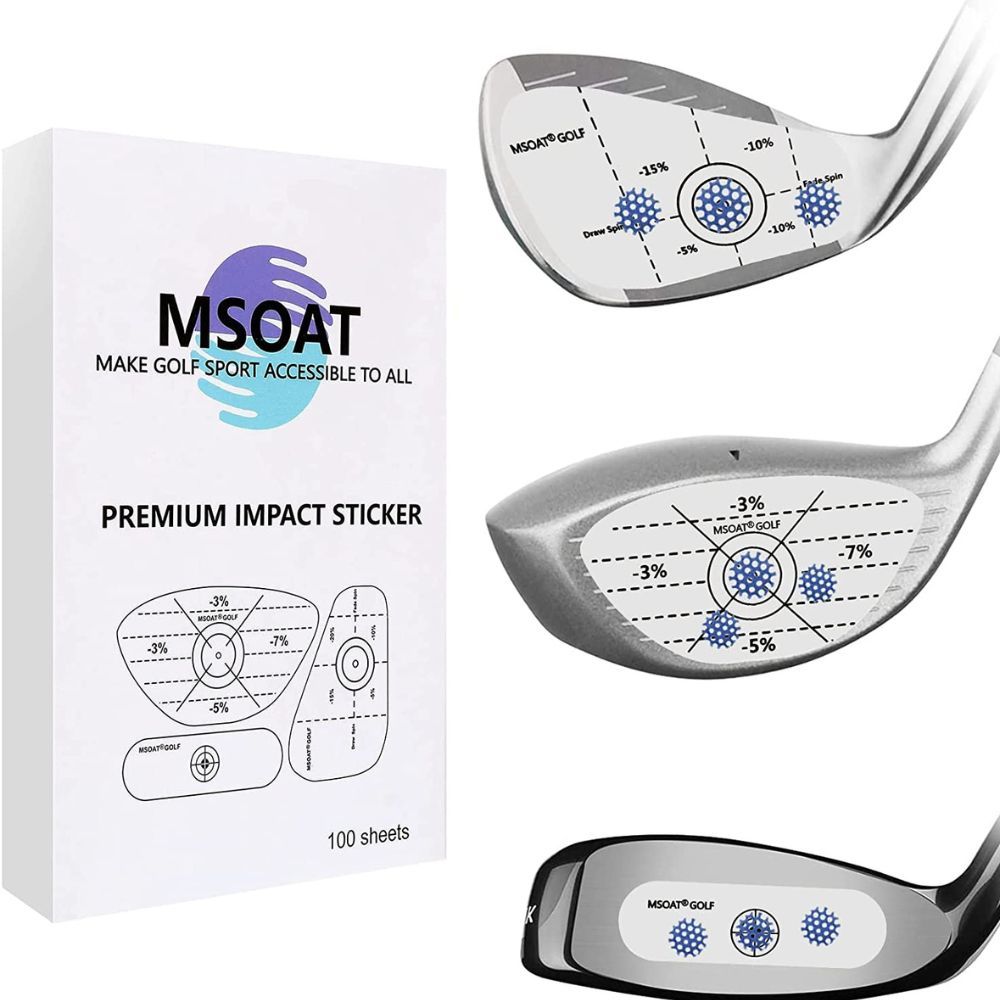 Shows the Percentage of Distance Loss
Check Price on Amazon!
Why We Love It
MSOAT Golf Impact Tape Set is the perfect training aid for all golfers. The special paper used to produce the tape provides clear and accurate impact marks without compromising feel and performance.
The sticker pattern accurately shows the percentage of distance loss on shots off the sweet spot, allowing you to make necessary swing adjustments to achieve better ball striking results. The tear-resistant material and high-quality adhesive makes the tape easy to apply and remove, without leaving any damage to your clubs. You get 300 labels that can capture up to 1800 golf shots.
What You Should Know
This golf swing training aid is perfect for golfers of all levels. Not only does it help you identify the sweet spot on your clubs, but it also helps you get a better understanding of your golf swing. With this tape set, you can analyze your shots and make necessary adjustments to perfect your golf game.
The lightweight package fits easily into your golf bag, so you'll always have them with you when you hit the golf course or driving range. You can even share the tape set with your golf buddies if you are not betting against each other:)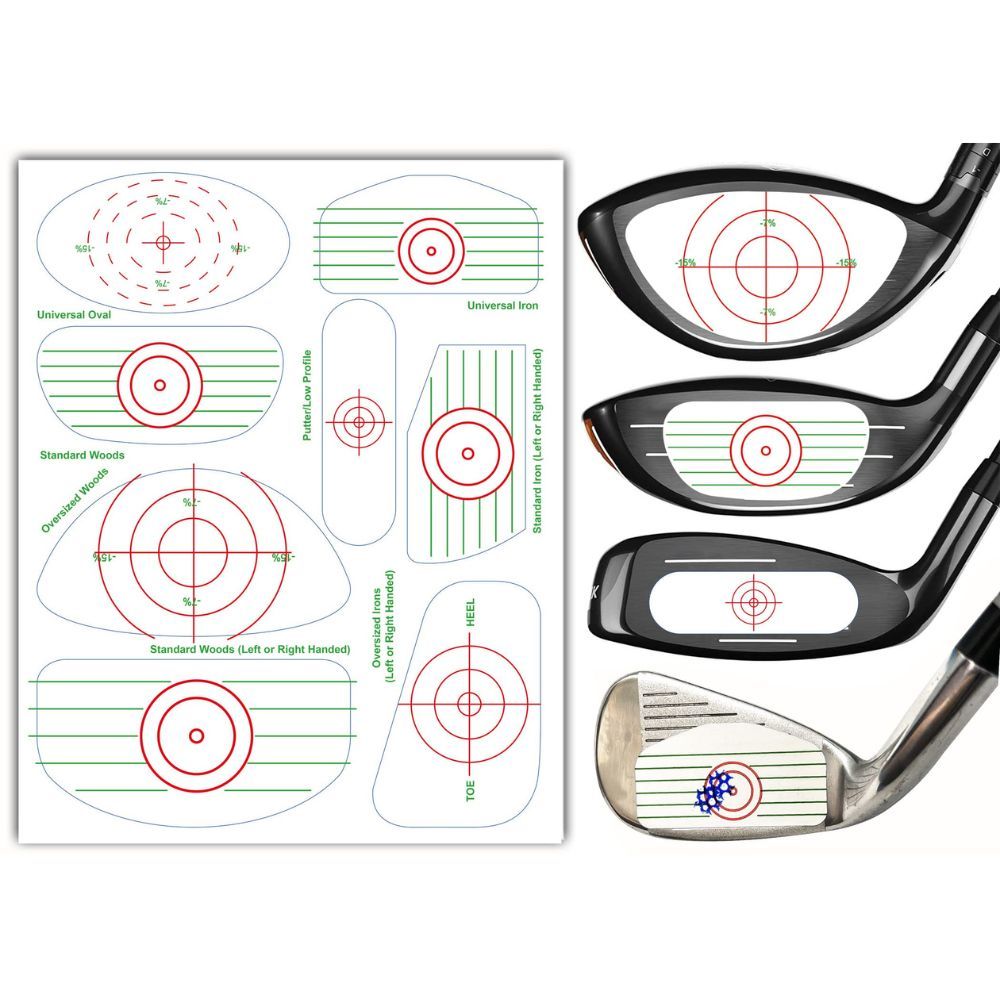 Comes in Eight Different Shapes
Check Price on Amazon!
Why We Love It
TINGYI Golf Club Driver Impact Tape Labels are the perfect addition to any golfer's arsenal. These labels provide 8 different shapes of design styles to meet the needs of most golf clubs and come with 15 sheets of labels with 8 pcs per sheet for a total of 120 labels.
These impact labels are waterproof and deliver crisp, high-resolution images with little to no loss in feel and performance.
What You Should Know
The Golf Face Tape is easy to apply and remove and leaves no residue. It will not damage your golf club's face and each label can be used to capture at least 6-10 impacts in dry weather.
This tape will help any golfer better understand their swing by showing the percentage distance loss for hits off-center and will help make adjustments to your posture, swing, and stance. So, if you're looking to take your game to the next level, TINGYI Golf Club Driver Impact Tape Labels are the perfect choice!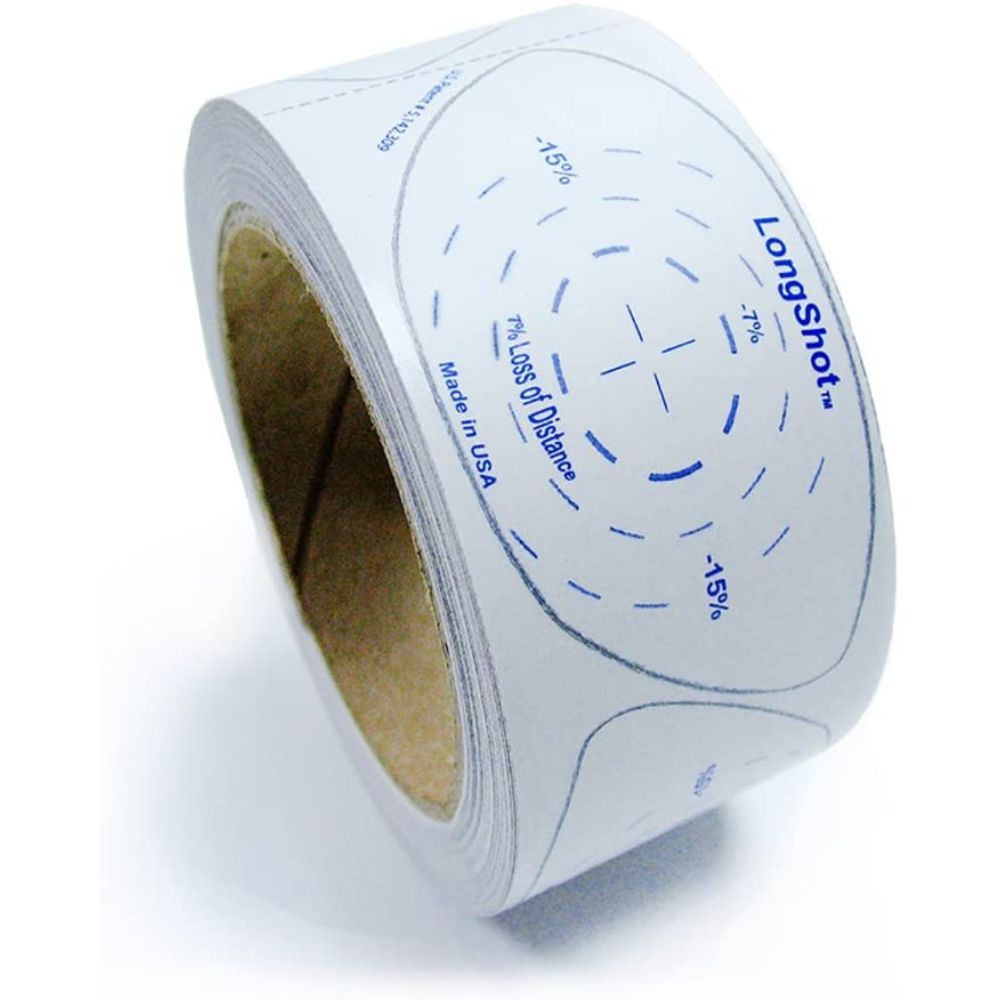 Provides 8 Impact Readings per Label
Check Price on Amazon!
Why We Love It
Standard Roll - Oversized Wood Labels are perfect for professional and casual use alike. They are incredibly accurate and reliable, providing you with up to eight impact readings per label. Their labels remove completely without leaving any residue, which makes it easy to switch out labels for different drills.
What You Should Know
Standard Roll - Oversized Wood Labels come with an easy to follow correction and instruction guide, so you can start making accurate impact readings right away. Each roll contains 200 oversized wood labels, ensuring you have plenty of labels for your current and future practice. The labels are made from high-quality wood, so you can be sure they are built to last.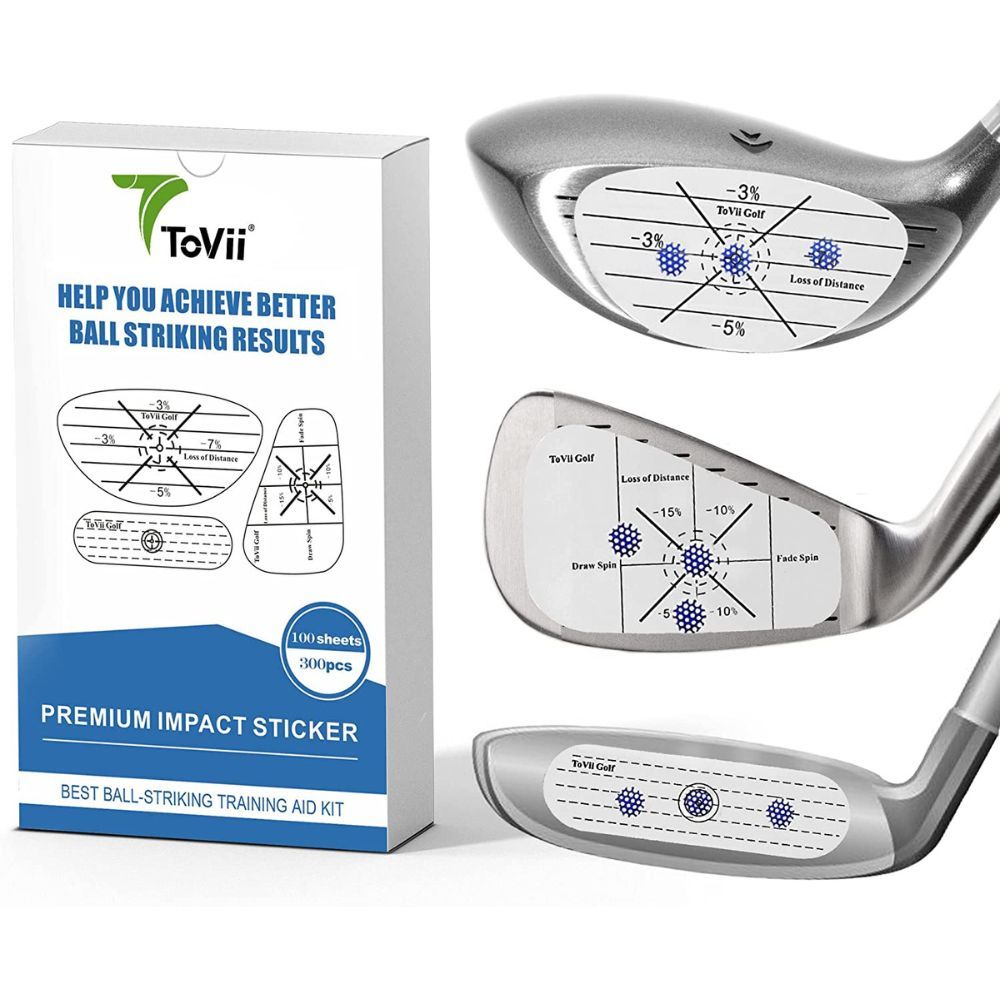 High-Resolution Impact Blue Image
Check Price on Amazon!
Why We Love It
The ToVii 300Pcs ~600Pcs Golf Impact Tape Set is the perfect tool for golfers who want to take their game to the next level! Our special paper produces thin labels that deliver crisp, high-resolution impact blue images and cause virtually no loss in feel and performance.
This allows you to analyze more than 1800 golf shots to give you an understanding of what a missed shot or a perfect swing looks like. It can help you adjust your swing and your posture on each shot to make sure you get the best ball striking results.
What You Should Know
The ToVii Golf Impact Tape Set is designed to accurately show the percentage of distance loss on shots off the sweet spot, so you can make the necessary changes to make sure you hit the perfect shot.
It is made of tear-resistant material and high-quality adhesive that is easy to stick to the dry club head and is pretty easy to remove later without leaving any residue or damaging your golf club's face. The lightweight package fits easily into your golf bag, so you can share it with friends and family.
What Is Impact Tape for Golf?
As you can see from the images in the reviews above, impact golf tape is a pre-printed, pre-shaped tape for your clubface (woods & irons).
You apply the tape to the club's face (don't worry, it won't harm it), and then proceed to swing as usual. At the location where the ball makes contact with the clubface, a mark is left on the tape. This enables you to determine whether you successfully struck it out of the heel, toe, or center.
But, you should only use those as general guidelines because some clubs are more forgiving than others and the power loss will be considerably less (the difference between blades and game improvement irons is significant).
If you frequently observe your blows coming from the club's toe, your stroke is probably traveling from right to left (dependent on your club path). This shot would be of the draw-hook variety. The converse is true if you see that the ball strikes more frequently with the heel; in that case, you'll be playing a fade-slice.
You can try to create the opposite feel to start purposefully dialing your shot in one once you know where you're hitting it and how that feels.
Does Impact Tape Influence Ball Flight or Distance?
One of the main issues using impact tape is exactly this. Using any kind of golf club impact tape on the club face will unquestionably have a significant impact on ball flight and distance. You will alter how the ball interacts with the club by applying tape to the clubface.
The tape prevents good contact between the grooves on the clubface and the surface of the ball by occupying the space between them. Every shot you make will have a far lower spin rate than an identical shot without tape on the clubface since the grooves are what give the ball its spin. The ball needs spin to become airborne.
Is Masking Tape Safe to Use?
You very certainly can. It is affordable, durable, and easily cut to the precise size and form you require. But impact golf tape is specifically designed to provide clear markings after impact which will provide better feedback.
However, if you want to use the masking tape get the broader stuff (like this one on Amazon), but you can also buy the narrower strips; you may need to use a few of them to cover your driver and larger iron faces, though.
As virtually everyone has rolls of masking tape laying around the garage or utility room, this is likely the simplest way to experiment with various tapes. Try it out and see what you think!
Golf Impact Tape vs. Golf Spray
Impact tape and golf spray are two popular products that can help you improve your swing. While both are similar items for checking impact and have their advantages, impact tape is a more reliable option overall.
Golf spray is often used to help golfers visualize the ball's contact area with the club head, but it also has drawbacks such as inconsistency in results and difficulty in gauging the exact angle of impact.
On the other hand, because impact tape labels are adhered directly to the club head and face, they provide more accurate information about the accuracy and consistency of your swing. And you can easily store and review data on each shot by saving the label after use - something that isn't possible with golf spray.
Conclusion
Are you ready to improve your golf game? Impact tape may be the answer you're looking for! This simple yet effective tool can help you analyze and refine your swing during your practice session, allowing you to hit with increased distance and more accurate shots to lower your scores in no time.
Thank you for visiting, and we hope to see you back soon!