Note: We use affiliate links and may receive a small commission on purchases at no additional cost to you.
Best Golf Cart Bags
Choosing a golf bag for a push cart can impact how much you enjoy your round. It is crucial to have the right bags that fit push carts so you won't have to keep readjusting the bag on the cart which from previous experience has been extremely annoying.
In this review guide, we'll show you the best golf bag for a push cart and highlight the key features of each model to help you find the perfect golf bag. Let's dive in.
Considerations Before Buying a Golf Bag
The first thing you must consider when choosing a push cart golf bag is its lightweight nature. Although you can carry a golf cart bag on the push cart, they are heavy and can cause extra energy drain as you push or pull the cart around the golf course.
As mentioned, you can use a heavier bag but be aware of the extra effort required. A regular cart bag usually works the best for a push cart.
As a side note - a stand golf bag nowadays works fine with push or pull carts. And these bags are ultra light as well.
There is no doubt that golf bags undergo a lot of abuse. Whatever the weather on the field, it might rain, be sunny, or be stormy.
The cart bag must be durable enough to handle all weather. Therefore, it's best to choose a durable model since your money should go to quality.
Bags for golf carts differ from normal or conventional bags in golf bag features such as compartments and sections for different items.
These new lightweight cart bags sometimes utilize an insulated cooler pocket, multiple accessory pockets and some even have a velour lined valuables pocket.
Our Selection Process
By researching the market, we have provided you with a variety of options for the best push cart bag so you can select the one that best fits your needs.
Our professionals have chosen products that combine reliability, affordability, and efficiency based on the reviews.
Our endorsements are only for products that have received the best customer reviews. Let's check out some of the best golf bags for push carts.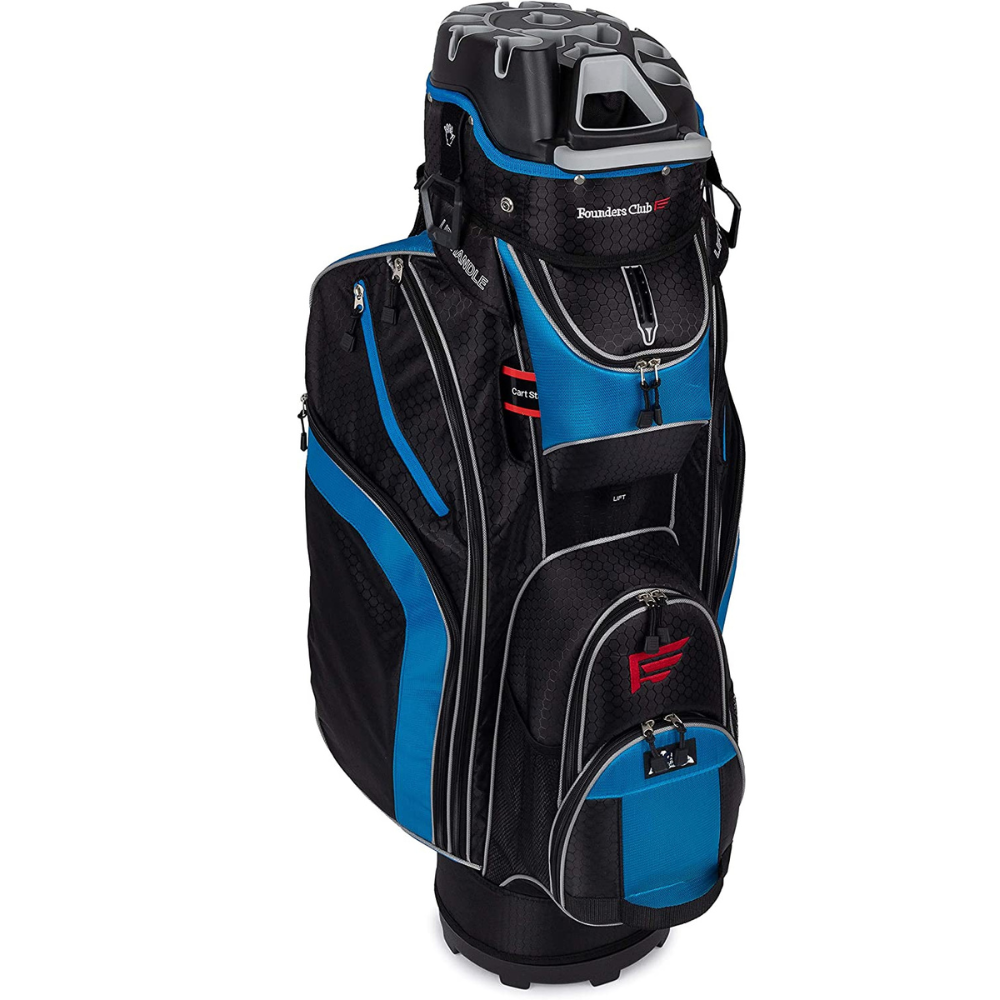 Founders Club Premium Cart Bag
Best Bag If You Need Something Bigger
Check Price On Amazon
The Founders Club premium cart bag is the best golf bag for a pushcart if you need something a little bigger. It is the dream bag of everyone wanting organization.
All the clubs in the bag have their slots keeping them protected from nicks and scratches.
It's got many pockets, and all of them face outward so you can always access them. With its large, reinforced base and multiple handles, this cart bag makes it simple to transfer your clubs from the trunk to the cart.
Founders golf bags are somewhat less expensive than other large golf cart bags on the market.
Features
The 14 slots are specific to each club, so there's no club chatter, and they're left and right-handed-friendly
The sturdy foundation and numerous handles make it ideal for a pushcart
Equipped with several accessories to make the course more comfortable
There are 11 compartments to store your belongings
A 12-month warranty is available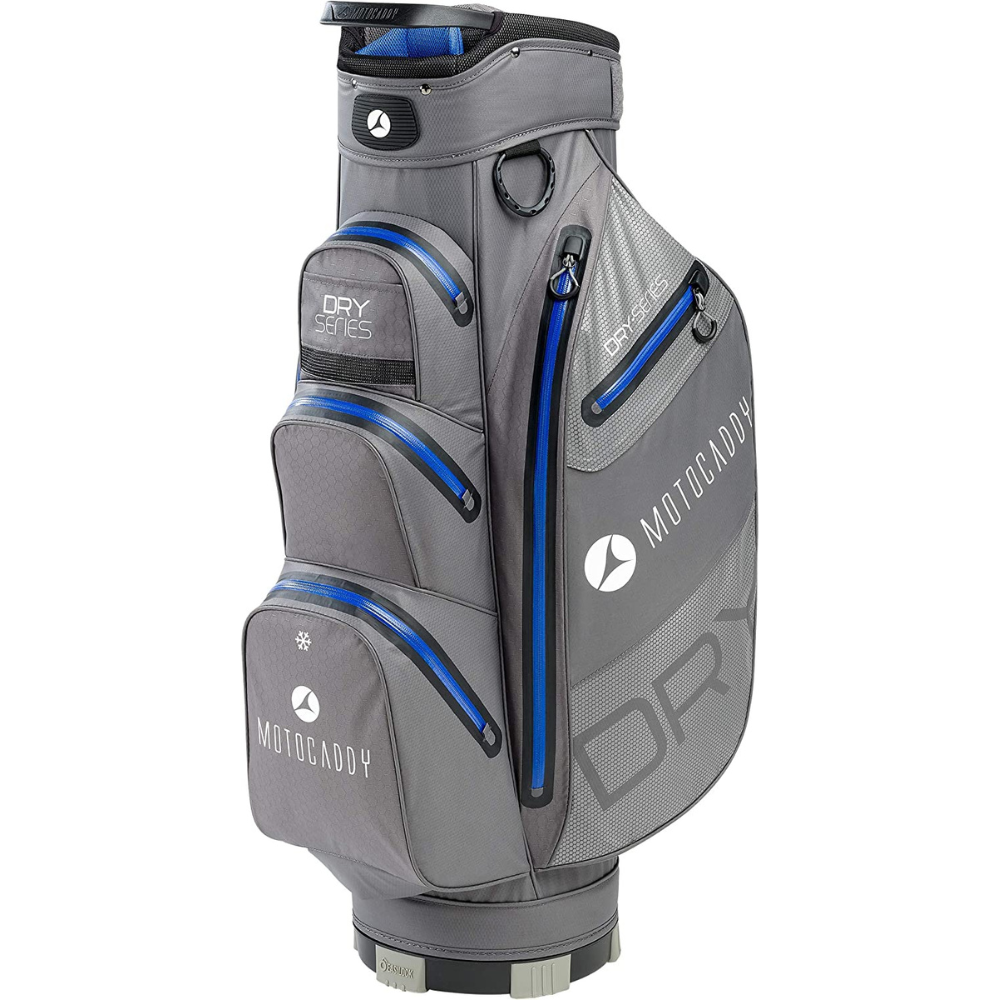 Motocaddy Dry Cart Bag
You Can Personalize The Removable Ball Pocket
Check Price On Amazon
The Motocaddy golf cart bag looks professional and powerful, even if you're not familiar with the brand.
The bag is both visually appealing and functional. You can personalize the removable ball pocket with different colors and embroidery.
It has 14 full-length dividers, seven pockets with zippers and a putter well that can accommodate fat putters.
The top handle makes it easy to lift the golf bag onto and off your cart. Hence, it is another great choice if you're looking for the best lightweight cart bag for a pushcart.
Features
Exceptional 14-way dividers for club separation
The weight of 6 pounds is quite small, considering the size and space of the bag
Multiple pockets with high-quality zippers complement the bag's color beautifully
The bag's base prevents twisting, letting it stay in place on the cart
Clubs won't get wet in the bag because it's dry fabric
Datrek DG Lite II Cart Bag
Works Great With Push or Riding Carts
Check Price On Amazon
Best golf bags for pushcart must have handles to help lift the bag onto the cart. Two handles on top of the Datrek DG light II cart bag prevent clubs from getting dinged.
In addition to working great on push carts, the bag's top is tilted, so it works great on riding carts, too. Each club has its own space to prevent crowding, thanks to a 15-way divider.
All the bag pockets face the way you want them on your buggy or push cart.
Features
The cart bag is available in several colors.
Using the top handles makes loading and unloading a breeze.
Designed with ventilated cooler pockets.
Thick putter grips fit in the putter well.
The weight of the bag is 4.25 pounds, which is extremely light.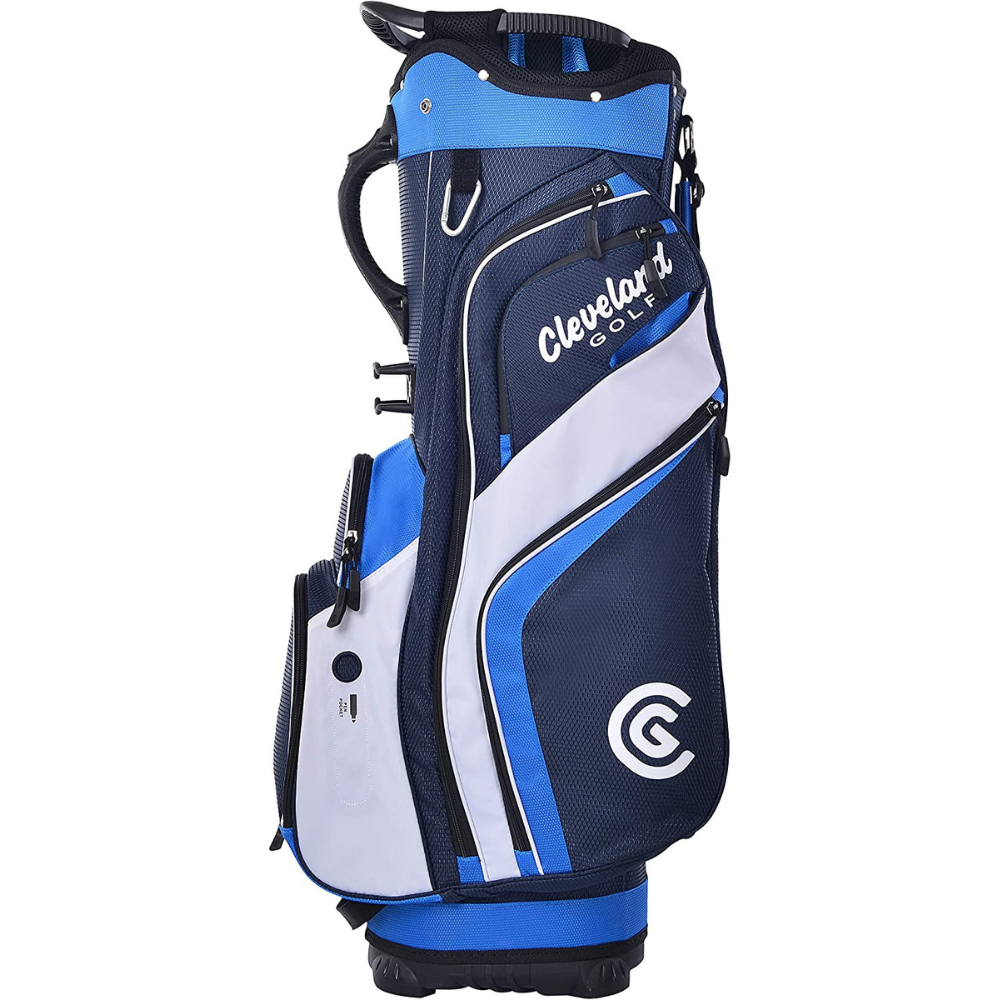 Cleveland Golf Cart Bag
Strategically Placed Handles On This Golf Cart Bag Make It Easy To Lift Out of Your Car and Onto Your Cart
Check Price On Amazon
With Cleveland's golf cart bags, you'll have all the gadgets you need to keep your clubs safe. Golf is all about being at ease, and this bag will undoubtedly make your game faster.
You can grab a new ball from the Cleveland Cart Bag's special golf ball holder whenever you discover the trees without rummaging around in your bag's pockets for a new ball.
The strategically placed handles on this golf cart bag make it easy to lift out of your car. The top-down handles help you stand the bag upright, and the base handle and handle on the spine let you lift and place it.
Therefore, its numerous features make it the best push cart golf bag in 2022.
Features
There are six grab handles to make loading thw cart bag easier
Features insulated cooler bottle pockets
Protect your valuables with waterproof zippered pouches
It is equipped with a golf ball holder
Provide 11 covenants pockets to keep everything organized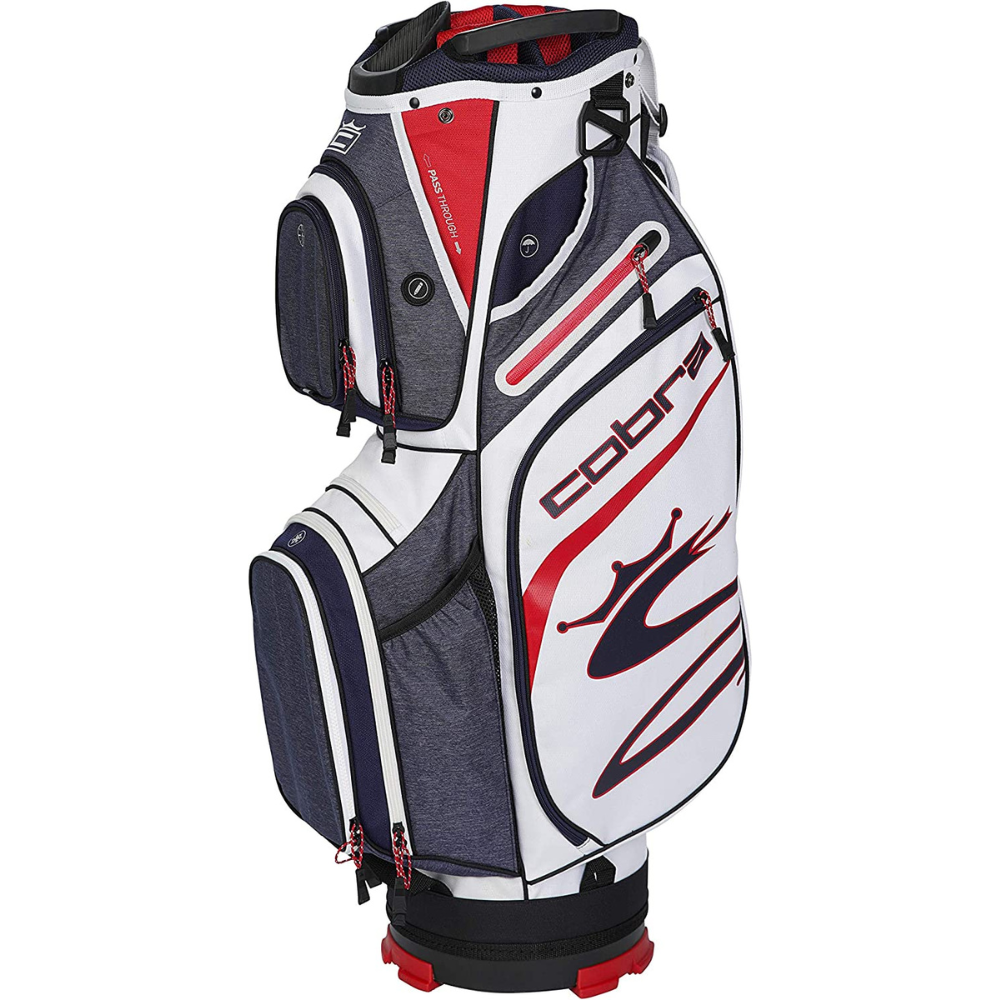 Cobra Ultralight Cart Bag
Dual Fleece Lined Valuables and Rangefinder Pockets
Check Price On Amazon
Cobra Ultralight Golf Bag is another great option if you're looking for a colorful golf cart bag for a pushcart. You get a 14-way top divider for all your clubs first.
But it's not just about the number of clubs in this cart bag. It's great for rocky terrain because the putter slot is tilted lower, so it won't bump into club heads.
There are 13 storage pockets, including a large cooler pouch that can hold more than a 6-pack of drinks. On the side, there is a large apparel pocket compartment ideal for shoes or jackets.
Features
A dual-top grab handle makes loading and unloading easy
The multiple pockets have plenty of room for everything
Features a lightweight design
Thick putter grips fit well in the putter well
Cooler pockets are large and do not leak into other pockets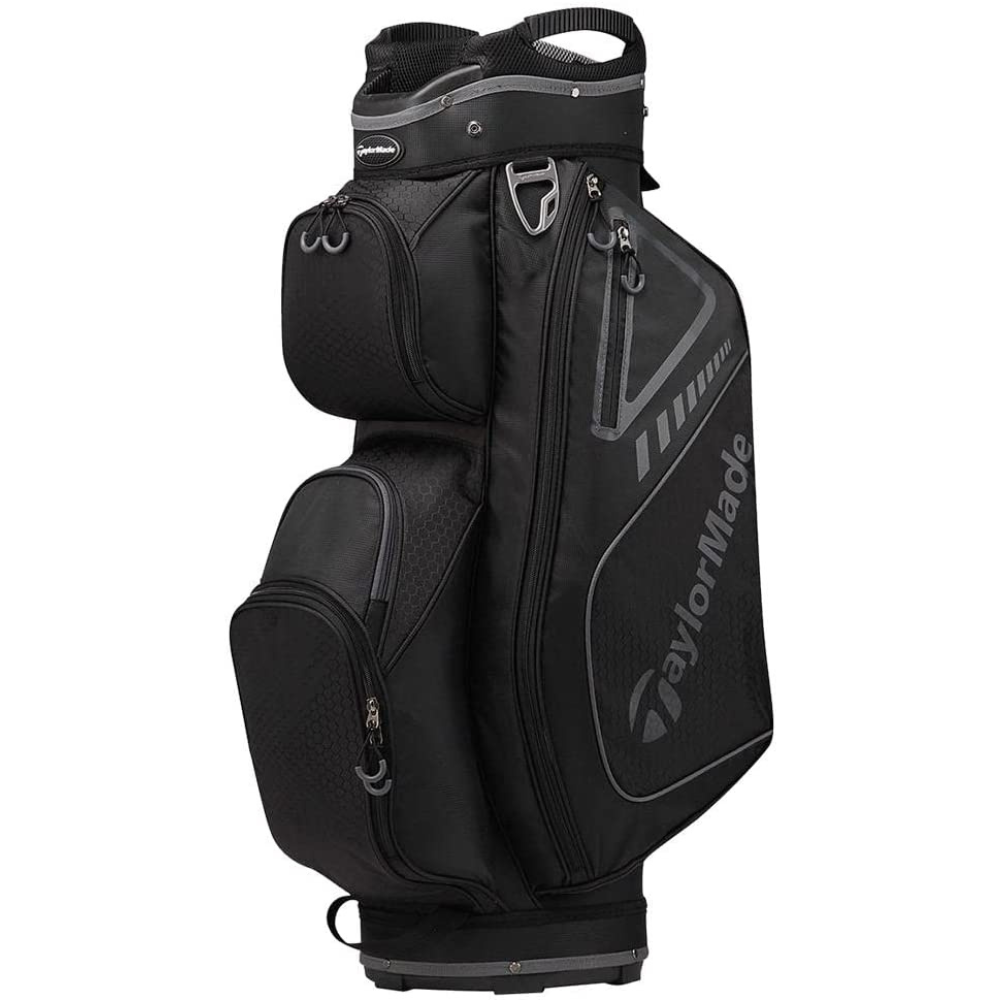 TaylorMade Select ST Cart Bag
Insulated Cooler Pocket Keeps Drinks COld
Check Price On Amazon
The Select ST cart bag from TaylorMade features everything golfers need to take convenience onto the course. Two microsuede-lined valuables pockets offer secure storage space for valuables.
The club dividers prevent clubs from crowding and sticking, and an internal insulated cooler pocket keeps your drinks cold and protected.
This travel bag has a sturdy structure that enables it to safely traverse challenging conditions, such as loose rocks and gravel and hidden crevices on the golf course.
It has 7 roomy pockets to organize your items. There's also a waterproof zip pocket to safeguard your phone, wallet, keys, and other valuables from getting wet.
Features
Has 15 full bag length dividers for your clubs
Front facing additional pockets
Fabric is fade resistant
Putter has dedicated well
Pocket for your rangefinder
Pockets for valuables (2)
Hot-Z Sport Ultra Lite Cart Bag
Check Price On Amazon
The Hot Z Golf HTZ Sport Cart Bag is capable of much more than just providing you with an excellent bag at a good price.
It includes many useful features, including a 14-way top, 5 zippered pockets, a velour-lined valuables pocket, a rain hood, a sleeve for your scorecard, and a lot more.
Features:
Has 15 full bag length dividers for your clubs
Has 9 inch 14-way graphite club friendly separator
Includes zippered pockets (5) with velour lined valuables pocket and waterproof zipper
Rear position single carry strap is padded with an elastic band that secures the strap
Pen and scorecard sleeve, towel ring, Velcro glove holder, holder for umbrella and tee, & cover hood to protect from rain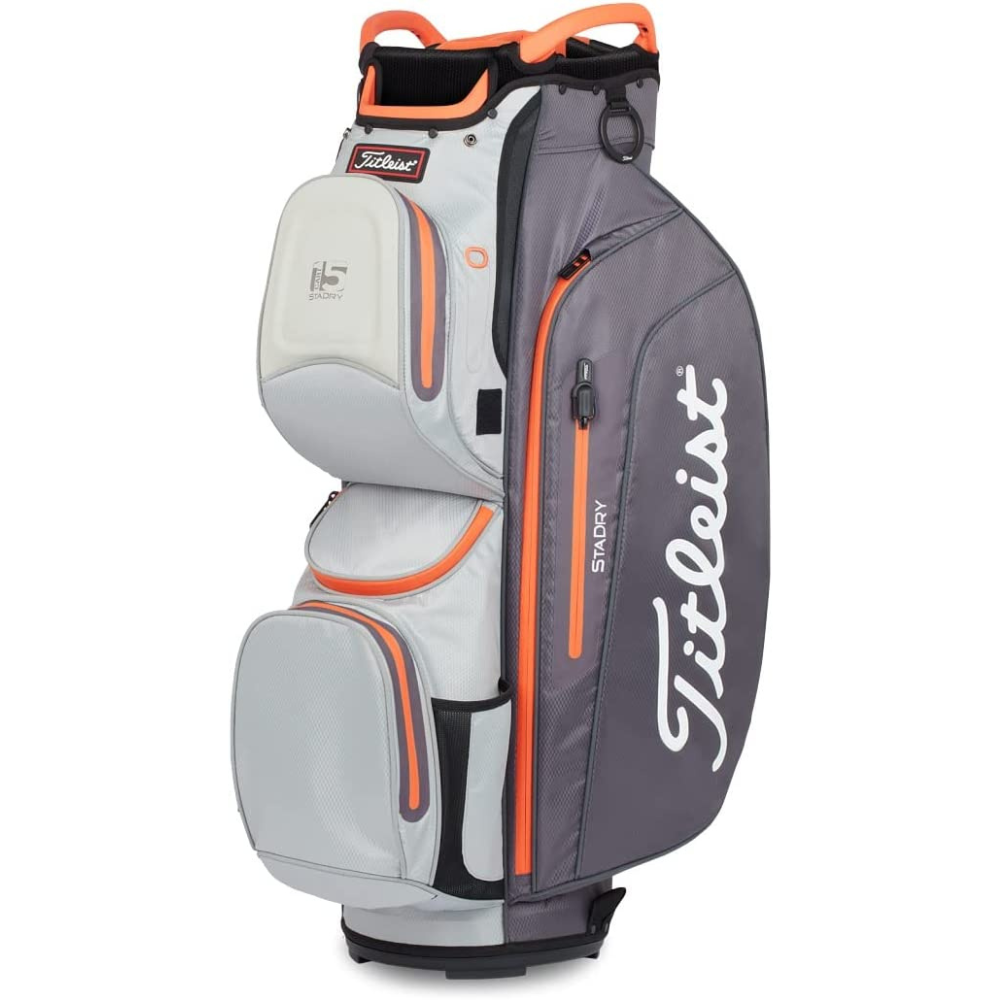 Titlist Cart 15 StaDry Bag
15 Full-Length Dividers Keep Golfers Organized in Addition to the Dedicated Putter Well
Check Price On Amazon
This waterproof bag has flexible organization with lots of storage space. The Cart 15 StaDry Bag offers the perfect balance for the dedicated golfer who enjoys to walk or ride and enjoys playing in any weather conditions.
Features:
15 Full-length dividers keep golfers organized in addition to the dedicated putter well
StaDry features a waterproof structure complete with sealed seam zippers and plenty of room for rain gear.
The cart has been completely redesigned for optimal organizing on both sides of the cart
Premium single strap
The Integrated cart strap tunnel allows for a more secure ride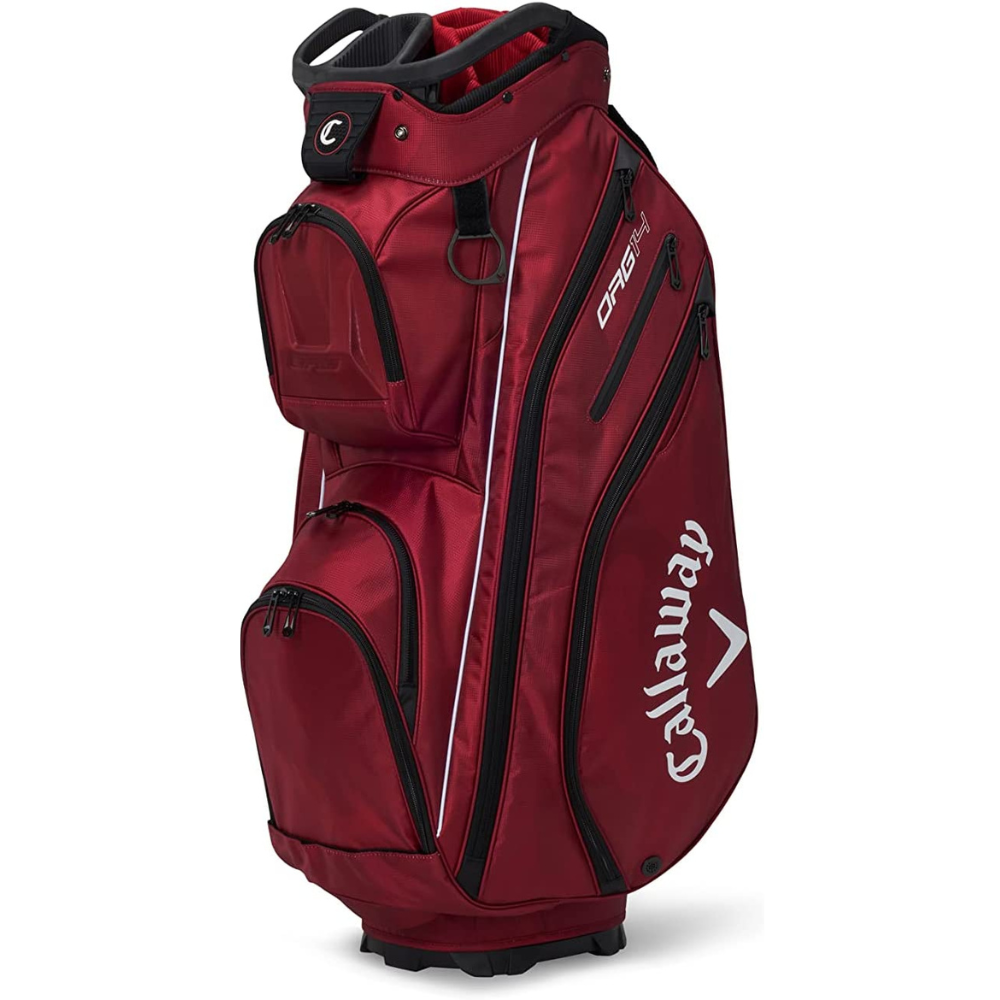 Callaway Golf Cart Bag
Storage, Organization and Ease of Club Accessibility
Check Price On Amazon
This cart bag is the ultimate organizer. Storage, organization and ease of club accessibility makes the Org 14's 14-way arched top the right choice for those wanting less clutter in their golf life.
Features:
14-way arched top is prioritized and optimizes easy access to clubs on both golf carts and push carts
Dividers are full length and there is a separate putter wheel with TPE over mold for shaft protection
The cart includes a strap pass-through for secure connection
Available with 10 Pockets
Security and bag rotation prevention is provided by the trolley-friendly hook and loop straps
Weighs 6 lbs. (2.7 KG)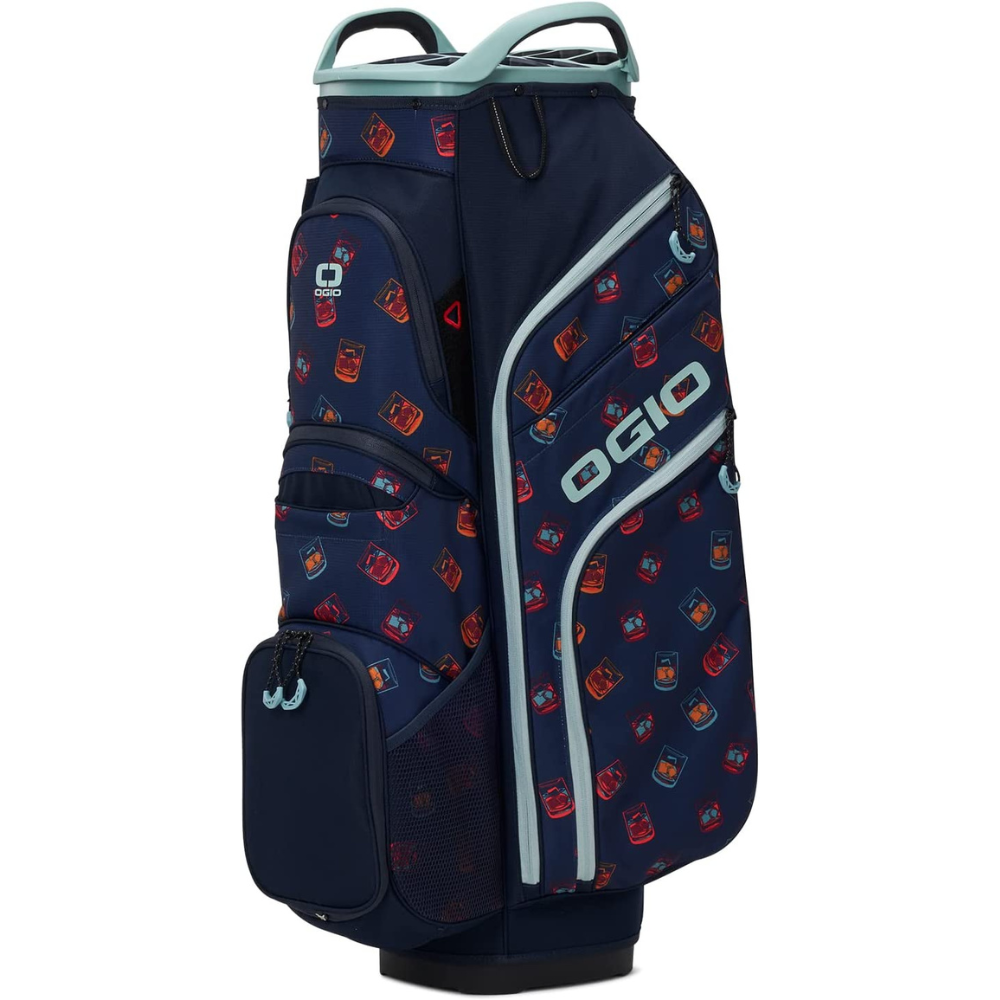 Ogio WOODE Callaway Cart Bag
Rapid Access Snap Ball Pocket
Check Price On Amazon
The new 15-way WOODĒ top helps to better organize your clubs and has extra room for large putter grips. Comes with 11 front facing pockets which includes a Rapid Access Snap Ball Pocket, a Rapid Access Snap fleece lined pocket for valuables, including an oversized insulated cooler pocket.
The push cart lockdown straps help to secure the bag in place when using a push cart and e-trollies. Also with an umbrella sleeve and a padded single strap.
Not only does the WOODĒ Cart bag organize all of your clubs it also helps you organize all the other things you take to the golf course more conveniently.
By separating your woods from your irons, it's easy to find out which club you're seeking, and it also protects your woods. This is the sturdiest cart bag OGIO has.
Features:
Front facing pockets for accessibility when on a cart
Velcro glove holder
Towel ring
Pen holder
Logo Ready so it can be embroidered
Sun Mountain Men's C130
Sun Mountains Best Selling Cart Bag
Check Price On Amazon
The C-130, one of Sun Mountain's highest selling cart bags, was developed to be the most effective bag on a cart. All features were specifically designed with cart user in mind.
With the reverse orientation top that incorporates 3 convenient handles, Smart Strap System, which offers convenient fastening.
Additional items like the various storage pockets and the velour-lined rangefinder pocket with magnetic closure help increase productivity and efficiency. Includes dedicated putter well.
Features:
Easy access when on cart with front facing pockets
Fourteen individual club dividers
Dedicated putter compartment
Thirteen total pockets which includes 2 apparel pockets and a cooler pocket that is ventilated
Comes with magnetic closure Rangefinder pocket
Velour-lined pockets (2), with one being water-resistant
FAQ's - Golf Bag for a Push Cart
What is the best golf cart bag to buy?
That really depends on what you are looking for and how much you are willing to spend.
For example, if you are looking for a high-end golf bag that will be used on a regular basis, then you might want to consider investing in a cart bag.
On the other hand, if you are just looking for something to use occasionally or for a beginner, then golf stand bags might be a better option.
Ultimately, it really comes down to what you need and what your budget is.
What Golf Bag Should You Buy?
What bag should you buy? It all depends on what type of golfer you are. If you are just starting out, then the best bag for you is one that is affordable and has all the basic features that you need.
However, if you are an experienced golfer, then you might want to invest in a more expensive and feature-rich bag.
There are also different types of golf bags for different purposes.
For example, there are cart bags and push cart golf bags. If you plan on using a push cart, then the best push cart golf bag for you is one that is lightweight and has plenty of storage space.
What To Look For When Buying Golf Bags for Push Carts?
When it comes to choosing the right golf bag for your needs, there are a few things you need to take into account.
If you plan on using a push cart, then you need to make sure that the golf bag you choose is designed for that specific purpose.
There are stand bags and cart bags that come with special straps that allow them to be attached to a push cart, so make sure to look for those features.
Another thing to consider is the size of the bag.
If you plan on walking the golf course, then you might want to choose a smaller bag that won't weigh you down.
On the other hand, if you'll be using a golf cart, then you can opt for a larger bag that can hold all your clubs and gear.
Whatever your needs, make sure to choose the best bag for your game.
Why Do You Need a Push Cart (or Pull Cart)?
A golf push cart, also called a pull cart, is a small vehicle designed to transport a golf bag and clubs around a golf course.
Many golfers prefer to use a push cart rather than carrying their clubs on their shoulders or pulling a larger golf cart behind them.
Push carts come in many different designs, but they all share the common goal of making it easier to get around the golf course.
What Features to Look For in The Best Golf Bags for Pushcarts?
When it comes to golf, having the best golf bag can make all the difference. If you are someone who enjoys using a golf cart, then finding a good golf cart bag is essential.
There are many different features to look for when choosing a cart bag, but some of the most important ones include: durability, plenty of storage space, and easy to use straps.
Additionally, it is important to find a bag that is specifically designed for use with a golf cart, as this will ensure that it fits properly and does not cause any damage to the cart.
Golf Bag/Cart Combinations?
A golf bag is a must for any serious golfer, but carrying it around the course can be a pain. That's where a golf push cart comes in handy.
A golf push cart is a small vehicle that you can use to carry your bag around the course.
Many golf courses have electric push carts available for rent, but you can also buy your own.
Golf bags and push carts come in many different styles and colors, so you can find one that fits your personality.
Difference between BUGGY CART golf bags and PUSH CART golf bags?
There are two main types of golf bags: cart bags and push carts. Cart bags are designed to be carried on a golf cart, while push carts are designed to be pushed or pulled along on the ground.
Both types of bags have their own advantages and disadvantages.
Cart bags are typically larger and heavier than push carts, making them more difficult to carry around.
However, they usually have more pockets and features than push carts, making them more versatile.
Push carts are usually smaller and lighter than cart bags, making them easier to carry around. However, they typically have fewer pockets and features than cart bags.
Which type of golf bag is right for you depends on your individual needs and preferences. If you plan on walking the course, a push cart may be the better option.
If you plan on riding in a golf cart, a cart bag may be the better option.
What kind of bag do you use for a push cart?
There are a few different types of bags that can be used for push carts, but the most common type is a stand bag.
Golf bags are typically made from a durable material such as leather or nylon, and they have a lot of compartments and pockets to store all of your golfing supplies.
Do golf cart bags fit on push carts?
Golf cart bags are designed to fit on top of push carts. Most golf cart bags have a space at the bottom that is specifically designed to fit over the handle of a push cart.
This allows golfers to easily transport their bag and clubs around the course.
Golf cart bags fit on push carts, but it is important to make sure that the bag is the right size for the cart.
There are a few different sizes of golf carts, so it is important to measure the bag and the cart before purchasing.
Is it better to carry a golf bag or use a push cart?
There is no definitive answer to this question as it depends on personal preference.
Some golfers prefer to carry their own bag as they feel it gives them more control over their game, while others find it more convenient to use a push cart.
Ultimately, it is up to the individual golfer to decide which option works best for them.
How do you put a golf bag on a push cart?
To put a golf bag on a push cart, first position the bag so that the base is resting on the ground and the top of the bag is facing you. Then, tilt the bag towards you so that the straps are facing up.
Next, pick up the bag by the straps and place it on the push cart. Finally, secure the straps to the push cart to keep the bag in place.
Can you put a golf stand bag on a push cart?
Yes, you can put a golf stand bag on a push cart. There are special adapters that you can purchase which will allow you to do this.
This can be a great way to save money if you already have a push cart and don't want to buy a new one. It can also be more convenient than carrying your bag around the course.
Are golf bags all the same size?
No, golf bags are not all the same size. They come in different sizes to accommodate different types of golf clubs.
For example, a standard size golf bag may not be large enough to hold a driver, while a tour bag size will be larger and have more compartments for different types of clubs.
Is it easier to carry a golf bag or use a push cart?
It is easier to carry a golf bag when the terrain is flat. If the terrain is hilly, it is easier to use a push cart.
Is it better to carry your golf bag?
There is no definitive answer to this question, as it depends on personal preference and the type of golf bag you have. Some golfers prefer to carry their bag, as it allows them to be more mobile and save energy on the course.
Others find it more convenient to use a golf cart, as it eliminates the need to carry their heavy bag around.
Ultimately, it is up to the individual golfer to decide which option is best for them.
Conclusion:
Push cart bags are an important part of your overall golf equipment. Remember, when choosing golf push cart bags, you can choose various sizes and styles.
Consider the weight, sturdiness, club organization, and affordability when buying a new golf bag to ensure you get a decent one that meets your requirements.
The golf bag for a push cart is a great option for those who want to enjoy a round of golf without having to carry their clubs. It's the next best thing to having a caddie.
This bag is lightweight and has plenty of compartments to store all of your golfing gear.
It also comes with a rain cover, so you can keep your clubs dry in case of inclement weather.
So, if you're looking for an easy way to transport your golf clubs, the golf bag for a push cart is the way to go. Other golf bags will simply cause you frustration.
Thank you for visiting and we hope to see you back soon!