Note: All products featured on GolfOften.com are researched and selected by our editors. However, when you buy something through us, we may receive a small commission at no additional cost to you.
The golf bag you choose can make all the difference in how you organize and prepare for your golf game. It's easier to walk the golf course when you carry a light golf bag. The lightweight golf stand bag will reduce stress by removing extra weight, and in turn, will facilitate better golf.
In addition to golf clubs, the lightest golf stand bags are sturdy enough to hold all your equipment and accessories. There are a variety of models available on the market and choosing a lightweight golf bag with a stand may seem overwhelming so to make it easier, we have compiled a list for you below.
How We Choose
By researching the market, we have provided you with a variety of options of the top lightest golf bags so you can select the one that best fits your needs. Our professionals have chosen products that combine reliability, affordability, and efficiency based on the reviews. We only recommend products that have 4 or 5 stars and are backed by real customer reviews.
Best 10 Lightweight Golf Bags
The following are the lightest golf bags with stands available in 2022.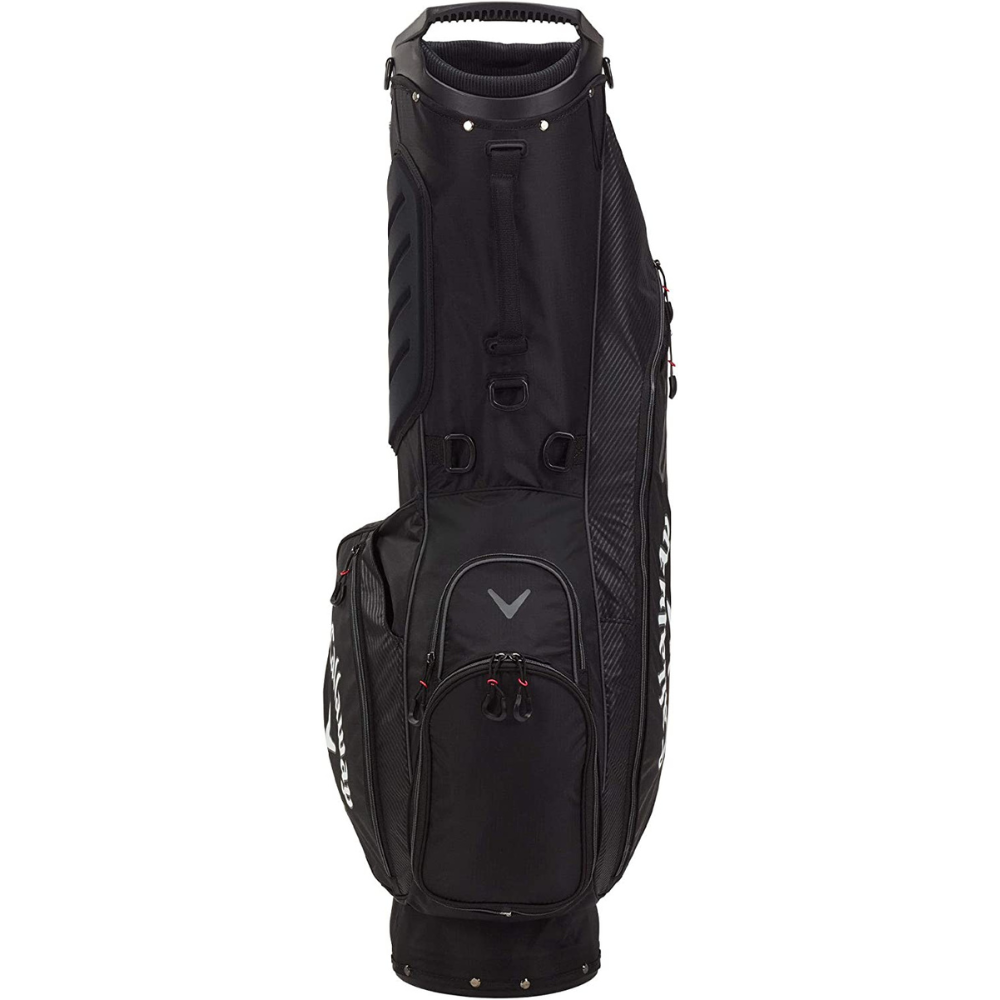 This is the Lightest Golf Stand Bag From Callaway
Callaway Golf Hyperlite Zero Stand Bag
Check Price On Amazon!
This lightest golf stand bag from Callaway is a great option when you are looking for a lightweight carry golf bag. As its name suggests, the golf bag is light and precise.
Despite the lighter weight of this stand bag, it remains the most popular model in the Callaway collection. If you prefer to stroll your rounds of golf, this is the perfect golf bag for you.
The bag is highly durable and well-manufactured using high-quality lightweight nylon. For the many pockets, YKK quality zips provide robust protection. This bag features carbon fiber stands that tuck in nicely and function well.
It has two full-length dividers, and a top divided four ways for simple organization. This bag has four convenient pockets and enough space for all your accessories and other stuff.
With the dual straps, walking after a good drive is comfortable with the bag on your back. The bag has a convenient top handle, making it easy to move around quickly.
Why We're Fans
It weighs only 2.5 pounds
The carbon fiber stand that's durable and effective
Quickly adjustable straps come in single and double options
The build quality and finishes are excellent for the golf bag
What To Know
Not as many compartments as some would like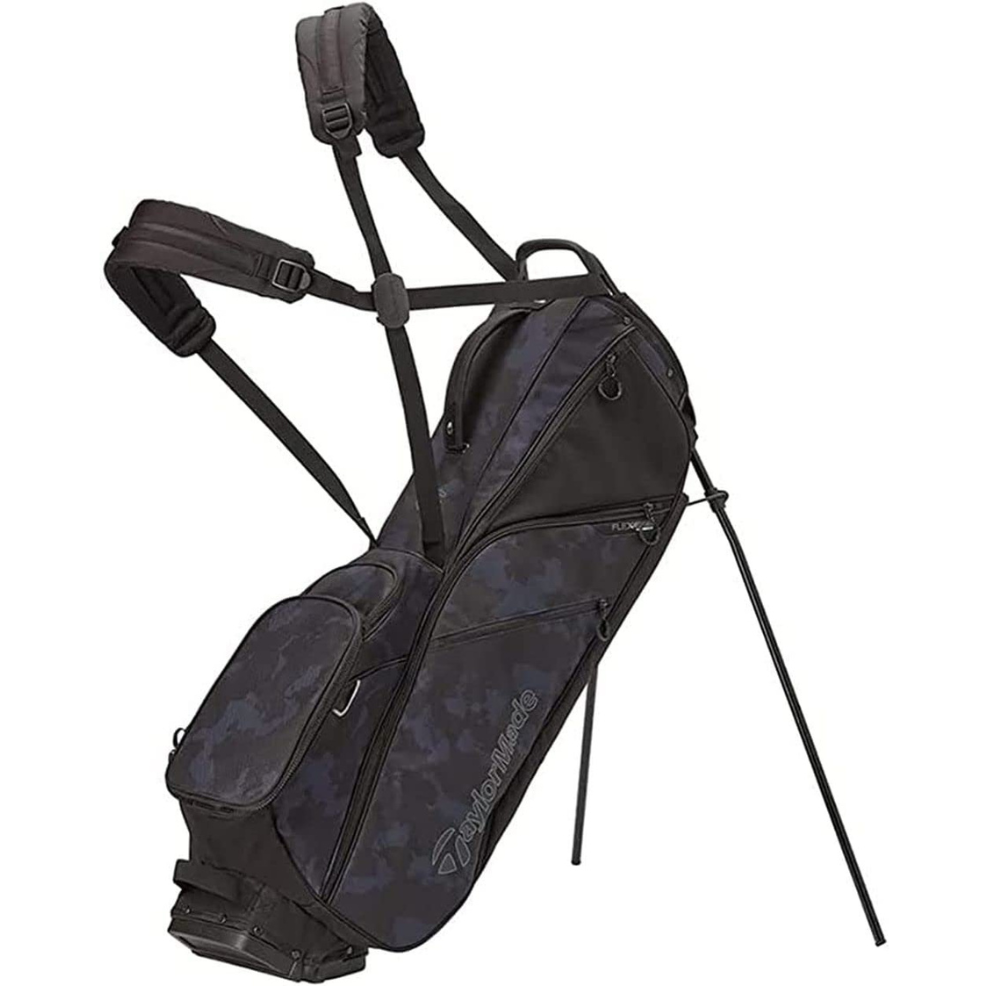 Features a 4-Way Top, Eight Compartments, and Lightweight Design
TaylorMade Flextech Lite Stand Bag
Check Price On Amazon!
It is one of the best lightweight golf bags from the TaylorMade store. Featuring a 4-way top, eight compartments, and lightweight construction, the bag is sure to keep you comfortable.
This bag features a Flextech stand system and a four-way top with eight pockets. Furthermore, TaylorMade included an adjustable strap for the best balance and comfort. With the lightweight design and adjustable strap, you can carry your bag through 18 holes.
There is ample space to separate your wedges, woods, and irons in the four-way top. It may, however, result in the entanglement of your golf clubs. You will also find eight pockets, one of which has waterproof storage space for your valuables.
Why We're Fans
An ample amount of storage space is available
Designed with a comfortable strap system
The design and materials are of high quality
The FlexTech stand keeps your bag firmly in place
What To Know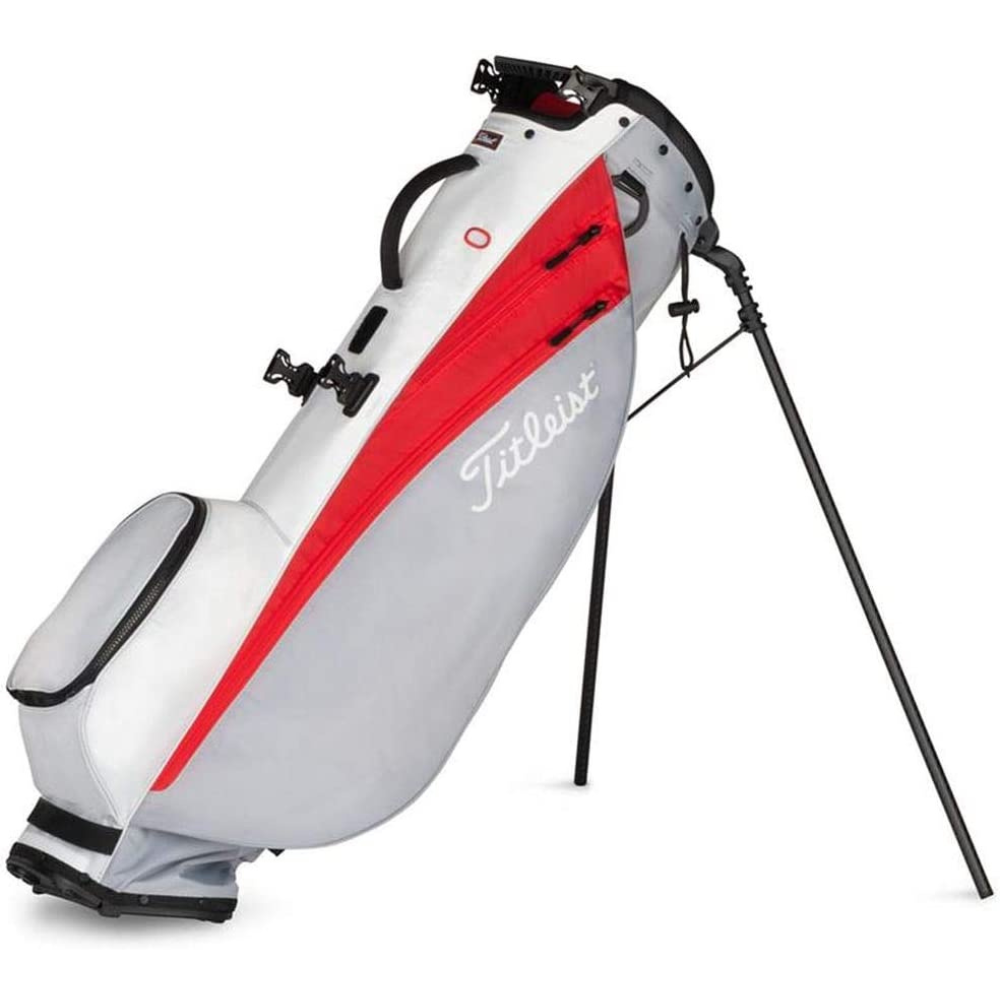 The Carbon Fiber Stand Provides Tremendous Strength-to-Weight Ratio.
Titleist Players 4 Carbon Stand
Check Price On Amazon!
Despite being the lightest golf stand bag from Titleist, it keeps up with the standard of excellence millions of golfers expect.
With the carbon fiber stand, you'll get a tremendous strength-to-weight ratio. Thus, if you need to fill your bag heavier than usual, you don't need to worry about the stand bowing. Furthermore, it features excellent hinges that won't obstruct your path.
Also, the material is reinforced to resist tearing while being naturally lightweight. Although there's no guarantee that this golf bag won't tear, it's likely to last a long time.
One of the best features of this bag is the amount of space it can hold. There are five compartments in the bag, so you have plenty of room for balls, clothing, gloves and valuables. Mesh covers make these pockets great for storing water bottles and rangefinders.
A lighter bag generally sacrifices organization, but this lightest golf carry bag does not. Organize your clubs easily with a velvet-lined 4-way divider that shields them from unneeded thwacks.
The wide and supple dual strap allows for a good level of comfort. You can easily carry the bag with its lightweight handle and straps integrated on top.
Why We're Fans
It weighs less than three pounds
Material that resists tearing
Carbon fiber legs with high strength
Dual straps provide a comfortable fit
There is ample storage space available
What To Know
This golf stand bag is expensive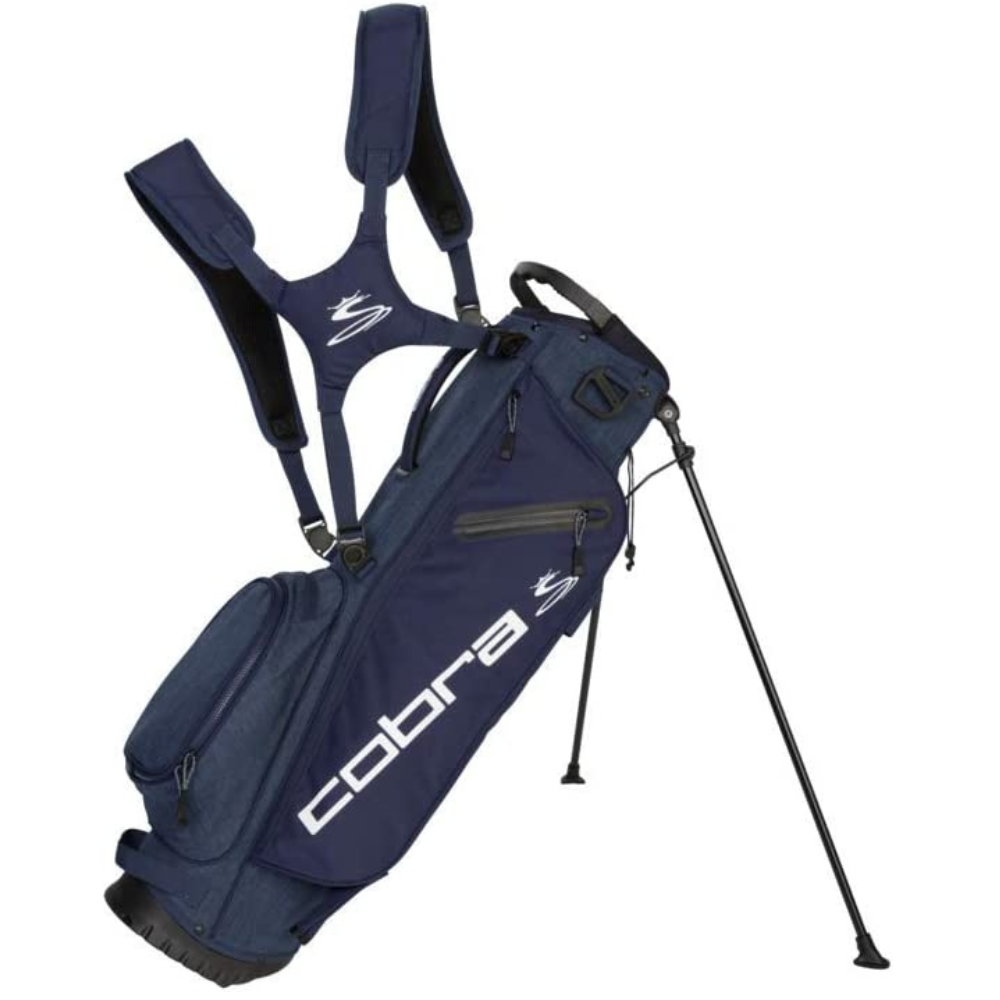 Includes a 3-Way Top, Full Length Dividers and a Grap Handle on the Top
Cobra Golf UltraLight Sunday Bag
Check Price On AMazon
You will love this golf bag from Cobra Golf if you are looking for the lightest golf bag with stand. This stand bag is one of the best, lightest golf stand bags due to its 3-way top, full-length club dividers, and grab handle at the top.
Golfers who do not possess the fourteen clubs required to play may choose this option. The comfortable double strap design makes this 3.8-pound backpack light and convenient for 18 holes.
There are five pockets throughout the bag to maximize storage space. The bag has a full length apparel pocket with room for clothes and the other pockets can carry drinks and valuables, with a ball pocket as well so you can carry a lot of stuff.
Why We're Fans
There are double padded shoulder straps on this bag
It contains a mesh pocket for storing beverages
There is an oversized apparel pocket on it
A top grab handle makes lifting hassle-free
It comes with a stand
What To Know
Some people found issues with the legs breaking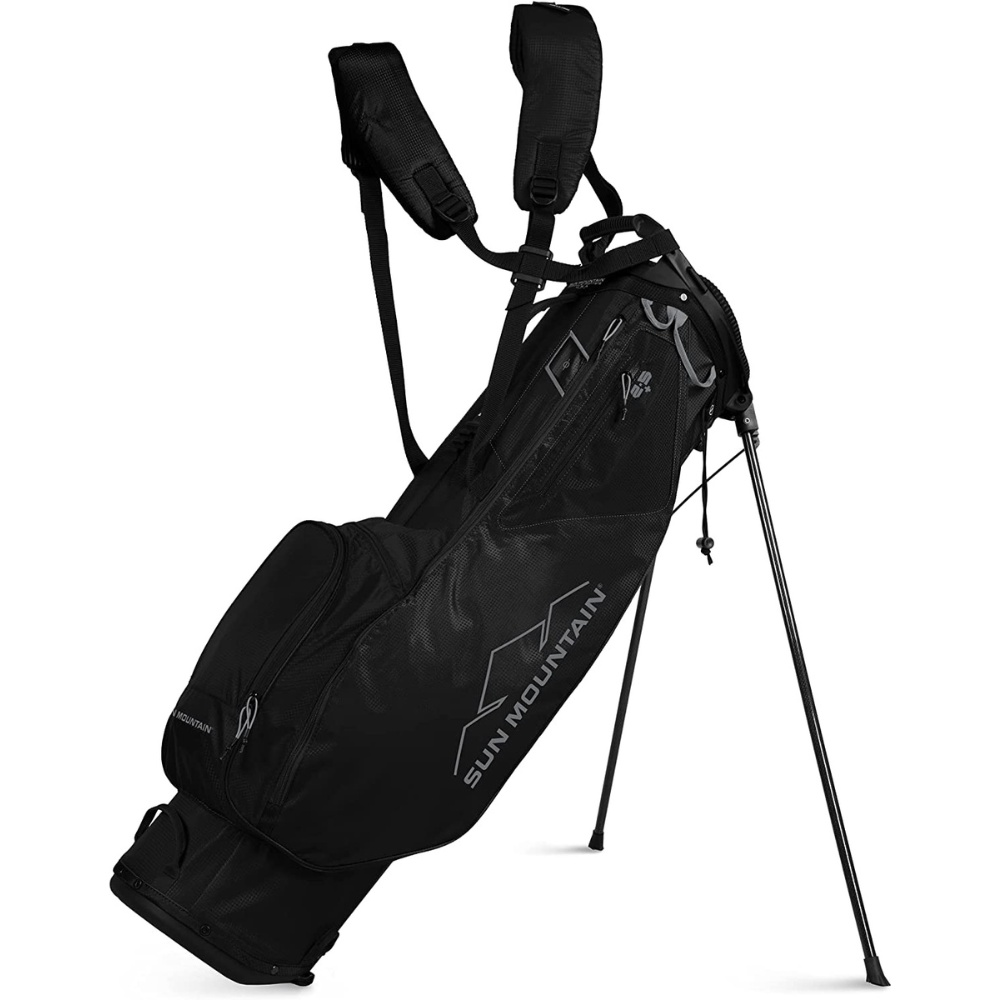 High-Density Foam constructed Straps Keep Your Shoulders Comfortable When Carrying Your Bag
Check Price On Amazon!
When you need the lightest carry golf bag, you can consider this lightest golf stand bag from Sun Mountain.
At just 4 pounds, this golf club is more than slightly heavier than the Callaway Hyper-Lite Zero but still very acceptable.
Additionally, it features sturdy carbon fiber legs to prevent the bag from falling or entangling you when carrying it. An integrated top handle on the bag facilitates quick movement.
With high-density foam construction, the straps keep your shoulder comfortable while carrying your bag. Their X shape makes them easy to wear and take off. You can also use the single strap adjustment option if you do not wish to wear it as a backpack.
Despite its lightweight and small size, it has a sizable ball pocket with a high-quality zip and a drinks pouch. The bags and pockets are all made from durable denier fabric.
You will also find a secure pocket for storing valuables with the velour lined valuables pocket. Throughout the bag, there are five pockets in total.
In addition, it features a 4-way divider on top with four full-length slots, making it ideal for organizing your clubs efficiently.
Why We're Fans
The straps are comfortable for single-use or double-use
Made with quality parts and materials
Well-designed layout with ample storage
The design of the bag facilitates easy access to the club
What To Know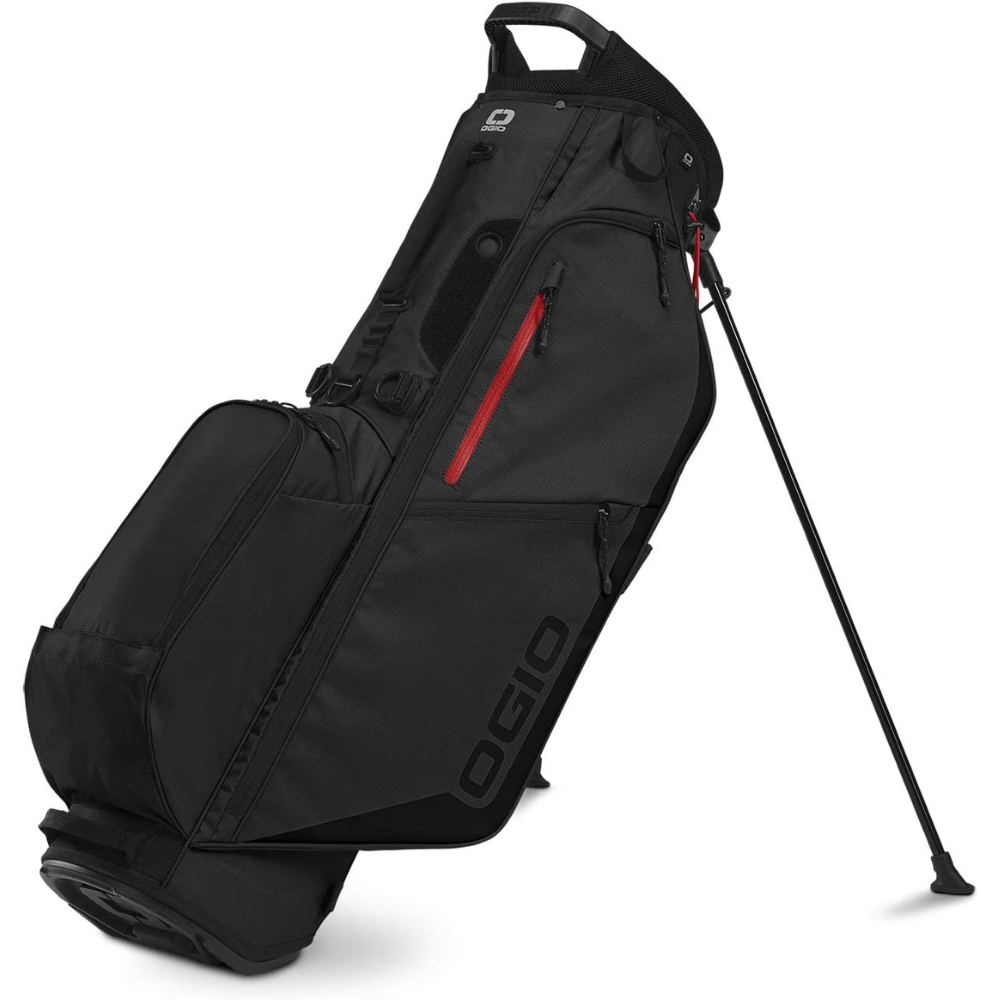 Excellent Organization and Storage Capacity
Check Price On Amazon
With its excellent organization and storage capacity, this lightest golf stand bag has everything you need.
The Fuse 4 Stand bag from Ogio is the most comfortable compared to others. The Fit Disk system distributes your weight over your shoulders for better support and cushioning.
Its water-resistant construction keeps shafts and grips dry in muck and rain by deflecting moisture away from them.
With seven compartments and a dedicated apparel pocket, Ogio's backpack has everything you need for your round. In addition, you can remove it easily from your car's trunk with the bottom handle.
This bag is a little pricey despite providing excellent comfort, storage, and functionality. Golfers who want lots of storage and comfort or who play in rainy weather will love this bag.
Why We're Fans
Made from water-resistant materials
Provides optimal comfort for the user
The bag has seven pockets for storage
It comes with a durable stand
What to Know
No ball and tee holder on the outside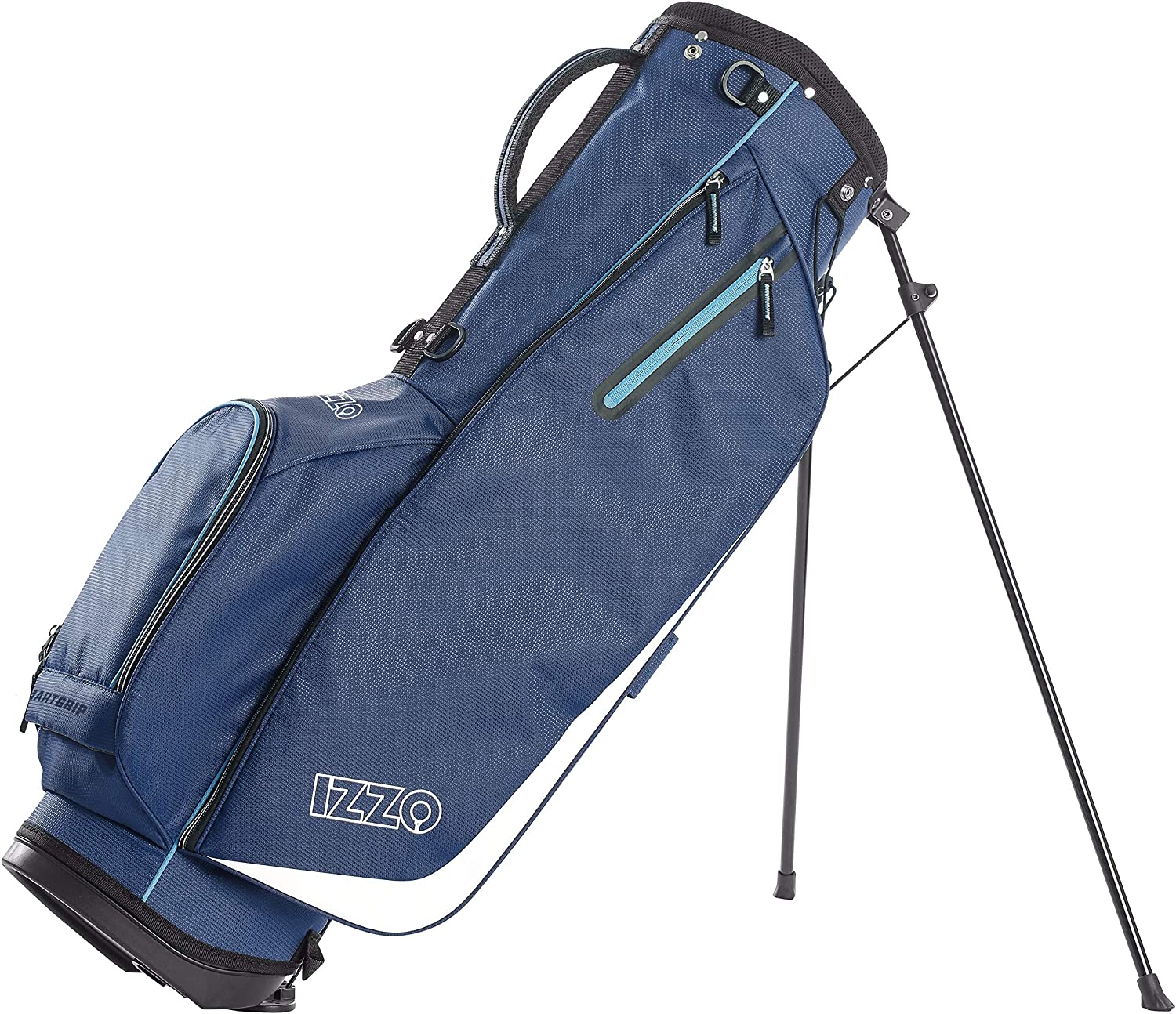 Bag Weight Is Just a Tad Over 3lbs
Izzo Ultra Lite Stand Bag
Check Price On Amazon!
This lightweight golf bag from Izzo Store is another lightest golf stand bag available in the market. While these bags are made of sturdy nylon, they weigh only 3.2 pounds. The bags feature a contemporary, beautiful design and are available in several colors. You won't find them overly flashy or too conservative.
As one of the first golf stands bags with dual straps, it is comfortable and easy to use. It keeps the bag stable and adjustable with minimal stress on your back.
Additionally, there's a towel loop, velcro glove connector, insulated drinks cooler, and a valuables pocket with velour lining. A four-way padded top and two full-length dividers keep the clubs organized and easy to remove.
Why We're Fans
The nylon construction provides durability
An affordable price
The strap is extremely comfortable
It features valuable waterproof pockets
What To Know
Some users report problems with legs opening up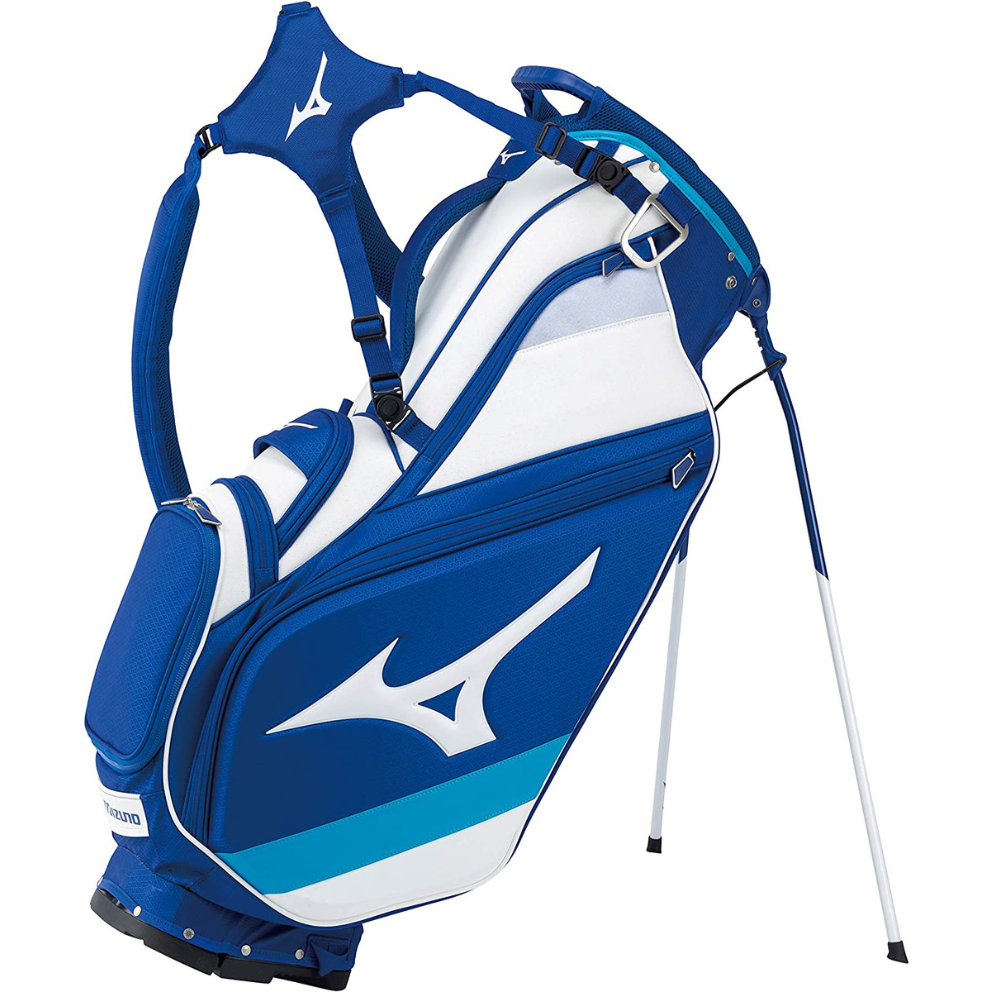 The Insulated Water Bottle Pocket Ensures Your Drink Stays Cold for the Whole Round
Mizuno Tour 6-Way Stand Bag
Check Price On Amazon!
It's one of the lightest golf stand bags available today from Mizuno. It has a large capacity and is designed to hold all your equipment. The main advantage of this device is that it is incredibly lightweight and functional.
Its carbon fiber stand and well-placed pockets evenly distribute the weight of this backpack. Curvature-sensitive foam fills the shoulder straps, making you feel comfortable walking on the course.
The sturdy side handles make it easy to pull from the top. The insulated water bottle compartment keeps your drink cold for 18 holes. Ultimately, a great bag that shouldn't be overlooked, especially if you hoard stuff.
Why We're Fans
Padded shoulder straps provide maximum comfort
Keep clubs from tangling with full-length dividers
It features insulated cooler pockets
What to Know
Price is on the higher side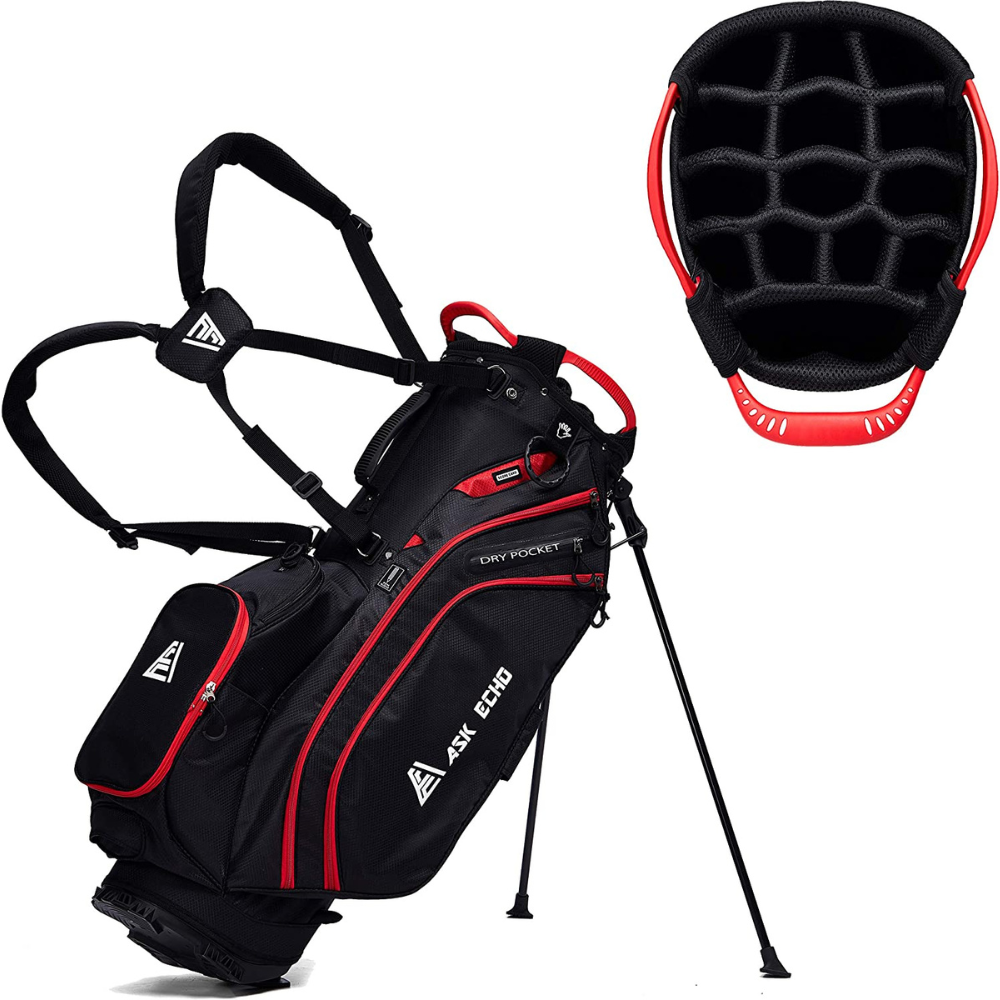 Provides 14 Long Club Dividers Including Putter
Ask Echo LightWeight Stand Bag
Check Price On Amazon!
You can bring too many extras to the course with this lightest golf stand bag from Ask Echo. Organize everything from your wallet and phone to your clothes, golf tees, and umbrella in the nine pockets.
In addition to its extensive storage capacity, the bag has fourteen long dividers, including one for a putter. Consequently, each club has a container to prevent twisting.
Ask Echo also includes four handles on the bag so you can pick it up conveniently from any angle. You can easily lift the bag of your vehicle with three side grab handles and a rear handle.
Why We're Fans
Organize your clubs is easy with the 14-full-length dividers
Comfortable padded shoulder straps
Ample storage for all your round needs
The bag has four grab handles
What To Know
Some users report clubs getting stuck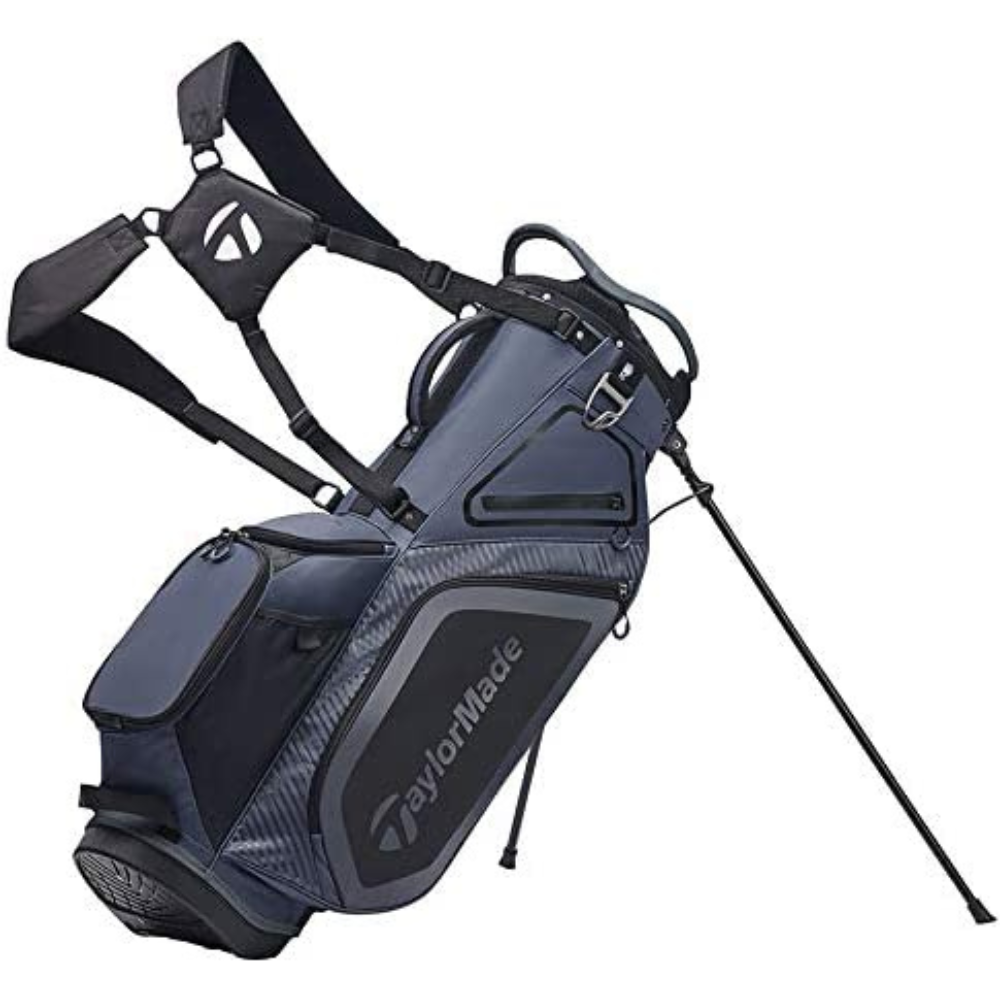 This Bag is Easy to Transport and Comes With Mutiple Handles
Check Price On Amazon!
If you're looking for the lightest golf carry bag, this one from TaylorMade is an excellent option.
This bag is easy-to-transport, lightweight, and easy to use from home to the course. With TaylorMade bags, you don't need a caddie like you would with heavy tour bags.
The bag has an eight-way top to organize your clubs and prevent overcrowding. You can also pick it up and move it around quickly because it has several handles.
Besides its roomy layout, the bag has six pockets for a wallet, phone, golf tees, rain gear, and golf balls. Additionally, the bag includes a water bottle sleeve.
Why We're Fans
It is easy to carry with multiple handles
There are six pockets for storing items
Organize your clubs in eight slots
It has a sleeve for water bottles
What To Know
Some users report the bag material is too thin
What to Consider When Choosing the Lightest Golf Stand Bag
Let's dive into the lightest carry golf bag, and explore what you should consider before buying one.
Picking the wrong golf bag will cause discomfort, unpleasantness, and frustration on the course affecting the focus you put on your game. Consequently, it is essential to consider a few crucial factors before purchasing a bag. Such as:
Golf Bag Sturdiness
When choosing a golf bag, it is important to consider the sturdiness of the bag. A sturdy bag will last longer and protect your clubs better than a flimsy one.
There are a few things to look for when determining the sturdiness of a golf bag. The first is the material that the bag is made from.
Good quality lightest golf bags will be made from durable materials such as nylon or polyester. The second thing to look for is how the bag is put together. A well-constructed bag will have reinforced seams and sturdy handles.
Golf Bag Weight
Most golfers don't think about the weight of their golf bag until they have to lug it around for 18 holes. But the truth is, the weight of your golf bag can make a big difference in your game. A heavy bag can tire you out and make it difficult to control your shots. That's why we've put together a list of the lightest golf stand bags on the market.
Whether you're looking for a lightweight option for walking the course or you just want to reduce the strain on your back, one of these bags is sure to fit your needs.
Golf Bag Storage Compartments
When it comes to golf, having the proper gear is essential in order to play your best game. This includes having a good golf bag to store all of your clubs and equipment. When choosing a golf bag, there are many factors you need to consider, such as the size and weight of the bag. Another important factor to consider is the storage compartments that the bag has.
There are many different types of storage compartments that golf bags can have. Some bags have separate compartments for each club, while others have one large compartment for all of the clubs. There are also some bags that have additional compartments for things like balls, tees, and other accessories. When choosing a golf bag, it is important to decide what type of storage you need in order to keep your clubs and equipment organized and easy to access.
It is always a good idea to check the bag's pockets to ensure enough room. You need a sturdy pouch to protect your valuables and a place to put your drink.
Golf Bag Comforts
When you're out on the golf course, the last thing you want to worry about is your golf bag. You want a bag that is comfortable to carry and has plenty of room for all your clubs and gear. The lightest golf carry bag with stand fits the bill perfectly, offering a range of features designed to make your round more enjoyable.
Lightweight Materials: Constructed from lightweight materials such as durable nylon or polyester, the lightest golf stand bag is designed to minimize the strain on your back and shoulders. The lightweight construction allows you to focus on your swing and enjoy the game without being weighed down by a heavy bag.
Comfortable Shoulder Straps: The lightest golf carry bag features comfortable, well-padded shoulder straps, which can be easily adjusted to fit your body. These straps distribute the weight of the bag evenly across your shoulders, reducing pressure points and providing a comfortable carrying experience throughout your round.
Ergonomic Design: The ergonomic design of the Lightest Golf Stand Bag ensures that it sits comfortably on your back, contouring to the natural curve of your spine. This design helps to alleviate potential back pain and discomfort, allowing you to focus on your game.
Ample Storage: The Lightest Golf Stand Bag offers ample storage for all your clubs and gear. With multiple pockets and compartments, you can easily organize your clubs, balls, tees, gloves, and other accessories. Some bags even include insulated pockets for drinks and snacks, ensuring you stay hydrated and energized during your round.
Easy Stand System: The Lightest Golf Stand Bag features a sturdy, easy-to-use stand system that allows you to set your bag down securely on the course. The stand legs are designed to provide stability on various terrains, preventing your bag from tipping over and keeping your gear safe.
Water Resistant Golf Bag
A water resistant golf bag is a must-have for any serious golfer. Not only does it keep your clubs and gear dry, but it also protects your investment from the elements. When shopping for a water resistant golf bag, look for one that is both lightweight and durable.
There are many different features to consider when choosing a water resistant golf bag. The first is size. Make sure to choose a bag that is large enough to hold all of your clubs and gear, but not so large that it becomes cumbersome to carry. The second is weight. A lightweight bag will be easier to carry around the course, even when wet. Finally, consider the materials the bag is made from. A durable material will withstand the elements better and last longer than a cheaper option.
When it comes to the best waterproof golf bag or water resistant bag, there are many great options on the market. Waterproofing and water resistance is essential when you anticipate playing golf in rainy weather. In this regard, some models are superior to others because they were designed with this in mind.
FAQ's
How much does a golf stand bag weigh?
A golf stand bag typically weighs between 4 and 6 pounds.
What weight is a light golf bag?
A light golf stand bag typically weighs between 3 and 4 pounds.
What is lightest full size golf bag?
The lightest full size golf bag is the Titleist Players 4 Stand Bag. It weighs just 4.6 pounds, making it easy to carry around the course.
What is the lightest Ping golf bag?
The lightest Ping golf bag is the Hoofer 14. It weighs just under 5 pounds and has a 14-way top.
Bonus Question - How heavy is a PGA pros bags?
A PGA pro's bag typically weighs between 40 and 50 pounds.
Conclusion
That's all for today's round-up about the best lightest golf stand bag in 2022.
The best golf bags are an important golf item to have, so making sure to choose the correct bag can make your game and day easier. The best Golf Bag is a bag designed to meet your needs. With the right bag to care for your equipment, including ample storage, easy access to your clubs and accessories, and easy to carry you will have the energy to play your best game.
Each model we recommend is excellent for the most lightweight golf carry bags. The Lightest Golf Stand Bag is a great choice for those who are looking for a bag that is both lightweight and stylish. The bag is perfect for carrying all of your golfing essentials. With its comfortable shoulder strap(s) and easy-to-use stand, these bags are sure to make your next round of golf a breeze.
Thank you for visiting and we hope to see you back soon!