Recently, one of the most difficult times I've had with golf was when I was diagnosed with a meniscus tear. I was still able to play but the pain affected my focus so periodically I would hit incredibly bad shots.
The doctor said I could have surgery but they preferred I exercised my way out of it. I incorporated the exercises I've listed below and the pain has gone away for the most part. It will take continued diligence to heal completely. But one of the great benefits of this experience is that my legs feel so much stronger now.
As a golfer with knee pain yourself you may be wondering how to protect your knees and optimize your swing. The best knee brace for golfers provides the essential support and compression to keep your knees stable and pain-free.
In this article, we will delve deep into the world of knee braces and how they can significantly benefit golfers. You'll discover the importance of choosing the right knee support for golf and the nuances that differentiate one brace from another.
All products featured on GolfOften.com are researched and selected by our editors. However, when you buy something through us, we may receive a small commission at no additional cost to you.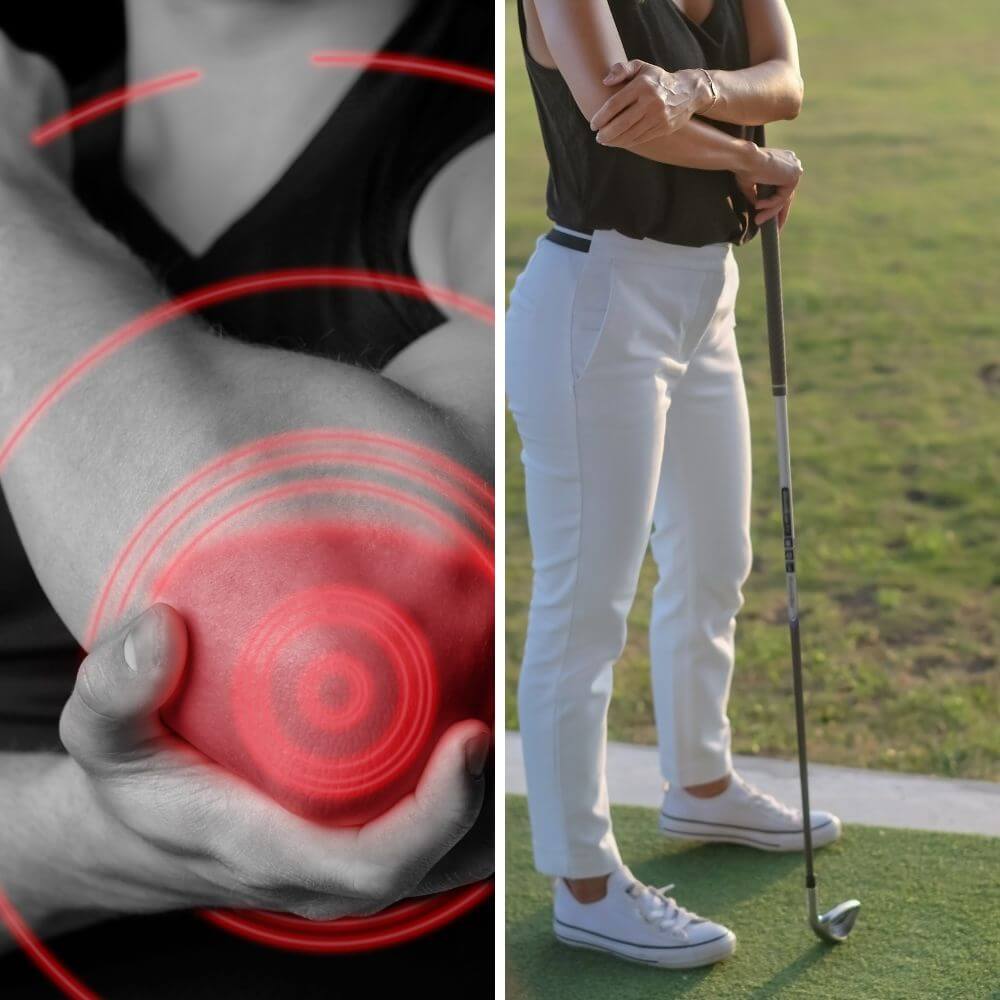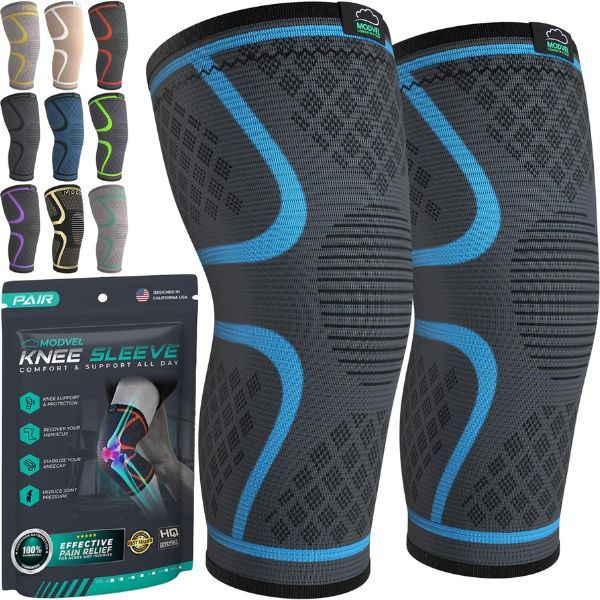 Optimum support for injuries and conditions like meniscus tears
Check Price
Pros
Experience effective knee pain relief without pills or injections. These braces provide optimum support for injuries and conditions like meniscus tears, ACL issues, arthritis, and post-surgery swelling. The gentle compression aids recovery and reduces inflammation.
Constructed using a premium nylon and latex blend, the braces deliver lightweight durability. The high-quality fabrics maintain their shape wash after wash, while the breathable construction wicks moisture to keep you cool and dry.
Stay active in total comfort. The breathable, moisture-wicking fabric keeps sweat and odors at bay, perfect for an active lifestyle. The innovative design ensures the brace never traps heat or moisture against your skin, keeping you fresh even during intense activity.
Cons
Some users reported the brace would roll down after some use
Some users reported the size chart did not match their leg size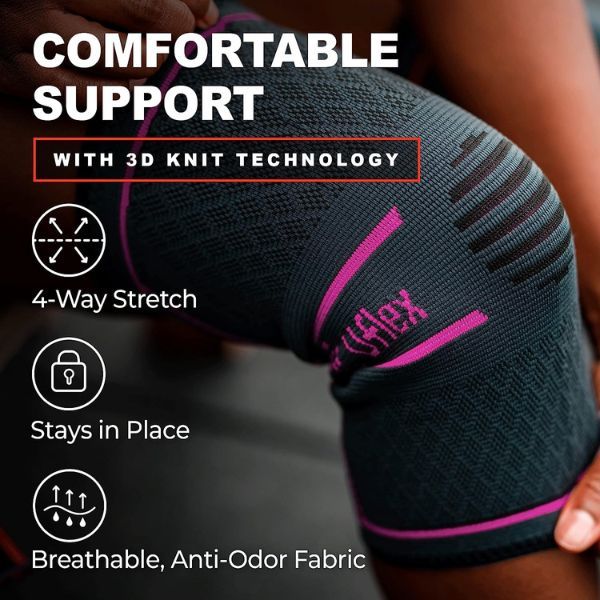 Boost circulation to aid muscle recovery
Check Price
Pros
Get unmatched knee support with our 4-way stretch compression sleeves. The elastic fabric moves with you, providing customizable compression during any activity or sport.
Find pain relief and protect your knees from future injury. Our sleeves reduce inflammation, swelling, and discomfort while supporting joint health. Boost circulation to aid muscle recovery so you can keep active.
Stay active in the sports you love. Perfect for runners, bikers, hikers, tennis and volleyball players, golfers, weightlifters, skiers, and more, our sleeves support your knees without restricting movement or endurance.
Move comfortably all day long. The breathable nylon and spandex fabric provide a smooth, stable fit that stays in place thanks to the double silicone anti-slip design.
Cons
Some users found the brace to be too tight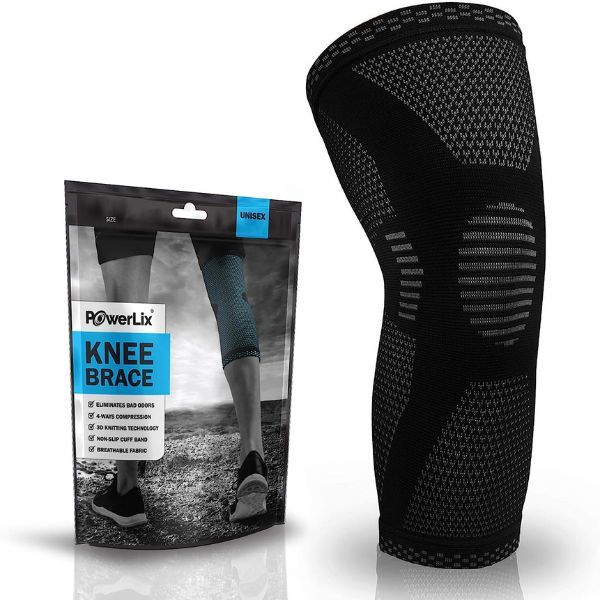 Provides consistent pressure around your knee joint
Check Price
Pros
Made of 80% Nylon and 20% Spandex.
Exceptional Support: The PowerLix knee brace provides consistent pressure around your knee joint, making it an ideal solution for knee pain relief. It not only aids during workouts but also supports everyday activities. With this sleeve, confidently take on any challenge life presents and stay one step ahead in avoiding injuries. Kindly refer to our sizing chart and follow our measuring guide.
Push Your Boundaries! This knee support excels in activities that put significant stress on the joints, such as baseball, basketball, soccer, golf, gym workouts, hiking, running, tennis, volleyball, and more. Experience outstanding knee support without compromising on your performance or leg movement.
Top-Notch Quality: Designed to offer exceptional support and comfort, this knee sleeve ensures you retain full mobility. Made with snug yet breathable compression material, it provides stable joint support, eliminating the discomfort often associated with neoprene braces. The fabric rapidly wicks away sweat, keeping your leg dry and odor-free for extended wear.
Stunning Design with Anti-Slip Features: Crafted with a unique knit pattern and accompanied by two silicone gel strips, this sleeve remains securely in place, no matter the activity. Its stylish design, available in various colors, complements your attire, making it fashionable anytime and anywhere. Its soft, luxurious fabric feels comfortable, allowing you to wear it throughout the day.
Cons
Being made primarily of 80% Nylon and 20% Spandex, the knee sleeve may not cater to individuals who have allergies or skin sensitivities to these materials. Additionally, the lack of material variety might limit its adaptability to various skin types and comfort preferences.
While the product does offer a sizing chart, it might still pose a challenge for individuals with unique knee shapes or sizes. Without the option of a customized fit, some users may find it either too snug or too loose, which can compromise the intended support and protection.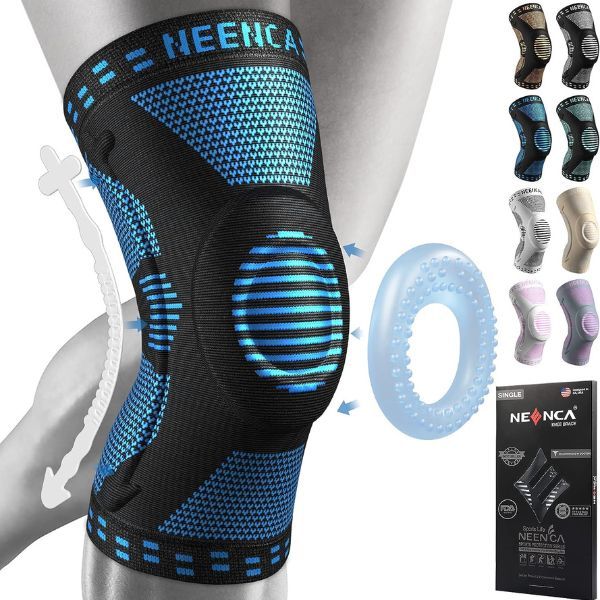 This knee brace evenly distributes pressure and boosts circulation
Check Price
Pros
Spring Knee Support Technology: With an anatomically shaped gel pad that encompasses the kneecap and double-sided spring stabilizers that align perfectly with your knee, this design amplifies side support and ensures joint stability. It effectively distributes knee pressure, keeping the joint warm and lubricated, thereby minimizing the risk of sports injuries while maintaining peak performance. This is the top pick for both sports protection and relief from knee pain.
The innovative material not only warms the knee but also reduces stiffness, mitigating inflammation and swelling, and enhancing oxygen flow. This knee support aids in evenly distributing pressure, boosting circulation in the knee region, and offering support around the patella, enhancing kneecap stability and minimizing tendon strain. It's designed to alleviate pain from ACL, MCL, and PCL, and prevent ligament injuries, meniscus tears, and other inflammations. FDA Registered and Doctor Recommended!
Embracing Anti-Inflammatory Therapy, the upgraded design rectifies issues found in similar products. This medical-grade knee sleeve is hypoallergenic and avoids itchiness. Crafted with high-elasticity, breathable compression material, it contours perfectly to your knee. The meticulous knitting technology, combined with side spring stabilizers and a patella gel pad, ensures the sleeve remains secure. Its non-slip gel strips prevent it from rolling or sliding, ensuring a comfortable fit all day.
CUTTING-EDGE TECHNOLOGY - This knee support delivers targeted compression, aiding in pain relief and speeding up recovery post intense workouts or injuries. It's scientifically backed to enhance blood circulation, increase oxygen delivery, and minimize inflammation, promoting the body's natural healing process. Perfect for pain management or workout, it serves as an effective brace and splint for those recovering from joint injuries.
Cons
Given its high elasticity and tight compression fabric, some users might find the knee sleeve to be too restrictive or uncomfortable for prolonged use. This could potentially lead to skin irritations or discomfort during extended wear, especially for those not accustomed to compression gear.
Tends to slide down on some users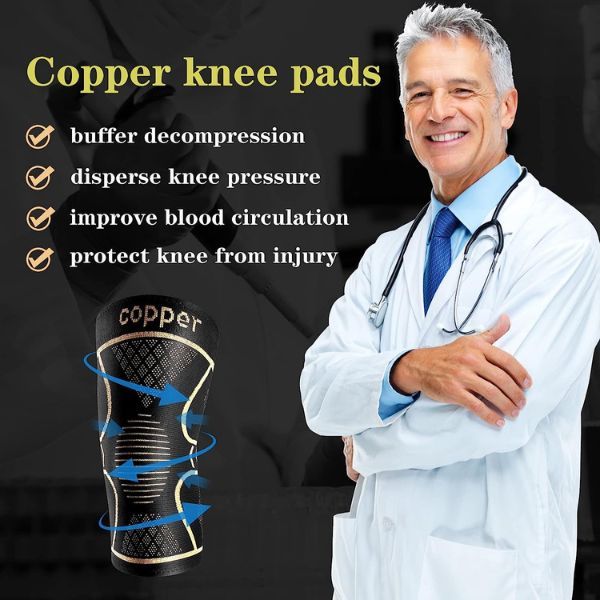 Crafted from 3D knitted fabrics
Check Price
Pros
Composed of 60% copper-infused nylon, 30% elastic, and 10% spandex.
Refer to the size chart provided in the images for an appropriate fit. If you're unsure about measurements, our customer service team is here to assist. Be advised: this product contains a trace amount of latex. If you have allergies to latex/silicone, kindly avoid using it.
These knee braces are crafted from 3D knitted fabrics, with copper ions seamlessly integrated into the nylon for enhanced odor control, cushioning, and decompression. This composition aids in dispersing knee pressure, boosting blood circulation, safeguarding the knees from potential harm, and providing consistent support. Additionally, its moisture-wicking property ensures your knee stays warm, alleviating any stiffness.
Optimal Protection: The knee sleeve offers protection during a variety of activities including golf, running, cycling, hiking, basketball, football, volleyball, tennis, and skiing. Moreover, it's suitable for daily wear, be it at work or during casual walks, helping to lessen the strain on your knees. Embrace life's pleasures confidently!
Stay-Put Design: Integrated with non-slip silicone, the knee brace guarantees a secure fit during your activities, eliminating any concerns of it slipping or rolling up.
Cons
The product contains a trace amount of latex. Individuals who are sensitive or allergic to latex/silicone materials might experience reactions or discomfort upon using this knee sleeve, limiting its appeal to a wider range of users.
With 60% copper-infused nylon and additional elastic and spandex components, there might be concerns about breathability for extended wear. For those in hotter climates or with a propensity to sweat, this composition may not offer optimal ventilation, leading to potential discomfort or excessive perspiration.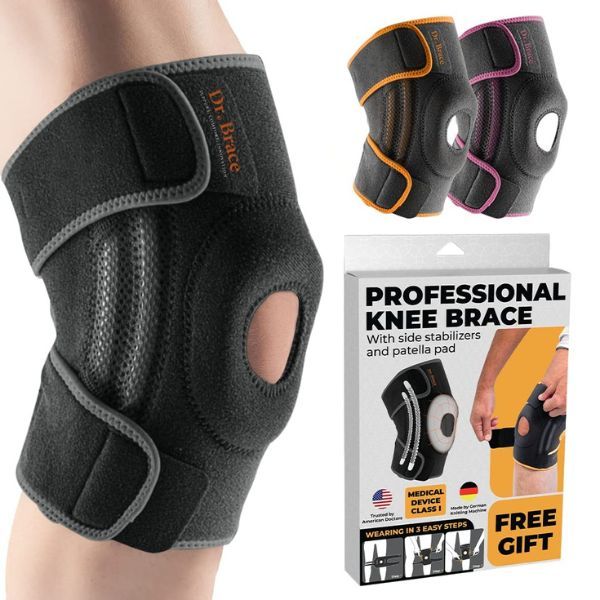 Helps safeguard against medial and lateral instability
Check Price
Pros
Experience targeted knee stabilization and maximum support with our knee brace. The upgraded design includes patella gel pads to cushion your kneecap, side stabilizers to support the joint movement, non-slip silicone strips for a secure fit, and high elasticity fabric that moves with you.
This brace goes beyond pain relief to actively prevent and protect your knee. It helps safeguard against medial and lateral instability, minor patella issues, meniscus tears, ligament sprains, arthritis flare-ups, and more. Consider it your knee's personal bodyguard.
All-day comfort is built right in. The lightweight, breathable fabric keeps you cool while the adjustable straps provide a customizable, secure fit. Wear it morning 'til night, at work or play, without ever feeling restricted or overheated.
Get 360 degrees of knee protection during exercise or daily activities. The adjustable straps ensure the brace stays precisely in place as you move, providing compression and joint stability from every angle.
Cons
While this brace offers targeted stabilization and relief, it may not provide the same level of support as a rigid, hinged medical brace. For those with severe knee injuries or instability, this soft sleeve design may not supply adequate immobilization or protection.
A Detailed Explanation of Knee Braces for Golfers
Why Do Golfers Need a Knee Brace?
Golf, as serene as it seems, places a considerable strain on the knees. The rotational movement of the golf swing, coupled with walking across the vast terrains of a golf course, can lead to knee pain or even injuries. The best knee braces for golf offer stability to the knee joint, reducing the risk of injuries and providing relief from existing pain.
Types of Knee Braces
There are different types of knee braces, each designed to cater to a specific knee condition or support level. Some common types include:
Compression knee sleeves: They provide support around the knee, helping to keep the knee warm and reduce pain.
Hinged knee braces: These are more rigid and are used when there's a need for a higher level of support and stability, especially after a knee injury or surgery.
Patellar straps: Designed to provide targeted compression below the kneecap to alleviate pain, especially from conditions like patellar tendonitis.
The type of knee brace a golfer should opt for largely depends on their individual needs, level of discomfort, and the specific knee condition they might have.
Choosing the Best Golf Knee Brace for Golf
When looking for the best knee brace for golf, consider factors such as the material, design, level of support, and any special features like hinges or straps. Sports knee braces that offer support and compression are ideal for golfers, as they stabilize the knee joint and prevent injuries.
Knee Pain and Golf: The Connection
Many golfers experience knee pain, often stemming from the repetitive nature of the golf swing and the pressure it places on the knee joint. When the golf club is swung, the force travels up from the club, through the arms, and into the body, with the knees acting as a pivotal point.
Over time, this can strain the muscles around the knee, leading to pain and discomfort. Moreover, conditions like arthritis can exacerbate the pain, especially in older golfers. Using a knee brace provides the necessary support, reducing the impact on the knees and minimizing pain.
How a Knee Brace Can Improve Your Golf Performance
A well-fitted knee brace not only prevents injuries but can also enhance your golf game. By providing stability to the knee, it ensures that your legs remain a solid base during the swing.
This stability can result in more power and accuracy in your shots. Furthermore, with reduced pain and discomfort, golfers can maintain better focus and concentration, essential for those crucial putts.
Golf Injuries that Benefit from a Knee Brace
While knee pain is common among golfers, specific injuries can benefit from the support a knee brace offers. These include:
Torn Meniscus: A tear in the cushioning cartilage between the shinbone and thighbone. A hinged knee brace can help stabilize the knee, providing relief from pain.
Arthritis: Inflammation of the knee joint, often seen in older golfers. Compression knee sleeves can reduce pain and swelling.
Patellar Tendonitis: Inflammation of the tendon connecting the kneecap to the shinbone. Patellar straps or braces can provide targeted relief.
Knee braces are not just preventative measures but can also be therapeutic, helping in the healing process of these injuries.
The Importance of Proper Fit and Comfort
Getting the Right Fit
Ensuring that your knee brace fits correctly is crucial. A poorly fitted brace can cause more harm than good. It might not provide adequate support, could move out of place, or even cause circulation issues. To get the right fit:
Measure your knee: Using a flexible measuring tape, measure the circumference of your knee around its thickest part, typically the center of the kneecap.
Consult sizing charts: Different brands have their individual sizing charts. Refer to these charts before making a purchase.
Try before you buy: If possible, try on different types of knee braces to determine which feels the most comfortable and provides the level of support you need.
Prioritizing Comfort
Comfort is as vital as support. If a knee brace is uncomfortable, you're less likely to wear it, negating its benefits. Features to consider for comfort include:
Breathable material: Look for materials that wick away moisture and allow your skin to breathe. This is especially important for golfers who play in warmer climates or for extended periods.
Adjustability: Some knee braces come with adjustable straps, allowing you to customize the fit and level of compression.
Flexibility: The brace should allow for a good range of motion, especially if you're going to be wearing it while playing golf.
Caring for Your Knee Brace
Regular Cleaning
Like any piece of sports equipment, knee braces can become dirty and sweaty. To ensure they remain effective and hygienic:
Follow care instructions: Most knee braces come with specific cleaning instructions. Typically, they can be hand-washed with mild soap and then air-dried.
Avoid harsh chemicals: Using bleach or other strong detergents can degrade the material of the brace.
Inspect regularly: Over time, braces can wear out or get damaged. Regular inspections can help you determine when it's time to replace your brace.
Storing Your Knee Brace
When not in use, store your knee brace in a cool, dry place. This will help extend its lifespan and ensure it's ready to use the next time you hit the golf course.
Understanding When to Wear a Knee Brace
Not every golfer will need to wear a knee brace every time they play. It's essential to listen to your body and understand the circumstances in which a brace might be beneficial.
Post-injury: If you've recently had a knee injury, your doctor might recommend wearing a brace as part of the healing process.
During intense play: If you're participating in a tournament or playing multiple rounds of golf in a short period, wearing a brace can provide additional support and reduce the risk of injury.
When experiencing pain: Listen to your body. If your knees feel sore or achy, wearing a knee brace can help alleviate some of that discomfort.
The Relationship Between Golf and Knee Health
The Impact of the Golf Swing
The golf swing, while seemingly smooth and fluid, places considerable strain on the knees. As a golfer rotates their body to generate power, the twisting motion can exert force on the knee joints. Over time, and without the proper precautions, this repetitive motion can lead to wear and tear or even acute injuries.
The Importance of Proper Footwear
Believe it or not, your choice of golf shoes can play a significant role in knee health. Shoes with inadequate support can lead to uneven weight distribution during a swing, placing more pressure on your knees. Opt for golf shoes that provide cushioning, arch support, and stability to reduce unnecessary strain on the knees.
Walking the Course
While walking the golf course is excellent for cardiovascular health, the repeated impact of walking on uneven terrains can be hard on the knees, especially if you're carrying a heavy golf bag. Utilizing a cart, wearing supportive shoes, and occasionally using a knee brace can help mitigate potential knee issues.
Exercises to Strengthen Knees for Golf
Quadriceps Stretch
Strengthening the muscles around your knee can provide additional support and reduce the risk of injuries:
Stand upright and hold onto a chair or wall for balance.
Bend one knee, bringing your heel towards your buttocks.
Hold your ankle with the same side hand and gently pull it closer to your body.
Hold the stretch for 20-30 seconds and then switch sides.
Hamstring Curls
Lie flat on your stomach.
Slowly bend one knee, trying to touch your heel to your buttocks.
Hold the position for a few seconds and then return to the starting position.
Repeat the movement 10-15 times on each side.
Calf Raises
Stand upright with your feet hip-width apart.
Slowly rise onto your tiptoes, lifting your heels off the ground.
Hold the peak position for a few seconds and then slowly lower your heels back to the floor.
Repeat this exercise 15-20 times.
Squats
Stand upright with your feet hip-width apart.
Slowly lower your torso so your buttocks are parallel to the ground.
Hold the position for a few seconds and then slowly stand up.
Repeat this exercise 15-20 times.
Calf Stretches
Stand upright with your feet hip-width apart.
Brace against a wall or anything that can support your weight. Stay tall with your back knee straight, and lunge forward onto your front leg until you feel a stretch in your calf muscle on the back leg.
Hold the position for a few seconds and then slowly stand up.
Repeat on the other side.
Repeat this exercise 15-20 times.
These exercises not only prepare your knees for the demands of golf but also promote overall joint health, ensuring that you can enjoy the sport for years to come. Remember, consistency is key when it comes to exercise so do these frequently.
Choosing the Right Knee Brace for Your Needs
Understand Your Requirements
Before diving into the myriad of knee brace options available, it's imperative to understand your specific needs. Are you looking for relief from an existing injury? Is the brace primarily for preventive measures? Or do you need post-surgery support? Knowing your requirements can help you filter through the vast selection of knee braces available.
Type of Knee Brace
Different types of knee braces offer varied support and compression. Some common types include:
Compression sleeves: Ideal for mild to moderate pain. These sleeves offer support and warmth to the knee joint without restricting movement.
Hinged knee braces: Recommended for those who need maximum support, especially after surgery or a significant injury.
Knee straps or bands: These are perfect for conditions like patellar tendonitis (jumper's knee) as they provide targeted pressure relief.
Material Matters
When it comes to knee braces, comfort is paramount. Materials like neoprene provide warmth and compression, while elastic is more flexible. Some modern braces even feature moisture-wicking materials to keep sweat at bay during long rounds of golf.
Read Reviews and Get Recommendations
Before making a purchase, it's wise to read reviews from fellow golfers who have similar knee concerns. Personal recommendations, especially from professionals or trainers, can also be invaluable.
Additional Tips for Golfers with Knee Concerns
Modify Your Swing
If you're experiencing persistent knee pain, consider consulting a golf instructor. Sometimes, slight modifications to your swing can reduce the strain on your knees significantly.
Listen to Your Body
This can't be stressed enough. If your knees are signaling pain, it's crucial to give them a break. Pushing through the pain can exacerbate the issue and lead to more extended periods of recovery.
Regularly Warm-Up
Engaging in a proper warm-up routine prepares your body for the physical demands of golf. Gentle stretches and light cardiovascular exercises can go a long way in preventing injuries.
Golf is a sport loved by many, and with the right precautions, it can be enjoyed without putting undue strain on your knees. Whether you're a weekend golfer or a seasoned pro, prioritizing knee health can ensure that you continue to enjoy the game without compromise.
Final Thoughts
Navigating the world of golf can be both exhilarating and demanding. As you've delved deeper into the intricacies of knee health related to golf, it's evident how integral the knee joint is to the game. From the powerful swing to the long walks on the course, each aspect of golf relies heavily on the strength and stability of the knees.
By now, you've gleaned the importance of choosing the best knee brace for golfers to cater to your specific needs, be it for support during an injury, prevention, or post-surgery. With the multitude of options available, the key is understanding the purpose of each brace type, its material, and how it can benefit you on the golf course.
Remember, the game of golf isn't just about skill and strategy; it's also about ensuring your body is well-equipped and conditioned to handle the challenges. By paying attention to your knees, not only do you protect yourself from potential injuries, but you also enhance your performance. After all, a pain-free swing is likely to be a better one.
Best Knee Brace for Golfers - FAQ
Is it okay to wear a knee brace for extended periods?‌
While it's safe to wear a knee brace for longer durations, it's essential to ensure it's the correct fit. If you experience any discomfort, numbness, or swelling, it's advisable to remove it and consult a healthcare professional.
Can I wear a knee brace even if I don't have an injury?
‌Yes, many golfers wear knee braces as a preventive measure, especially if they've had previous injuries or want to minimize the risk of strains.
How often should I replace my knee brace?
‌The lifespan of a knee brace depends on its type and frequency of use. Generally, if a brace starts to lose its elasticity, fit, or shows signs of wear and tear, it's time for a replacement.
Can wearing a knee brace improve my golf game?
‌While a knee brace primarily offers support and reduces pain, it might indirectly improve your golf game by allowing you to play without discomfort or fear of injury.
Do I need a prescription to buy a knee brace for golf?
No, you can purchase most knee braces over the counter. However, for specific medical conditions or post-surgery support, consult with a healthcare professional.
Will wearing a knee brace affect my golf swing?
A well-fitted knee brace designed for golf should not hinder your swing. It can provide stability and support, potentially enhancing your game.
Can I use the same knee brace for other sports?
While some knee braces are versatile, it's best to use a brace specifically designed for golf when on the course to ensure optimal support and flexibility. If you engage in other sports, consider getting a brace tailored for those activities.
Thank you for visiting, and we hope to see you back soon!