Understanding Back Pain in Golf
Golf is a game that requires precision, skill, endurance and focus. However, If you're anything like me, then you probably suffer with some degree of back pain that can cause you to lose your focus during your golf round.
Just ask anyone you know and they will tell you they suffer with some measure of back discomfort so it's no secret that many golfers struggle with back pain which can hinder their performance and enjoyment on the golf course.
Fortunately, there is a solution – a golf back brace designed specifically for golfers needs. In this article, we will explore the benefits of using a back brace for golf and provide a comprehensive review of the top options available in the market today.
Back pain is a common sore muscle problem faced by golfers due to the repetitive motion and torque involved in the golf swing.
There are different types of back pain but the most frequent type is lower back pain caused by poor swing mechanics, improper posture, weak muscles, and previous or existing injuries that can contribute to this discomfort.
To find pain relief and protect your lower back while playing golf, it is crucial to strengthen abdominal and back muscles, stretch and warm up before each round, avoid carrying heavy clubs, take breaks when fatigued, and seek professional advice if you have chronic back issues.
Many golfers play both golf and tennis creating additional stress on their back. A brace will help minimize that stress and allow you to continue to enjoy both sports.
Minimizing Injuries and Enhancing Performance in Golf Through Training Programs
American Orthopaedic Society for Sports
We've done the research to provide you with options to help you choose the one that best fits your needs. Our experts have read through the reviews to find the ones that offer quality, value, and convenience. We only recommend products that have 4 or 5 stars and are backed by real customer reviews.
All products featured on GolfOften.com are researched and selected by our editors. However, when you buy something through us, we may receive a small commission at no additional cost to you.
Top Back Braces for Golf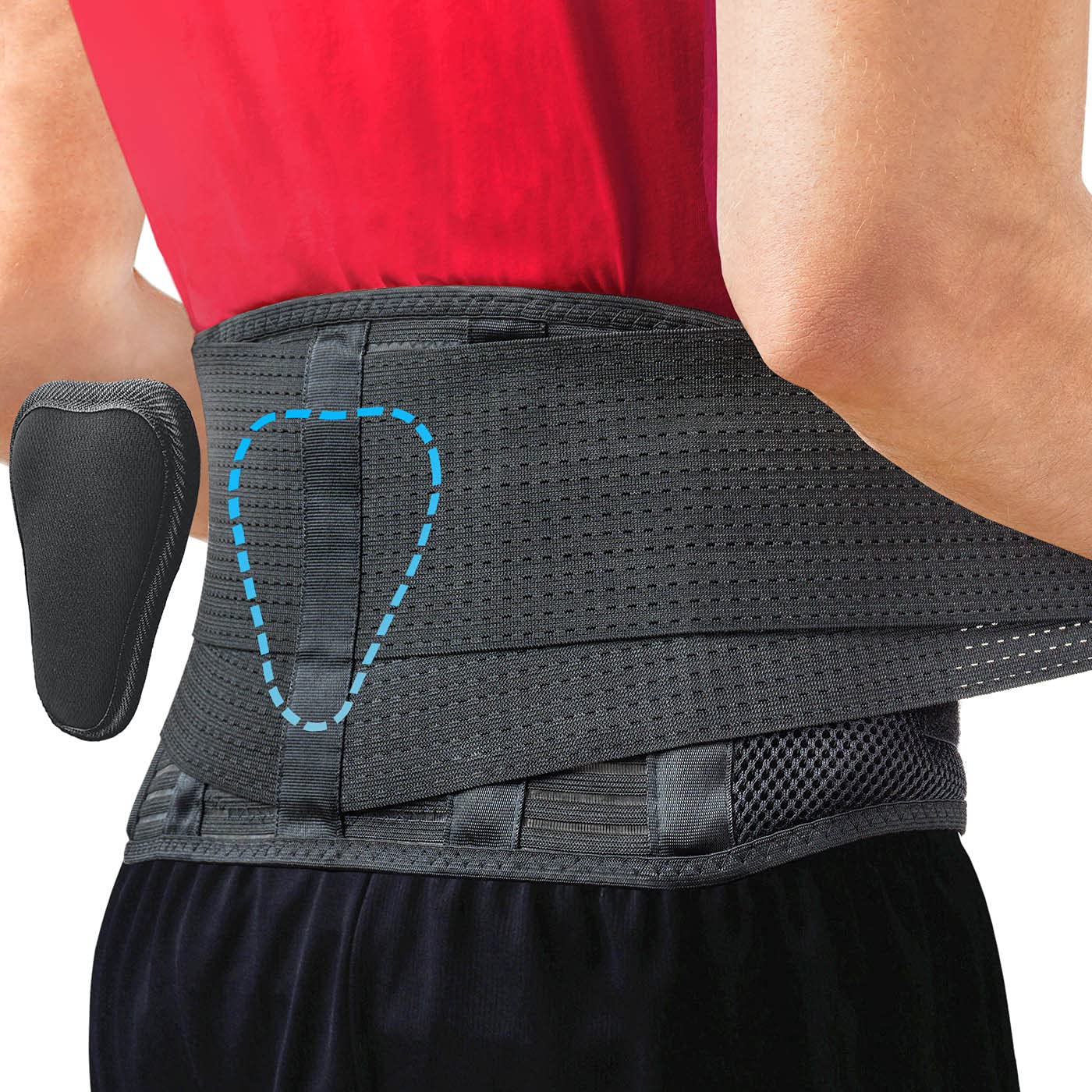 Our #1 Pick! Over 50K Reviews
Helps with Back Pain, Lumbar Support, Herniated Disc, Sciatica, Scoliosis, Degenerative Disc Disease, Spinal Stenosis
Check Price on Amazon!
The Sparthos Back Brace is a popular choice among golfers looking for a supportive and breathable option. Made with breathable materials like polyester mesh and heavy-duty nylon, this brace keeps golfers cool and comfortable even during intense activity. With its adjustable and removable lumbar support, the Sparthos Back Brace provides personalized comfort and stability.
PROS
✅ Experience immediate and long-lasting relief from herniated disc, sciatica, back pain, sore muscles, and other back conditions with the Sparthos Back Brace. Whether you're walking, bending, or stretching, this brace provides the freedom of movement you need.
✅ The Sparthos medical brace features an adjustable lumbar pad that offers additional compression for your lower back. Vertical support stays stabilize your back and prevent rolling, giving you the essential support required to stay active.
✅ Designed with breathable fabrics and an adjustable, perfect fit design, the Sparthos back brace ensures comfort and ease of wear under any clothing. Say goodbye to bulky devices and embrace the comfort of Sparthos.
✅ When you choose the Sparthos brace, you're choosing quality. We don't just claim it; we guarantee the highest quality product because your health deserves the best.
✅ With the 100% happiness guarantee, you can confidently make your purchase without any risk. Take control of your back health and experience the benefits of the Sparthos Back Brace today.
CONS
❌ Some users with larger waist sizes may find it less effective or uncomfortable due to limited sizing options.
❌ The brace may have a tendency to ride up or shift during physical activities, requiring periodic readjustment for optimal support.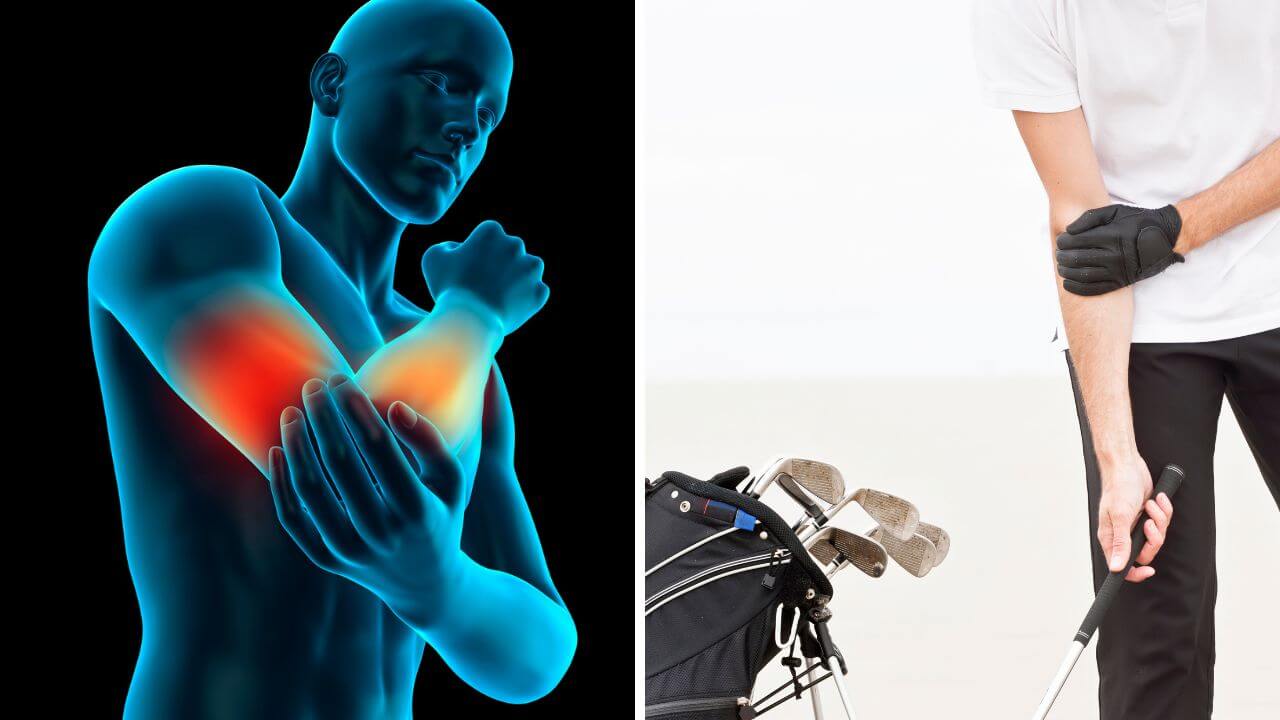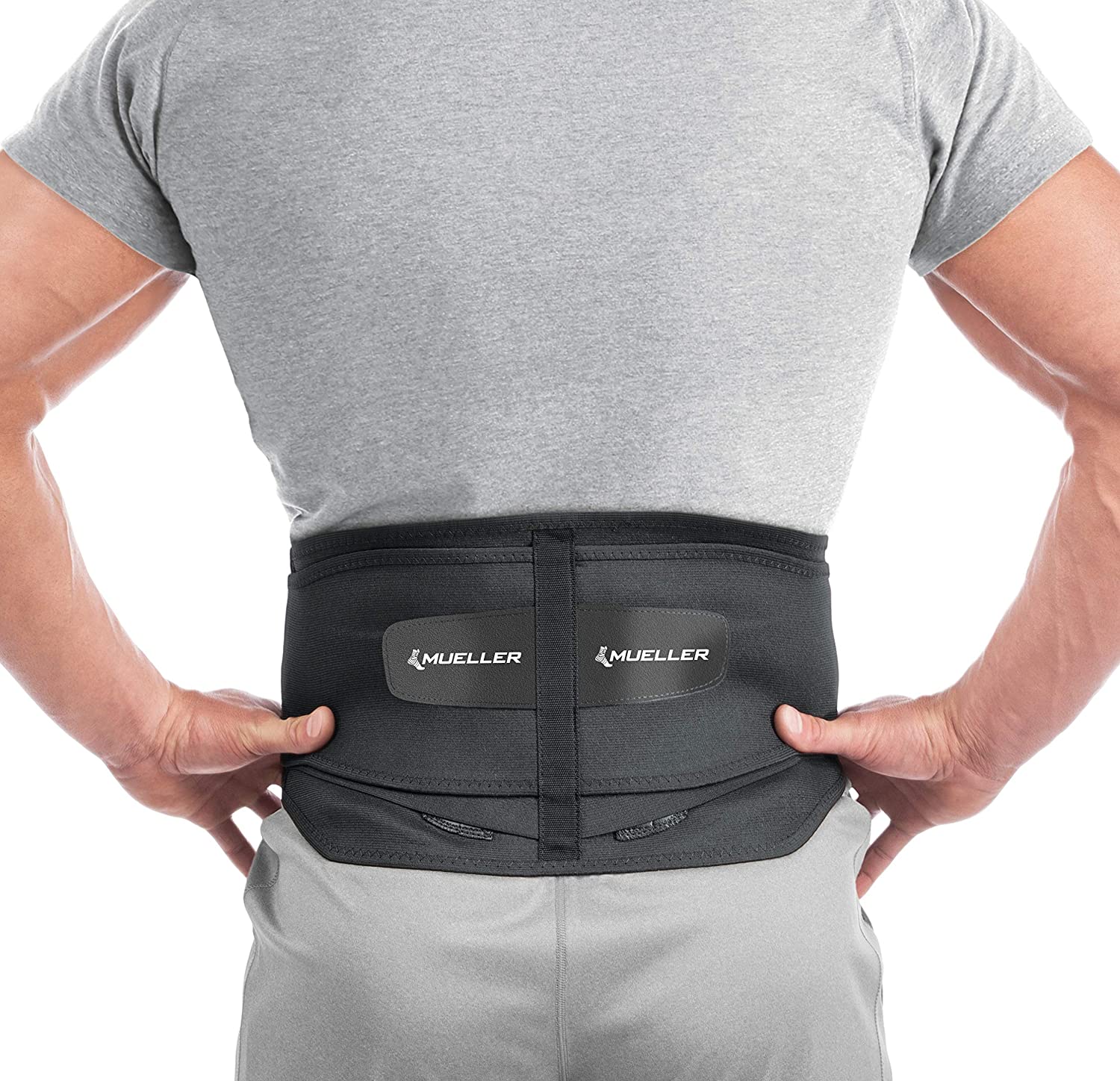 Our #2 Pick! 29K+ Reviews
Fits Sizes 28" to 50"
Check Price on Amazon!
Mueller Sports Medicine, a trusted leader in sports medicine, offers the Mueller Lumbar Back Brace.
Designed to relieve pain from sprains, strains, and muscle spasms, this brace features four flexible steel springs that conform to the lower back, providing excellent support and limiting unwanted movement.
The wrap-around design and adjustable compression ensure a secure fit for golfers seeking maximum support.
PROS
✅ This product is designed to help alleviate lower back pain and provide support for strains, sprains, and aching backs.
✅ Available in Regular Size, it can fit waist sizes ranging from 28" to 50" (maximum stretch). The double layer design allows for adjustable compression, ensuring a customized fit for the abdomen and lower back. The breathable fabric enhances comfort during use.
✅ The brace includes a removable lumbar pad that offers cushioning and compression specifically targeted to the lower back, providing concentrated support.
✅ Equipped with four flexible steel springs, this brace conforms to the back, delivering additional stability and support.
✅ With over 60 years of experience, Mueller Sports Medicine is a well-established and reputable brand in the field of sports medicine. We are dedicated to helping individuals reduce pain through our range of back braces and supports.
CONS
❌ Some users may find the brace to be too rigid or bulky, limiting their freedom of movement during physical activities.
❌ The brace may not fit snugly for individuals with smaller or larger waist sizes, compromising its effectiveness.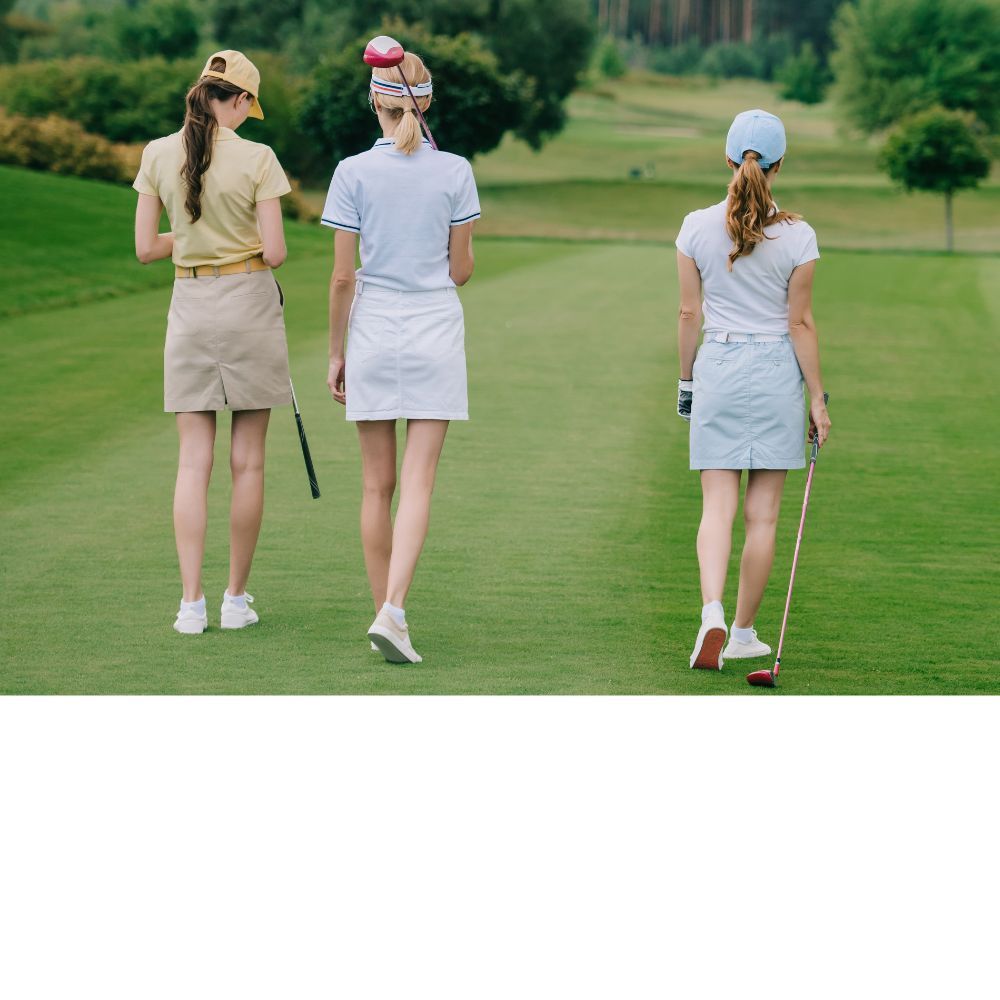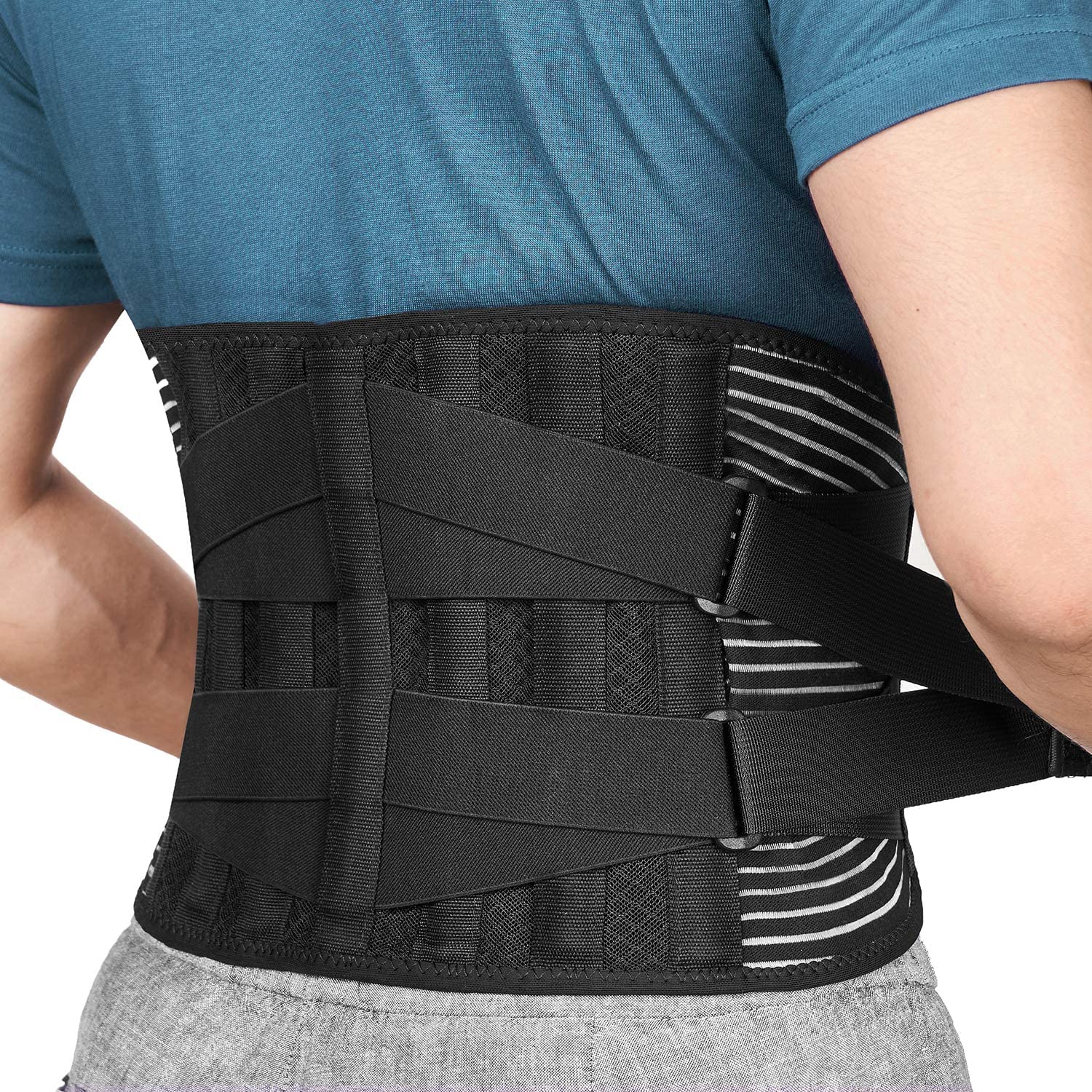 Our #3 Pick! Over 19K Reviews
Designed to Be Worn Discreetly Under Clothes
Check Price on Amazon!
The FREETOO Back Brace is an excellent choice for golfers seeking extra compression and support.
Equipped with two elastic straps and two silicone anti-skid bands, this brace ensures a secure fit and prevents rolling during activities like swinging a golf club.
The wide-size touch fasteners of the straps offer strong adhesion without scratching the skin or damaging clothes.
✅ Relieve your lower back pain with the Freetoo Back Brace, featuring advanced features for optimal support. This brace incorporates 4 memory-aluminum stays, four times harder than common PP strips, and 2 steel springs along the waist side. Together, they provide 360° vertical support, reducing excessive muscle rolling and alleviating pressure on your discs.
✅ Designed to be worn discreetly under clothes, the back support is crafted from 4-way stretch elastic material using 3D knitting technology. This ensures a superior fit, breathability, and unparalleled comfort. The inner layer, made of velvet fabric, offers a silky touch akin to baby skin, making it ideal for internal dressing.
✅ Prevent back injuries during weightlifting, prolonged standing or sitting, housework, or work activities with the two elastic straps that provide additional compression to your lower back. The back belt offers relief from waist muscle aches, disc herniation, sciatica, scoliosis, and more.
✅ The considerate design includes two silicone anti-skid bands on the waist sides, preventing the belt from rolling up during various activities. The wide-sized touch fasteners on the two elastic straps ensure strong adhesion, surpassing expectations. Moreover, these touch fasteners are made of PVC material typically used for baby clothes, ensuring they won't harm your skin or damage your clothing.
✅ Rest assured, the Freetoo Back Brace is durable, featuring double seams for enhanced longevity. Additionally, Freetoo provides dedicated and satisfactory customer service, offering a risk-free trial. Experience relief and support with the Freetoo Back Brace for your lower back.
CONS
❌ Some users may find the brace to be too tight or restrictive, limiting their range of motion during physical activities.
❌ The brace may not provide sufficient support for individuals with severe or chronic back conditions.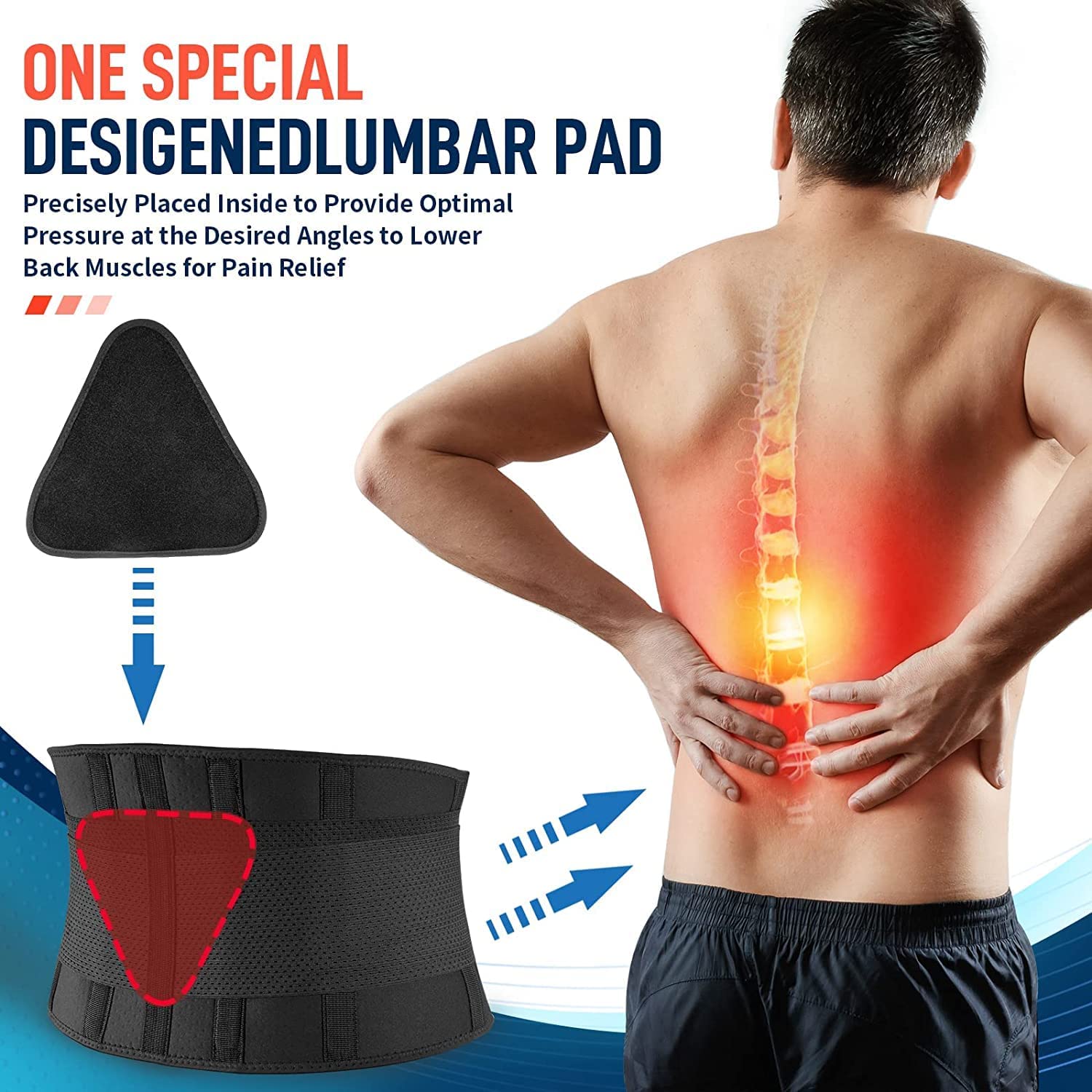 Runner Up - Over 14K Reviews
Provides Excellent Support Without Restricting Movement

Check Price on Amazon!
For golfers suffering from chronic back pain, the FEATOL Back Brace is a reliable option. This sturdy and comfortable brace offers 360° support with its four memory aluminum stays and two steel springs.
With an elastic inner strap and adjustable outer straps, it provides a custom fit and deep vertical support to minimize pressure on the discs and prevent muscle rolling.
PROS
✅ Select the perfect fit for your waist size: S/M: 24.4-30 inches, L/XL: 30-38.6 inches, XXL: 38.6-51.2 inches, 3XL: 54-61 inches, 4XL: 61-68.9 inches. Remember to measure your waist (at the navel level) rather than relying on your pants' size.
✅ Experience effective relief from disc herniation, sciatica, scoliosis, and other spine problems with the FEATOL back brace for lower back pain in men. This brace allows you to live your life without the inconvenience of lower back pain.
✅ Equipped with four robust support strips and an additional lumbar pad, the FEATOL lower back support belt provides 360-degree strong support for your lower back. It ensures proper posture during daily workouts, weightlifting, or gym training sessions.
✅ The FEATOL back support belt for both women and men is constructed using breathable fabrics, offering optimal comfort. You won't feel excessively hot or bulky while wearing it. The inner belt, made of elastic neoprene, provides excellent support without restricting your movements. The outer elastic band with durable Velcro allows for easy and extensive adjustment to fit your body.
✅ We are confident that you will love the FEATOL back brace. However, if you are unhappy with your purchase, please don't hesitate to reach out to us. Your satisfaction is our top priority, and we will gladly assist you.
CONS
❌ The brace may feel bulky and less discreet compared to some other back brace options.
❌ Some users may experience discomfort or chafing from the elastic straps during prolonged wear.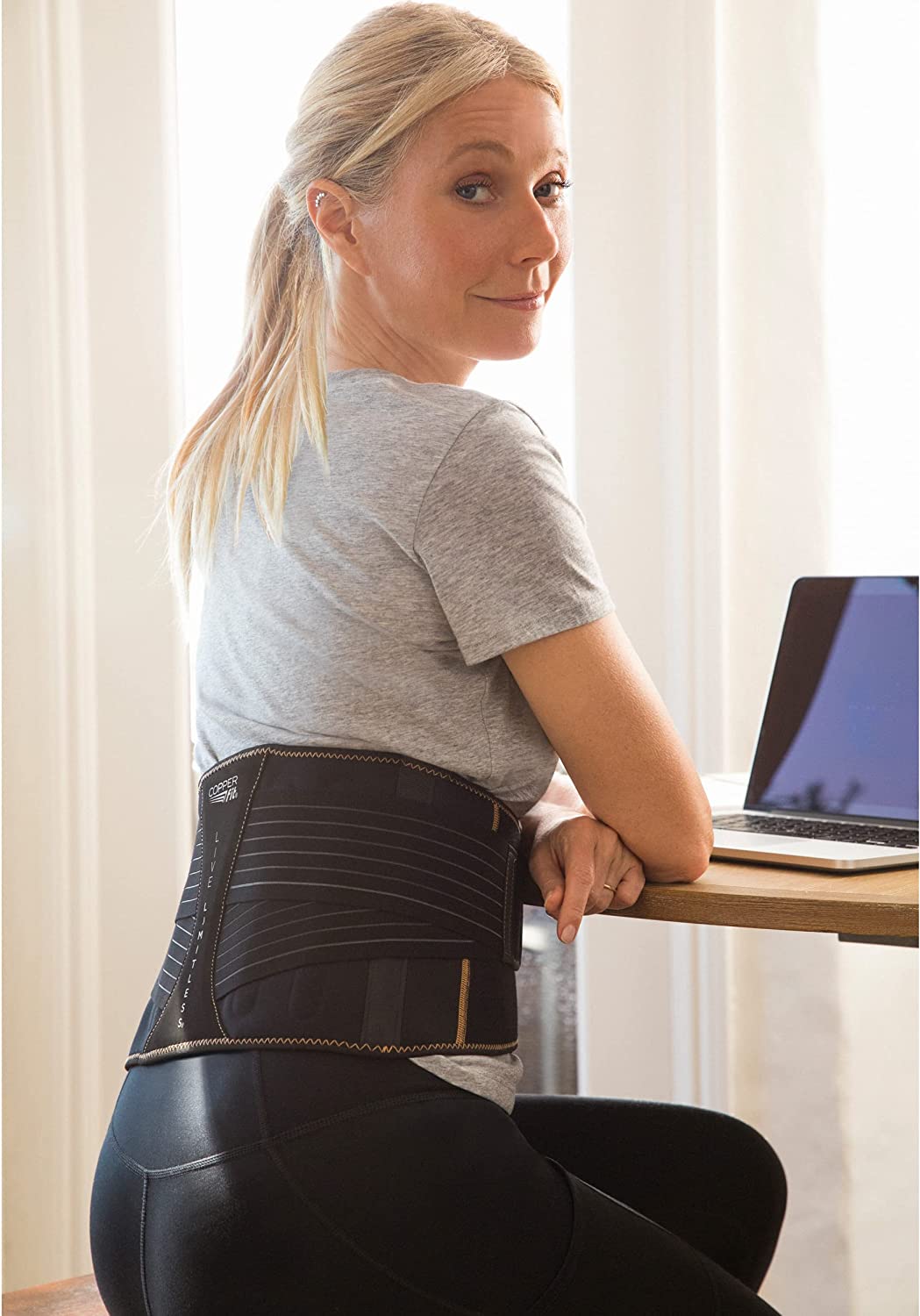 Runner up - 10K+ Reviews
Designed to Provide Everyday Comfort
Check Price on Amazon!
Experience the ultimate support for your lower back muscles with Copper Fit Back Pro, the premium copper-infused compression garment.
Designed to deliver everyday comfort, support, and relief, this innovative product allows you to feel more mobile, move around freely, and enjoy the activities you love without hesitation.
PROS
✅ Enjoy the freedom to do whatever you want, whenever you want with Copper Fit Back Pro.
✅ The brace provides targeted compression and support to the lower back, helping to alleviate pain and discomfort.
✅ It is made with high-quality materials that are durable and long-lasting, ensuring reliable performance over time.
✅ Material type: 89% polyester / 11% spandex
✅ Package Dimensions: 22.61 L x 10.92 W x 6.35 H in Centimeters
✅ Country Of Origin : United States
CONS
❌ Some users may find the sizing to be inconsistent or too tight, making it uncomfortable to wear.
❌ The brace may not provide sufficient support for individuals with severe or chronic back pain.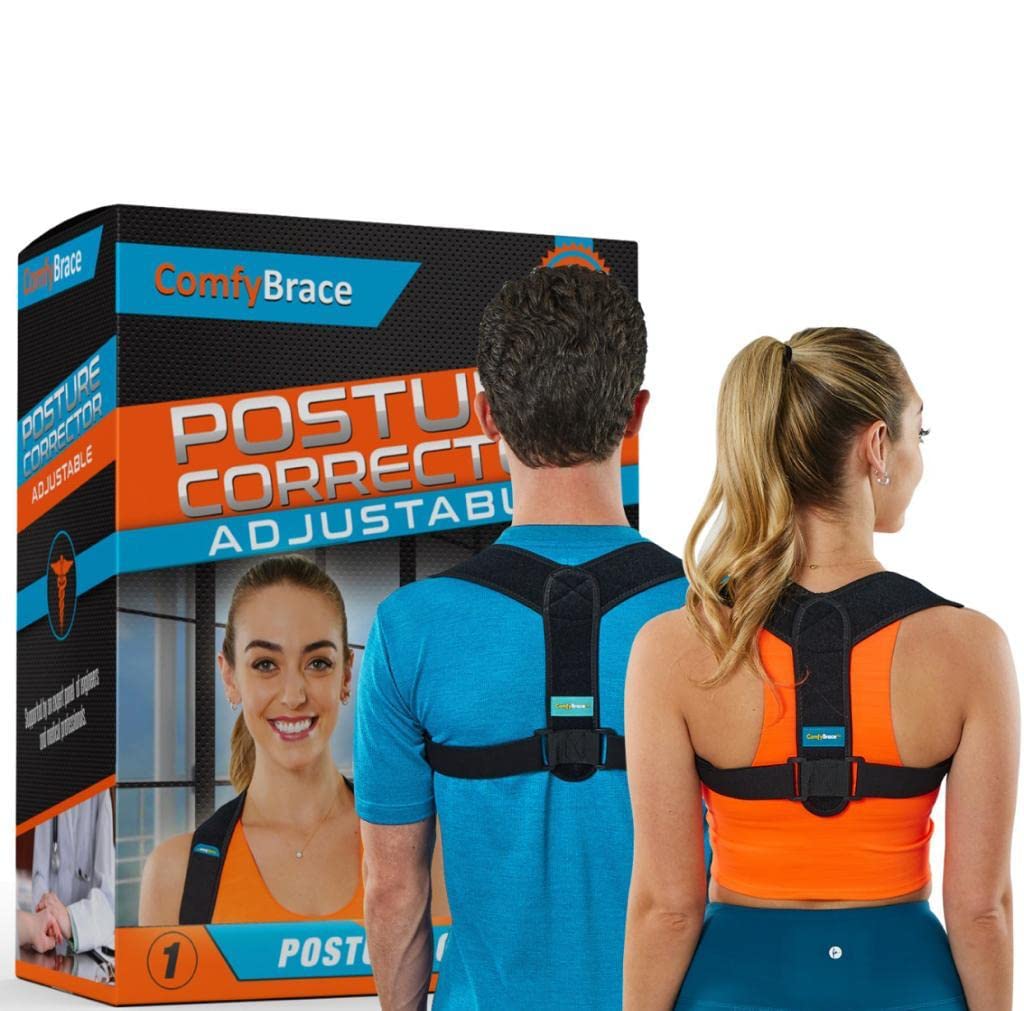 Designed for Upper Back Support - Over 40K Reviews
Check Price on Amazon!
Experience unparalleled comfort with our innovative design, crafted to provide optimal support.
Our back brace is constructed with breathable Neoprene fabric, ensuring a comfortable and ventilated experience. With its adjustable design, you have the freedom to find the perfect fit that suits your individual needs.
PROS
✅ Experience a pain-free life with the Comfy Brace posture corrector. Designed to relieve chronic back pain and make long hours of work or standing more manageable with targeted support, it aligns your posture, taking pressure off key areas and alleviating back, neck, shoulder, and clavicle pain.
✅ Our innovative and orthopedically designed posture corrector is tailored for chest sizes ranging from 30" to 43". It is fully adjustable and breathable, allowing you to wear it comfortably under your clothes, enabling you to conquer your day without discomfort.
✅ Take control of your posture and regain your confidence with our back straightener. Begin by wearing it for 5-10 minutes a day and gradually increase the duration to one or two hours. Over time, you will notice improvements in your posture, a healthier appearance, and an overall better feeling, all achieved on your own.
✅ We prioritize quality, ensuring our back brace is built to last. With high-end durable stitching, it remains soft to the touch and breathable, never causing discomfort or irritation to your skin like many cheaper alternatives.
✅ At Comfy Brace, customer satisfaction is our legacy. We value your trust, which is why each posture corrector comes with a lifetime warranty. We stand behind our product, offering a no-questions-asked guarantee to ensure your confidence in your purchase.
CONS
❌ Some users may find the brace uncomfortable or restrictive to wear for long periods.
❌ The brace may not provide sufficient support for individuals with severe posture issues or chronic back pain.
The Role of Back Braces in Golf
A well-designed back brace can be a game-changer for golfers dealing with back pain. These braces provide support and stability to the lower back, reducing strain on muscles and ligaments during activities like golf.
By wearing a back brace, golfers can alleviate pain, improve posture, and maintain a full range of motion, ultimately enhancing their performance on the golf course.
Frequently Asked Questions about Back Braces for Golfers
Can I play a golf game while wearing a back brace?
Yes, you can play golf while wearing a back brace. However, it is important to choose a back brace that provides comfortable and proper support. Ensure that the brace fits well and does not restrict your movements during your swing.
How do back braces for golfers help alleviate pain?
Back pain is the most common issue for golfers. Back braces for golfers provide support and stability to the lower back, reducing strain on muscles and ligaments during the swing.
They can help alleviate pain by promoting proper posture, distributing weight more evenly, and limiting unwanted back movements that may cause discomfort and provide a greater range of motion.
What should I look for in a back brace for golf?
When choosing a back brace for golf, consider factors such as support level, adjustability, comfortable to wear, breathability, and durability.
Look for a lower back brace that offers a secure fit, made with breathable materials, and have features like adjustable straps or removable lumbar support for customization.
Can a back brace improve my golf performance?
Yes, a back brace can potentially improve your golf performance by reducing pain and discomfort in the lower back.
When you feel more supported and experience less pain, you can swing more freely, maintain better posture, and have increased mobility, ultimately enhancing your game.
How do I determine the right size for a back brace?
To determine the right size for a back brace, refer to the manufacturer's sizing guide or instructions. Typically, you will need to measure your waist circumference to find the appropriate size.
It is essential to choose a brace that fits snugly and is a comfortable fit but is not too tight, allowing for proper support and comfortable movement.
Are back braces for golfers suitable for other activities or conditions?
While back braces for golfers are specifically designed to support the lower back (lumbar spine) during golf swings, a back brace helps with other activities that involve similar movements or put strain on the back.
Tennis players often will wear a back brace. Additionally, general back pain, scoliosis, herniated discs, sciatica, or degenerative disc disease may find relief by using back braces.
How long should I wear a back brace while playing golf?
The duration of wearing a back brace while playing golf can vary depending on individual needs and preferences.
Some golfers may choose to wear the brace throughout the entire game if it's preventing back pain, while others may wear it during specific activities or when experiencing discomfort. It is important to listen to your body and adjust accordingly.
Can a back brace cure my back pain?
While a back brace can provide lower spine (lumbar region) support and help alleviate back pain, it is not a cure for underlying conditions or injuries.
It is recommended to consult with a healthcare professional to determine the cause of your low-back pain and develop a comprehensive treatment plan, which may include the use of a back brace along with other therapies or exercises.
Bonus Question - How do I maintain and clean my back brace?
The maintenance and cleaning instructions may vary depending on the specific back brace model.
Generally, it is advisable to follow the manufacturer's guidelines. Some back braces may be hand-washed with mild soap and water, while others may be machine-washable.
Proper maintenance and regular cleaning will help ensure the longevity and effectiveness of the brace.
Conclusion
Finding the best back brace for golf can be a game-changer for golfers suffering from back pain. The right back brace can provide support, alleviate discomfort, and improve your swing.
After thorough research and comparison, we've identified some top-rated options such as those above that help prevent back discomfort.
These braces offer unique features like adjustable compression, removable lumbar pads, and breathable materials to ensure comfort and effectiveness.
Whether you're dealing with chronic pain, muscle spasms, or disc herniation, there's a suitable back brace to help you enjoy golf without limitations.
Prioritize your well-being and make an informed choice based on your specific needs. Keep swinging and enjoying the game while keeping your back pain-free.
Remember, it is important to consult with a healthcare professional or specialist before using a back brace, especially if you have existing back conditions or injuries. They can provide personalized advice and guidance based on your specific needs.
Thank you for visiting, and we hope to see you back soon!