Note: We use affiliate links and may receive a small commission on purchases at no additional cost to you.
Do your feet feel sore and tired after walking a round of golf? Well, good news - there's a simple solution! Just switch to new comfortable golf shoes, and you'll be able to enjoy your game without any pain.
The best golf shoes for walking can help you walk more comfortably and protect your feet from injuries. In this article you will find the best golf shoes for walking, designed to improve your golf game.
Golf is so much more fun when your feet feel great! Having comfortable and supportive golf shoes can make all the difference in your game. In addition, if you play in hot weather, it is important to find a light and airy golf shoe that will help keep your feet cool!
With the right pair of comfortable golf shoes, you'll be able to focus on your game and use your natural motion without worrying about sore feet!
After reading this, you'll know exactly which best golf shoes for walking to buy in order to have an amazing time on your favorite course and improving your swing!
Why Your Golf Game Gets Better With Walking
Walk. It's a simple word, but it's a loaded one. Webster's Dictionary defines "walk" as to go on foot; to proceed by steps; to march. When most people hear the word "walk," they think about taking a leisurely stroll outdoors on a beautiful day. But there's so much more to walking than that.
Walking is one of the oldest and simplest forms of exercise, and it can be extremely beneficial for your health. In fact, regular walking has been shown to reduce the risk of heart disease, stroke, diabetes, and many other chronic health conditions.
Walking is also great for your golf game. It can help improve your balance, coordination and stability, increase your power and distance off the tee box, and make you more alert on the course.
Walking is one of the best things you can do for your golf game! Not only does it help keep you healthy and in shape, but it also makes you more accurate and consistent on the golf course.
When you walk, you are also able to get a better sense of the terrain, which can help you plan your shots more effectively. Finally, walking is a great way to stay loose and limber, which can help you stay focused on the game.
What Key Features Should You Be Looking Out For When Buying The Best Golf Shoes For Walking?
Almost any athletic shoe can be used for walking golf, but if you are looking for shoes specifically designed for golf walking, there are a few things to look for. The first consideration is comfort. Golf shoes should have good arch support and cushioning to provide comfort throughout the round.
You also want golf shoes that are lightweight and flexible, allowing you to move naturally when swinging the club. Durability is another key factor, as golf shoes often take a beating on the course. Finally, consider the climate where you live and whether you need waterproofing or not.
In addition, when looking for a golf shoe to walk in, also keep in mind that the golf shoe should fit well and be comfortable. You don't want your golf shoes to be too tight or too loose, as this can cause problems when you're playing.
The next thing to consider is the type of sole the golf shoe has. A good sole will provide traction and stability, which is important when you're walking on uneven terrain.
Lightweight and Flexible
As mentioned earlier, you also want to make sure that the golf shoe is lightweight and flexible, as this will allow you to move more easily while you're playing.
Finally, take into account the price of the golf shoe and whether it's worth the investment. A good golf shoe can last for several years, so it's important to choose one that's worth your money.
Lastly, check to see if the golf shoes are water resistant or waterproof. This is important because if you are playing in an area where there is a lot of water, you will want to have golf shoes that can keep your feet dry so you can enjoy your time on the golf course.
How We Choose
There are a variety of best golf shoes on the market that can provide you with the traction and comfort you need to improve your game.
As discussed above, when shopping for golf shoes, it is important to consider the type of course you will be playing on, as well as the climate. Here are some tips for choosing the right golf shoes:
1. Consider the type of terrain you will be playing on. If you will be playing mainly on grass, then you will need a pair of golf shoes with good traction. If you will be playing in wet, muddy or icy conditions, then you will need a pair of golf shoes with waterproofing or possibly spikes.
2. Consider the climate. If you live in a warm climate, then you will need a pair of shoes that are breathable and lightweight. Spikeless golf sandals are a good choice here. If you live in a cold climate, then you will need a pair of golf shoes that are insulated and waterproof.
3. Some of the most popular types of golf shoes include spikeless golf shoes, traditional spiked shoes, and golf sandals. Spikeless shoe is perfect for players who frequently play on wet or soft terrain, as they provide extra traction and stability.
Traditional spiked shoes offer more stability and support than spikeless golf shoes and are ideal for players who often play on hard surfaces.
Spikeless golf shoe sandals are perfect for hot weather climates, as they allow your feet to breathe and keep you cool.
We've gathered the information to provide you with various options to help you choose the best golf shoes that fits your needs.
Our experts have read through hundreds of product content to find the best walking golf shoes with quality, value, and convenience. We only recommend items that have 4 or 5 stars, and are backed by real user reviews.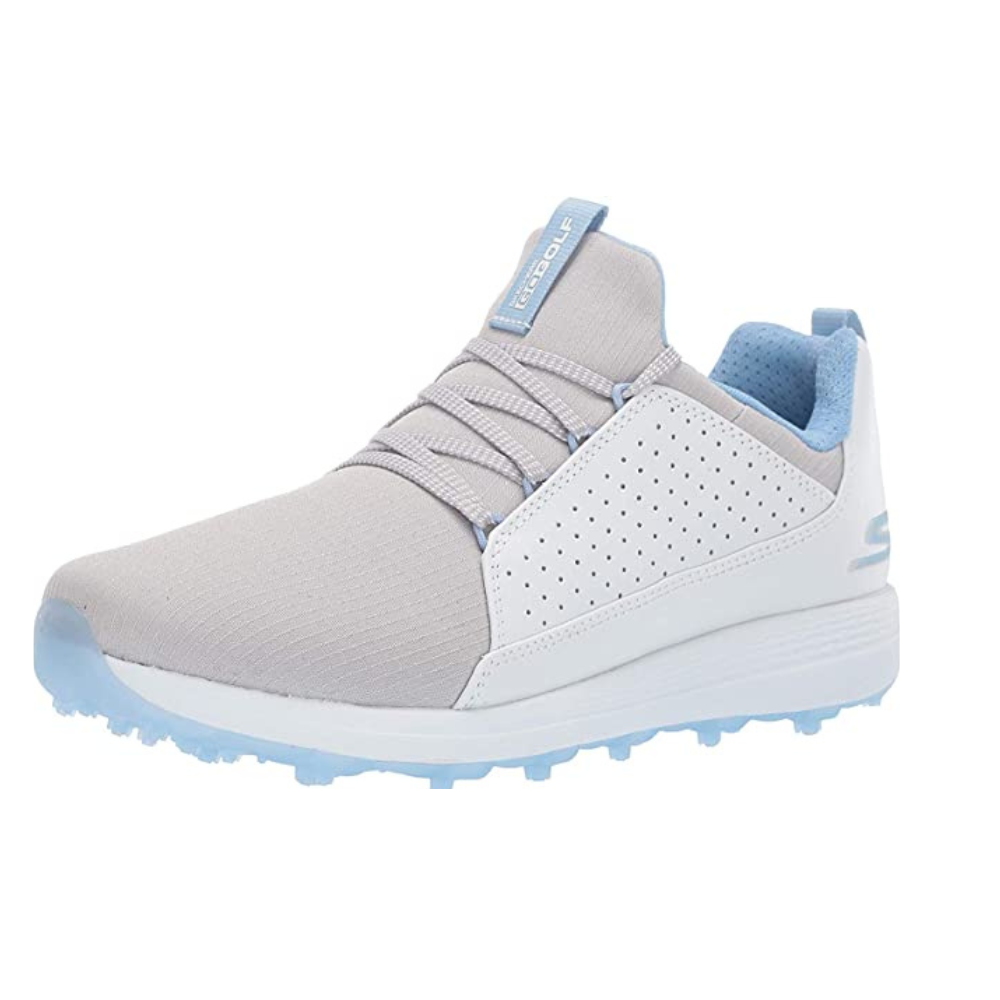 Skechers Women's Max Mojo Spikeless Golf Shoe
Check Amazon for Pricing
Skechers Women's Max Mojo Spikeless Golf Shoe
Why We're Fans
The Skechers Max Mojo spikeless walking golf shoes are the perfect lightweight golf shoe. The insole provides forefoot cushioning and stability. The upper portion of the outsole is ultra light and responsive, providing comfort for all eighteen holes of golf.
The front-facing mesh is water-shedding and breathable, while upper grain leather provides moisture protection.
What to Know
This spikeless golf shoe with full-grain leather and textile upper offers ultra flight cushioning. It utilizes a rubber sole and a support saddle for balance and equilibrium. This golf shoe is also water resistant.
Because today's golfers increasingly demand golf shoe sneakers that are both stylish and comfortable Skecher's has created a lightweight, stylish answer with the Max Mojo.
With so many different brands and styles to choose from, it can be hard to know which sneakers are right for you. One option that is becoming increasingly popular is the spikeless full-grain leather and textile upper golf shoe sneaker that provides traction and stability.
These golf shoes are designed with a breathable mesh upper that allows your feet to stay cool and dry no matter how active you are.
If you're looking for a versatile sneaker that will keep your feet comfortable all day long, then a spikeless full-grain leather and textile upper sneaker may be the perfect choice for you.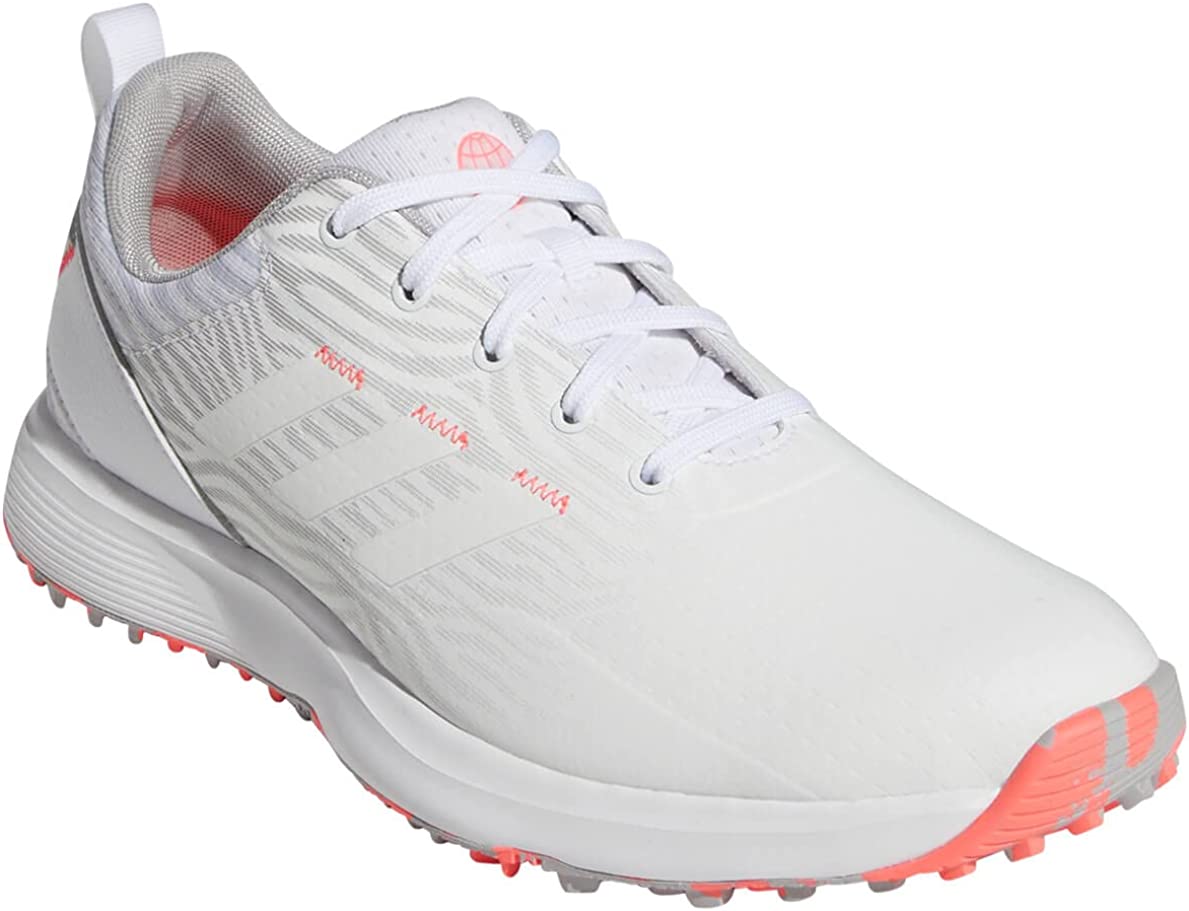 adidas Women's S2g Spikeless Golf Shoes
Traxion outsole for durable grip
Check Amazon on Price
adidas Women's S2g Spikeless Golf Shoes
Why We're Fans
Developed with walking 18 holes and comfort in mind, these ladies adidas spikeless golf shoes are constructed with a Bounce midsole that provides cushioning and flexibility. A Spikeless V-traxion outsole supplies grip for much greater stability.
The construction is super comfortable, so you'll be able to focus on your game and not your feet. When it comes to spikeless golf shoes, women have a few different options when it comes to walking the fairways.
From low-cut designs that cover more of the foot, to open-toed styles that let you feel the terrain, there is a walking shoe for everyone.
These shoes have been specifically designed for walking so you can easily cover 18 holes without any discomfort. They're also extremely comfortable, thanks to the boost cushioning technology. Plus, the ladies-specific design provides a great fit and added style.
What To Know
These women's rubber golf shoe soles offer lightweight comfort, and the textile upper offers support to help with your golf swing. A bounce midsole provides flexibility, and a Traxion outsole allows for durable grip.
This product is made with Primegreen, a collection of high-performance recycled materials; more than half of the upper is recycled content; no virgin polyester is used.
When most people think about golf shoes, they think about a heavy, clunky shoe that will make your feet tired after walking a few holes. But now there is a new option on the market for golfers who want lightweight comfort – rubber golf shoe soles.
Rubber golf shoe soles are made from durable, yet lightweight rubber, which makes them perfect for long walks on the golf course. They also provide good traction and stability, so you won't have to worry about slipping on wet or uneven surfaces.
Another benefit of rubber golf shoe soles is that they are very comfortable. The textile upper offers support and breathability, while the cushioning in the sole ensures that your feet will stay comfortable all day long.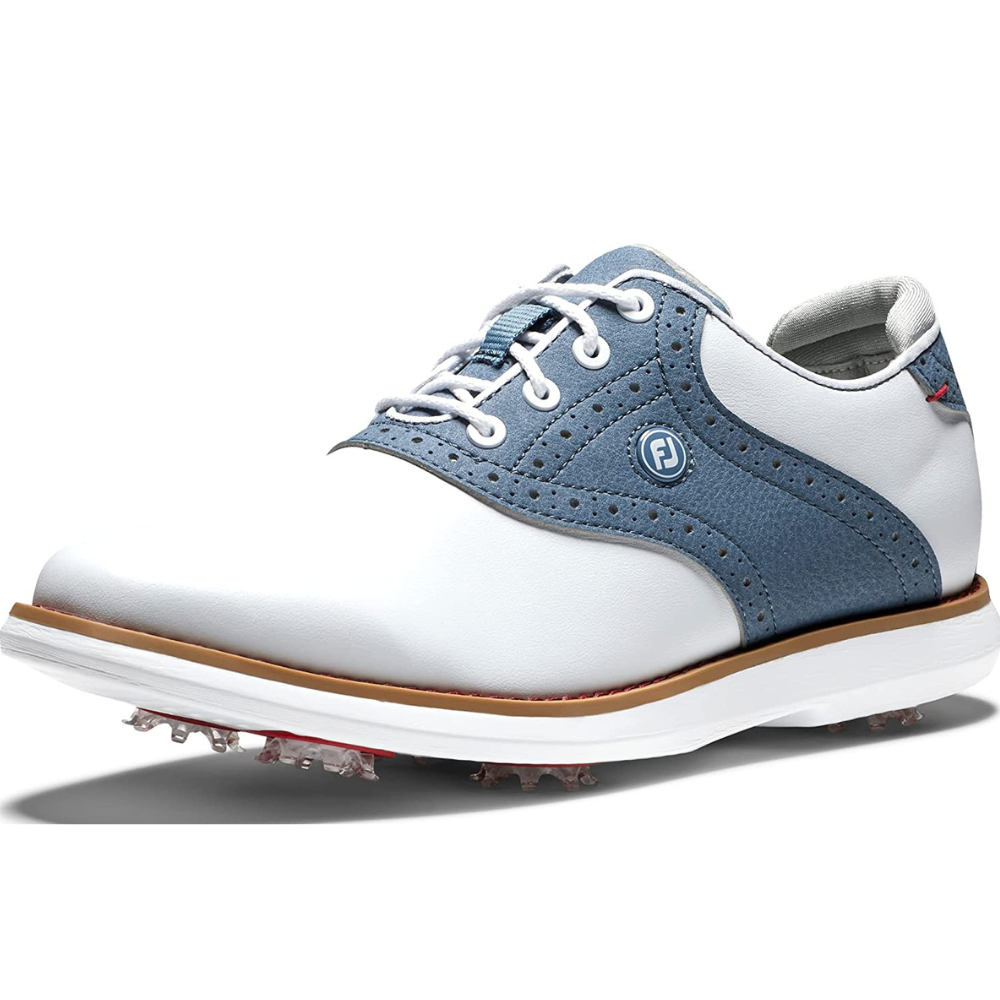 FootJoy Women's Traditions Golf Shoe
FASHIONABLE LEATHER - This fashionable full grain leather offers outstanding waterproof comfort, breathability, and durability.
Check Price on Amazon
FootJoy Women's Traditions Golf Shoe
Why We're Fans
Footjoy Traditions offer complete traction and can be easily maintained round after round. Lightweight comfort and super-cushioned foam deliver an incredibly flexible and comfortable ride.
Footjoy is a company that has been making golf shoes for over 100 years. They are known for their high quality and durability. FootJoy Traditions are lightweight, super-cushioned and comfortable. They have a mesh lining, and the heel counter is made from textile.
What to know
This fashionable full-grain leather offers excellent waterproof comfort, breathability, and durability. The lightweight Molded Fit-Bed insole provides extreme underfoot comfort and heel support.
The FootJoy warranty specifies that this golf shoe shall be waterproof in normal use for one year (U.S. Warranty).
Leather is one of the most popular materials for golf shoes. It offers excellent waterproof comfort, breathability, and durability. There are many different types of leather, but full-grain leather is one of the best.
This type of leather is made from the top layer of the animal's skin. It is thick and strong, making it perfect for golf shoes used in wet weather conditions. Full-grain leather is also very soft and flexible, which makes it comfortable to wear.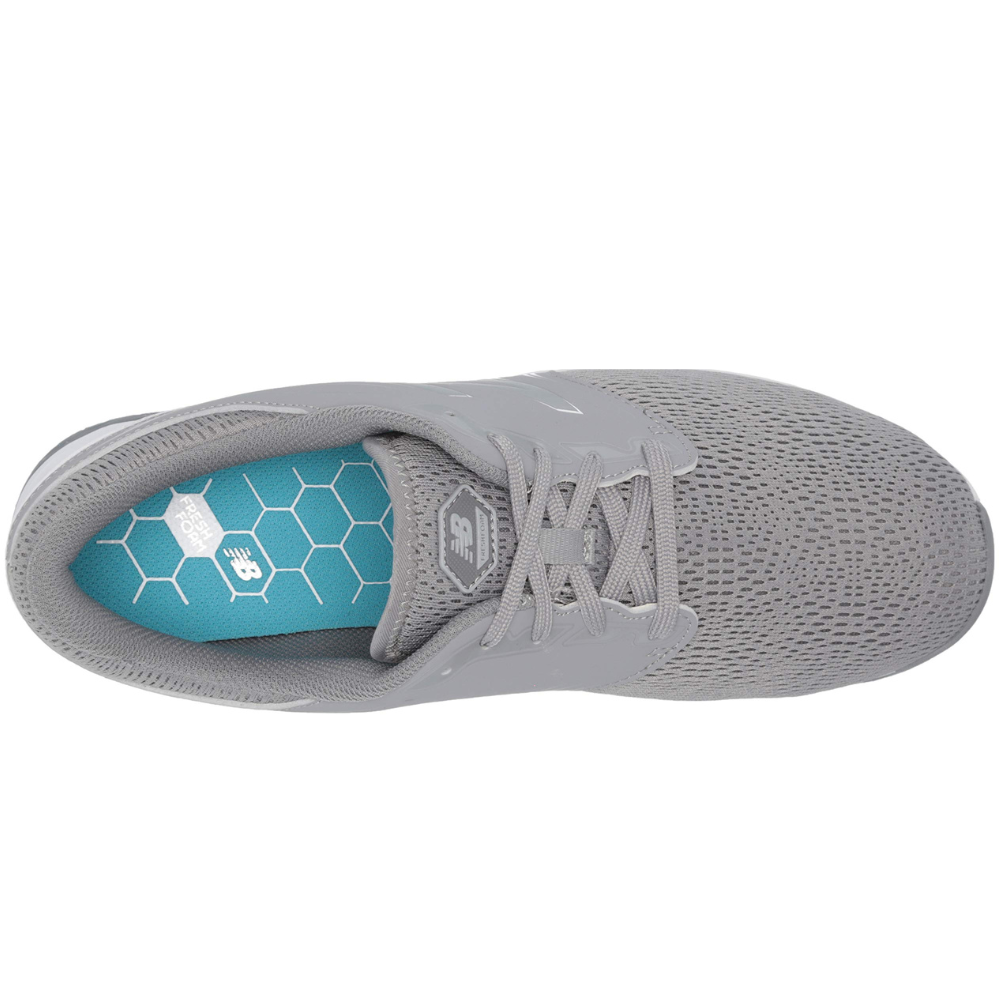 New Balance Women's Fresh Foam Breathe Golf Shoe
Smart rubber spikeless outsole has pressure mapping colors to highlight key performance zones
Check Price on Amazon
New Balance Women's Fresh Foam Breathe Golf Shoe
Why We're Fans
The Women's Fresh Foam Breathe introduces the remarkable comfort of Fresh Foam, low to the ground for lady golfers by providing the properties of an extraordinary running shoe on the golf course.
With a breathable sturdy mesh middle upper, additional padding, and a pressure charting rubber outsole, the Women's Fresh Foam Breath is a golf shoe that feels like traditional comfortable walking shoes.
With so many different brands and technologies, how do you know which one is right for you? New Balance has the answer with the Women's Fresh Foam Breathe.
This sneaker offers an amazing combination of comfort and style.
You'll feel like you're walking on air! The shoe has a bootie construction that hugs your foot and a laser-cut outsole that delivers flexible grip.
With its sleek design, the Fresh Foam Breathe is perfect for everyday use on the golf course.
What To Know
Breathable boot chassis with supportive synthetic overlays features a Smart rubber spikeless outsole with distinctive pressure mapping colors for improving performance.
This breathable pressure mapping insole is designed with zones that highlight high exertion areas. Smart rubber spikeless outsole provides targeted support for quick reflexes.
The Fresh Foam innovative design midsole provides reliable cushioning properties that boasts a resilient and cloud-like feeling.
Molded CUSH insoles provide superior comfort. You'll feel like you're walking on air!
The boot chassis provides breathability while the supportive synthetic overlays keep your foot in place. The Smart rubber spikeless outsole allows you to walk comfortably and confidently on any surface. Whether you're on the green or out for a casual day, this shoe is perfect for any activity.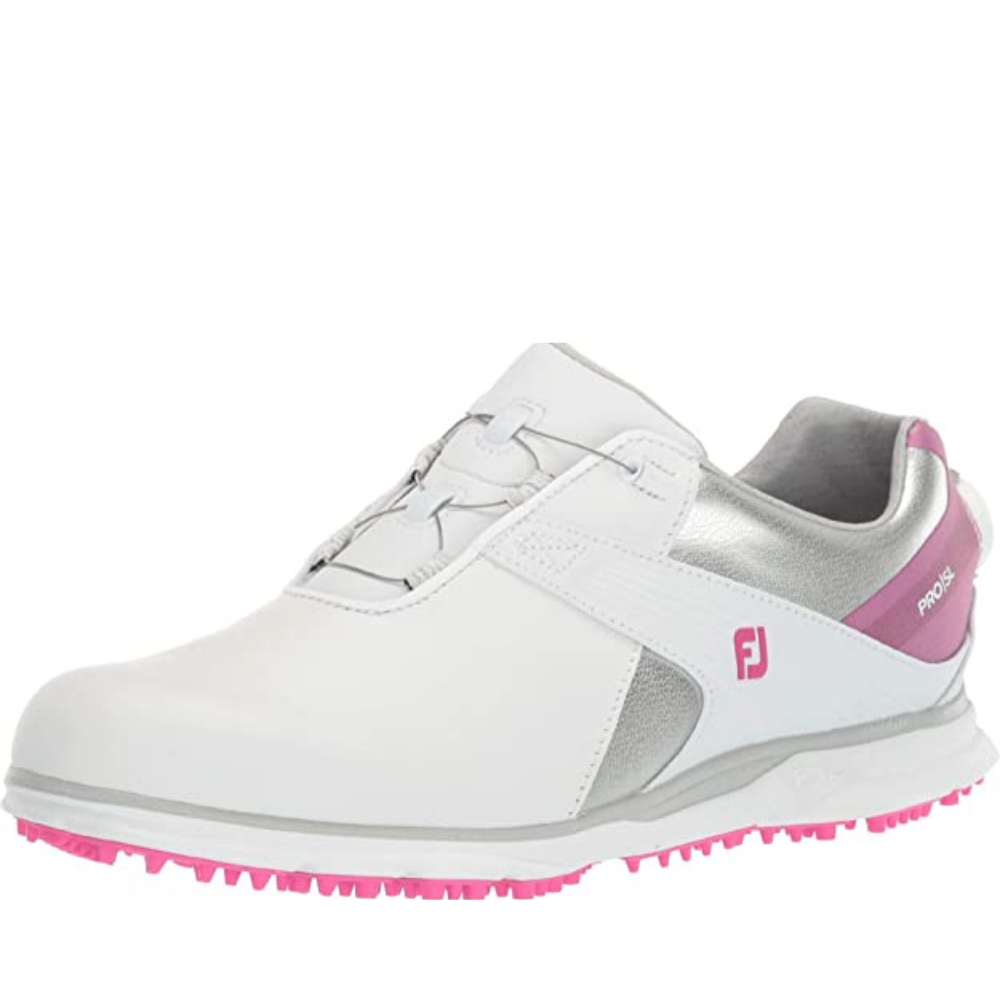 FootJoy Women's Pro/Sl Boa Golf Shoes
Exceptional stability - a perimeter weighted outsole allows for extreme stability and added lightweight comfort
Check Price on Amazon
FootJoy Women's Pro/Sl Boa Golf Shoes
Why We're Fans
FootJoy Women's Pro Sl Boa Golf Shoes provide superior comfort and performance on the green. The Boa closure system ensures a precise, comfortable fit. The shoes are designed with a breathable mesh upper, which keeps your feet cool and dry during long rounds of golf.
The shoes also feature a Boa closure system, which provides a custom fit and eliminates the need to tie your shoes. The Pro Sl Boa Golf Shoes offer superior traction and stability on any terrain, making them the perfect choice for any woman golfer.
These Midsole women's golf shoes deliver superior comfort with finely tuned foam (FtF) cushioning for increased adaptability and a perimeter-weighted outsole design for stability and balance.
The shoes are constructed with lightweight materials for enhanced performance, and they have a spikeless design that provides stability and traction on the golf course.
What To Know
100% leather, including sole. Shaft measures about mid-height from arch point. Chromium tan leather, developed by the Pittards of England, is supple, lightweight, durable, and waterproof. A perimeter-weighted outsole provides incredibly stable footing and excellent lightweight comfort.
The laser plus last provides a round toe shape, full through step and forefoot, with a slightly narrow heel. An insole that offers more underfoot cushioning makes this footwear more comfortable.
The fine-tuned foam (ftf) for both comfort and traction blends with a variety of medium-density thermoplastic polyurethane (tpu) in order to create an outsole ideal for on-course performance with wear to the course versatility.
The Boa Fit System enables your feet to have a better connection to your shoes, thus improving your stability, power, and control. The Boa Fit System is micro-adjustable and is constructed for a custom performance fit.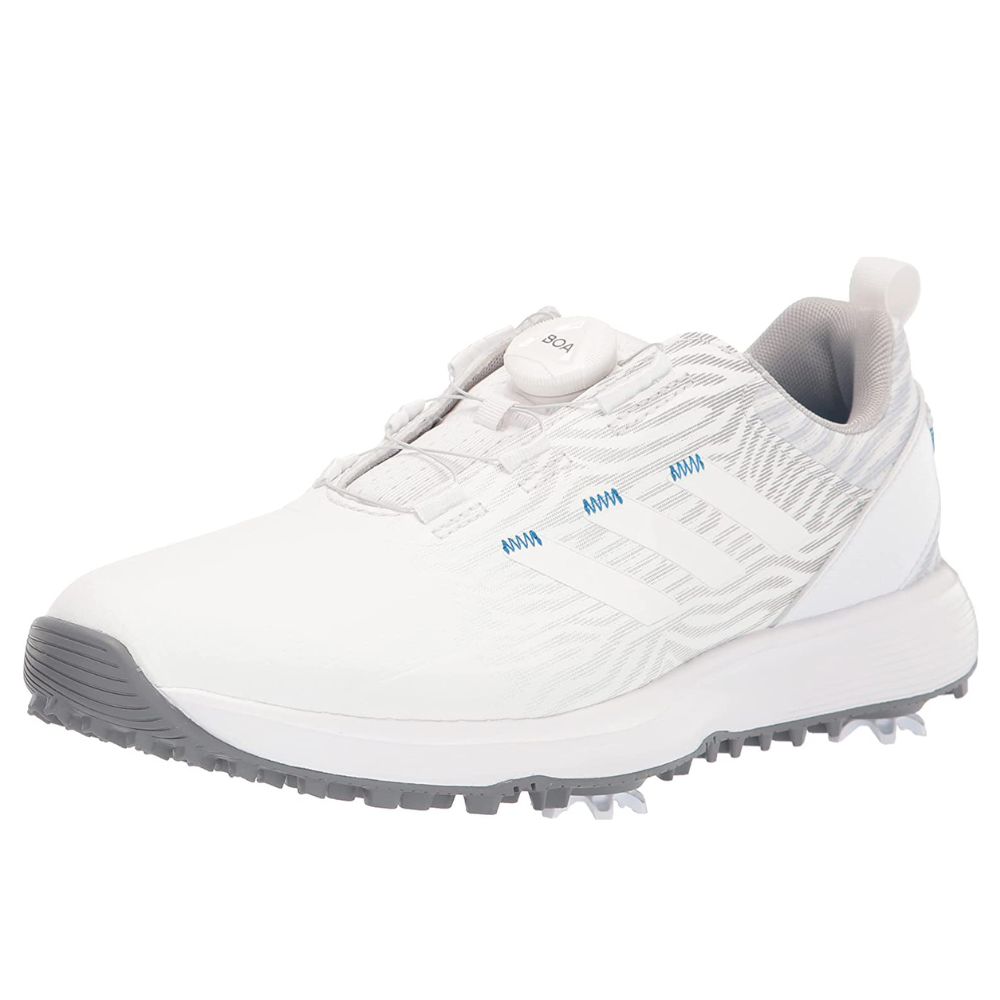 adidas Women's S2g Boa Golf Shoes
Micro-adjustable dial-based fit system for a secure fit
Check Price on Amazon
adidas Women's S2g Boa Golf Shoes
Why We're Fans
If you're looking for a golf shoe that can help you play your best game, check out the adidas Women's S2g Boa. This shoe is designed to provide you with superior stability and performance, thanks to its innovative boa closure system.
The boa closure system wraps around your foot for a snug, comfortable fit that won't slip or come undone as you play. In addition, the S2g Boa features a spikeless traction system that provides you with excellent grip and stability on the fairway as you make your way around the golf course, and the durable construction will keep you coming back for more.
What To Know
The women's waterproof golf shoe rubber sole allows for focused fun. Tapered Micro-adjustable dial-based system that provides for a secure fit. The upper is made of a lightweight waterproof textile for added cushion and the golf shoe has a midsole with small air chambers for enhanced bounce and structure. Traxion outsole for durable and sure footing.
This product's upper is constructed of Primegreen, a combination of superior-performing recycled materials; 50% of the upper consists of post-consumer recycled content; there is no virgin polyester.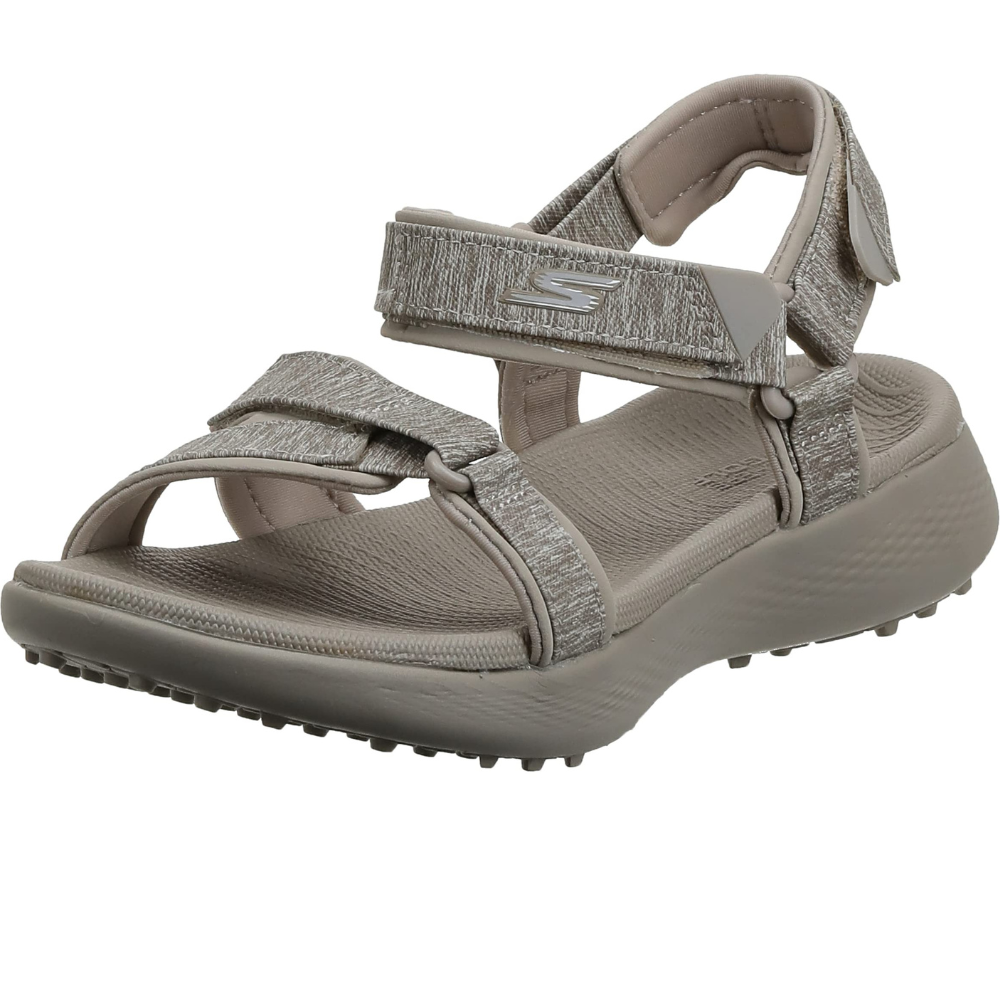 Skechers Women's 600 Spikeless Golf Sandals Shoe
Goga max insole delivers enhanced high-rebound cushioning
Check Price on Amazon
Skechers Women's 600 Spikeless Golf Sandals Shoe
Why We're Fans
Summer is a great time to get out and enjoy a round of golf, but the heat can be a challenge. With the Skechers Go Golf 600 spikeless golf sandal, you can keep your feet cool and comfortable on even the warmest days. The 5GEN technology provides cushioning and durability, while the mesh upper helps keep your feet cool and breathable.
Plus, the spikeless design means you can wear them on any terrain. These shoes are designed with a low profile and a versatile traction sole, making them perfect for golfers who want to be able to move easily on the fairway greens. The Memory Foam insole ensures that your feet will stay comfortable all day long.
What To Know
The 5Gen foam midsole offers lightweight and highly responsive cushioning, while the durable grip tpu (thermoplastic polyurethane) outsole ensures stability in all conditions. The synthetic sole provides a spikeless, stable platform, and the women's golf sandal construction ensures a comfortable fit.
The Goga Max insole delivers enhanced high-rebound cushioning and arch support for a more comfortable, stable and efficient walk. Strategically placed pods on the outsole help to disperse pressure equally for an improved stride.
The women's golf sandal also features an ankle-strap for added stability and support.
FAQ's about golf shoes for walking
It can be difficult to determine which are the best golf shoes for walking. With the sheer number of products on the market, it can be difficult to sift through all of the data.
We've created a compilation of frequently asked questions by golf shoe aficionados like you who need an answer to their shoe dilemma right away.
Check out the following questions and answers to find out exactly what to look for when selecting the best golf shoes for walking.
What golf shoe provides the best all around?
Golf shoes today are designed to be as comfortable as possible, so this is really up to you, based on your tastes and preferences. We have provided multiple options in order to simplify the selection process for you so you can have a more enjoyable time on the golf course.
How long should golf shoes last before needing a replacement?
The commonly accepted guideline is to change your golf shoe spikes every 15-20 rounds, or twice a season for the typical golfer. This estimate will vary from one course to another and is based on the conditions of your game and your type of golfer.
Today's premium golf shoes are designed to last you for the long-term. The shoes themselves will let you know when they need replacement based on how comfortable they continue to be.
Once your feet become sore and tired after a round of golf it's probably time to change your golf shoes.
What makes you need golf shoes?
Golf shoes provide greater traction, stability and balance, which makes them beneficial to have when hitting the golf ball. These are three significant keys to getting the right grip when you hit the ball, which can help you increase accuracy and distance with your golf swing.
Can I golf in standard shoes?
Shoes for golf improve your accuracy and decrease your chances of injury as a side effect. You do not get the best potential out of your golf shots if you do not wear a proper traditional golf shoe.
But, as far as playing golf, golf shoes are recommended, but not required.
You can play around the golf course in any shoes you like (as long as the golf course is not damaged and the type of shoes is not restricted).
Is more than one pair of golf shoes required?
If you're an avid player and can afford it, consider purchasing two sets of golf shoes. Your feet might become sweaty when you're walking for a long time, so having two pairs of golf shoes will allow you to rotate them once in a while and give the other ones a chance to dry.
You can also match your golf shoes with your golf outfit so you can stay in style. Use a shoe horn when putting on your shoes so you can protect the back of your golf shoes and help them last longer.
Do golf shoes need to be waterproof?
If you want to play a lot of golf in the early morning, you may want to choose a pair of water repellant golf shoes or waterproof golf shoes. When it's rainy or chilly out, your feet are most likely to be wet from playing golf.
If you only play on a golf course in dry weather, then standard golf shoes will suffice.
Should I buy a new pair of golf shoes?
Think about how often you play golf, the state of your present golf shoes, and how much you're willing to spend as factors to consider whether to purchase new golf shoes.
If you're playing frequently and your golf shoes are in poor condition, it may be advisable to purchase a new pair of golf shoes. Keep in mind, wet conditions might suggest a waterproof golf shoe.
The most apparent indication that you should replace your golf shoes is your resulting loss of traction and frequent slips. Check your feet as you walk or swing the club to see if there's a noticeable decrease in traction.
If water from a wet fairway has begun to seep into the shoes, it is definitely a good time for you to get a new pair.
Does the BOA system offer value on golf shoes?
Boa lets you quickly and precisely tighten your golf shoes, offering you a better fit than you could get with traditional laces.
Boa, which is one of the preeminent lace structures, makes it possible to get the precise fit you need for your golf shoes that you can't get anywhere else.
Why is it important to have cleats on golf shoes?
Spiked shoes have spikes, or cleats, which grip the ground. They're designed with spikes to keep your footing as you swing. Spikeless shoes, however, have well-established patterns in the place of spikes, often with small studs to provide grip.
Bonus question: Why wear one glove and not two for both hands?
Most people wear only one glove to guard the hand that grasps the club snugly from blistering and torn skin. They usually refrain from wearing two gloves as it may interfere with their grip and they may lose the feel of the club when swinging.
However, when it's raining, many people often use two gloves to stabilize the wet club grip in their hands which helps their gripping strength to remain intact.
Best Golf Shoes For Walking the Golf Course Fairways
There was a time when golfers had to change their shoes before entering the clubhouse. Slippers or sandals were the norm to avoid bringing wet grass and dirt into the facility. But as modern golf shoes with spikeless designs have become more popular, that's no longer necessary.
The best spikeless golf shoes have small rubber nubs on the bottom that provide traction without piercing the ground. They've become a popular choice for both men and women, and for good reason.
Not only are they more comfortable, but they're also versatile. You can wear them on the course and then transition seamlessly into the clubhouse without having to change your shoes.
This is especially important for women, who often have to juggle multiple activities during a round of golf. They can now save time by not having to change their shoes between playing and socializing.
Conclusion
We have endeavored to provide you insightful information concerning the optimal golf shoes for playing golf. We hope that our information brought clarifying thought to your decision about which great golf shoes are best for your golf course conditions.
The options we've made available should help you find the lightweight golf shoes that best fit your unique needs and help you start enjoying your best golf with ease and comfort. To select the best and most comfortable golf shoes just tap the green button to check the price on your personally selected choice.
Thank you for visiting with us and we look forward to future visits from you!