Note: We use affiliate links and may receive a small commission on purchases at no additional cost to you.
What Are Golf Ball Retrievers?
Golf ball retrievers are devices used to recover lost golf balls on the golf course that have been hit into water hazards, out of bounds and penalty areas (how much does it cost for a dozen balls?).
There are many different types and brands of golf ball retrievers, but they all serve the same purpose.
If you are an avid golfer, you know the frustration of losing a golf ball. Whether it's in a water hazard or in a tough lie in the woods, a lost ball can ruin your score and your day.
Golf ball retrievers can help you get your ball back, and they come in a variety of styles to fit your needs. Many golf ball retrievers use a pole with an extendable telescoping handle. The poles range in size and you can choose the one that best fits your desired length.
There are statistics that indicate over 300 million golf balls are lost annually in the U.S. alone. That number could easily exceed 700 million if you take into account the number of golf balls that are lost in some water hazard or penalty area around the world.
How many of those balls are merely left lying around on golf courses because they can't be reached without the right golf ball retriever?
That's where the humble golf ball retriever stands out in the golf bag. They may not be as hip or high-profile as other items in your bag, but they can spare you from losing countless balls and minimize costs.
Among the best golf accessories available, the ball retriever is one of the least expensive and most useful. It may be a bit plain-looking, but it will surely save you a day of frustration losing expensive golf balls.
Besides helping you save a bit of money, you might even nab a profit by the end of the round. To get more space in your bag for your clubs, opt for a golf ball retriever that is small, compact, and tucks under your side pocket.
Short of having a golf ball diver on your payroll, a diy underwater golf ball retriever is a blessing in water hazard environments. It can also help retrieve balls in out of bounds areas and penalty areas.
Choose a model with a long shaft that keeps its stiffness and doesn't bend easily. This makes it easier to grab the ball.
The Different Types of Golf Ball Retrievers
When it comes to retrieving golf balls, there are a few options available on the market. The most common one for those who want something a little more durable is a retriever made from aluminum that can extend up to 15 feet or more in length and has a rotating head that makes it easy to grab golf balls from any angle.
In addition, other factors to consider when choosing a golf ball retriever are the length and the weight. Some retrievers also come with features such as telescoping poles and extendable claws, which can be very helpful in certain situations. All of these factors help to reduce the difficulty of retrieving golf balls from difficult lies.
The Benefits of Using a Golf Ball Retriever
There are many benefits to using a golf ball retriever. Perhaps the most obvious benefit is that it can save you time and energy.
It can also save you money, as not retrieving your "hazard finding" golf balls can be quite costly.
In addition, a golf ball retriever can also be used to retrieve balls from water hazards, which can be extremely difficult to do on your own.
They can also be used to retrieve balls that have landed in difficult-to-reach areas, such as around trees or tall grass.
Golf ball retrievers come in all shapes and sizes, but there are a few features that are essential for any good golf ball retriever.
Firstly, it should be made of durable materials that can withstand repeated use and the elements.
Secondly, it should have a comfortable grip so that you can hold onto it easily while you're retrieving your golf balls. Finally, it should have a long reach so that you can get to those hard-to-reach places on the course.
Overall, a golf ball retriever is a valuable tool for any golfer, as it can save time, money, and frustration.
How To Use a Golf Ball Retriever
It's a simple process, we know, but we didn't want to leave anything out. First, lengthen the pole to reach the required length.
Next, set the cup at the end of the pole over the ball and push down upon the handle or scoop to retrieve the golf ball (this will depend on your type of golf ball retriever).
Finally, lift the golf ball out of the water or penalty area and bring it back to you carefully so as not to drop the ball back into the hazard.
Here Are Our Top Six Picks for the Best Golf Ball Retrievers - Never Lose a Ball:
How We Choose
As avid golfers ourselves we know what it's like to lose golf balls during a round. A golf ball retriever quickly becomes your friend in need. We've done the research to provide you with options to help you choose the one that best fits your requirements.
Our experts have read through the reviews to find the ones that offer quality, value, and convenience.
We only recommend products that have 4 or 5 stars and are backed by real customer reviews.
When it comes to golf ball retrievers, there are a lot of options to choose from. But which ones are the best? Here are our top 5 picks for the best golf ball retrievers:
1. Callaway "15th" Club Golf Ball Retriever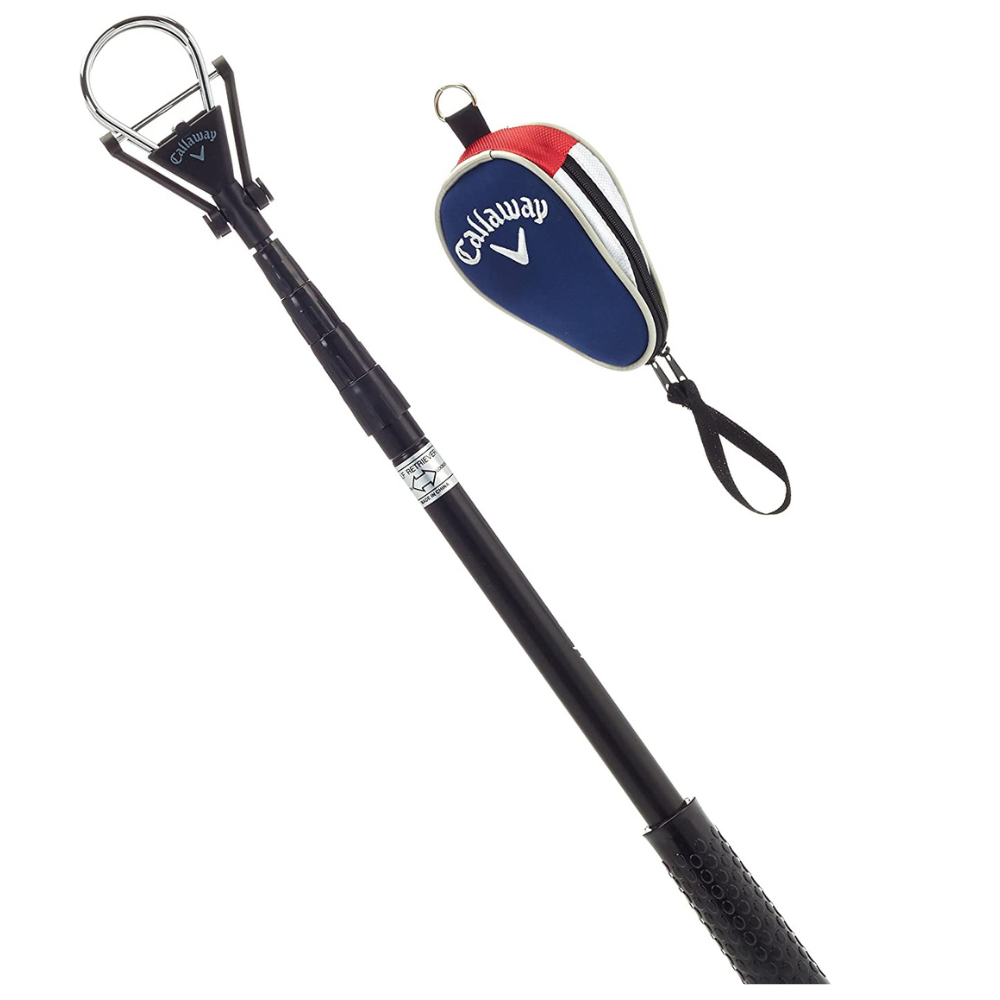 Callaway Golf Ball Retriever
Check Price on Amazon
This Callaway golf ball retriever is a simple and easy-to-use option. It's made from high-quality aluminum, so it can hold up to use over the years.
This retriever is great for those who want to be able to pick up their balls quickly and easily.
It has two models, 6ft and 15ft, a telescoping handle so you can reach your ball even if it's in a tough spot.
Why We're Fans
If you're fishing for golf balls using golf clubs, then you're doing it the hard way. The Callaway Pocket Ball Retriever includes both 6ft and 15ft lengths.
Other golfers will not notice that you have one inside your bag since it has a dual zip cover and looks just like a golf club you have in your bag.
The Callaway Ball Retriever has an ergonomic grip that makes it simple to hold while you retrieve your ball from the water, or attempt to get it in those areas that are hard to reach.
It's very rugged, specifically developed to minimize bending when it completely extends. The pocket-sized version works well on most bag interior pockets.
This Callaway Golf Ball Retrieval unit works great wherever your penalty shots land you.
What To Know
6ft - The durable aluminum alloy ball retriever is 25 inches when retracted to six feet when extended. This pocket version fits perfectly in just about any bag.
15ft - Constructed from high-quality aluminum alloy to reduce bending, the Callaway ball retriever measures 45 inches (1.37 meters) in length when retracted and can be extended to 15 feet (4.57 meters) without bending.
The golf ball retriever is ergonomically designed to make it easy and comfortable to hold it whether it's at 6ft or 15ft.
The ultimate on-course golf accessories, these golf ball retrievers feature a durable stainless steel retriever mechanism that retrieves balls quickly.
As well as the golf ball retriever, you get a dual zipper head cover that makes it look like a golf club when sitting in your golf bag.
2. Gotcha JAWZ Golf Ball Retriever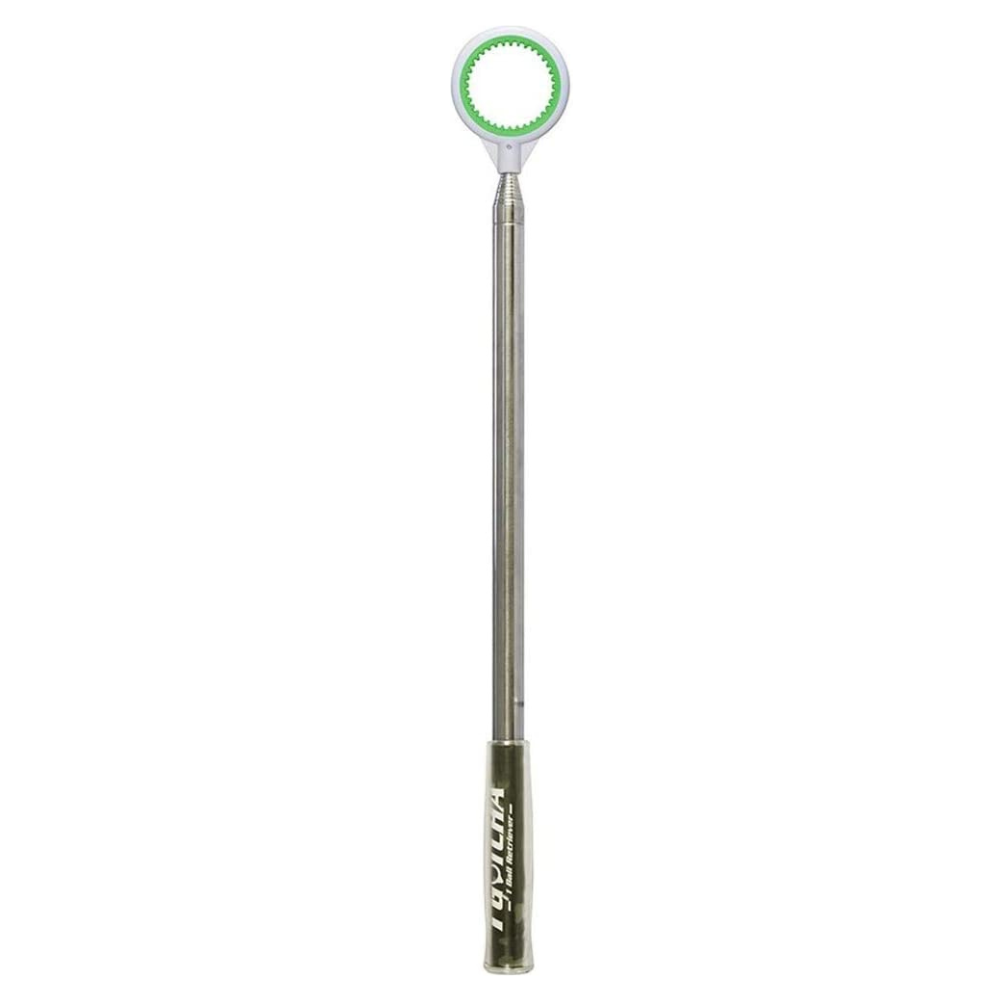 Gotcha JAWZ Retriever
Single piece head design, no moving parts
Check Price on Amazon
Why We're Fans
With the Made in America patented ball retrievers, the Gotcha Jaws Ball Retriever is popular for its stainless steel shaft and one-piece head design with no movable parts.
The Gotcha Jaws is lightweight (collapses to 21 inches), has a 18-foot maximum reach, and only weighs 19 ounces.
The multidirectional head design allows you to catch the ball from either side. The head of the retriever also allows the ball to be scooped.
What To Know
Compact size
Telescoping shaft makes portability very convenient
18 foot reach
Easily hides in a side pocket of your golf bag
3. Pelican Golf Ball Retriever with Premium Golden Yellow Nylon Cup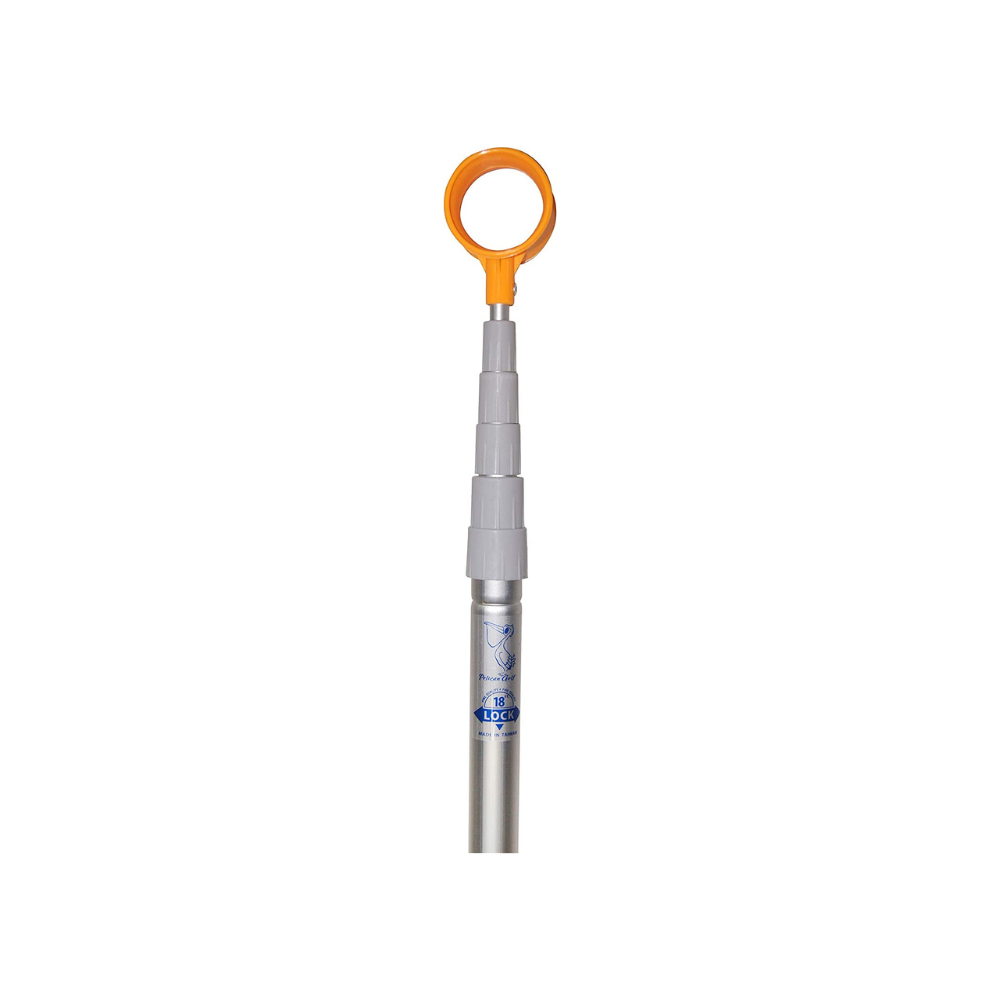 Pelican Golf Ball Retriever
Extends up to 18', Collapses to 3'8"
Check Price on Amazon
Why We're Fans
You can extend it, used it and then tuck it away quickly. Great design makes the device easy to shag the ball.
Extremely easy to clean, doesn't corrode or rust and alleviates the frustration of pulling up balls stuck in the mud or underwater... balls do not fall out once in the cup.
What To Know
The Pelican Golf Ball Retriever with Premium Robust Golden Yellow Nylon Cup comes available in 12'/43", 15'/44", 18'/44" lengths
The ball doesn't have to be actively pressed for it to be captured
Has a telescopic design with adjustable length and twist turn lock
Includes a lightweight aluminum alloy shaft and Comfort Grip, making the handle extremely comfortable.
Very lightweight and sturdy
4. ToVii Golf Ball Retriever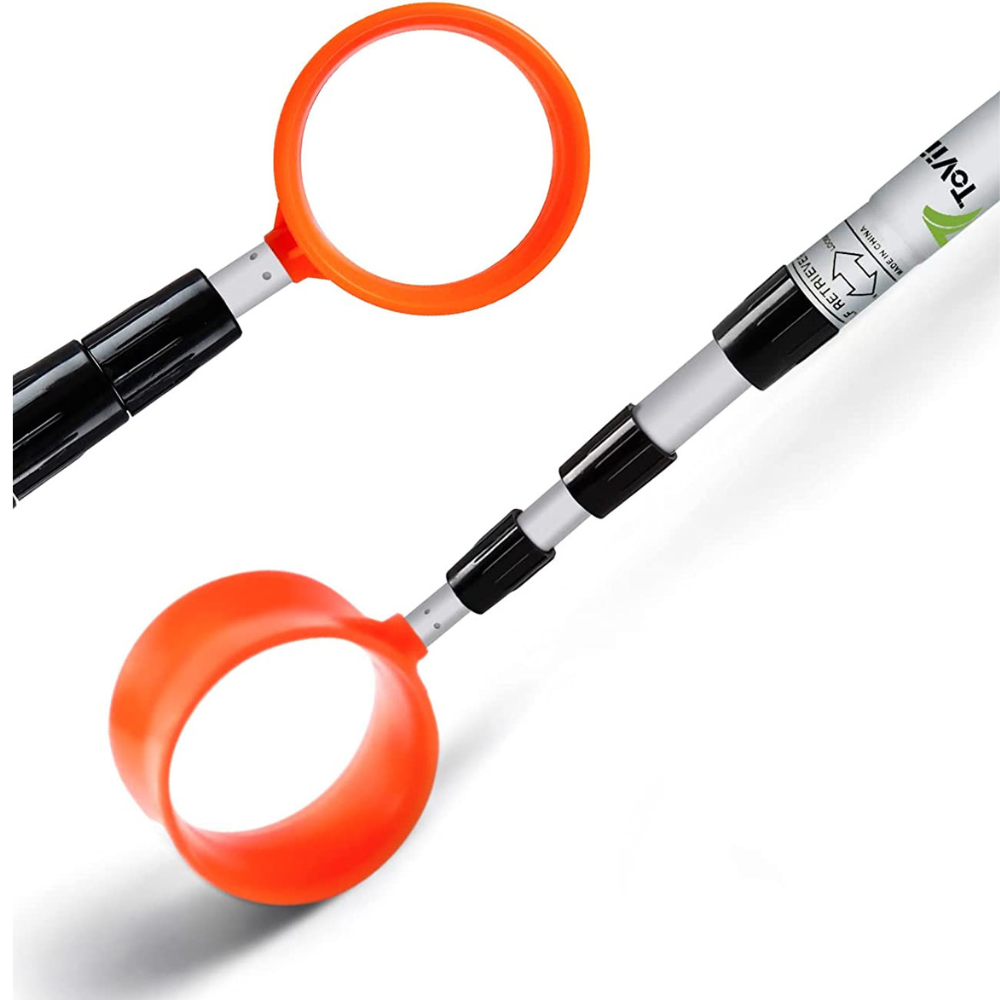 ToVii Golf Ball Retriever
Lightweight & Easy to Use
Check Price on Amazon
Why We're Fans
Easily retrieve balls with the light, strong locking mechanism that prevents rotation and keeps the ball in place. This retriever is well made and the orange nylon cup picks up balls easily and holds them in place.
The locking telescoping tubes slide back and forth smoothly and locks into place with a simple twist. With the heavier gauge weight of this retriever it will hold up well when fully extended.
What To Know
The golf bag grabber extends to 15' and retracts to 3'8", which is well suited for all types of golf bags and easy to carry.
It has a seamless contraction/expansion feature, so you can select the proper grabber length for your needs.
The golf ball grabber is made up of a lightweight aluminum shaft and strong nylon cup making the total weight only 19.4 oz.
It includes a comfortable rubber grip handle specifically designed to minimize hand and wrist stress making it easy to pick up the ball.
To operate the golf ball retriever turn it left to tight set and right to loose set by twisting the turn-lock which allows you to adjust the length.
You can then retrieve the ball wherever it lands, in bushes, or mud, water hazards, or out of bounds.
Allows you to retrieve balls without bending and causing back pain. Will save you time, energy and money.
5. prowithlin Golf Ball Retriever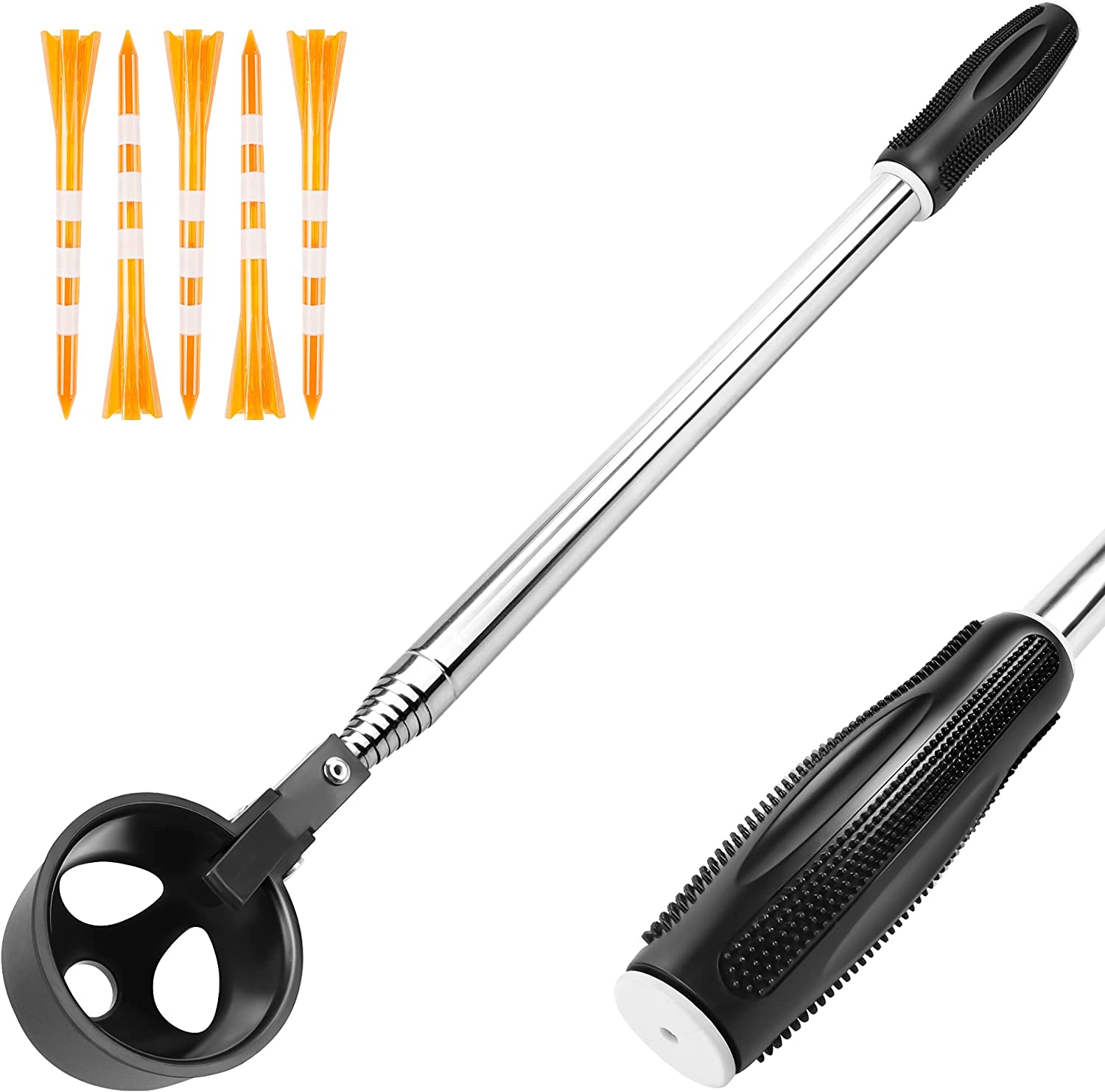 prowithlin Golf Ball Retriever
Designed with an automatic locking device
Check Price on Amazon
Why We're Fans
Best golf ball retriever for seniors or those with a bad back.
The telescopic depth of this ball retriever can reach up to 15 feet. In case the ball falls into a water hazard, bush, mud, or boundary fence, it will be very useful for you because it makes it simple to recover the ball without requiring an awkward stance, nor give the ball up because it could not be simply retrieved.
When not in use, it can be retracted to 2.0 feet, allowing you to place it in your golf bag.
The stainless steel shaft of this ball retriever tool is high quality and stands up over time. It withstands any weather conditions and is sturdy, nor does it lose its form once it reaches its maximum length. It will not rust in water, so it's suitable for long usage.
With this new model, the handle of the golf ball retriever has been enhanced and designed to be more non-slip, more comfortable and will not cause palm or wrist pain even if used for a long time.
What To Know
Comes in two lengths - 12ft/3.66m and 15ft/4.56m.
Automatic Locking Spoon Design - The automatic locking mechanism on the golf-ball retriever tool spoon can keep your ball from falling back out when retrieved.
Stable Grasping - The ball retriever can pick up the ball on the ground, speeding up your ball retrieval without needing to bend over.
It will not rust no matter how many times you submerge it in water.
The handle design meets ergonomics. Made of new ABS material, the handle of our golf ball retriever is comfortable and non-slip, and will not cause hand discomfort even if it's used for a long time.
The black cup can be a little difficult to see in deeper water.
Golf Ball Retriever - FAQ's
Do golf ball retrievers work?
Yes they do. With the price of golf balls today many golfers are choosing to retrieve their wayward balls from hazards and out of bounds areas rather than buy new expensive balls if they don't have to.
What is a golf ball retriever used for?
To retrieve out of bound or in hazard golf balls. Before buying a golf ball retriever, make sure you choose one that is durable enough to withstand the elements.
Secondly, you're likely to want to purchase a retriever with a long reach so you can retrieve balls that are far out.
Finally, you want to make sure that the basket on the retriever holds onto the golf balls once it is in the cup.
What is a good length for a golf ball retriever?
6ft-15ft will generally cover most golf ball retrieval needs.
Ball Security?
The most important characteristic of a ball retriever is that it entraps the ball, prevents the golf ball falling and returns it to the player.
When you have collected your ball, you want to make sure it stays in the retriever once you catch it and you are not losing golf balls .
The standard ball retriever has a basket-like design or club pocket ball retriever that can cause the ball to pop out when knocked against a tree or rock.
Enclosures that are designed with a clasp held by a spring that helps catch the ball and securely locks it in place are more likely to provide and easier time with retrieval. They can a bit more expensive but will ensure quicker success.
Shaft Length?
When you're considering the differences between the various golf ball retrievers, it's important to focus on the length of the shaft.
The all-important shaft is the part of the retriever you hold on to and extend forward while retrieving an out of range ball.
Too short a shaft can make it difficult to retrieve a golf ball that is far away, while a too long shaft can be unwieldy and difficult to control.
Handle?
One of the distinctive functions of the handle is the ability to hold it. Some retrievers provide a club-like grip that's moderately sticky and stays in your hand.
Some others provide ridged, ergonomic grips that the user finds simple to hold.
The handle is often made from a blend of materials, such as rubber, that provides cushioning, tackiness, and comfort.
Golfers need handles that maintain their shape over time, provide support while gripping, and provide the ability to extract the golf ball after successfully retrieving it.
Grips that offer the same grip in wet weather as in dry weather are a plus for golfers.
Stability?
A retriever's stability depends on what material the shaft is made of and how it performs when the ball is collected at the end of the retriever.
Golfers typically agree this is precisely how the diameter of the shaft helps determine how stable a retriever will be.
A shorter retriever has greater stability than a longer retriever. Most shafts are composed of lightweight aluminum, so the shorter offers more control.
The longer retriever requires more flexibility to guide the enclosure toward golf balls farther out and need maneuverability to collect the ball.
Materials Used?
The quality of material used on the ball retriever is critical to its performance. A retriever is created with three essential parts: the handle, the shaft, and the enclosure. If each part is made of high-quality material, then the experience with the retriever will provide a great user experience.
The size of the retriever's shaft also plays a major role in its ability to rapidly grab and retrieve a ball. Longer retrievers should have shafts made from sturdy materials to stay steady. Since the shaft is lengthy, it needs to be rigid enough to maintain ease of grabbing the ball.
Smaller retrievers offer more room for error, making the quality of the shaft material less critical since they tend to provide a short, stiff arm to reach errant golf balls.
Bonus question: Is a ball retriever considered a club?
No. It is simply an accessory or tool and does not affect the maximum count of 14 clubs in your bag.
Conclusion
The golf ball retriever is a great tool for anyone who plays golf. The best golf ball retriever is simple to use, can save you a lot of time, frustration and money and keep you out of hazardous areas where dangerous critters might lurk.
If you are looking for a way to improve your game, this is a great option.

Thank you for visiting and we hope to see you back soon!