Note: We use affiliate links and may receive a small commission on purchases at no additional cost to you.
Who Needs Longer Golf Clubs?
The standard length for a golf club is based on a man's height of 5 feet 9 inches tall. If you are a tall golfer, you may need to get longer clubs. A golf ball will travel further with a longer club, but you need to be able to swing it properly.
If you're a tall man, you know that finding the right golf clubs can be a challenge. But don't worry, we're here to help. In this article, we'll review the best golf clubs for tall men, so you can find the perfect set for your game.
When it comes to golf clubs, size does matter. If you're a tall man, you need clubs that are designed to fit your height and strength. That's why we've put together this list of the best golf clubs for tall men. From drivers to putters, we've got you covered. Read on to learn more about each of the golf clubs on our list, and how they can help you improve your game.
Why Finding the Right Golf Clubs Is Important for Tall Men
Golf is a sport that is often enjoyed by taller individuals. Many tall golfers find that using clubs that are specifically designed for their height gives them an advantage on the course. When looking for golf clubs, taller men should consider a few things to ensure they find the best fit.
The first thing to keep in mind is that not all golf clubs are created equal. Some manufacturers create clubs specifically for taller players, while others do not take height into account when designing their products. This can make it difficult to find the right clubs if you don't know where to look.
Secondly, remember that you don't have to spend a fortune to get quality clubs. There are many affordable options on the market that will perform just as well as more expensive ones.
The Difference Between Men's and Women's Clubs
There are some key differences between men's and women's golf clubs. For one, men's clubs are generally longer than women's clubs. This is because men are, on average, taller than women. Additionally, men's clubs often have a slightly different weight distribution than women's clubs. This is because men tend to have more upper body strength than women. Finally, the grip size on men's clubs is usually larger than on women's clubs. This is because men have larger hands, on average.
Given these differences, it is important to choose the right golf club for your individual body type and playing style.
We've done the research to provide you with options to help you choose the one that best fits your needs. Our experts have read through the reviews to find the ones that offer quality, value, and convenience.  We only recommend products that have 4 or 5 stars and are backed by real customer reviews.
The 5 Best Golf Clubs for Tall Men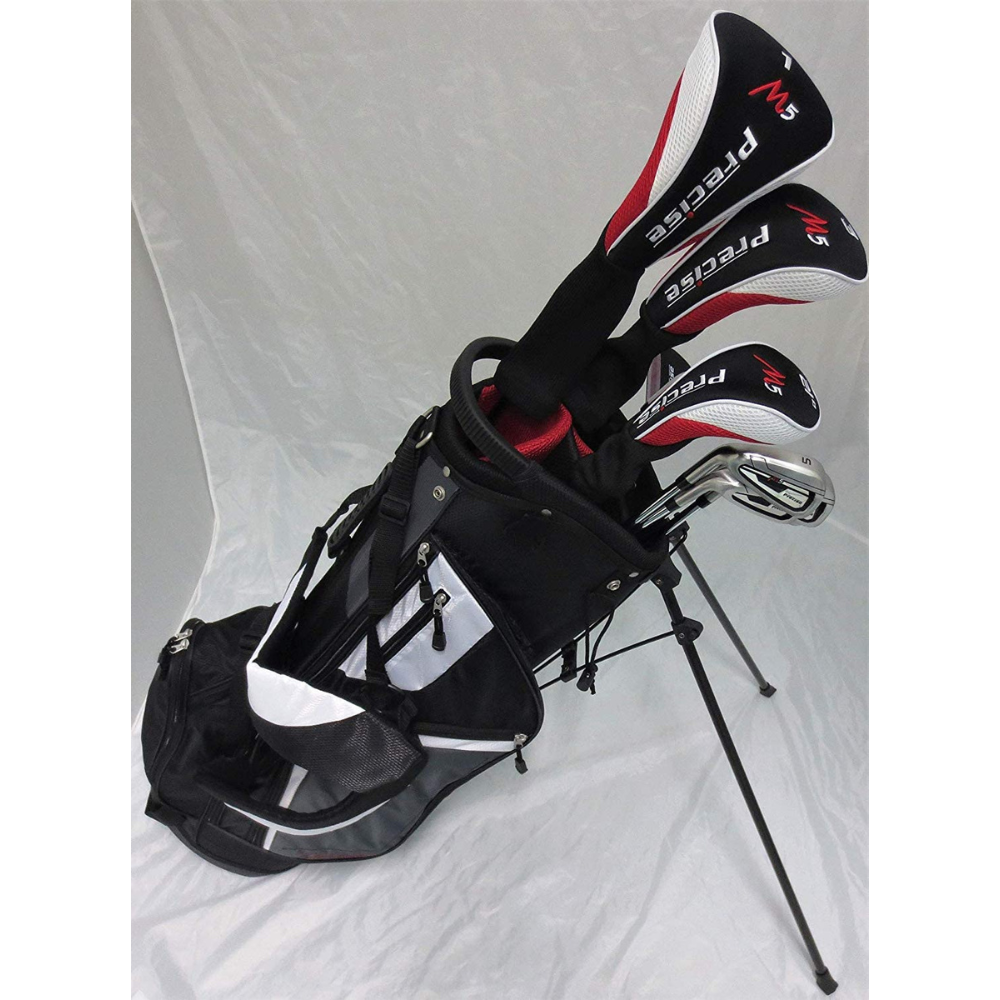 Pro Performance Golf
Set Features 1" longer Clubs
Check Price On Amazon!
If you're taller than the average man and are looking for a complete set designed for you, then look no further. This set features clubs 1" longer than other sets. When you buy a standard golf club set off the rack it tends to make the game more difficult as a taller man when you have to hunch over on each shot. This can cause you to develop bad swing habits. No need to worry with this set since it is specifically designed to fit taller men.
Features
Fits left handed men 6'0" to 6'6" Tall
Clubs are 1" longer than normal men's length
The 460cc Driver, Fairway Wood and Hybrid all come with Graphite Regular Flex
Irons are oversized and come in sizes 5,6,7,8,9 & PW
Comes with a Face Balanced Easy Alignment Putter
Golf bag has auto stand with dual straps
Headcovers match
Pros:
-The clubs are made with high quality materials that are built to last.
-They offer a great warranty in case something goes wrong.
-The set is tailored specifically for left handed golfers.
-The clubs have a nice, sleek design.
-The set is very affordable.
Cons:
-The clubs may be too light for some golfers.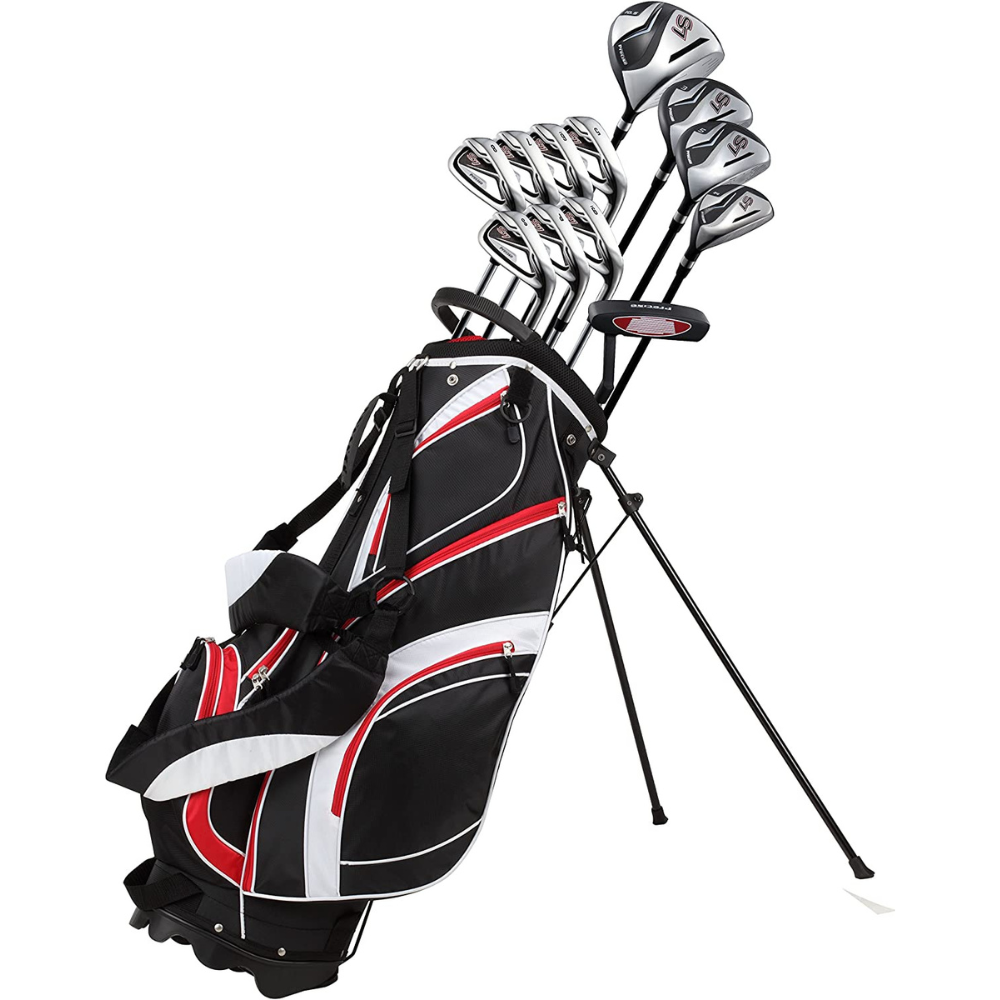 Precise Men's Golf Club Set
Excellent Choice for Tall Men
Check Price On Amazon!
This is one of the best golf club sets on the market. It is designed specifically for tall men and it comes with everything you need to get started playing golf. The clubs are made of high quality materials and they are very well-crafted.
The set includes a driver, a three wood, a five wood, an eight iron, a pitching wedge, and a putter. All of the clubs are extremely lightweight and they have large sweet spots.
They also have graphite shafts which makes them very durable. This set is an excellent choice for tall men who are looking for a complete golf club set that is designed specifically for their height.
Features
Headcovers match
The set includes RHD men's standard-length golf set for the tall man, includes 3 &5 woods and a 24 hybrid wood.
Also includes irons from sizes 5, 6, 7, 8, 9, PW & sand wedge.
460cc driver included.
Irons are True Temper steel shafts, the woods are all superlite premium graphite shafts
Comes with putter and deluxe stand bag.
Pros:
1. Includes all the clubs you need to get started
2. Precise brand is known for quality
3. Ideal for tall men
4.Reasonably priced
5. Good reviews
Cons:
1. Not suitable for left handed golfers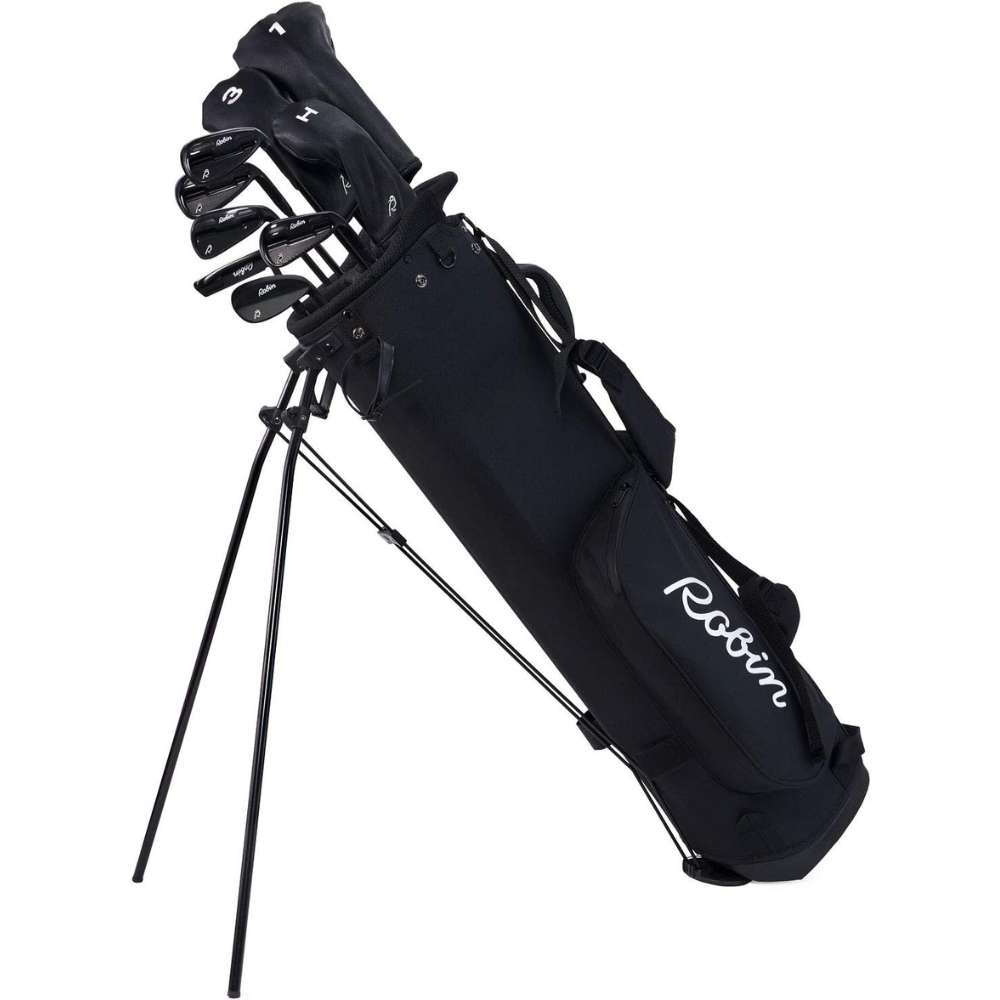 Robin Golf Essentials
Same Standards As Top Tier Brands
Check Price On Amazon!
Features
These golf clubs are designed with thoughtful touches to make your game even better. There is a bigger sweet spot for straighter shots and soft grip to help you play your round in comfort.
This 9 club set for men comes with driver, fairway wood, hybrid, 3 irons (5/7/9), 2 wedges (pitching & sand) and a putter. The durable sleek design backpack style golf bag is provided for easy carrying and there are 4 head covers to protect the clubs.
These clubs are to the same standards as the top-tier brands. Robin Golf developed clubs to strike the perfect balance between usability and performance.
The clubs are simply beautiful and comes with a matte black finish to help make you the most stylish golfer on the fairways.
Pros:
-The set includes all the clubs a beginner needs to get started playing golf
-The clubs are designed for men up to 6'2" tall
-The set is affordably priced
-The clubs are made of quality materials
-The set comes with a carrying bag
Cons:
-A beginner may outgrow this set quickly as they improve their skills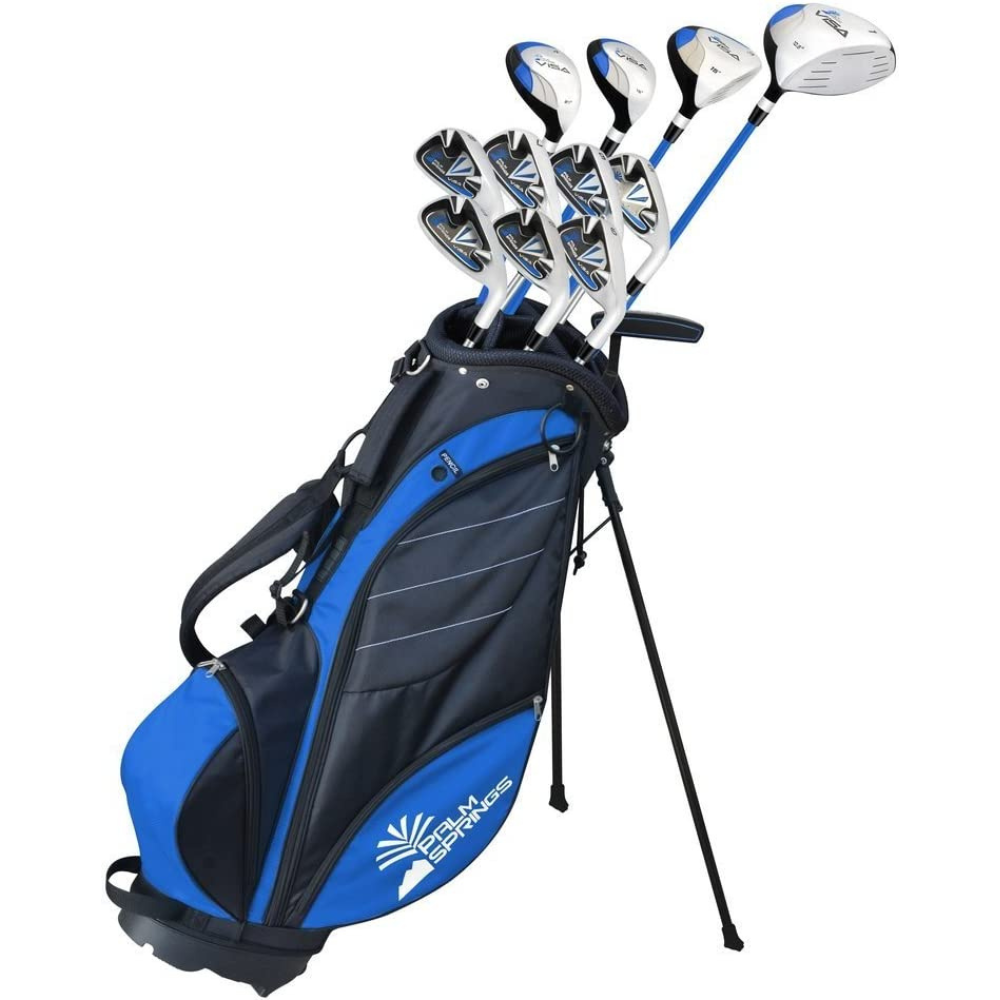 Palm Springs Men's Golf Clubs
1" Longer Across All Clubs For Tall Men
Check Price On AMazon!

Features
Clubs are all 1" longer across the set for taller men
The driver is an oversize 460cc, the largest legally allowed club head size with a big sweet spot, for longer, straighter shots. Includes matching headcover.
The 15° #3 fairway wood, also comes with an enlarged sweet spot for more forgiveness. The low profile designed sole makes it perfect for hitting shots off the grass. It's a 100% pure graphite shaft, with regular flex and matching headcover.
The set includes two hybrids, a #3 (18°) and #4 (21°). With these clubs there is no need for the longer irons since they are normally the hardest clubs to hit. You'll look forward to hitting these clubs.. Also 100% pure graphite shaft with regular flex and a matching headcover for each.
The irons are cavity backed and come in sizes 5-6-7-8-9 & PW. These clubs have a high MOI and all feature a cavity back design, which creates clubs with a higher MOI and low center of gravity, meaning they are more forgiving and more consistent and have steel shafts.
The putter is designed with more mass behind the point of contact to provide a more consistent and solid roll.
Includes deluxe stand bag with dividers and plenty of storage
Pros:
1. The Palm Springs Golf VISA Men's 1" clubs are made with high quality materials and construction.
2. Driver has a very large sweet spot.
3. The clubface is very forgiving, making it ideal for beginner and intermediate golfers.
4. The clubs are lightweight, making them easy to swing.
5. The clubs reasonable priced.
Cons:
1. The Palm Springs Golf VISA Mens 1" clubs may not be suitable for more advanced golfers.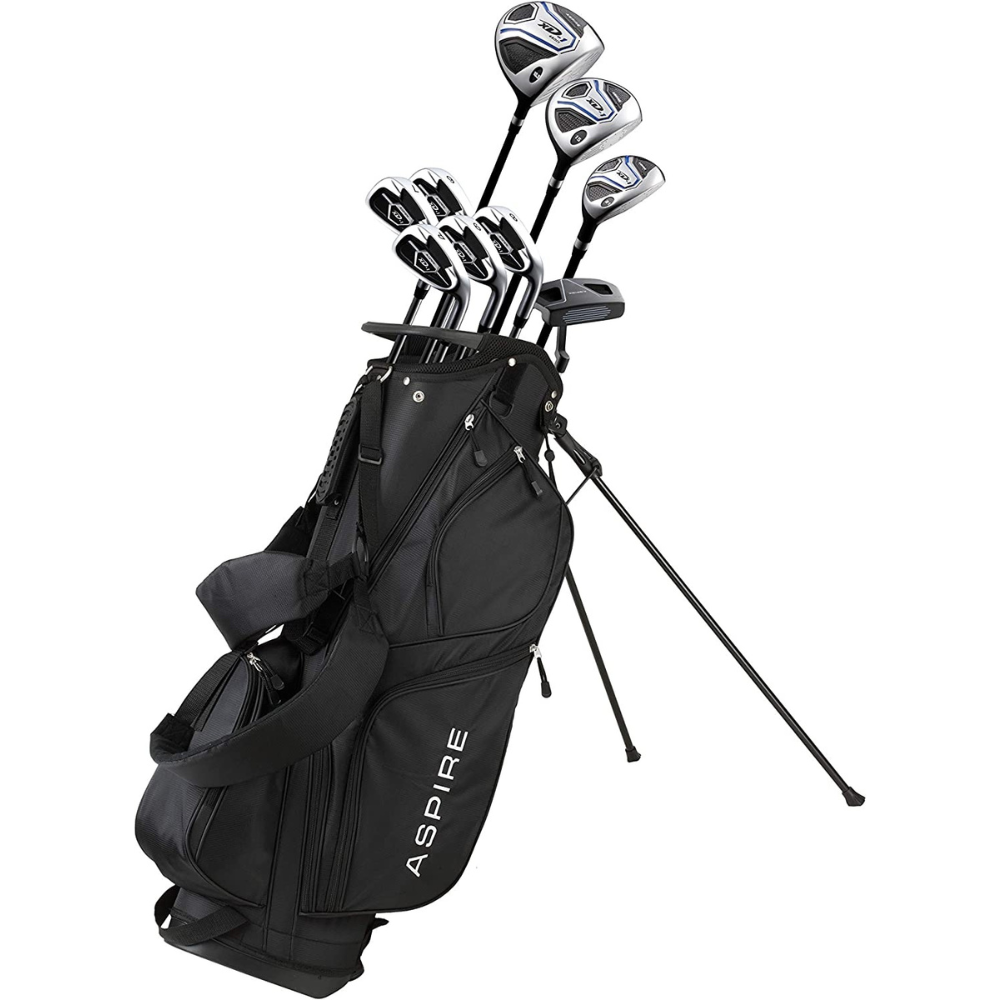 Aspire XD1 Men's Golf Club Set
Check Price On Amazon!
Features
Includes Titanium Driver, Fairway Wood, Hybrid, 6-PW Irons, Putter, Stand Bag, 3 H/C's
460cc Titanium Driver! Stainless Steel Woods and Irons
100% Graphite Shaft On Woods & True Temper Steel Shafts on Irons!
Matching Deluxe Dual-Strap Golf Bag and Headcovers! Carry your bag like a backpack!
This Golf Set is for a Right Handed Player! 2 Sizes Available! Tall Size for 6'1" and Above!
The Aspire XD1 men's golf package set includes game-altering clubs for all skill levels designed to improve overall confidence and distance. It is made to help golfers of all playing abilities improve their games.
Pros:
-The clubs are very good quality
-The set is very affordable
-The clubs are suitable for beginners and intermediate players
-The set includes all the clubs you need to play a full round of golf
-The clubs are forgiving and easy to hit
Cons:
-The clubs may be too lightweight for some players
Match Your Height and Physique To Your Golf Clubs
It is important to adjust your golf clubs to match your height and physique. This ensures that you will be able to swing the club properly and hit the ball with maximum power.
Golf clubs are one of the most important pieces of equipment that a golfer can have. They come in all different shapes and sizes, and it is important to find the right ones for your game. Tall golfers need to be especially careful when choosing their clubs, as they need to make sure they are the right length and weight. The wrong clubs can make it difficult to swing properly and hit the ball accurately.
There are a few things to keep in mind when choosing golf clubs for tall men. First, you need to make sure that the club is the right length. It should be long enough so that you can comfortably reach the ball, but not so long that it is difficult to control. Second, you need to make sure the club is not too heavy. A heavier club will be more difficult to swing, and may cause you to lose accuracy.
How to Choose the Right Clubs Based On Your Height
As a tall man, you have an advantage on the golf course. You can hit the ball further and with more power than your shorter counterparts. But you also have a few challenges when it comes to choosing the right clubs. The key is to find clubs that are long enough to fit your height, but not too long that they're unwieldy.
The first thing you need to do is measure your height. This will help you determine what length of club is right for you. Most standard clubs are too short for men over 6 feet tall. Once you know your height, it's time to start looking for clubs that are made for your height. Look for clubs that fit tall men over 6ft tall.
The Problem Tall Men Face When Buying Golf Clubs
Tall men often have difficulty finding golf clubs that fit them properly. Standard length clubs are too short for taller golfers, and custom fit clubs can be expensive. Luckily, manufacturers are aware of this dilemma and build complete set golf clubs for taller men.
Golf clubs for tall men are designed to have a longer shaft, so that you can swing at the same speed and power that shorter men do.
There are also golf set for tall men with different lie angles, so that your ball has a higher trajectory. A higher trajectory will help you hit the ball farther.
Also, there are some manufacturers that make golf clubs in extra-large sizes. These golf clubs will have larger heads and longer shafts, which is ideal for tall men who want to hit the ball as far as possible without sacrificing accuracy.
Tall Golfers and Club Lie Angle
There is some evidence that taller golfers may benefit from using clubs with a flatter lie angle. This is because taller golfers tend to have a more upright swing, and a flatter lie angle can help prevent the club from getting caught behind the golfer's body.
Of course, every golfer is different, so it's important to experiment with different lie angles to see what works best for you.
Myth: Tall Golfers Should Pick Golf Clubs Based on Height
Tall golfers often think they need to pick golf clubs based on their height, but some people think this is a myth. Their belief is that tall players can use any type of golf club, regardless of their height.
The important thing is to a complete set is comfortable for you to use and that help you hit the ball well. This is a personal decision so make sure to think it through before finalizing your decision.
FAQ's - Golf Clubs For Taller Men
What golf clubs are good for tall guys?
There are a few different set of golf clubs that are good for tall guys. Some of the best options include the Callaway X2 Hot driver, the Cobra Amp Cell driver, and the Titleist 913 D2 driver.
These drivers are all designed to give you more distance and accuracy, which is perfect for tall guys who want to improve their game.
Do taller guys need longer golf clubs?
There is no definitive answer to this question, as it depends on a number of factors including the height of the golfer, their arm length, and their swing.
That said, generally speaking, taller golfers may need longer clubs in order to reach the ball and generate enough power to make a good shot.
How tall should golf clubs be for my height?
There is no definitive answer, as it depends on your individual swing and preferences.
A good rule of thumb is to get fitted by a professional, who will take your height and other factors into account and then you can take that information and shop for the perfect clubs for you.
What clubs are good for a 6 4 man?
A club set that allows you to swing freely and hit accurate shots. You will have to experiment a little before making your final choice.
How do I know what size golf clubs to buy?
There are a few ways to figure out what size golf clubs to buy. One way is to go to a local golf shop, get fitted for clubs and then find the best price online.
Another way is to use a club fitting chart, which you can find online or in many golf magazines. Finally, you can always ask a friend or family member who already plays golf for help in choosing the right clubs for you.
How do I know what golf clubs fit me?
There are a few things to consider when choosing golf clubs. First, you need to know your height and arm length. Second, you need to decide what type of clubs you want. Finally, you need to try the clubs out to see how they feel.
Should driver sit flat at address?
Most golfers believe that it is important to sit flat at address, but there is no definitive answer.
Some players find that sitting flat helps them to maintain their balance and swing more consistently, while others find that it makes their swing feel more awkward. Ultimately, it is up to the individual player to experiment and see what works best for them.
How do I know if my clubs are too short?
If you up to 5'9" you should go with standard length clubs. If you are taller then you will need the longer clubs.
Should you choke down on long irons?
No, you should not choke down on long irons. Choking down on an iron makes it more difficult to hit the ball squarely, which leads to reduced distance and accuracy.
Bonus Question - How long should golf clubs last?
Golf clubs should last anywhere from 3 to 5 years. Of course, this number can change depending on how often you play and how well you take care of your clubs.
Conclusion:
Having the right clubs can make all the difference when playing golf. They can help you hit the ball straighter, further, and with more accuracy.
With the right clubs, you can enjoy the game more and lower your score. So, if you're serious about playing golf, be sure to invest in a good set of clubs.
Thank you for visiting and we hope to see you back soon!