Note: We use affiliate links and may receive a small commission on purchases at no additional cost to you.
Struggling with sore, tired feet when walking the course?
Golf is difficult to play or enjoy when your feet are sore and tired. Having comfortable and supportive golf shoes will make a world of difference when trying to improve your golf club swing or beat your best score. It's as important as having the right fitting clubs.
Breathability and lightness are two important factors especially if you are the type of golfer who walks more than one round in a day. In addition, if you play in hot weather, it is important to find a lightweight shoe that will help keep your feet cool.
With the right pair of comfortable golf shoes you will be able to focus on your game, use your natural motion and not be thinking of your sore feet when you are trying to line up that six foot birdie putt.
Keep reading to find the best golf shoes for walking your favorite course and improving your golf swing.
Why Walking Is Good For Your Golf Game
There are many reasons why walking is a great way to improve your golf game. Walking allows you to move more freely and rhythmically, and it helps to increase your club head speed which helps improve your golf swing. In addition, walking helps to improve your balance and coordination.
When you walk, you are also able to get a better sense of the terrain, which can help you plan your shots more effectively. Finally, walking is a great way to stay loose and limber, which can help you stay focused on the game.
What To Look For When Purchasing A Golf Shoe For Walking
When you are looking for a golf shoe to walk in, there are a few things you need to take into account.
The first thing is the type of ground you will mostly be playing on. If you are playing on grassy fairways and light rough, any good golf shoe should work well for you.
If, however, you plan to play mostly on harder surfaces, you will want to look for a golf shoe with a more aggressive tread pattern that can provide better traction. Spiked golf shoes can be beneficial here.
Another thing to consider is how much cushioning and support you need in your golf shoe. Golf shoes designed specifically for walking will typically have more cushioning than regular golf shoes. This is important if you plan to walk long distances or if you have trouble with foot pain or other joint problems.
In addition, does where you play require water proof golf shoes or water resistant golf shoes?
Finally, consider how much money you want to spend on your new golf shoes.
How We Choose
As avid golfers, we are just like you. Always looking for the best way to improve our game. So we look at all parts of the golf game to see what products bring the best results to that end.
Loving to walk the course and having experienced sore feet myself it was important for me to find shoes that met my personal requirements for all day comfort.
There are a variety of golf shoes on the market that can provide you with the traction and comfort you need to make your game as successful as possible. When choosing a pair of golf shoes, it is important to consider the type of terrain you will be playing on, as well as your own personal preferences.
Some of the most popular types of golf shoes include spikeless golf shoes, traditional spiked shoes, and golf sandals. Spikeless golf shoes are perfect for players who frequently play on wet or soft terrain, as they provide extra traction and stability.
Traditional spiked shoes offer more stability and support than spikeless golf shoes and are ideal for players who often play on hard surfaces. Golf sandals are perfect for hot weather climates, as they allow your feet to breathe and keep you cool.
We've done the research to provide you with options to help you choose the one that best fits your needs. Our experts have read through the reviews to find the ones that offer quality, value, and convenience.  We only recommend products that have 4 or 5 stars and are backed by real customer reviews.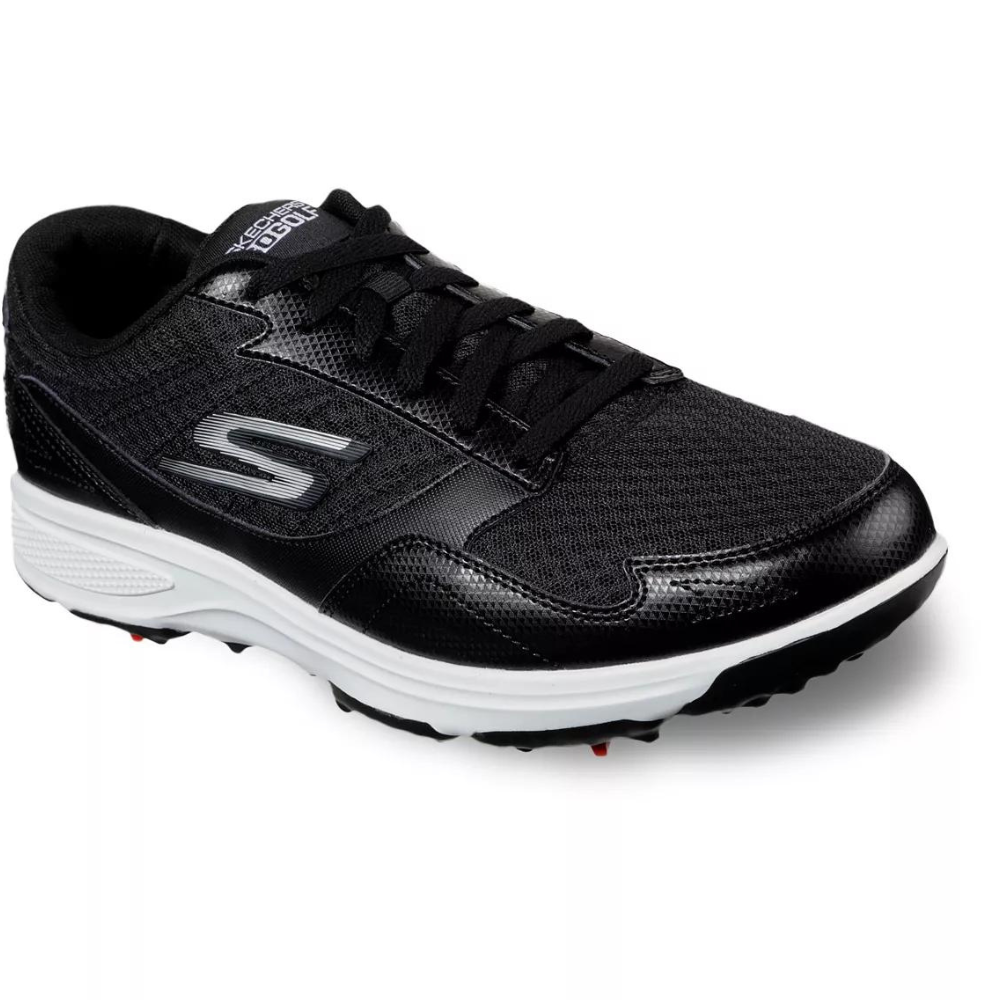 Perfect Lightweight, Yet Stable Golf Shoe
Check Price on Amazon
Skechers Men's Torque Sport Fairway Relaxed Fit Spiked Golf Shoe
Why We're Fans
The Relaxed Fit design of the Skechers golf shoes maintains a medium width in the heel while providing a roomy and comfortable fit in the toe and forefoot. This makes them some of the best golf shoes for walking, as they won't constrict your feet as you move around the course.
The golf shoes are also water repellent, so you can play through light rain without having to worry about your feet getting wet.
What to Know
Walkers need golf shoes that cushion their feet and provide good arch support. The best golf shoes for walking have a smooth synthetic and mesh fabric upper. This allows your foot to move freely as you walk, and the stitched overlays at the toe, sides, and heel panel add stability.
The golf shoe lining is made from soft fabric, which feels great against your skin. A cushioned comfort insole completes the package, making these golf shoes perfect for a long day on the golf course.
adidas Men's Codechaos Sport Golf Shoe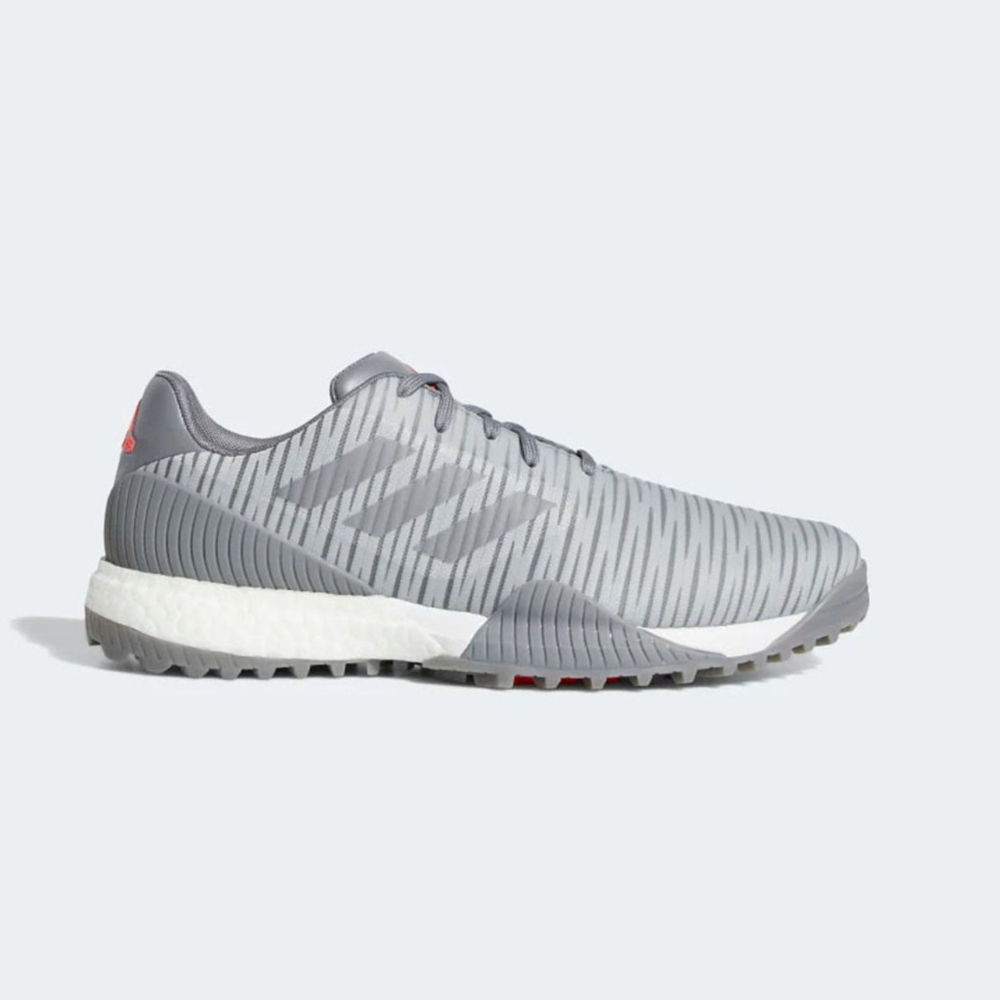 Adiwear Outsole Provides Traction & Cushioning
adidas Men's Codechaos Sport Golf Shoe
Check Price on Amazon
Why We're Fans
After extensive testing and research, we have found the best golf shoes for walking are those that have a spikeless sole with superior traction than regular spikeless golf shoes.
The reason for this is because when the ground is wet from the morning dew, traditional spikeless golf shoes can sometimes slip and cause you to lose your balance. With the right shoe, however, you can handle the wet grass with ease and avoid any potential slips or falls.
What To Know
If you're looking for the best golf shoes for walking, you'll want to consider something with a synthetic sole. This will provide you with a lightweight, stable feel as you walk the course.
Most golf shoes come with a lace closure, which will give you a snug fit. You'll also want to look for something with a knit and synthetic upper – this will ensure that your golf shoes are comfortable and durable. Adidas has come up with a new design that features a knit and synthetic upper with a film overlay. This makes the golf shoes durable and water resistant.
The Adiwear outsole provides traction, while the flexible Bounce midsole cushioning ensures a comfortable walk.
ECCO Men's S-line Hydromax Golf Shoe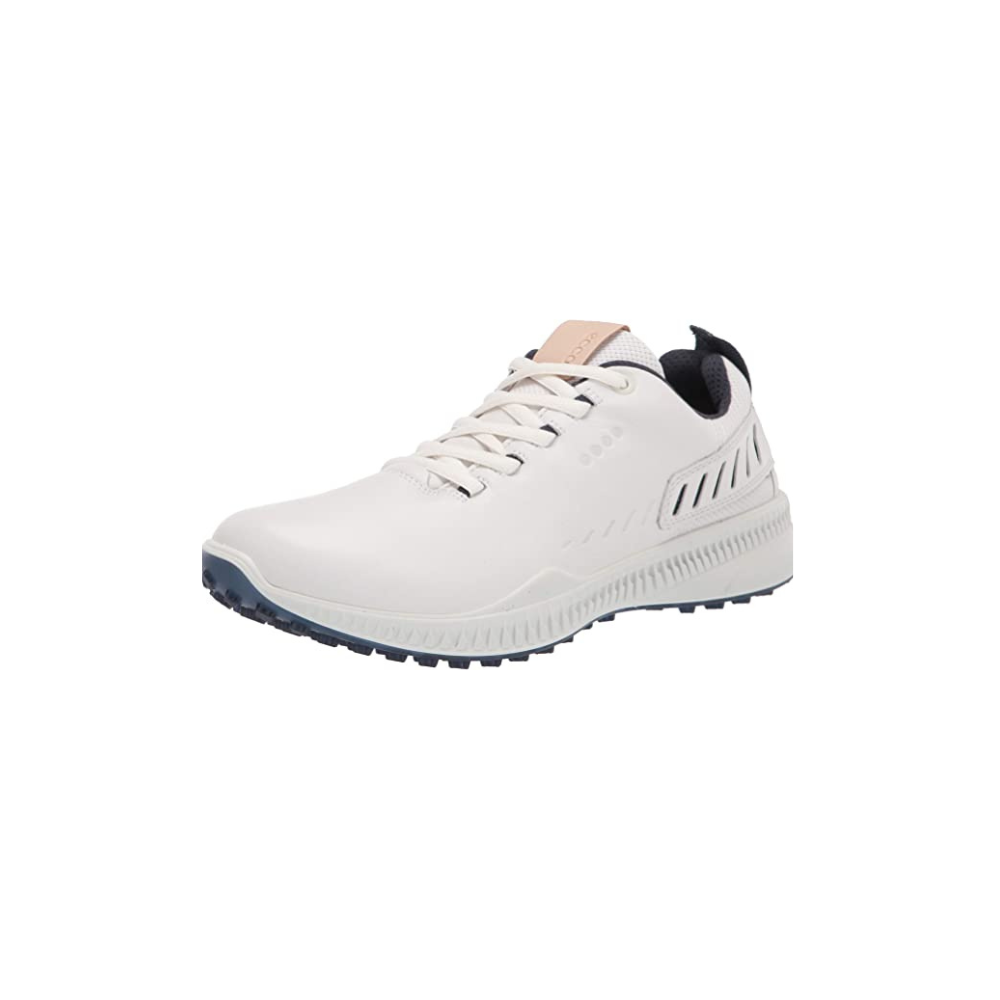 Specially Designed to Provide Added Traction and Stability
Ecco Men's S-line Hydromax
Check Price on Amazon
Why We're Fans
Ecco Golf shoes have been designed with the utmost attention to detail with how your feet relate to your swing. They are constructed to provide superior comfort and performance, making them some of the best golf shoes for walking on the market today.
The Ecco Golf shoes are made with a breathable and water-repellant membrane that will keep your feet dry even in wet conditions. They also feature a comfortable insole that will cushion your feet as you walk, ensuring that you stay comfortable all day long.
Additionally, the Ecco Golf shoes have been designed with a flexible outsole that will allow you to move naturally as you swing, giving you greater control over your shots.
What to know
The ECCO HYDROMAX golf shoe treatment makes the uppers highly water-repellent, keeping your feet dry. The exclusive E-DTS outsole is specially designed to provide excellent traction on wet surfaces, making it the perfect golf shoe for those who frequently find themselves dealing with slippery conditions.
So if you're looking for a reliable and stylish pair of golf shoes that will keep you safe and comfortable in all weather conditions, the ECCO HYDROMAX Collection is definitely worth considering.
New Balance Men's Fresh Foam Contend Golf Shoe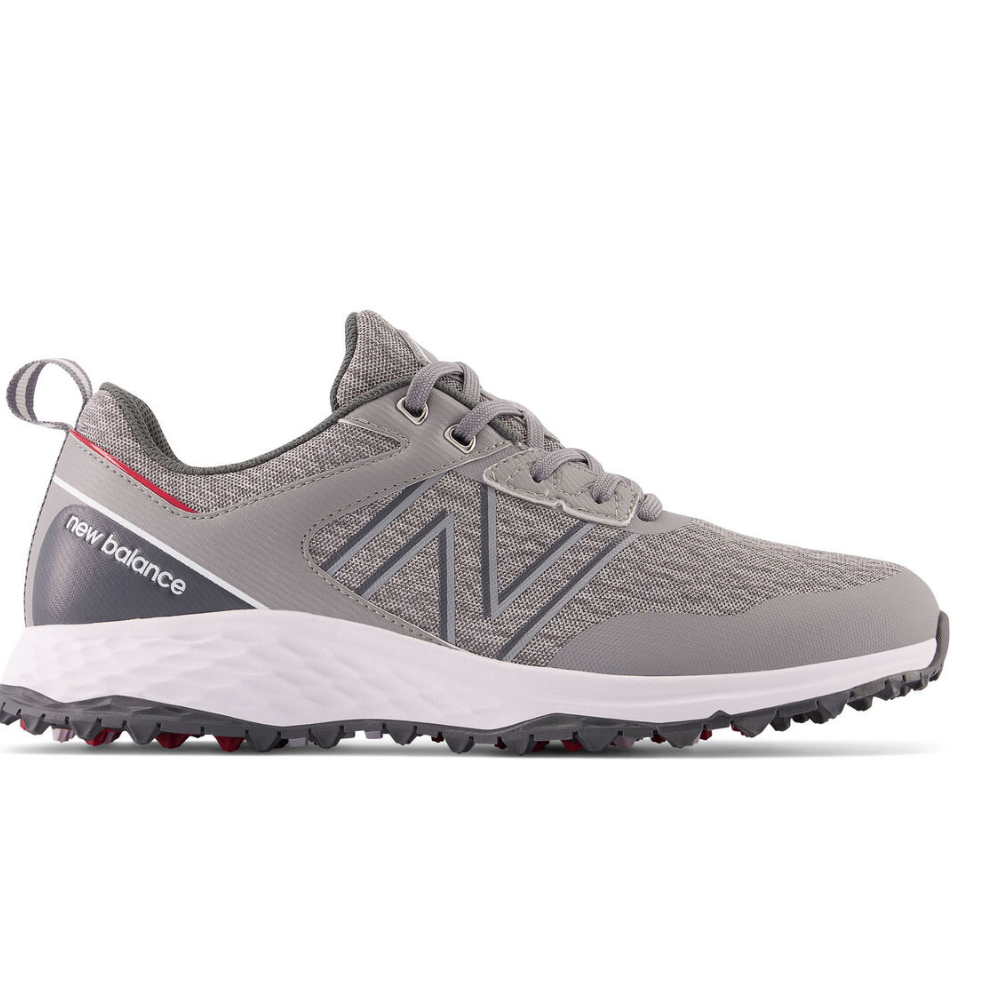 Smart Rubber Spikeless Outsole has Pressure Mapping Colors to Highlight Key Performance Zones
New Balance Men's Fresh Foam Contend
Check Price on Amazon
Why We're Fans
This is the ultimate walking golf shoe! The Fresh Foam Contend golf shoe utilizes an innovative and advanced Fresh Foam® midsole that provides superior medial arch & heel support to promote proper alignment & stability while walking the course and swinging your club. Are these the best spikeless golf shoes? That's for you to decide.
What To Know
The 100% synthetic spikeless golf shoe is a great option for anyone looking for a comfortable and durable golf shoe. The synthetic rubber sole provides good traction in wet or dry conditions, and the waterproof microfiber leather ensures your feet stay dry no matter how much water you step in.
The performance mesh upper of this spikeless shoe allows your feet to breathe, and the smart rubber outsole helps you optimize your performance on the course.
The 10mm drop Fresh Foam innovative midsole with molded CUSH insole provides superior comfort and a 2 year golf shoe waterproof warranty.
FootJoy Men's Hyperflex Boa Golf Shoe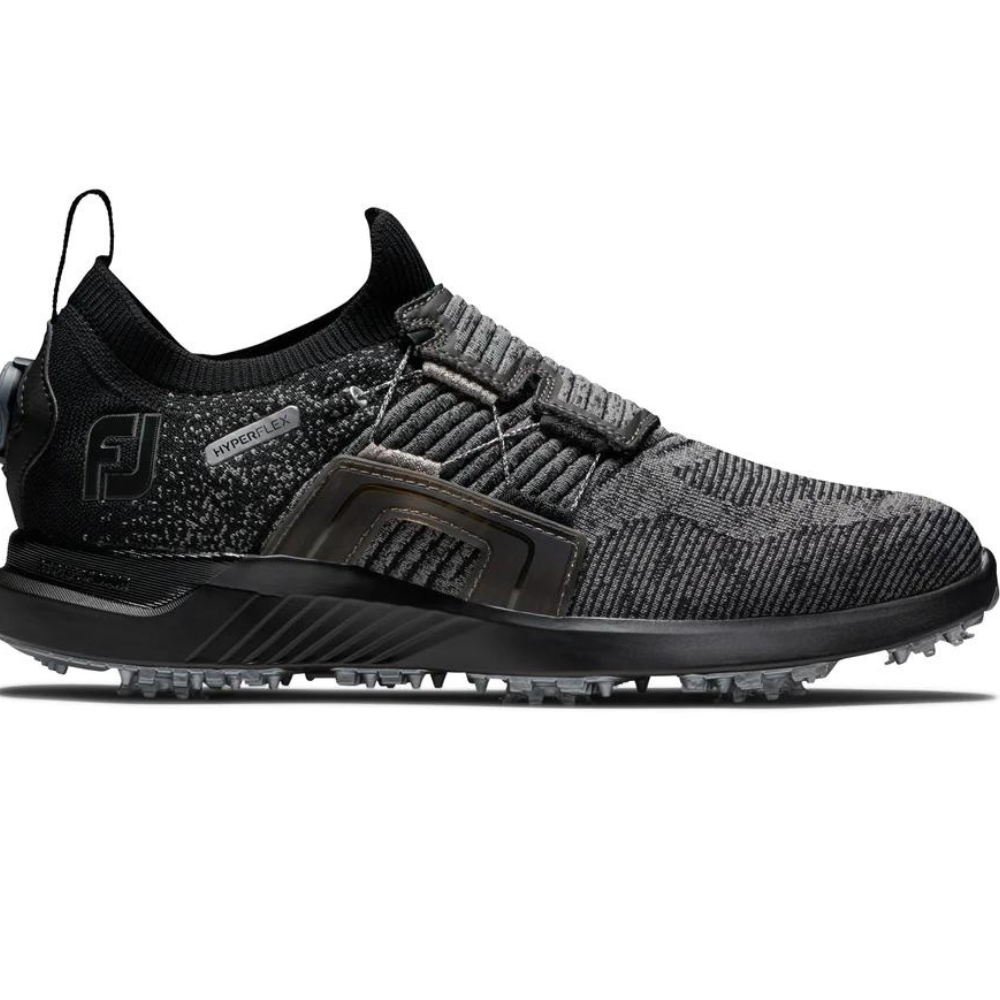 The Boa Fit System Ensures a Better Shoe to Foot Connection FootJoy
Men's Hyperflex Boa Golf Shoe
Check Price on Amazon
Why We're Fans
Features innovative materials like the engineered mesh upper, HYPERFLEX men's golf shoes deliver lightweight support and cushioning so you can play at your highest level.
What To Know
100% Synthetic
Polyvinyl Chloride sole
PERFORMANCE MESH - Lightweight performance mesh delivers incredible comfort, breathability and all-day comfort.
MAXIMUM COMFORT - StratoFoam is a proprietary foam compound tuned specifically for golf that maximizes underfoot comfort while providing optimal energy return to reduce underfoot fatigue throughout the round.
WATERPROOF - FootJoy warrants that this golf shoe will be waterproof in normal use for two years (U.S. Warranty).
LASER SPORT FIT - Offers a full rounded toe character with a standard fit across the forefoot and instep. A toe spring and a slightly narrow heel completes the athletic profile.
BOA FIT SYSTEM - The Boa Fit System ensures a better connection to your shoe in order to help improve stability, control, and power, the micro-adjustable Boa Fit System dials in your accuracy with effortless precision for a custom performance fit.
NOXNEX Men's Spikeless Golf Sandals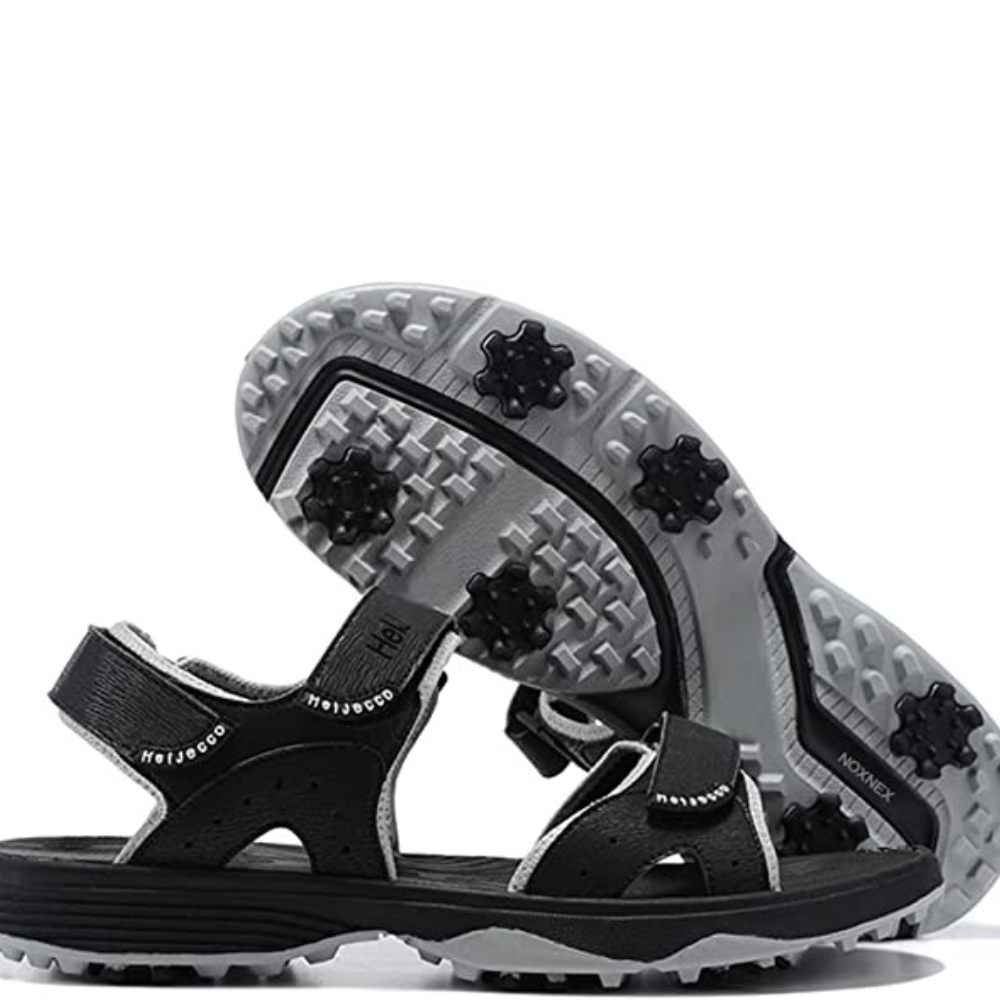 Approach Warm Weather Rounds in Comfort
NOXNEX Men's Spikeless Golf Sandals
Check Price on Amazon
Why We're Fans
If you play in mostly dry conditions and you're looking for a quality golf sandal that will provide you with plenty of comfort and support, then you should consider investing in a pair of NOXNEX Men's Spikeless Sandals.
These spikeless golf shoes are constructed out of weather resistant PVC and they feature adjustable Velcro closures for a secure fit. The golf-sandal design has full arch support and heel cushioning, making it perfect for those who spend extended periods of time on their feet.
Uppers are constructed of weather resistant PVC feature adjustable Velcro closures for a secure fit. The golf sandal has full oblique toe character, a full forefoot, full instep, and standard heel for a snug, comfortable ride. The rubber outsoles(Irreplaceable) allow for superior turf grip with every step.
What To Know
When you're looking for the perfect golf walking shoe, you want something that is going to be durable and able to withstand the outdoor conditions. The uppers on these golf shoe sandals are made out of weather resistant PVC and they have adjustable Velcro closures to ensure a secure fit.
They also come with the Sport last design, which gives you plenty of room for your toes to spread out and move around.
Best Golf Shoes for Walking FAQ's
It can be hard to figure out which are the best golf shoes for walking. With the myriad number of products on the market it can be difficult to wade through all of the information.
We've created a list of frequently asked questions by folks like yourself who want to find a solution to their golf shoe dilemma, quickly. This list will help you understand what to look for when choosing the best golf shoes for walking.
What golf shoe has the best support?
Since many golf shoes today are made with comfort in mind, this is really a personal preference based on your specific tastes and requirements. We have laid out multiple choices to help make the decision easier so you can have a better time on the golf course.
How many rounds of golf should golf shoes last?
The general rule of thumb is to change your golf shoe spikes every 15-20 rounds, or about twice a season for the average golfer. This cadence will vary depending on the conditions and the type of golfer you are but is a good rule of thumb. Modern golf shoes are made to last.
Why do you need golf shoes?
Why Should You Use Golf Shoes? It's simple science – golf shoes provide greater traction, stability and balance. These are three incredibly important keys to getting the proper contact when you hit the ball, allowing greater accuracy and distance with your shots.
Can you play golf in regular shoes?
Golf shoes improve your game. You are prone to slipping and bad shots when you do not wear a proper traditional golf shoe, be they regular walking golf shoes or premium golf shoes.
But, as far as actually playing golf, golf shoes are recommended, but not required. You can play your way around the golf course in tennis shoes, running shoes, cross trainers, or any shoes you wish (so long as they do not damage the turf and are permitted by the golf course).
Should I have more than one pair of golf shoes?
If you play often and can afford it, buy two pairs of golf shoes. Your feet get sweaty when walking for long periods, having two pairs of golf shoes enables you to rotate them and give the others a chance to dry out. It also means you can match your golf shoes to your golf outfit. Use a shoe horn when putting on your golf shoes to protect the back of them.
Should golf shoes be waterproof?
If you play a lot of golf in the early morning hours, you are going to want to choose waterproof golf shoes or a water repellant golf shoe. This is the time of day your feet are most subject to getting wet from walking and playing the golf course. If you only play a golf course with dry conditions, then regular golf shoes should be more than adequate.
Should I buy new golf shoes?
Whether or not you should buy new golf shoes depends on a variety of factors, including how often you play, the condition of your current golf shoes, and your budget.
If you play frequently and your current golf shoes are in poor condition, it might be worth investing in a new pair of golf shoes. Remember, really wet conditions require a waterproof golf shoe.
The loss of traction is the most glaring sign that you need to update your golf shoes. If you notice yourself frequently slipping during the stroke or while walking the golf course, it's likely time to replace the shoes. If water has started to seep into your golf shoes, it is certainly the best time to get a new pair.
Is the BOA fit system worth it on golf shoes?
The number one reason to choose a Boa-equipped golf shoe is for an exact fit you can't get anywhere else. With traditional laces, you can only tie them so many ways. Boa allows you to turn the dial and make micro-adjustments until the shoes fit exactly the way you need them to in order to perform at your peak.
Why do golf shoes have cleats?
Spiked shoes have spikes or cleats on the sole that grip the ground. They're designed that way to prevent your feet from slipping as you swing. Spikeless shoes, on the other hand, have engrained patterns in the place of spikes, often with small studs to help create grip.
Bonus question: Why do golfers not wear two gloves?
Most people wear only one glove to protect the hand that grips the club the tightest from blistering and ripped skin. They usually avoid wearing two gloves as it may interfere with their grip and they lose the feel of the club.
When raining most folks will commonly use two gloves to keep the wet club from slipping out of their hands and being able to also be able to hold onto their golf ball.
Best Golf Shoes For Walking - Conclusion
We've tried to answer your questions regarding the best golf shoes for walking to the best of our abilities. Hopefully we have brought some clarity with your decision making regarding the best golf shoes to use for your golf course conditions. Whether they are spike or spikeless shoes.
The options we've provided should help you find the lightweight great golf shoes that best fit your needs and can help you start enjoying your best golf without the stress of sore, tired feet. To choose the best and most comfortable golf shoes just tap the green button to check the price on your favorite choice.
Thank you for visiting and we hope to see you back soon!