Flat Feet and Golf
Flat feet, also known as fallen arches or pes planus, is a common foot condition that affects millions of people worldwide. It occurs when the arch of the foot collapses or flattens, causing the entire sole of the foot to come into contact with the ground.
Flat feet can develop due to various factors, including genetics, age, injury, or obesity. They can also cause discomfort, pain, or even complications in other parts of the body, such as the knees and lower back.
Treating flat feet typically involves the use of orthotics, supportive shoes, or in some cases, physical therapy. For golfers with flat feet, its crucial to wear golf shoes that provide a comfortable and enjoyable experience on the golf course
In this article, we will explore the best golf shoes for flat feet and discuss important factors to consider when choosing the perfect pair for your unique needs. The golf shoe world has come a long way since the development of the original classic golf shoe so enjoy the reviews and choose your favorite.
How We Choose
By researching the market, we have provided you with a variety of options so that you can select the one that best fits your needs.
Our professionals have chosen products that combine reliability, affordability, and efficiency based on the reviews. We only recommend products that have 4 or 5 stars and are backed by real customer reviews.
All products featured on
GolfOften.com
are researched and selected by our editors. However, when you buy something through us, we may receive a small commission at no additional cost to you.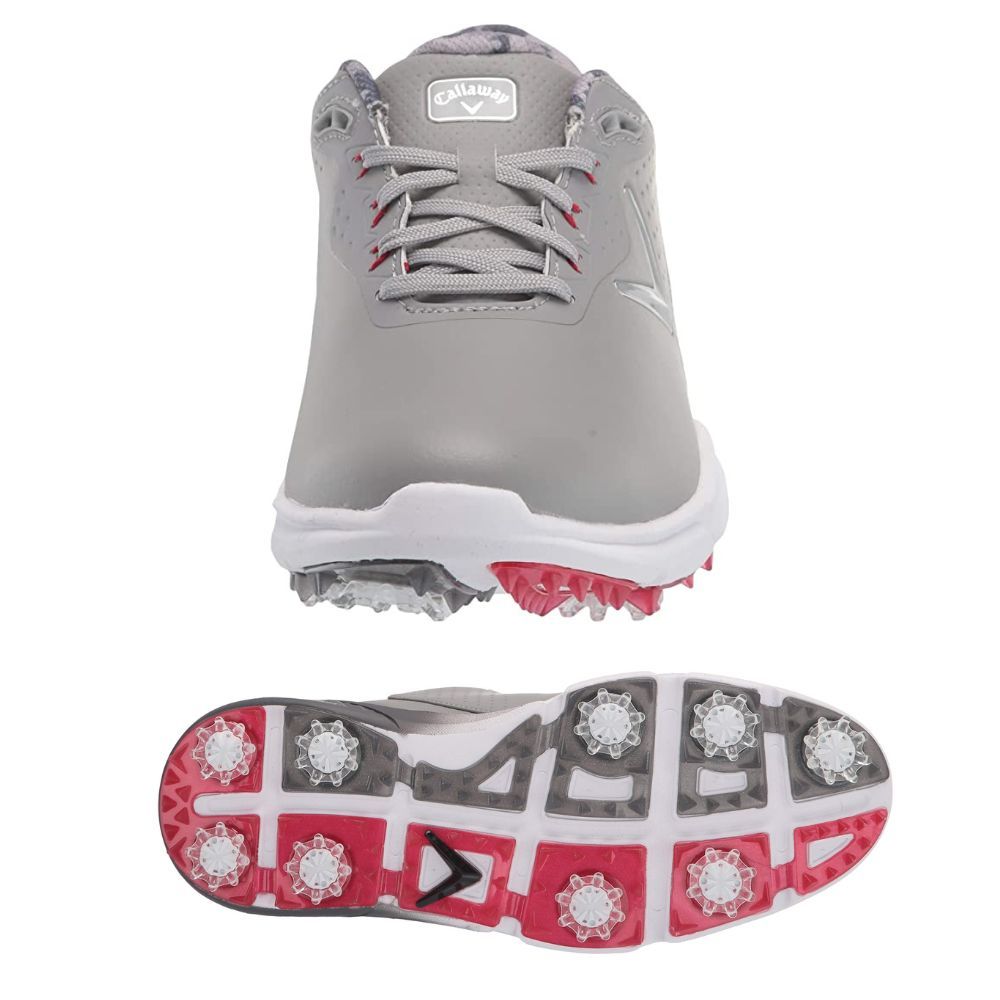 A Next Level Fusion Of Athletic Golf Design On A Performance Platform
Check Price on Amazon!
Why We Love It
The Callaway Men's Coronado V2 Golf Shoe is the perfect fusion of athletic and premium golf shoes in design and performance. Its microfiber leather upper provides superior comfort and its ForgedFoam EVA midsole provides superior performance.
The 9 Spike TPU Fusion-Lite outsole ensures maximum stability and control during the swing, while the CounterLok heel stabilizer offers additional support. And it also comes with a 2 year limited waterproof warranty.
What You Should Know
The Coronado V2 is made of 100% synthetic material and is imported. It's waterproof and perfect for any golfer looking for a very comfortable golf shoe too.
The combination of the microfiber leather upper, ForgedFoam midsole and 9 Spike TPU Fusion-Lite outsole offers superior comfort and performance.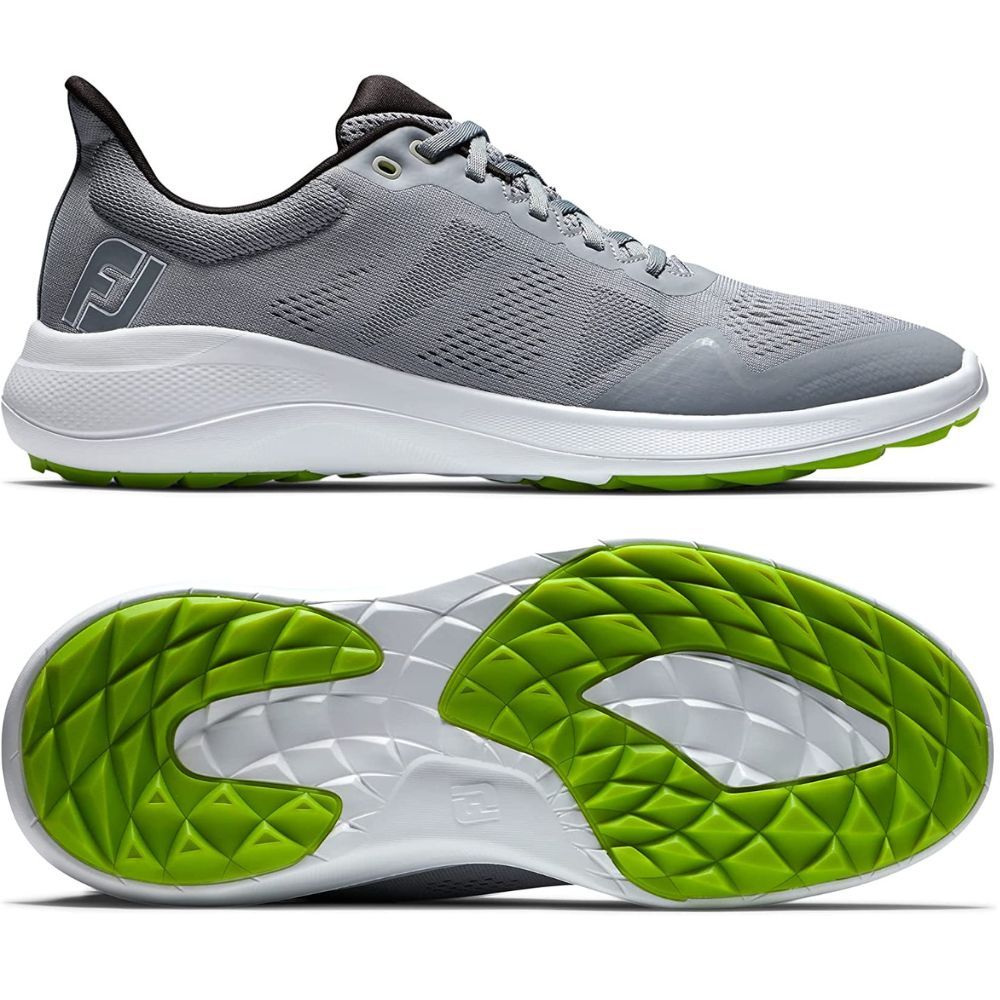 Experience Incredible Traction And Performance On Course With The Off Course Versatility Of A Sneaker
Check Price on Amazon!
Why We Love It
FootJoy Men's Fj Flex Golf Shoe is the perfect combination of traction and performance on the course with the off course versatility of a sneaker.
The VersaTrax outsole is engineered with specialized traction elements to provide maximum grip during your swing, while the lightweight performance mesh ensures incredible all-day comfort and exceptional breathability.
The soft EVA midsole offers increased underfoot cushioning, enhanced comfort and exceptional stability, and the Laser Sport Fit ensures a full rounded toe character with a standard fit across the forefoot and instep.
What You Should Know
The FootJoy Men's Fj Flex Golf Shoe is constructed with 100% synthetic materials, making it both durable and lightweight. The athletic profile lightweight mesh shoe is completed with toe spring and a slightly narrow heel.
The shoe is available in a variety of colors, allowing you to pick the perfect one for your style.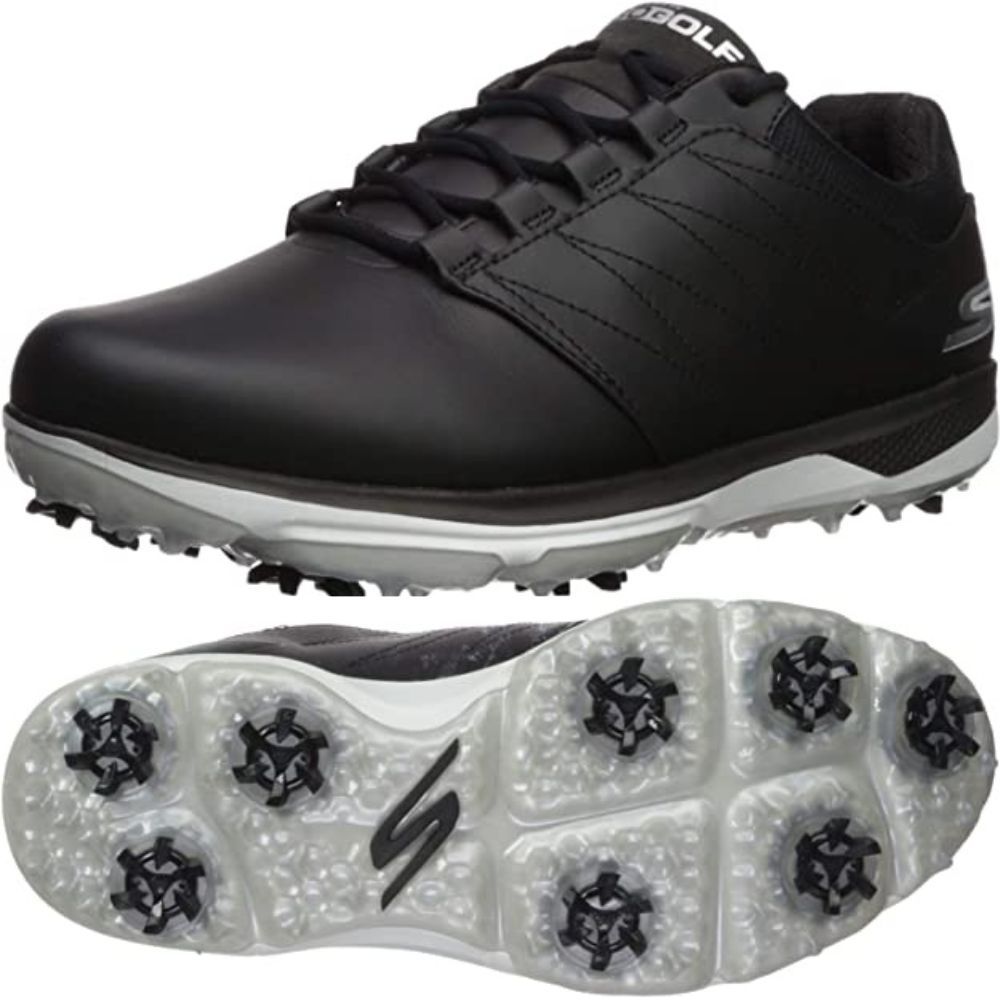 The Right Support Makes A World Of Difference
Check Price on Amazon!
Why We Love It
The Skechers GO GOLF Men's Pro 4 Waterproof Golf Shoe is the perfect choice for golfers looking for a classic design with reliable waterproof protection.
Featuring a full-grain leather or leather/textile upper with Skechers H2GO Shield waterproof protection, this golf shoe ensures your feet stay dry even in the wettest conditions.
Comfort is key with the Pro 4 golf shoes, thanks to the heel lock feature that keeps you stable and secure, as well as a full gusseted tongue that keeps rain from running down your rain pants and into your shoes.
And with a durable TPU bottom plate and diamond traction plate, you can be sure you'll have maximum grip and stability during your round.
What You Should Know
The Skechers GO GOLF Men's Pro 4 Waterproof Golf Shoe is also the official shoe of PGA Professional Matt Kuchar and comes with replaceable soft spikes and ultra flight foam for added cushion and comfort.
This golf shoe is available in both leather and textile versions, so you can find the perfect pair to suit your style.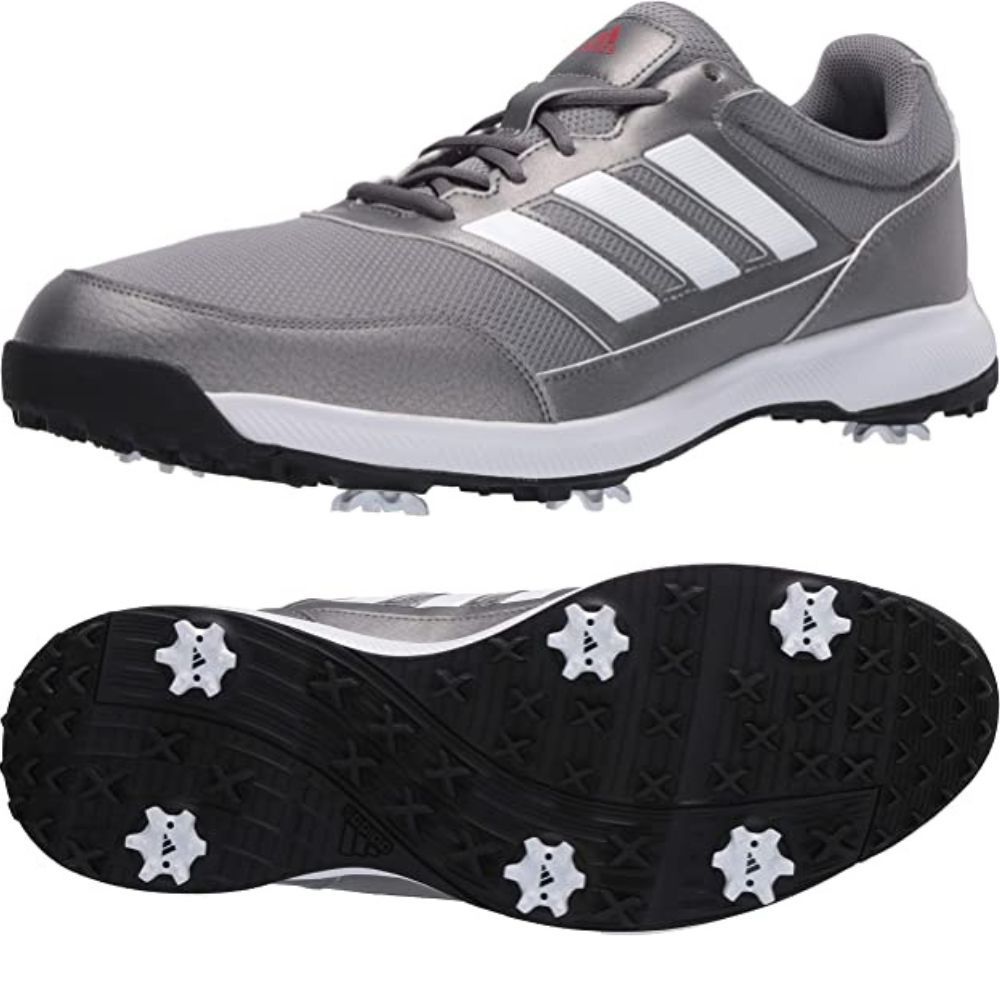 Midsole And Sockliner Feature Cloudfoam Cushioning, Providing Step-in Comfort
Check Price on Amazon!
Why We Love It
Adidas Men's Tech Response 2.0 Golf Shoe is perfect for all your golfing needs, providing lightweight stability as you bomb your driver. The synthetic upper provides a comfortable fit and the lace closure ensures a secure fit.
The midsole and sockliner feature cloudfoam cushioning, providing step-in comfort, while the durable non-marking adiwear outsole provides soft grip and traction. The outsole is equipped with X-Traxion primary lugs for grip and balance and green-friendly thintech EXP cleats for maximum performance.
What You Should Know
For the serious golfer, Adidas Men's Tech Response 2.0 Golf Shoe is an absolute must have. Not only does it provide great stability, but its lightweight construction ensures that your feet stay comfortable all day long.
The cleated outsole provides superior grip and traction for all your golfing needs.
Ladies Shoes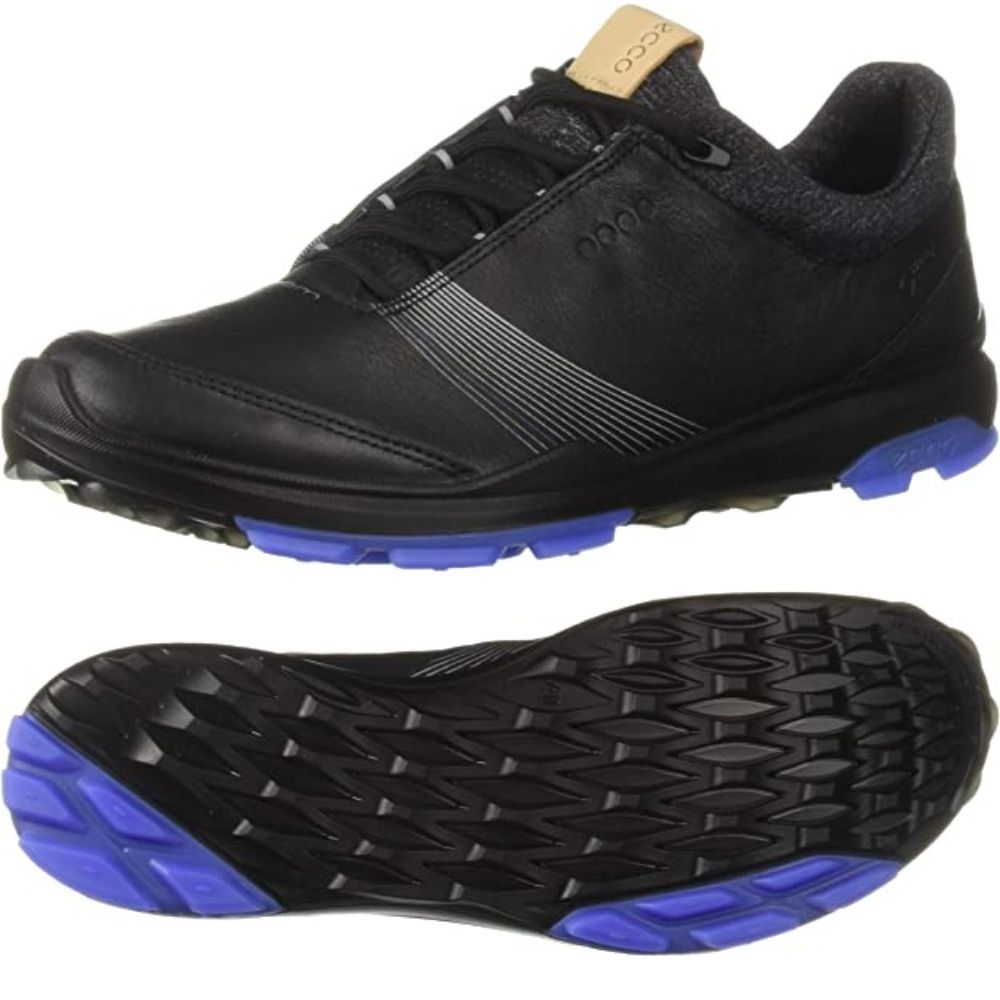 YAK Leather Uppers For Increased Breathability And Durability
Check Price on Amazon!
Why We Love It
The ECCO Women's Biom Hybrid 3 Gore-Tex Golf Shoe is perfect for any golfer. With its innovative outsole, called ECCO Tri-Fi-Grip, you will have the stability, durability, and rotation you need to improve your game.
This shoe also features BIOM technology to allow for a more natural walking motion and more power efficiency. It's made with 100% leather, is GORE-TEX Waterproof and has YAK leather uppers for increased breathability and durability, making it the perfect shoe for the golf course.
What You Should Know
The ECCO Women's Biom Hybrid 3 Gore-Tex Golf Shoe was designed to keep you comfortable while playing golf, no matter what the conditions. It is lightweight and breathable, yet still provides the protection and support you need.
The sleek design is available in multiple colors, so you can easily find a pair of these comfortable golf shoes that will match your outfit.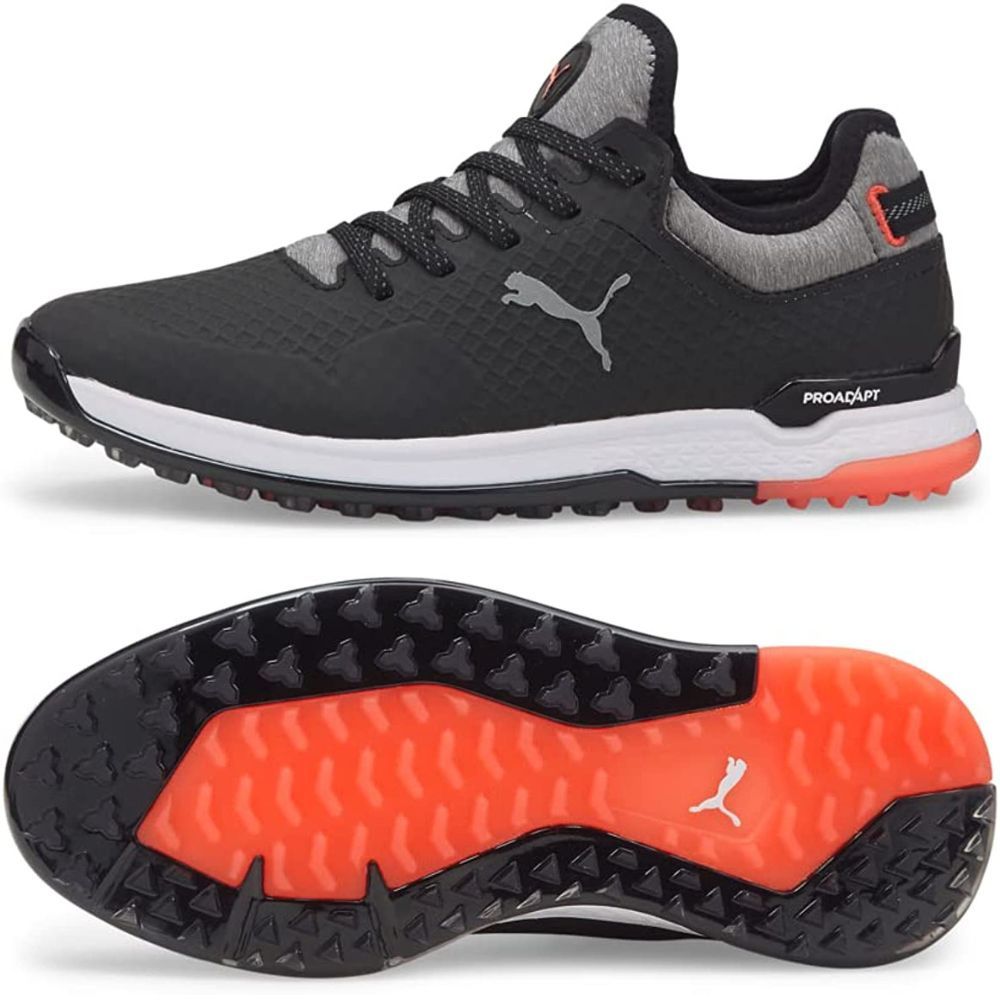 Features an EXOSHELL Material for a Light Weight Structure
Check Price on Amazon!
Why We Love It
The PUMA Women's Proadapt Alphacat Golf Shoe is truly a revolutionary golf shoe! It features a multi-material traction system and premium technologies that combine to give you the ultimate in spikeless footwear.
The outsole is designed with a TPU perimeter chassis for a stable underfoot feel, and multiple shapes of lugs to provide incredible ground gripping traction.
The upper features an EXOSHELL material for a light weight structure. These performance sneaker golf shoes provide a 1 year waterproof warranty.
What You Should Know
The PUMA Women's Proadapt Alphacat Golf Shoe is designed with innovative features to provide the best in comfort, support and stability. Strategically placed grooves and chambers provide points for the shoe to move with your foot while still providing the ultimate level of support.
The mesh bootie construction replaces the traditional tongue for improved 360 degree fit, comfort and support.
Super strong and lightweight TPU saddle gives excellent support and stability, and an ultra-thin TPU frame is strategically placed in high stress areas on the upper for lightweight support and increased stability.
The revolutionary and proprietary midsole foam provides energy return, responsive comfort, stable cushioning, and superior step-in comfort.
Look For These Keys When Buying Golf Shoes For Flat Feet
When searching for the best golf shoe for flat feet, consider the following key features:
Arch Support: Look for golf shoes that offer substantial arch support to help distribute pressure evenly across the foot and reduce strain on the arches.
Cushioning: Adequate cushioning is essential to absorb shock and provide comfort for golfers with flat feet. Look for shoes with ample padding, especially in the midsole and insole areas.
Stability: Golf shoes for flat feet should provide excellent stability and support to prevent excessive foot movement and maintain proper foot alignment during swings.
Wide Toe Box: A wider toe box allows for ample room for the toes to spread out, preventing overcrowding and discomfort during long hours on the course.
Breathability: Ensure the shoes you choose are made of breathable materials to keep your feet cool and dry while you play your golf game.
Do Golf Shoes Help With Flat Feet?
Golf shoes specifically designed for flat feet can provide essential support and stability for golfers dealing with fallen arches. A well-crafted flat footed golf shoes or shoe can help alleviate pain, minimize discomfort, and enhance overall performance on the course.
By providing proper arch support, cushioning, and stability, the best golf shoes for flat feet will enable golfers to play golf, focus on their swing and enjoy the game without worrying about foot pain.
Which Are Better, Spikeless Golf Shoes Or Spiked Golf Shoes For Flat Footed Golfers?
The choice between a spikeless golf shoe and spiked golf shoes depends on personal preference and playing conditions. Both types of shoes have their advantages and disadvantages for flat-footed golfers.
Spiked Golf Shoes:
These shoes offer golf players maximum traction and stability on the course, especially in wet or slippery conditions. They provide better grip and stability, which can be beneficial for golfers with flat feet.
The spiked golf shoe can also be less comfortable due to the rigid nature of the spikes and may not provide as much cushioning as the spikeless shoe options.
Spikeless Golf Shoes:
These shoes have gained popularity in recent years due to their versatility and comfort. They feature rubber nubs or cleats on the sole for traction, making them suitable for various surfaces.
Spikeless shoes are generally more comfortable and lightweight, making them an excellent option for golfers with flat feet who prioritize comfort. However, they may not provide the same level of traction as spiked golf shoes, especially in wet conditions.
Ultimately, the best golf shoes for flat feet will depend on the individual golfer's priorities, playing style, and course conditions.
Do Golf Shoes Really Make a Difference?
The right golf shoes can significantly impact a golfer's comfort, stability, and performance on the course. Golf shoes are specifically designed to provide the necessary support, traction, and balance required for the unique demands of the game.
For golfers with flat feet, investing in the best golf shoes for flat feet can make a world of difference by reducing foot pain, enhancing comfort, and improving overall performance.
Wearing the appropriate golf shoes can also help prevent injuries and reduce fatigue during long rounds. They ensure a stable foundation during the swing, allowing golfers to generate more power and maintain better control over their shots.
Conclusion
When it comes to finding the best golf shoes for flat feet, golfers should prioritize arch support, cushioning, stability, a wide toe box, and breathability.
The choice between spiked shoes and spikeless golf shoes will depend on individual preferences and playing conditions.
To conclude, investing in the right golf shoes can make a significant difference for golfers with flat feet. The best golf shoes for flat feet will provide the necessary support, comfort, and performance enhancements to help golfers enjoy the game without experiencing discomfort or pain.
By carefully considering the factors mentioned in this article, golfers can confidently select the perfect pair of golf shoes to suit their needs and improve their overall experience on the course.
Thank you for visiting, and we hope to see you back soon!