Note: We use affiliate links and may receive a small commission on purchases at no additional cost to you.
Why Are Socks Important In Golf?
Most golfers concentrate on their golf clubs that help them play better and ignore other necessary equipment. A good example of this is socks. Keeping your feet dry and comfortable is paramount if you are always trying to improve your game. Professional golfers wear the best socks because they know it helps their game.
Even though socks are just a piece of clothing, you spend so much time on the golf course in them. Additionally, your socks play a key role in ensuring you are focusing on your swing and not being uncomfortable, so you can produce the perfect golf swing you are looking for.
It's essential to wear socks that will support you through a demanding day on the course. Consequently, finding the best low-cut socks for golf is the best course of action.
This guide will provide insights into the best low-cut socks for golf and what to look for when selecting them. Let's dive in.
How We Choose
By researching the market, we have provided you with a variety of options so that you can select the one that best fits your needs.
Our professionals have chosen products that combine reliability, affordability, and efficiency based on the reviews. We only recommend products that have 4 or 5 stars and are backed by real customer reviews.
The Best Low Cut Socks for Golf
In the following, we list the 10 best low-cut socks for golf which will improve your swing on the course.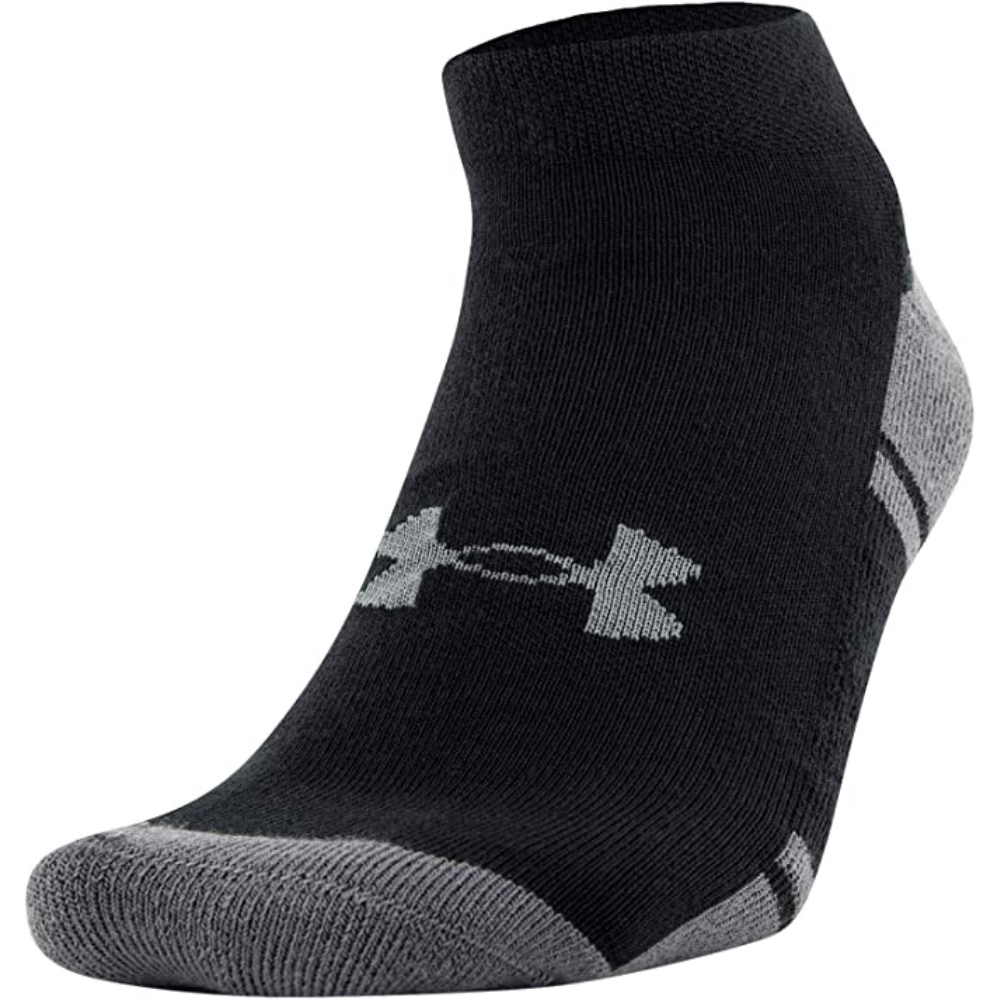 Cozy and Moisture Wicking
Under Armour Adult Resistor 3.0 Low Cut Socks, Multi-pairs
Check Price On Amazon!
These days, low-cut socks for golf are becoming increasingly popular. These golf socks from Under Armour will be your best choice if you're looking for the best low-cut socks for golf.
The socks are unbelievably cozy and provide the most support and wick moisture away from your feet. In addition, they let your ankles breathe a cool breeze without looking noticeable.
Your skin stays dry and comfortable with the moisture-wicking material, which also dries quickly. It also prevents unwelcome odors from seeping into these hidden goods. You won't feel thin or bulky in these golf socks. Their construction is excellent, and they last a long time.
They also come with a padded footbed for enhanced arch support. Additionally, a seamless design protects your toes when you move.
In summary, the socks keep your feet dry, inexpensive, and comfortable. It is a great option for golfers in warm to mild climates.
Pros
The fabric is excellent at wicking away moisture
Comfortable cushioning
Strong and durable
Keeps odors away
Budget-friendly
Cons
Some found the socks to be a little thinner than expected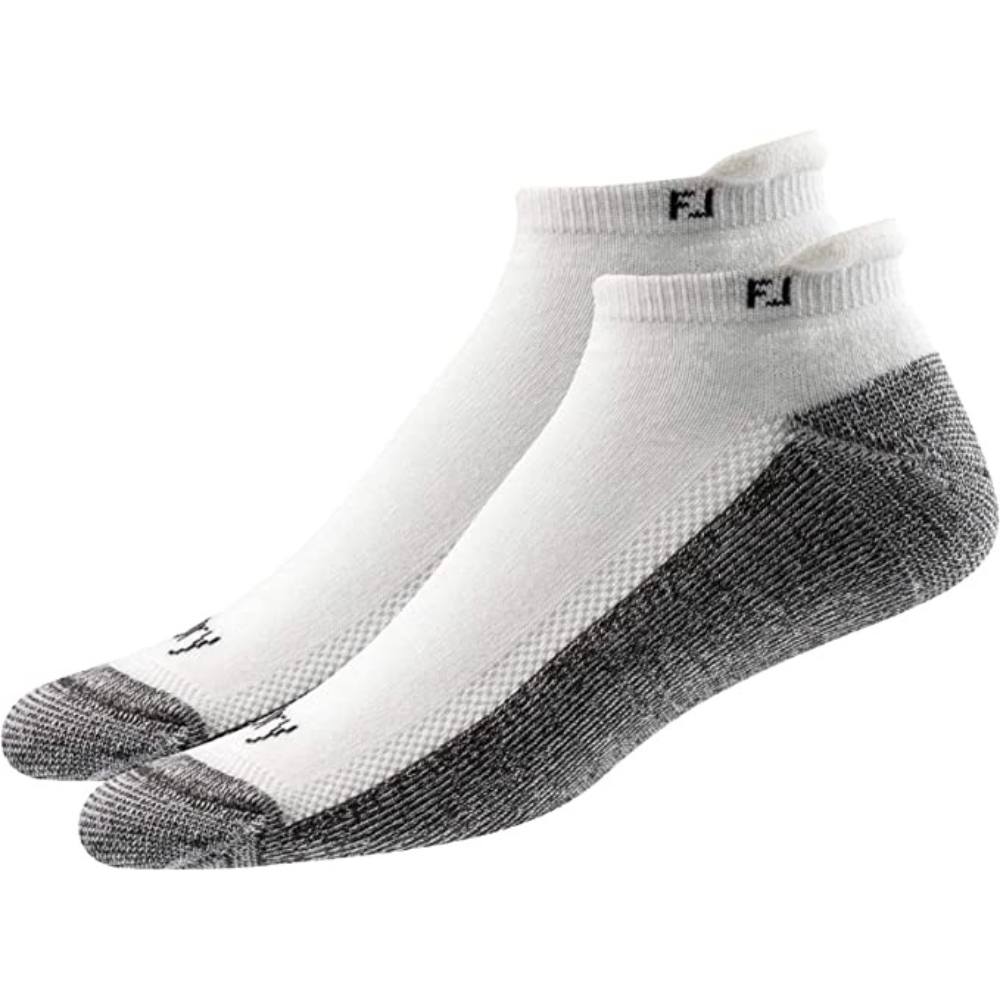 Enclosed Toe Seam Protects Your Skin and Nails From Abrasive Shoe Contact
Check Price On Amazon!
This pair of low-cut socks from FootJoy is the top contender on our list of the best low-cut socks for golf in 2022. The reasonable price, moisture-wicking fabric, and unparalleled comfort make it a luxury product.
Acrylic is the primary material in these socks, blended with nylon, polyester, and spandex. The fibers' ability to wick away moisture keeps your feet dry throughout your round.
Moreover, the enclosed toe seam protects your skin and nails from abrasive shoe contact. As a result, blisters and toenail damage are less likely to occur. Double-layer cushioning provides extra protection in high-impact zones on your sole and heel.
In addition, the spandex in these socks makes them stretch easier, so you can swing and walk freely. Drawbacks of these socks include limited ventilation and uncomfortable toe support.
These socks are a budget-friendly two-pack solution that safeguards and dries your feet. On hot days, they may feel uncomfortable because they lack breathability. However, they are perfect for golfers who reside in fairly humid environments.
Pros
The fabric wicks away moisture, so your feet stay dry
Protective layer around toes
A double-layer cushioning protects your heel and high-impact zones
Affordably priced
Cons
Size runs a little larger than normal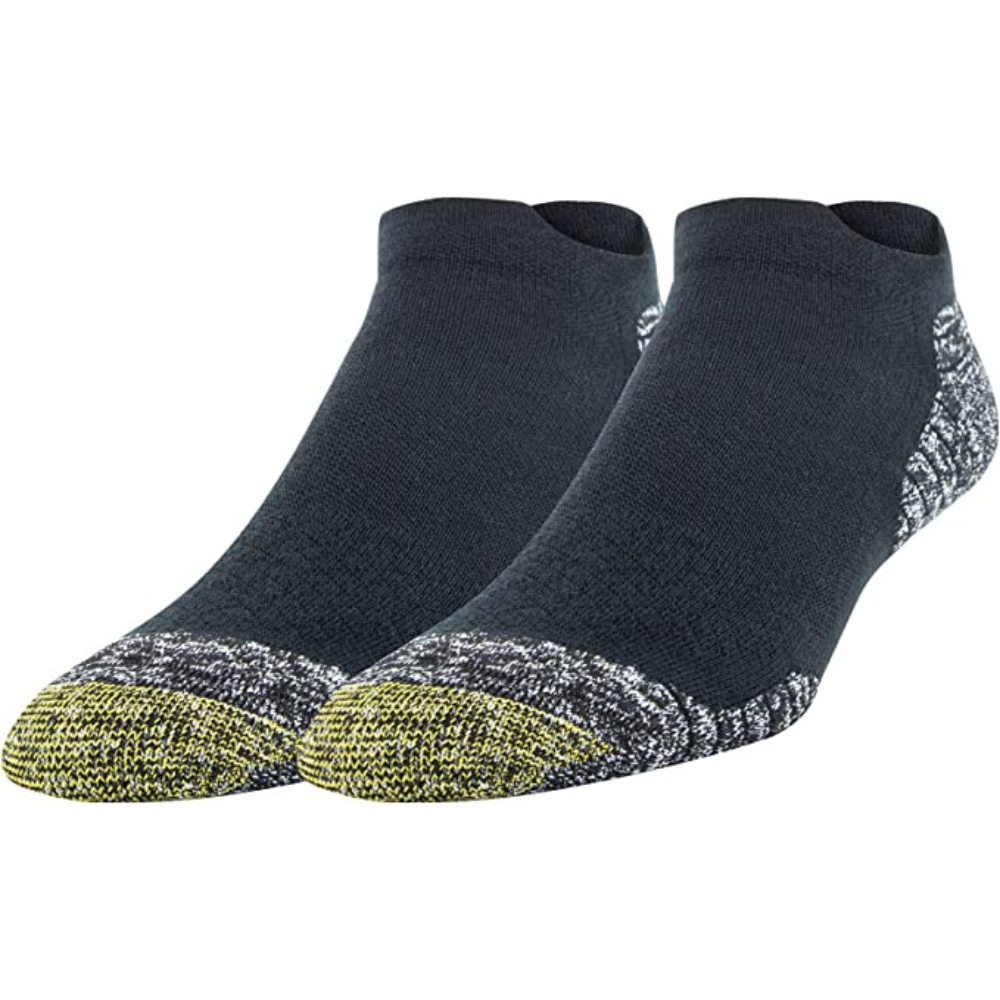 You Feet Can Rest Comfortably with the Padded Toes and Heel
Golf Toe Men's Golf Sta-Cool Socks
Check Price On Amazon
This pair of Gold Toe golf socks are an excellent choice for golfers who need low-cut socks during a game.
There is a tri-blend material along the toes of the socks to ensure additional comfort. It is an excellent choice for elite athletes who are seeking high-performance socks.
Both the front and back of the socks have wonderful fitting double tabs. Its elastic tri-blend material feels good on your foot and helps you play your best.
You can rest your feet comfortable with the padded toes and heel of the Gold Toe low-cut golf socks.
Pros
Comfortable tri-blend fabric for the toes
There are two tabs on the front and back to ensure a perfect fit
Suitable for experienced players
It's durable
Cons
Size runs a little smaller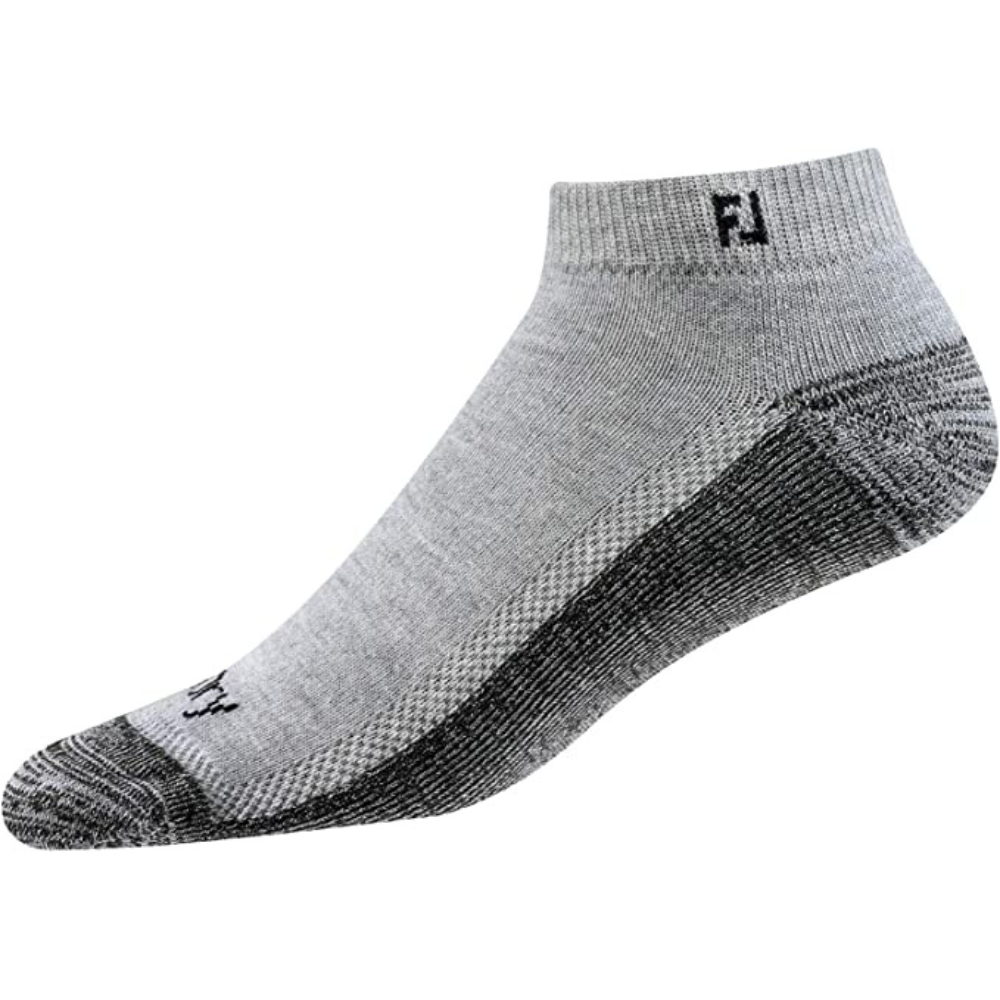 Absorbs moisture and sweat from your feet for 18 holes
FootJoy Men's ProDry Sports Socks
Check Price On Amazon
These Men's ProDry Sport Socks from FootJoy are made of the highest quality material and are moisture-wicking.
A blend of polyester, spandex, and nylon makes these socks high-end. They absorb moisture and sweat from your feet throughout your round to keep them dry.
An enclosed toe seam protects your skin and nails from damaging contact with your golf shoes. Two layers of cushioning ensure maximum protection for your sole and heel. It's the best low-cut socks for golfers who live in somewhat wet climates.
Pros
Effortless stretchability
Keeps feet dry by wicking moisture away
Attractive prices
Sole protection pads with double layers
Cons
Can stretch out a bit after a number of uses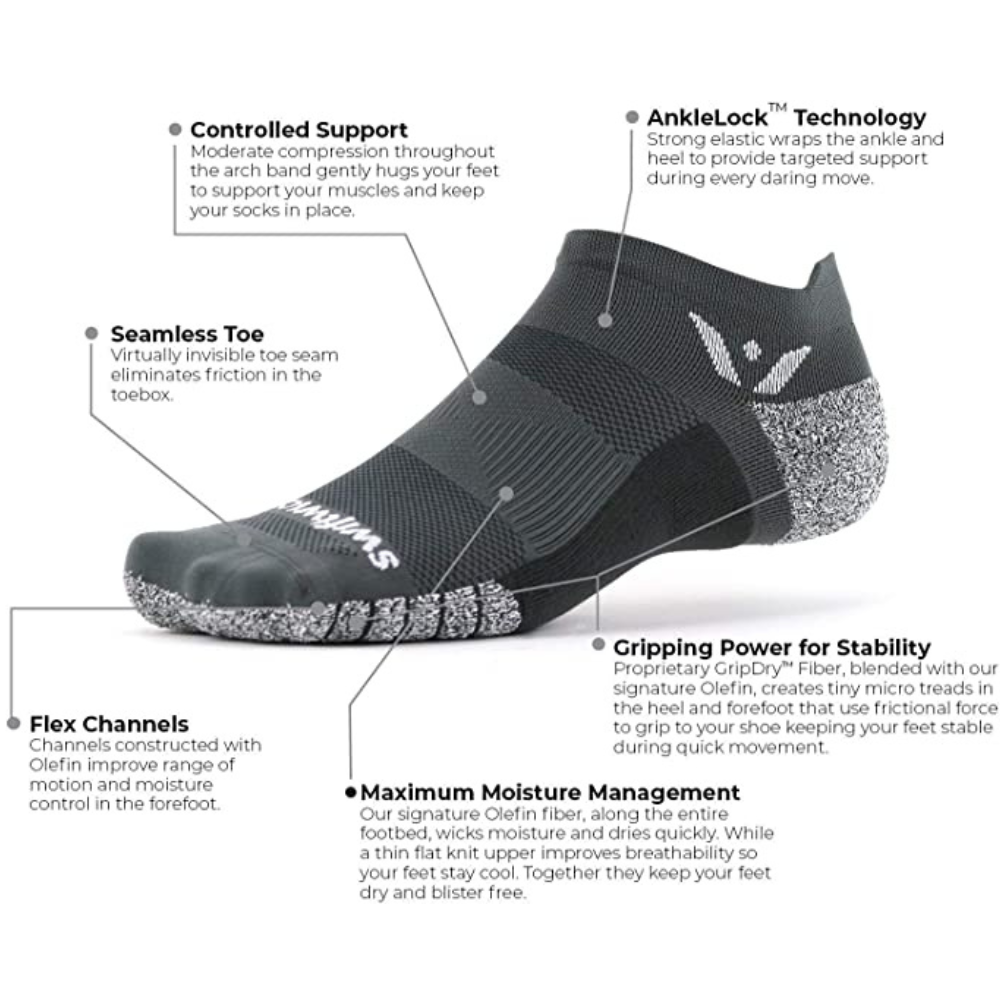 Helps Your Feet Grip Your Golf Shoes and Allows You to Move More Under Control
Swiftwick Non-Slip Golf Socks
Check Price On Amazon
Golf socks from Swiftwick are an essential performance link between you and your technical footwear. Flite XTs have a lot of great features, which illustrates this. GripDry fiber is an example of small micro treads in the heel and forefoot. Further, it helps your feet grip your golf shoes and allows you to move more quickly.
You can feel the elastic material on the heel hug your foot while providing targeted support. The socks perform well during multiple rounds. Furthermore, they are easy to clean as well. Thus, you will find these socks a good choice when looking for the best low-cut socks for golf.
Pros
Exceptionally comfortable
Featuring advanced technology
Multiple colors available
Cons
Sometimes it's hard to get on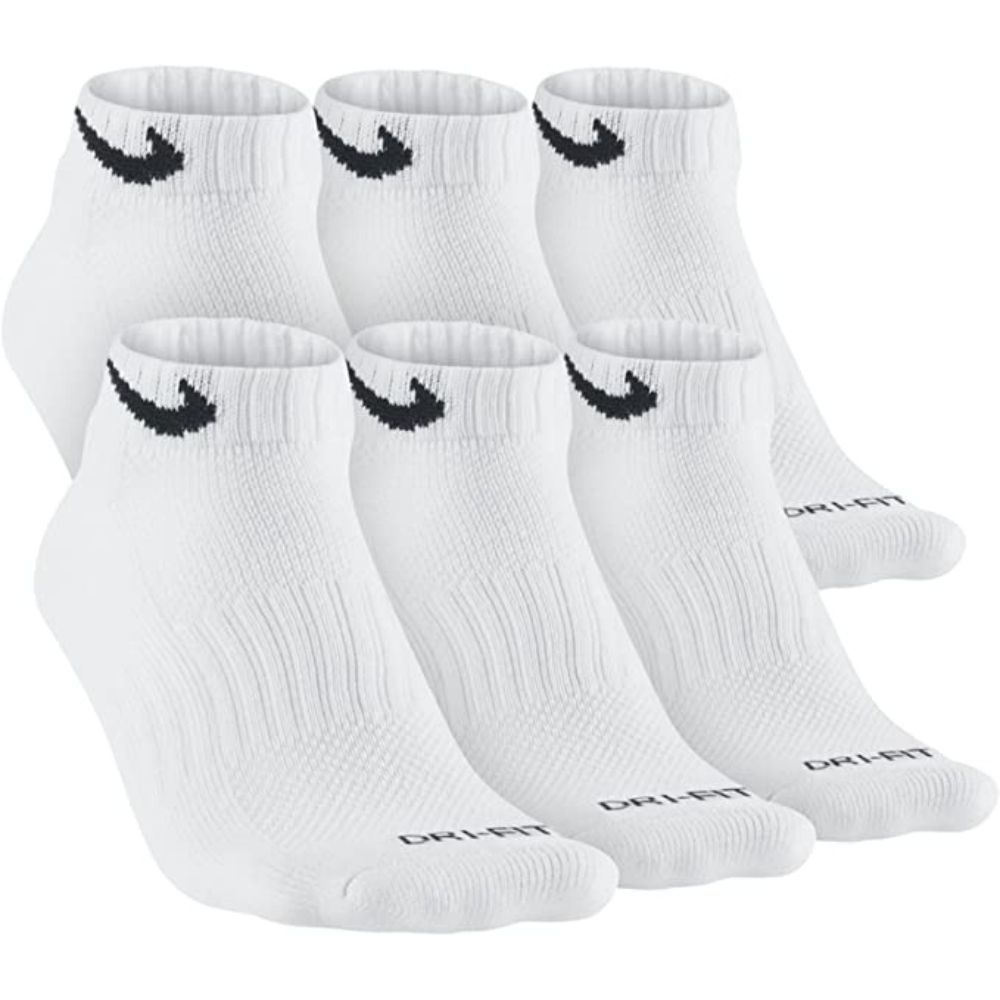 A Thick, High-Friction Base Stops You From Sliding In Your Shoes During Your Round of Golf
Nike Dri-FIT Cushion Low-Cut Socks
Check Price On Amazon!
Keeping in line with companies that understand athletes and golfers, we include these Nike low-cut socks for golf. These are great for exercising in general and for golfing.
The fabric wicks moisture away from your skin with Dri-Fit technology to keep your feet dry and comfortable.
It also has a thick, high-friction base to stop you from sliding during your workout. These are some of the cheapest options on this list and come in 6-packs.
Pros
Providing a large, supportive area under the arch ensures a better fit
Toe and heel reinforcement add durability in high-wear regions
Socks with a half-cushioned foot absorb shock during the ugliest games
Contains a six-pack of socks
Cons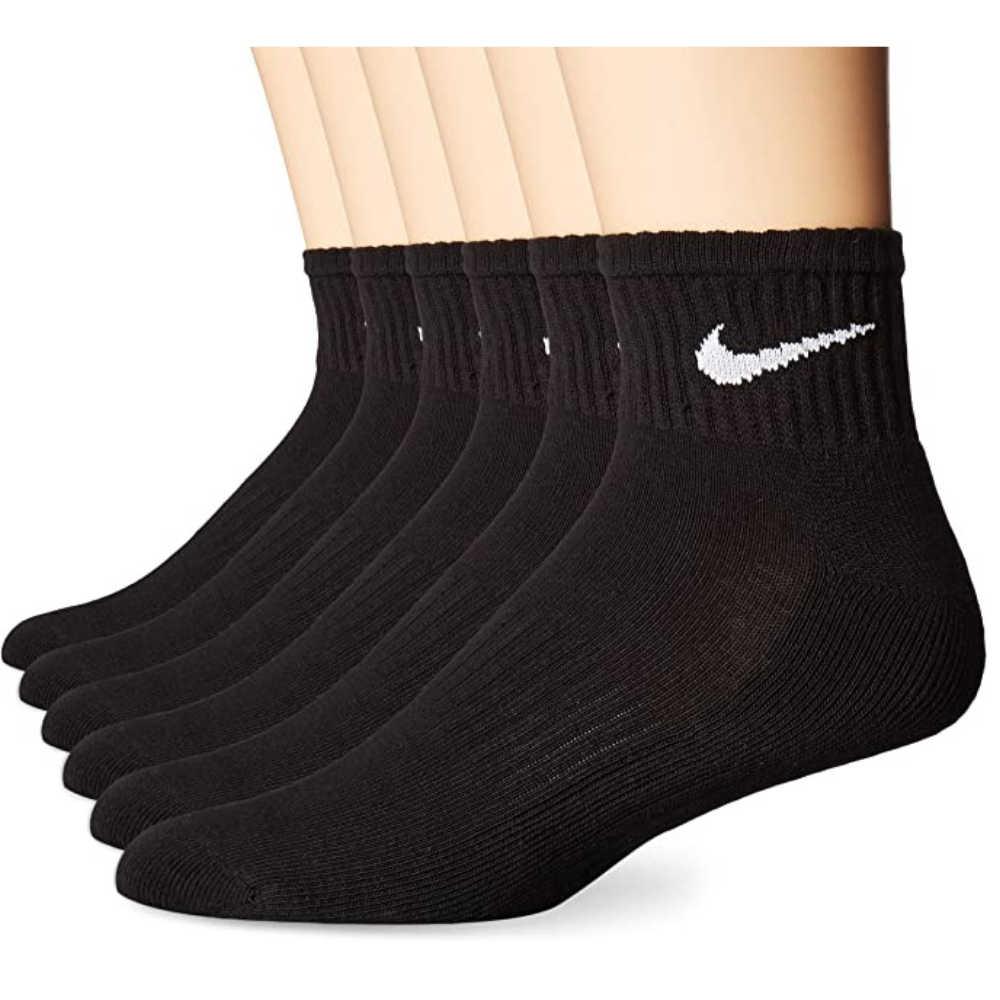 Supports Your Feet With a Compression Arch Band
Nike Performance Cushion Quarter Socks
Check Price On Amazon!
This Nike low-cut sock will be a good choice if you're looking for the best low-cut socks for golf. We included them in our list because of their durability and support. It will dry more quickly, even on rainy days, so you won't have to soak your feet in water for too long.
You can support your feet with a compression arch band included in them. These socks are comfortable to wear with a 79% cotton, 19% polyester, and 2% spandex blend.
Both men and women can wear these because they are fashionable enough. Their height above the ankle provides a lot of protection against blisters.
Even though they're expensive, on average $6 per pair, they'll last a long time. Look at the sizing descriptions to determine what size is right for you.
Pros
Dri-FIT technology keeps your feet dry and comfortable
Mesh-covered ventilation zones
Compression bands provide gentle support for the arch
Cons
Socks are thinner than expected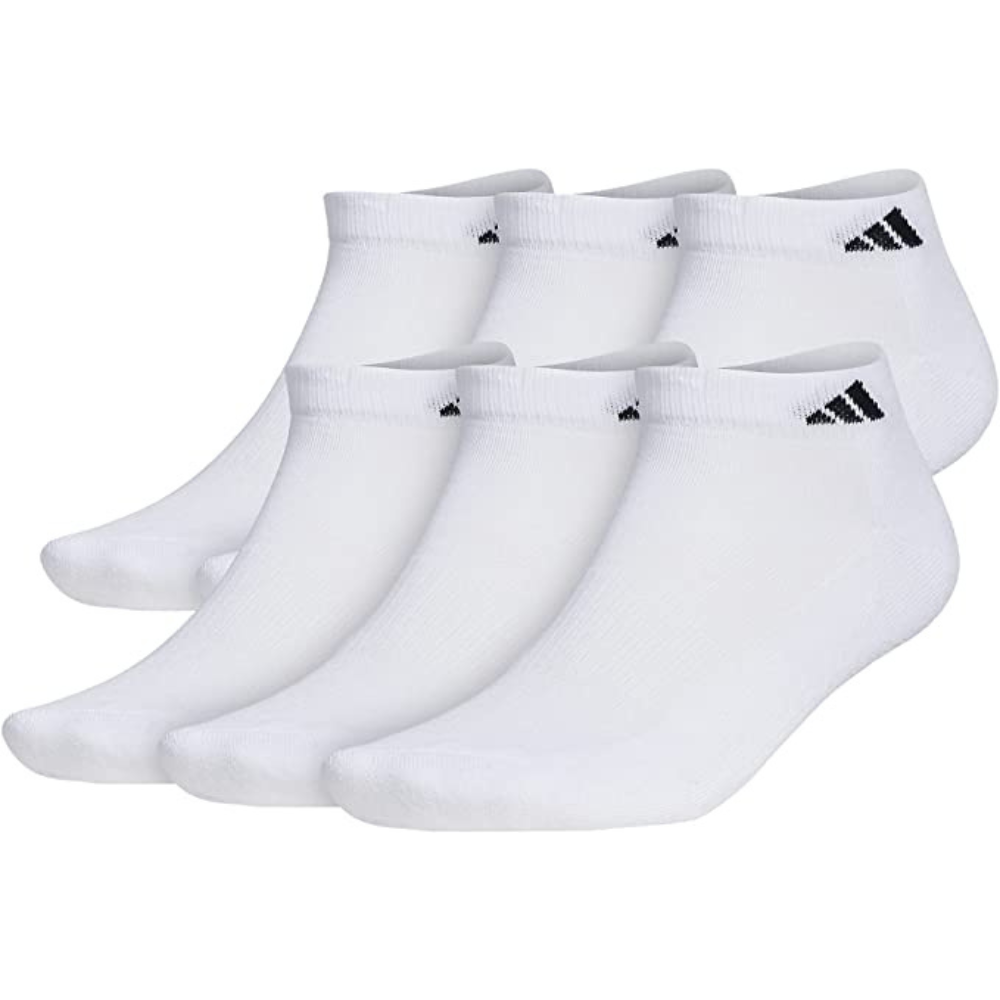 ClimaLite Technology Helps Keeps You Feet Cool and Dry
adidas Men's Athletic Cushioned Low-Cut Socks
Check Price On Amazon!
Adding these adidas Athletic Low Cut socks to your collection of best low cut socks for golf is an excellent move.
Their thin construction makes your feet stay dry and more comfortable even during the longest rounds. Furthermore, they fit comfortably in most shoes and decrease rubbing and blistering.
This pair of sports socks has 3% spandex and 97% polyester. Soft cushioning fibers provide surprising comfort for a thinner sock design, while ClimaLite technology keeps you cool and dry. They are simple to wear despite your workout or activities afterward.
Their low-cut design allows them to support your foot without adding bulk or constriction. Additionally, they fit comfortably right at the ankle. These socks are most commonly available in black, white, and gray colors. Both their pattern and color are simple.
Pros
Comfortable and durable foot padding
Arch compression for a snug fit
Moisture-wicking yarns keep feet dry when they sweat
Cons
Hand washes are not allowed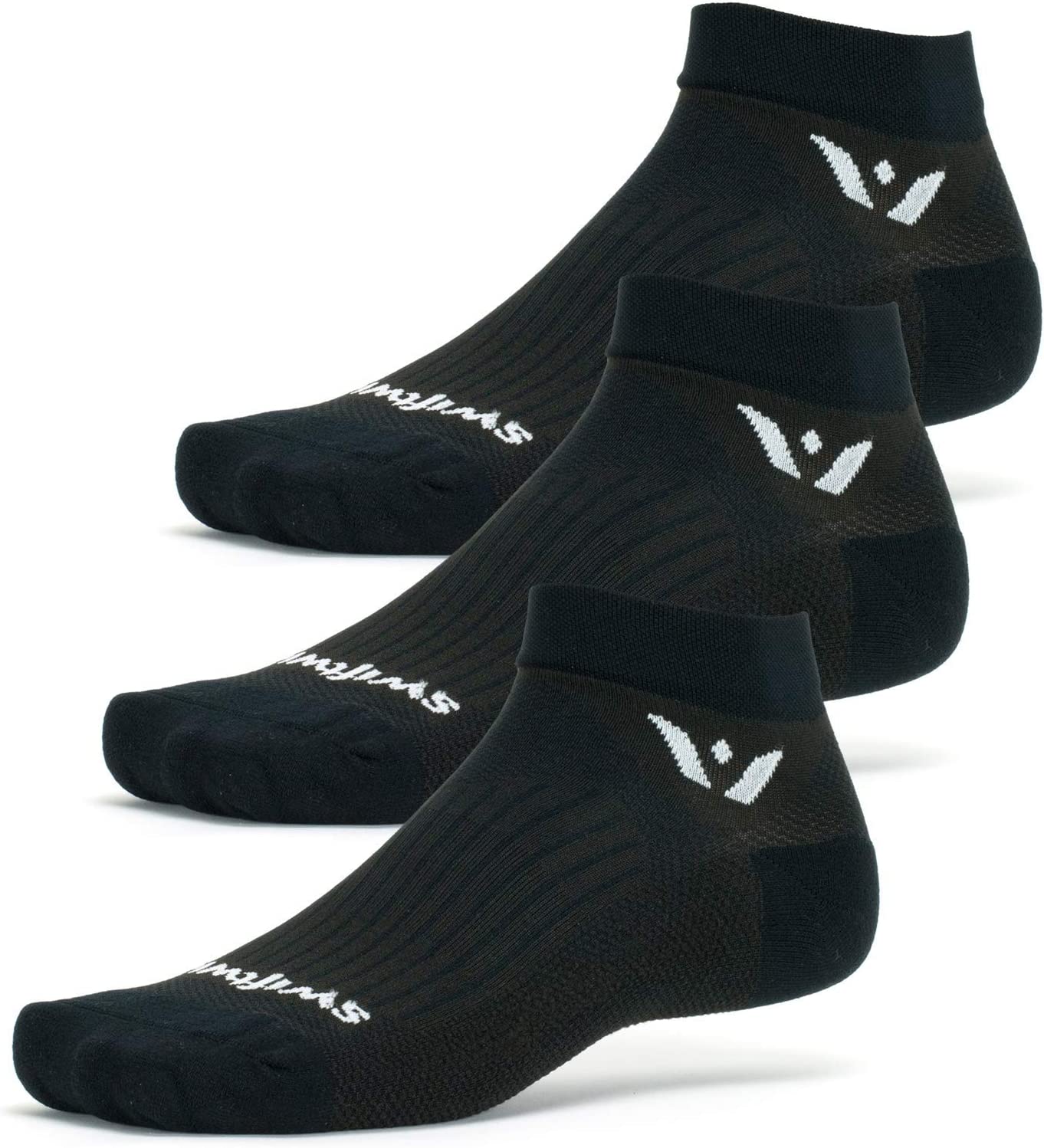 Sturdy and Comfortable
Swiftwick - Performance One Golf & Running Socks
Check Price On Amazon!
Some athletes dislike no-show socks despite the FLITE XT ZERO socks' excellent performance. As a substitute, they have the Performance One sock that they offer. Despite the slightly raised foot, these are quite sturdy and comfortable quality golf socks.
They're super lightweight and have a narrow, channeled top that makes them breathable. Compared to the FLITE XT ZERO, they look slightly more conventional and only have a small logo.
You can also choose from single pairs or three-packs of these socks. Only two colors are available: white and black.
Pros
Improved breathability by including an upper ventilation channel
The arch band supports your muscles and keeps your socks in place with moderate compression
A lightweight design
Cons
Can be tight around the ankle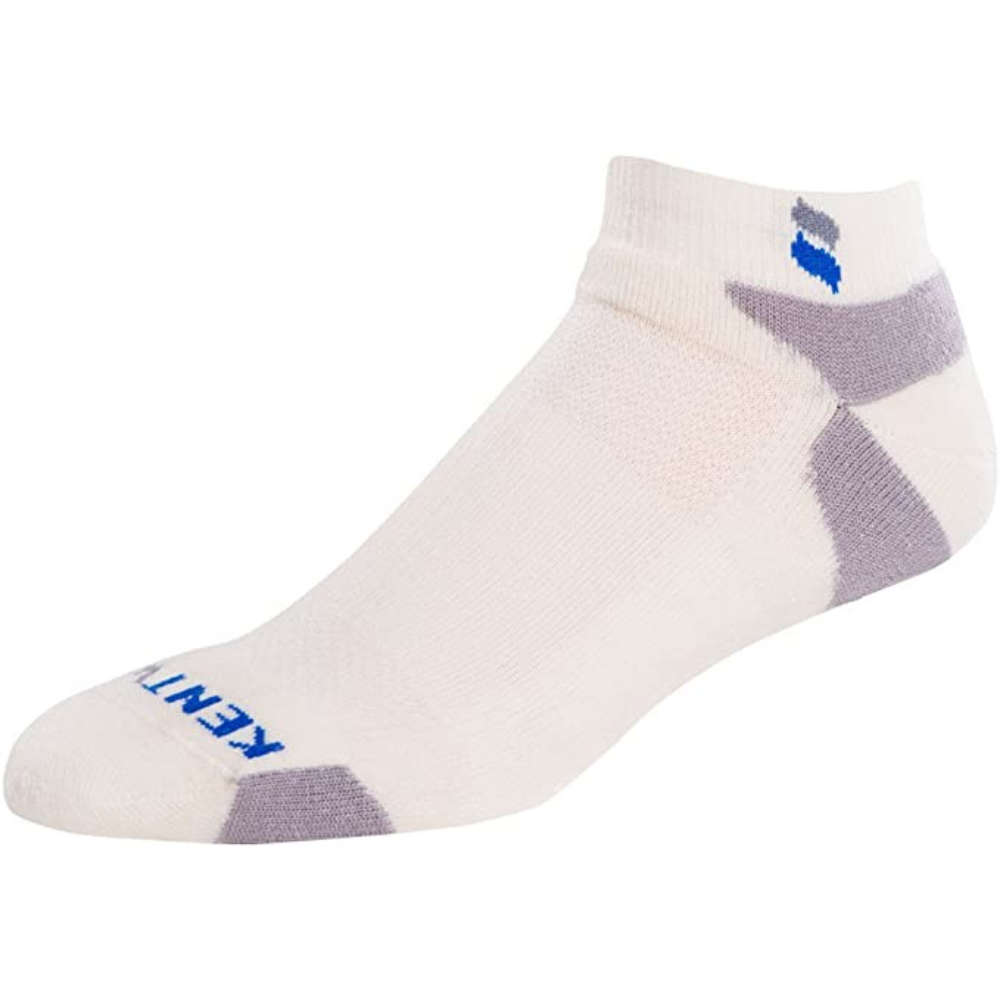 Features Marino Wool for a Soft and Comfy Feel
Kent Wool Tour Profile Socks 3 Pack
Check Price On Amazon
Featuring Merino wool, this soft golf sock will not pucker! The sole and heel of the socks are cushioned with Cocona fibers to reduce friction and prevent blisters. By keeping sweat and moisture off the skin, they prevent skin irritation.
You don't have to worry about the socks sliding down when you wear the Tour Profile Socks from KENTWOOL. Because of their thickness, these socks may not fit comfortably if your feet are bigger.
Pros
The sweat wicking fabric will help you keep your feet dry
Fabric is made of 66% superfine Merino Wool, 24% nylon, 8% polyester, and 2% spandex
Available in multiple colors
Cons
What Should You Consider Before Choosing the Best Low-Cut Socks for Golf?
When choosing low-cut socks for golf, you should consider the following factors:
Materials
Several fabrics are used for golf socks, including cotton, acrylic, spandex, cotton poly yarn blend and nylon. Cotton is an ideal material for temperature regulation as well as breathability. Nylon and spandex also contribute to the stretchability of socks, maximizing your range of motion.
Each time you step, your socks stretch slightly to reduce friction, then snap back into place once your feet are flat.
Moisture Wicking
Moisture-wicking fabrics remove sweat and water from your feet, keeping them dry and comfortable. If your socks don't have these features, sweat will accumulate, making them wet. The result is that you feel more uncomfortable and smell worse.
Optimal Breathability
The breathability of your golf attire is essential if you play in a warm climate. This feature promotes the best ventilation for keeping feet cool and dry. Without breathable socks, your feet will sweat, making you feel worse. Mesh panels help with breathability.
Style
It's common to see golf socks in white or black, but you could jazz them up with some color and pattern. You should make sure your country club accepts unique designs before you buy.
Cushioning
The cushioning in socks is another requirement for comfort. There's additional padding at the heel and other high-impact areas in golf socks. Therefore, less friction will result in fewer blisters and cuts and help you play golf better.
Perfect Fit
You need golf socks that fit snugly around your heel, and the arch area should be comfortable too. All seams around your toes should be flat and shouldn't irritate your foot.
Properly fitted golf socks provide maximum breathability and keep your feet cool and dry. Having socks that don't fit well causes unwanted discomfort and moisture buildup in your shoes.
Thickness and Weight of Socks
You will get more cushioning from your golf socks the thicker they are. It's especially true if the garment contains a lot of wool. In the winter, you can wear heavyweight socks or midweight socks.
When playing golf in the summer, try different thicknesses and see how they affect you. However, moving lightly on your feet can reduce the possibility of blisters.
Now that you know what to consider when choosing the best low-cut socks for golf, you can make an informed decision. So it's time for us to delve into the details of the best low-cut golf socks for 2022. Let's get started.
FAQ's - Best Low Cut Socks for Golf
What socks are best for golf?
There is no definitive answer to this question, as it depends on personal preferences. However, many golfers prefer socks that are comfortable and breathable, such as those made from cotton or wool.
Some golfers also prefer socks that provide extra support or padding in the areas where they need it most.
Why do golfers wear short socks?
There are a few reasons why golfers might choose to wear short socks. First, short socks don't interfere with the movement of the feet and ankles as much as longer socks might. This can be important for making a smooth swing.
Second, short socks allow air to circulate around the feet more, which can help keep them cool and dry during a hot round of golf. Finally, some golfers simply prefer the look of short socks with their golf shoes!
What is the difference between golf socks and normal socks?
Golf socks are designed to provide comfort and support while you are playing. They are usually made from a thicker material and have a higher cuff that helps to keep your feet warm and dry. Normal socks can be made from a variety of materials and are not necessarily designed with golf in mind.
Is there such thing as golf socks?
There are golf socks! They are designed to be comfortable and breathable, and they often have special features like arch support. Golf socks are usually made from a cotton blend, which helps wick away sweat and keep your feet dry.
Bonus Question - What color should golf socks be?
There is no definitive answer to this question, as it is ultimately up to the individual golfer to decide what color socks they would like to wear.
However, some golfers believe that white socks are the best option, as they are less likely to show dirt and stains than other colors. Others prefer to wear socks in a color that matches their golf pants or shoes, for a coordinated look.
Conclusion:
We hope you enjoyed today's roundup of the best low-cut golf socks. Consider comfort, sturdiness, breathability, and moisture-wicking when choosing the best golf socks.
Keeping your feet comfortable on the course helps you focus on your game instead of how painful they are.
Thus choosing the right golf ankle socks is extremely important. Remember golf socks are an important part of the golf gear you need. Hopefully, our list of low cut socks for golf should help you to make a more informed buying decision.
Thank you for visiting and we hope to see you back soon!