A Disc Golf Bag With Cooler Is a Must
Note: We use affiliate links and may receive a small commission on purchases at no additional cost to you.
Disc golf is a rapidly growing sport with courses popping up all over the country. If you're new to the game, you may be wondering what kind of gear you need to get started. One essential piece of equipment is a good disc golf bag.
In this article, we'll take a look at some of the features to look for when choosing a disc golf bag, as well as some of the best models on the market.
Disc golf bags come in a variety of shapes and sizes, but they all have one thing in common — they need to be able to hold your discs (and other gear) securely and comfortably.
Some bags have special compartments or pockets for water bottles, snacks, and other items, an insulated cooler pouch but the most important thing is that your discs are well-protected and easy to access. Really small bags can hold seven or eight discs while large bags can hold 25+.
Why You Need a Disc Golf Bag with a Cooler
Disc golf is a sport that is played with a Frisbee-like disc and targets. It is similar to traditional golf, but instead of hitting a ball into a hole, the object is to throw the disc into the target.
A disc golf bag with a cooler is a great way to keep your discs cool and protected from the sun. Discs can get hot during play and when they are stored in a hot car. The cooler will keep them from warping and prevent damage to the plastic.
The cooler also comes in handy for storing food and drinks while you are out on the course. It is important to stay hydrated when playing disc golf, so having cold drinks available is crucial. And, if you get hungry, you can always grab a snack from your bag without having to worry about it getting warm or melting.
The Top 5 Disc Golf Bags With Coolers
There are a few things to consider when purchasing a disc golf bag with a built-in cooler. The size of the bag and the number of discs it can carry is important, as is the quality of the cooler itself. Here are five of the best disc golf bags with coolers available on the market today.
Dynamic Discs Soldier Cooler Disc Golf Bag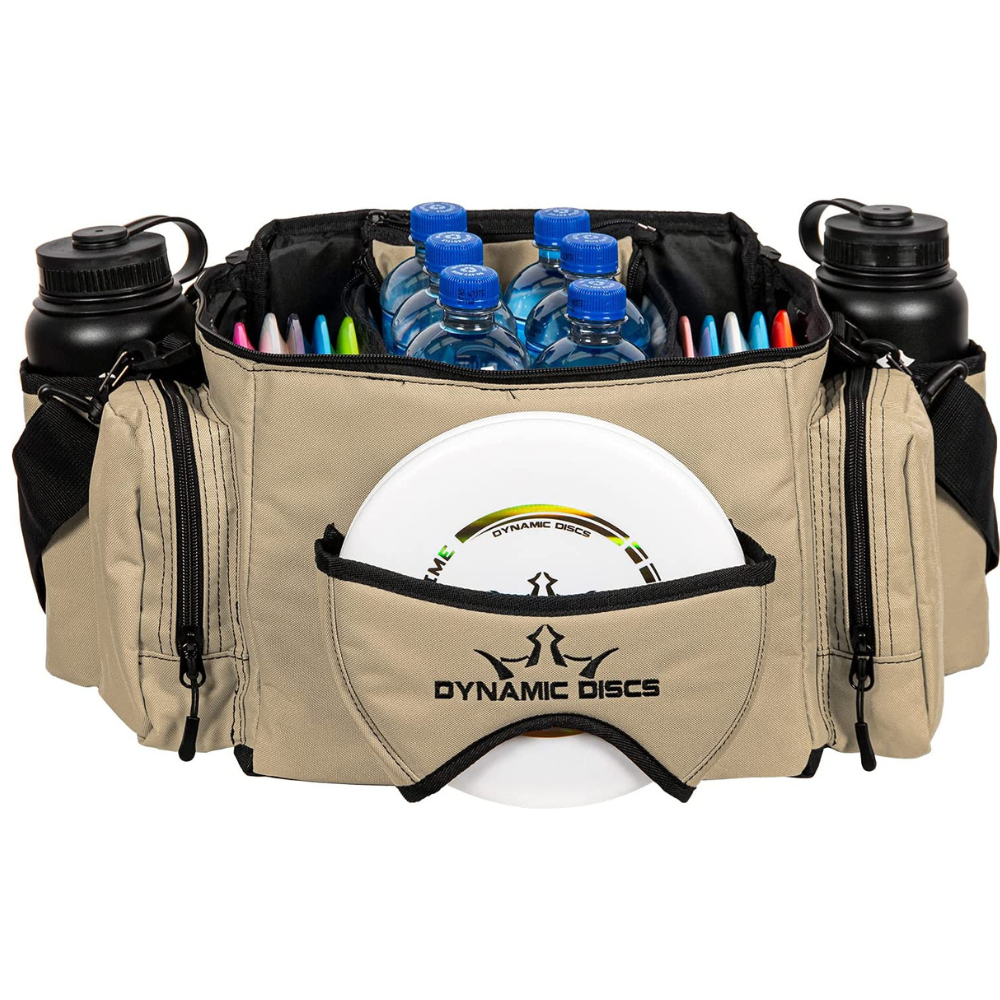 Dynamic Discs Soldier Cooler Bag
Can Hold Up To 18+ Discs In Main Compartment
Check Price On Amazon
The Dynamic Discs Soldier Cooler Disc Golf Bag can hold up to12 discs in the main compartment while the insulated cooler is in use and two putters in the putter pocket.
When the removable cooler is taken out and not being used, the soldier bag can handle 18+ discs in the main compartment.
This dynamic discs trooper bag includes a removable compartment with zippered insulated cooler that easily holds 6-16oz cans.
There is an on-deck pocket on in the front of the bag that securely holds your go-to discs.
Features two zippered pockets to hold valuables in addition to 2-32oz water bottle pockets.
100 % Money Back Guarantee. Discs or water bottle are NOT included with this bag.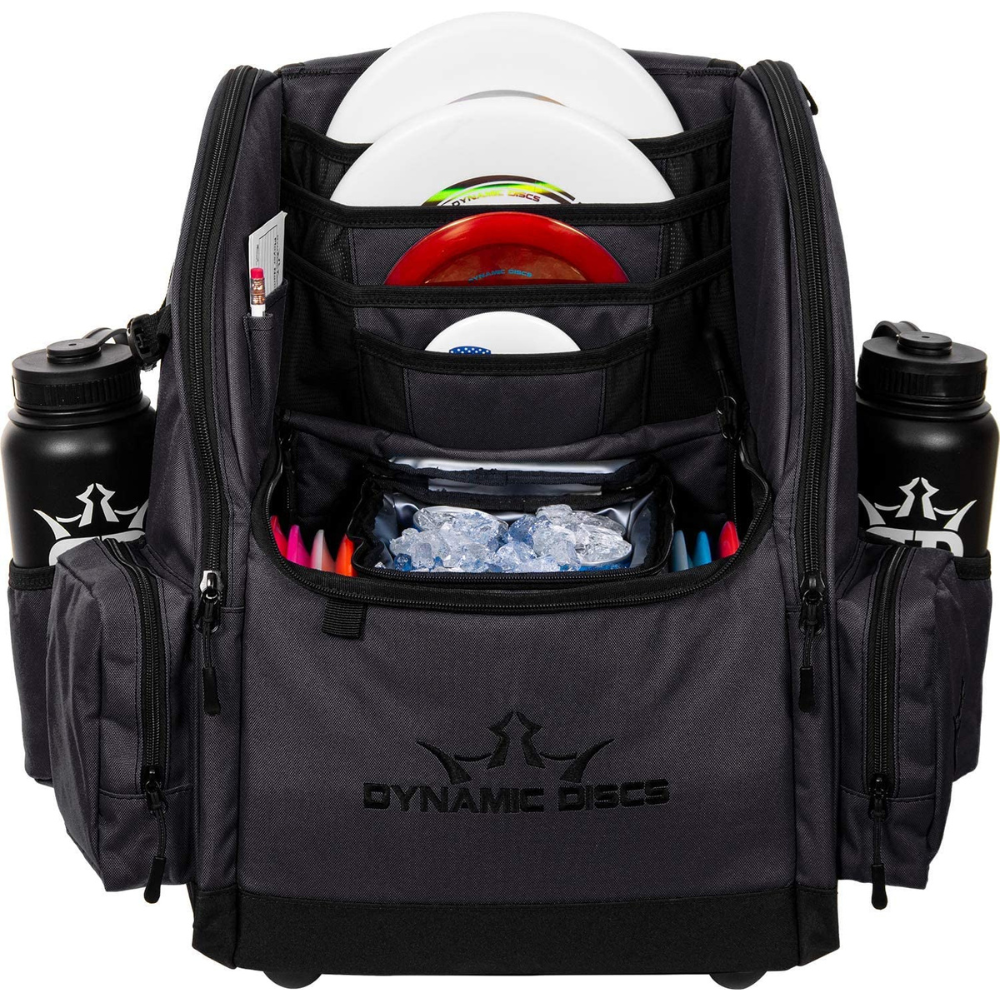 Dynamic Discs Commander
The Ultimate Disc Golf Bag
Check Price On Amazon
The ultimate disc golf bag is this Dynamic Discs commander cooler backpack that has everything you need in an affordable disc golf bag.
The bag can tote 10 discs in its main compartment, 4 discs in the vertical disc pockets, additional discs in the outer layer tall side pockets with room 6 cans in the cooler insulated pouch.
This cooler backpack features vertical pockets with full length zippers that hold your extra gear and room to spare.
Two bottle holders, two pockets the size of cell phones, chair/umbrella strap, and is incredibly lightweight but durably constructed.
Suitable for beginners and more seasoned disc golfers alike, the Dynamic Discs Commander Cooler bag is a convenient bag for tournament-type games and casual usage.
Bag dimensions - 4 pound weight. 9" L x 13" W x 19" H.
You can buy this bag with confidence due to it's 100% Money Back Guarantee.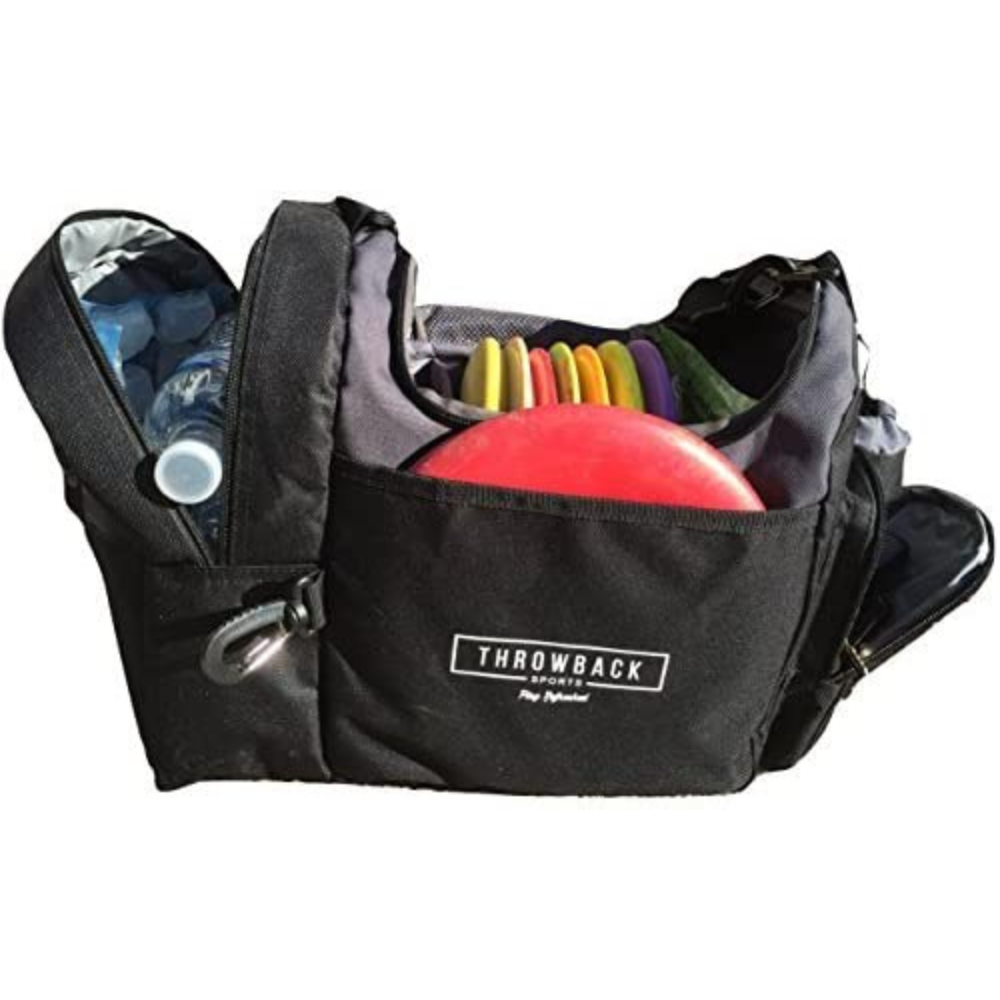 The Throwback Sack
The Thick Padded Back and Adjustable Comfort Strap Keep You Comfortable All Day
Check Price On Amazon
This bag is a half disc carrier and a half cooler. Can hold six cold drinks and 12 Discs.
In addition stay refreshed with the insulated drink holder for a 32 oz. bottle.
The thick padded back and adjustable comfort strap keep you comfortable all day. Makes it easy to play all day.
With a pencil holder, pocket for putter, a towel clip, zippered pocket for phone/wallet, a sturdy plastic feet base
1 Year Warranty
STAR FRAME Brick 2.0 Disc Golf Bag With Cooler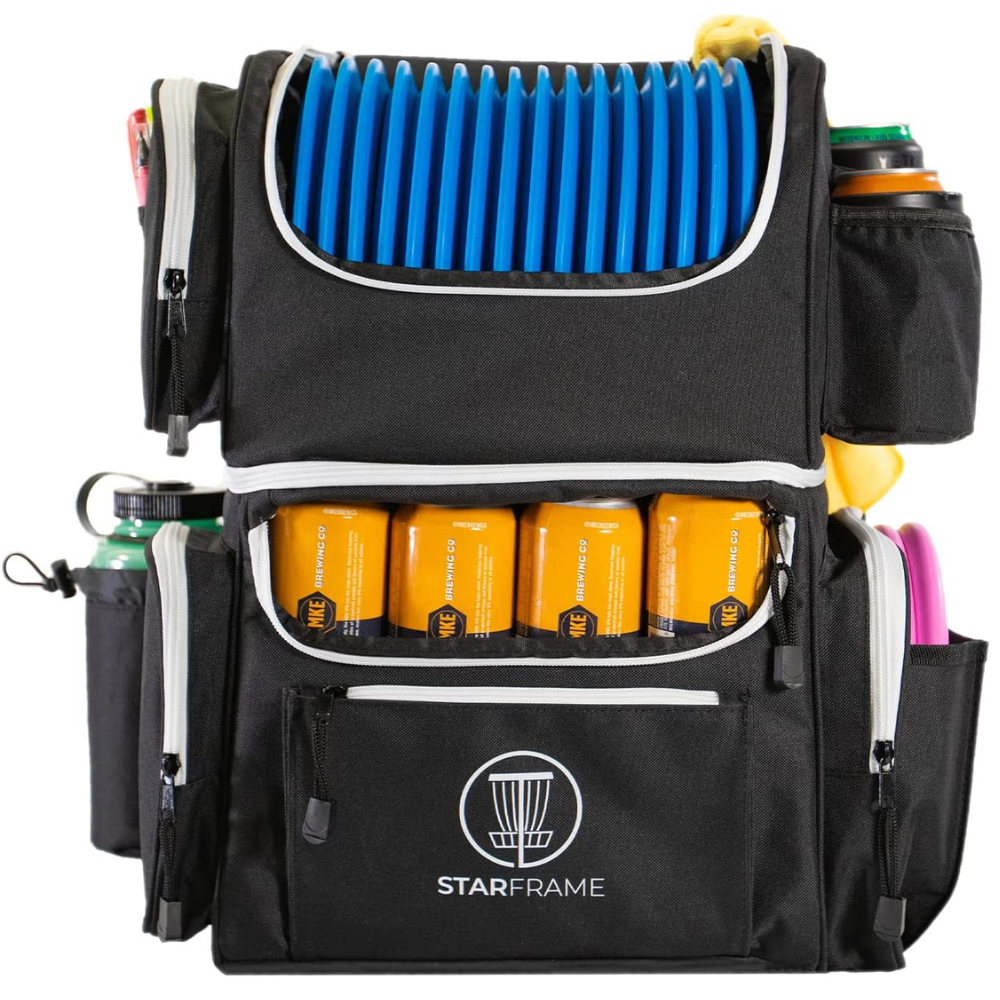 Star Frame Brick 2.0
Bottom Compartment Holds Up to 24 Cans
Check Price On Amazon
The bottom compartment on this bag holds up to 24 cans with a PEVA lining to help stop liquid leakage and ensure that food and drinks stay cold.
There is a hard shell insert to provide strong support to the disc golf bag.
Carry's up to 16 discs in the top compartment featuring a U-shaped zipper for quick and easy access which secures discs from falling out while playing out on the disc golf course.
The bag is beefed up with three new hard inserts in the top compartment allowing it to maintain its shape and integrity while fully loaded.
Large drink pocket holds large drink vessels comfortably while 3 large storage pockets let you carry everything from keys to wallet and phone.
The new phone sleeve provides an easy way to easily record your drives and putts while the large putter pocket lets you carry two putters securely.
Back padding is soft and breathable, including shoulder straps that have a sternum strap that you can adjust to even out the weight load. There are rubber studs on the bottom that helps your bag stays upright and not tip over.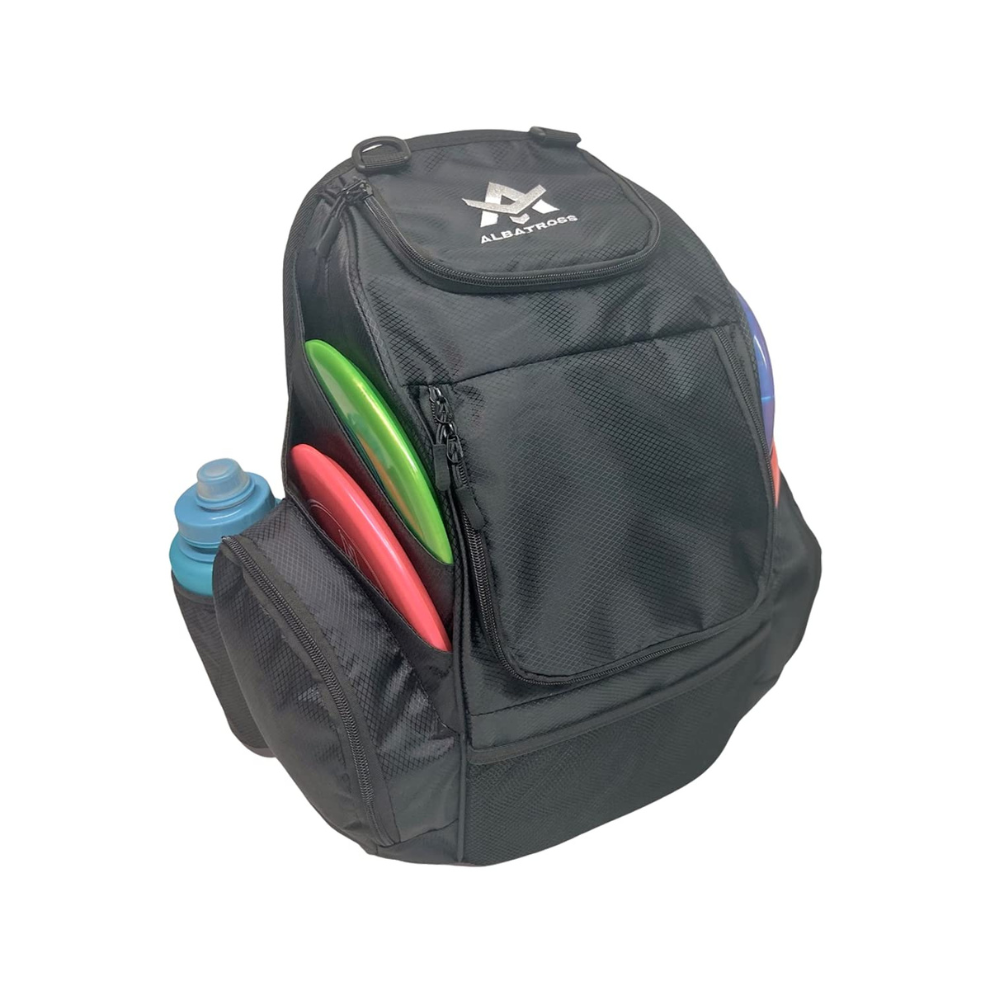 Birdi Albatross Disc Bag
This is a Premium Disc Golf Bag
Check Price On Amazon
This is a premium disc golf backpack - It is made with durable water resistant materials - has a 20 - 24 disc capacity
It is built for comfort with padded shoulder straps and padded panels on back. Developed to have all day comfort. Strong plastic feet on the bottom provides a steady base.
Includes a double stitched quick grab handle for your next shot.
Has two side cooler pockets that are perfect for keeping drinks drinks cold during your game activities.
Four outer pockets for discs. Comes with a safety strap to secure your disc golf retriever pole. Large mesh compartment up front with large compartment on top to store keys and your phone.
The Benefits of Having a Disc Golf Bag with a Cooler
Disc golf is a great way to get outdoors and enjoy the fresh air. One of the best things about disc golf is that it is a very affordable sport. You do not need expensive equipment to play. All you need is a Frisbee and a place to throw it.
There are many different types of disc golf cooler bag available on the market. Some of them have coolers built into them. This is a great feature for those who like to play in hot weather. A bag with a cooler will keep your drinks cold and help you stay hydrated during your round.
Disc golf can be played by people of all ages and skill levels. It is a great way to exercise and spend time with friends or family.
How to Choose the Right Disc Golf Bag with a Cooler
When it comes to choosing the right disc golf bag with a cooler, there are a few things you need to take into consideration. First, you need to decide what size bag you need.
If you plan on playing a lot of disc golf, then you'll need a larger bag that can hold all of your discs. Second, you need to decide what features you want in your bag.
Do you want a bag with a lot of pockets for storage? Or do you just want a simple bag that will hold your discs and keep them organized? Third, you need to decide how much money you're willing to spend on a disc golf bag.
There are some great bags out there that are very affordable, but there are also some high-end bags that can cost over $100.
Here are some other things to keep in mind when choosing a disc golf bag:
Capacity: How many discs do you need to carry? Most bags can hold between 9 and 12 discs, but larger capacity bags are also available.
Construction: Disc golf bags are typically made from nylon or polyester for durability. Some models also have reinforced padding or structures for added protection.
Weight: A heavier bag may be more difficult to carry, but it will also provide more protection for your discs. If you plan on carrying your bag long distances, choose a lighter model.
Price: Disc golf bags range in price from around $30 to $180 or more. Choose the best model that fits your budget and needs.
How to use a disc golf bag with a cooler
Fill the cooler with ice before you leave for your round. This will help keep your drinks cold throughout the day.
2. Pack your discs in the main compartment of the bag, and use the cooler for food and drinks. This will keep your discs from getting wet or damaged.
3. If you want to bring along snacks or sandwiches, pack them in plastic bags so they don't get squished.
4. Using a disc golf bag with a cooler can be a great way to stay refreshed and hydrated during your round. With a little planning, you can make sure that everything stays cold and intact all day long.
The best way to store your discs in a disc golf bag with a cooler
The first is how many discs you want to be able to fit in the bag. If you have a lot of discs, you might want to consider a bag that has multiple compartments for different types of discs.
2. The second thing to consider is what type of terrain you'll be playing on. If you're playing on rough terrain, you might want a bag that has more padding to protect your discs.
3. If you're playing on softer terrain, you can get away with a lighter bag.
4. The last thing to consider is how much food and drink you'll need to keep cool. If you're only playing for a couple of hours, you might not need much more than a couple of drinks and some snacks.
The advantages of having a separate cooler for your discs
1) A separate cooler for discs is the best way to keep them cool on hot days.
2) Keeps your discs in good condition: Discs can warp in the heat, so it's important to keep them cool. A separate cooler ensures that your discs will be in good condition when you need them.
3) If you don't have a bag with a built-in cooler, consider using a portable cooler. This will allow you to keep your discs cool while on the go.
4) If possible store your discs in the fridge or freezer before heading out to play. This will help them stay cooler for longer.
5) During hot weather, try to avoid playing during the hottest hours of the day. If possible, play in the early morning or evening when it is cooler outside.
What to do if your discs get too hot
If you're an avid disc golfer, then you know the importance of keeping your discs cool. Hot discs can warp and become unplayable, so it's important to take care of them. Here are some tips on what to do if your discs get too hot:
1. The obvious thing to do is put them in a cooler if one is available.
2. Soak them in cold water: If you don't have a cooler, you can soak your discs in cold water for a short period of time. This will help to cool them down and prevent them from warping.
How to prevent your discs from getting too hot
Another way to prevent your discs from getting too hot is to choose discs that are made of materials that will not absorb heat.
2. Some discs are made of materials that will reflect heat, so these types of discs are less likely to get too hot.
3. When choosing a disc golf bag, be sure to consider how well it will protect your discs from the heat but also you'll want to consider how it will be carried.
4. Some models have straps that allow them to be worn as a backpack, while others have a single shoulder strap or handles for carrying by hand.
5. If you plan on walking long distances or hiking to reach your destination, a backpack-style bag may be more comfortable. Otherwise, any type of bag will work just fine.
Portability
The best disc golf bags are those that strike a balance between portability and functionality.
You want a bag that's light enough to carry around with you all day, but also has enough compartments and pockets to hold all your discs, water, snacks, and other gear.
Some bags also come with built-in coolers, which can be helpful if you're playing in hot weather or want to keep your drinks cold for post-round celebratory beverages.
Durability
One of the most important factors to consider when purchasing a disc golf bag is durability.
You want a bag that is going to stand up to the elements and the wear and tear of constant use when you are out on the disc golf course.
Look for a bag made from high-quality materials that are built to last. A good warranty is also a sign of a durable bag.
Comfort
Another factor to keep in mind is comfort. You will be carrying your disc golf bag around for hours at a time, so it needs to be comfortable to wear. Look for a bag with adjustable straps and padded construction.
And if you plan on walking long distances, make sure the bag is sturdy but lightweight for easy transport.
Price
Just like anything else, you get what you pay for with disc golf bags. The best disc golf bag will be expensive but it will have all the bells and whistles, while the cheapest ones will be little more than a glorified fanny pack.
It's up to you to decide what features are worth paying for and which ones you can live without.
As a general rule, expect to pay between $30 and $180 for a decent disc golf bag. Anything below $30 is probably not worth your time, and anything above $180 is probably overkill unless you're a professional or hardcore enthusiast.
Conclusion:
We've done the research to provide you with options to help you choose the one that best fits your needs.
Our experts have read through the reviews to find the ones that offer quality, value, and convenience.
We only recommend products that have 4 or 5 stars and are backed by real customer reviews.
The best disc golf bag with cooler is the one that fits your specific needs. If you are a competitive player, then you might want a bag with more compartments and storage space.
If you are a recreational player, then a smaller bag with fewer compartments might be all you need.
Whatever your needs, there is a disc golf bag with cooler out there that is perfect for you. So get out there and hit the links!
Thank you for visiting and we hope to see you back soon!