Note: We use affiliate links and may receive a small commission on purchases at no additional cost to you.
Beginner golfers are often self-critical about their ability to keep up with more experienced players. It's understandable because the game is challenging and takes so long to learn. However, golf beginners can easily catch up to seasoned golfers by mastering the putter.
As a beginner golfer, when I finally figured out that putting was 30% of my score, I realized two things:
I needed the best putter I could find
I needed to become the best putter I could be
Having done both those things my score improved dramatically.
You can become quite proficient at putting in a short time, even though a golf swing takes time to master. The secret to excellent putting for beginners is having the right tools and practicing often.
Therefore, we have compiled a list of the best putters for beginners. This review guide will shed some light on the ten best putters for beginners available in the market today. Let's dive in.
The Best Putter for Beginners in 2022
The following are some of the best putters for beginners of 2022 that you can find on the market.
1. Odyssey Stroke Lab Triple Track Putter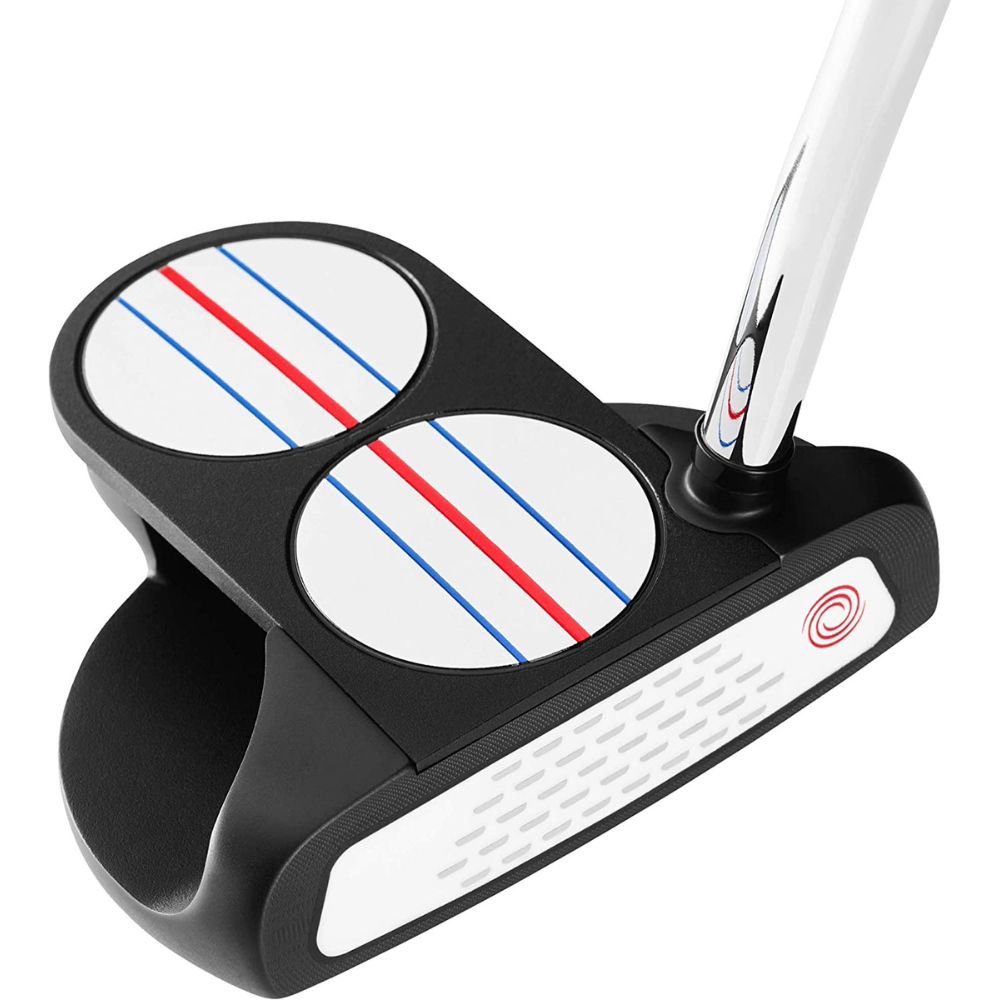 Odyssey Stroke Lab Triple Track Putter
Check Price On Amazon!
Throughout the years, the Odyssey 2-Ball putter has gained more popularity. In addition to revolutionizing the putting industry, it's considered the best putter for beginners. The design looks modern because it uses a black-and-white color scheme.
The triple track lines should make lining up putts easier than the old two-ball design. There is no doubt that this putter will help you line up your putts correctly.
Although the 2-ball head is stylish, remember the new shaft as well. Odyssey reduced the steel section length and overall weight by seven grams to enhance the steady stroke. In combination with the white-hot insert, this putter offers the best feel of any putter.
Features
The Odyssey triple-track putter features premium technologies
The triple track aligns better and more consistently with hyper vernier acuity
Adapted from Callaway's innovative golf ball alignment system
It features a lightweight multi-material shaft that saves 40 grams of weight
| Pros | Cons |
| --- | --- |
| ✔ The design of the putter is lightweight | ✖ The price is quite high |
| ✔ The white-hot insert gives you a great impact feel | |
| ✔ You'll get better accuracy by using contrast alignment lines | |
2. Cleveland Huntington Beach Putters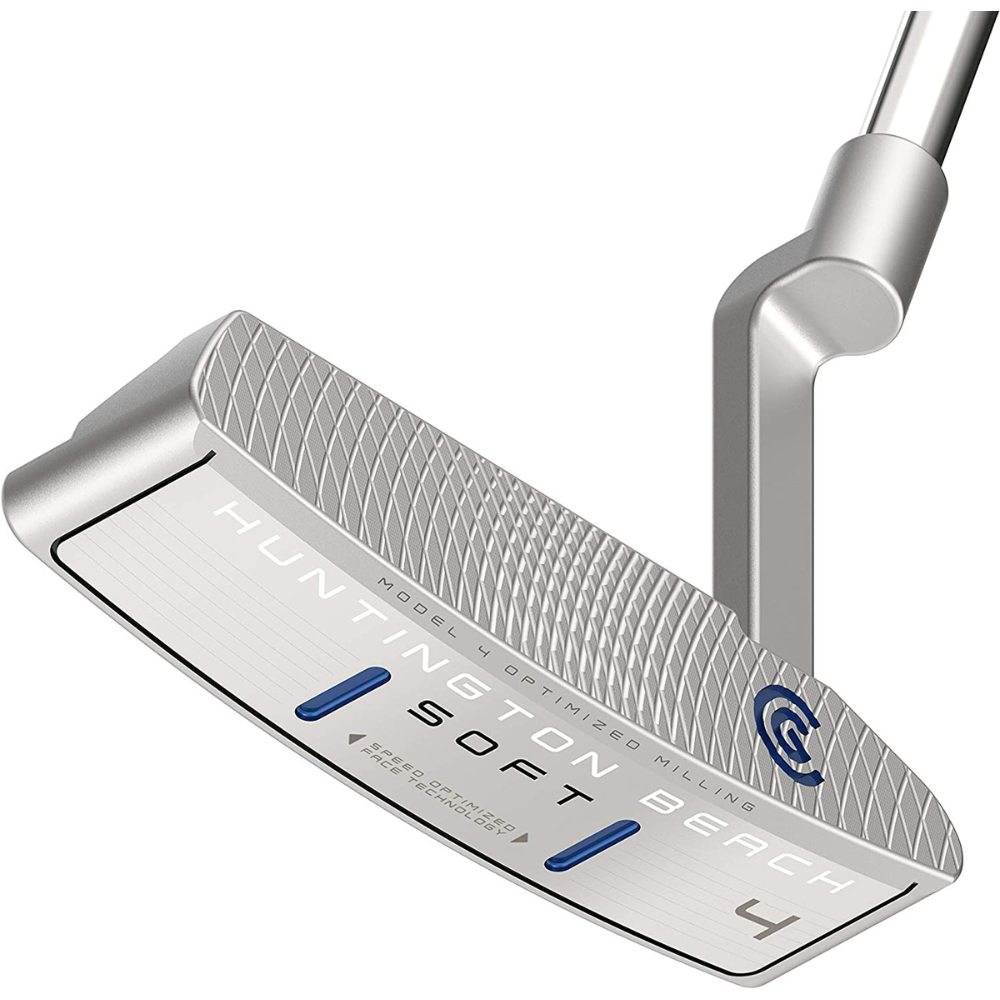 Cleveland Huntington Beach Putter
The Must Have Club for Any Golfer
Check Price On Amazon!
This Cleveland putter is forgiving and suitable for mid and high-handicapped players. It makes it our top choice for the best putter for beginners.
In contrast to other putters on this list, the Huntington Beach Soft 4 has a milled face pattern. With a precision milled face, the clubface increases friction with the ball, giving it a true roll and a gentle feel. 304 stainless steel makes this putter soft and feels good on the grip.
Feature
It features speed-optimized face technology
Soft 304 stainless steel makes it lightweight
An innovative diamond CNC milling pattern increases friction for a pure roll
| Pros | Cons |
| --- | --- |
| ✓ The milled steel face provides consistent roll quality | ✗ It is not useful for those who hit straight or with extreme arcs |
| ✓ The face has an expanded area for consistent ball speed | |
| ✓ Exceptional grip quality for standard fits | |
3. Cobra Golf 2021 King 3D Printed Putters - 5 stars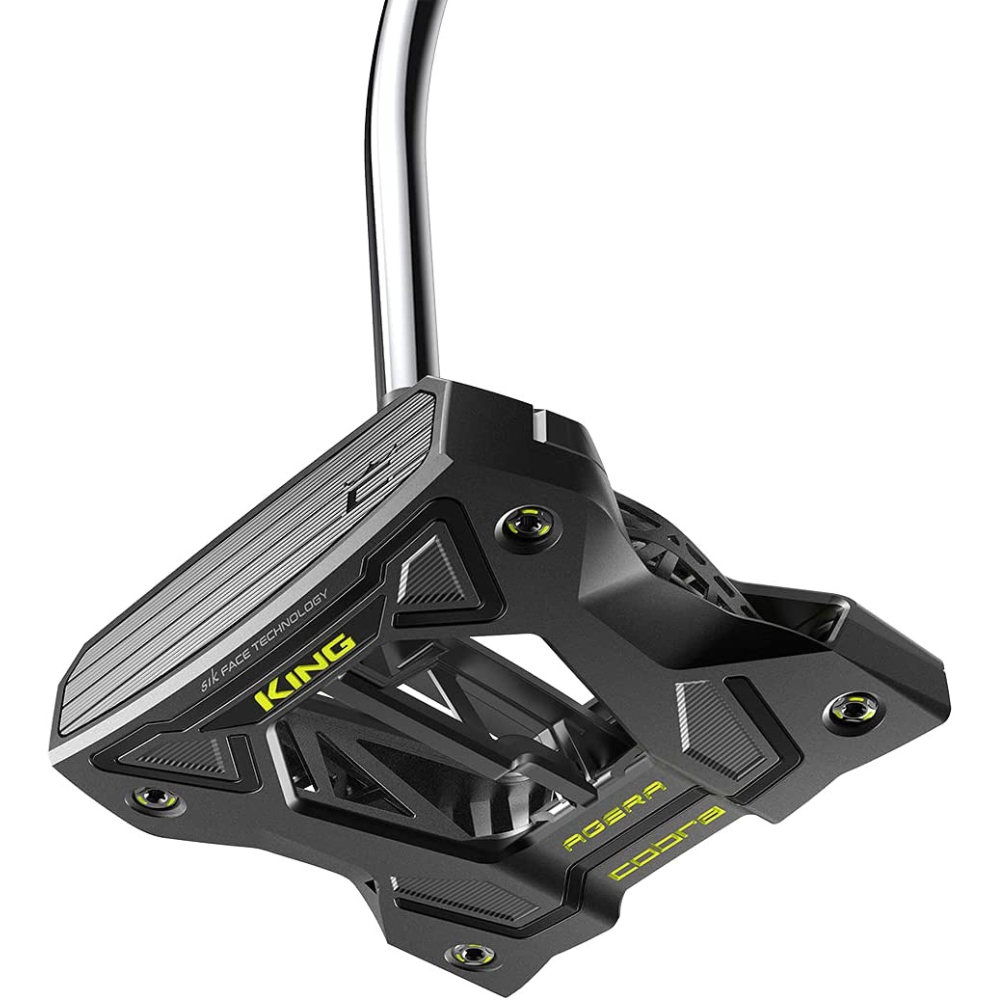 Cobra Golf 2021 King 3D Printed Putter
3D Printing – The Technology of the Future
Check Price On Amazon!
You can consider this putter if you're looking for the best putter for beginners that'll last for a long time. In terms of head size, these putters are undoubtedly among the largest on the market.
If you use a Cobra Golf King 3D Putter, missing the ball will be more challenging. It has more tungsten on its 284g steel frame to increase MOI.
Putter heads with a higher MOI produce a more consistent roll. King putters come with a smart grip for tracking putting statistics.
Features
It features a 3D-printed nylon insert putter face
The descending loft technology adds efficient accuracy
It is equipped with a Smart grip that keeps track of your progress
The impact stability of this putter is impressive
| Pros | Cons |
| --- | --- |
| ✓ A lightweight putter | ✗ One of the more expensive putters |
| ✓ It gives you an exceptional feeling | |
| ✓ Steel frame reduces weight and makes it more stable | |
4. TaylorMade Spider Tour Black Putter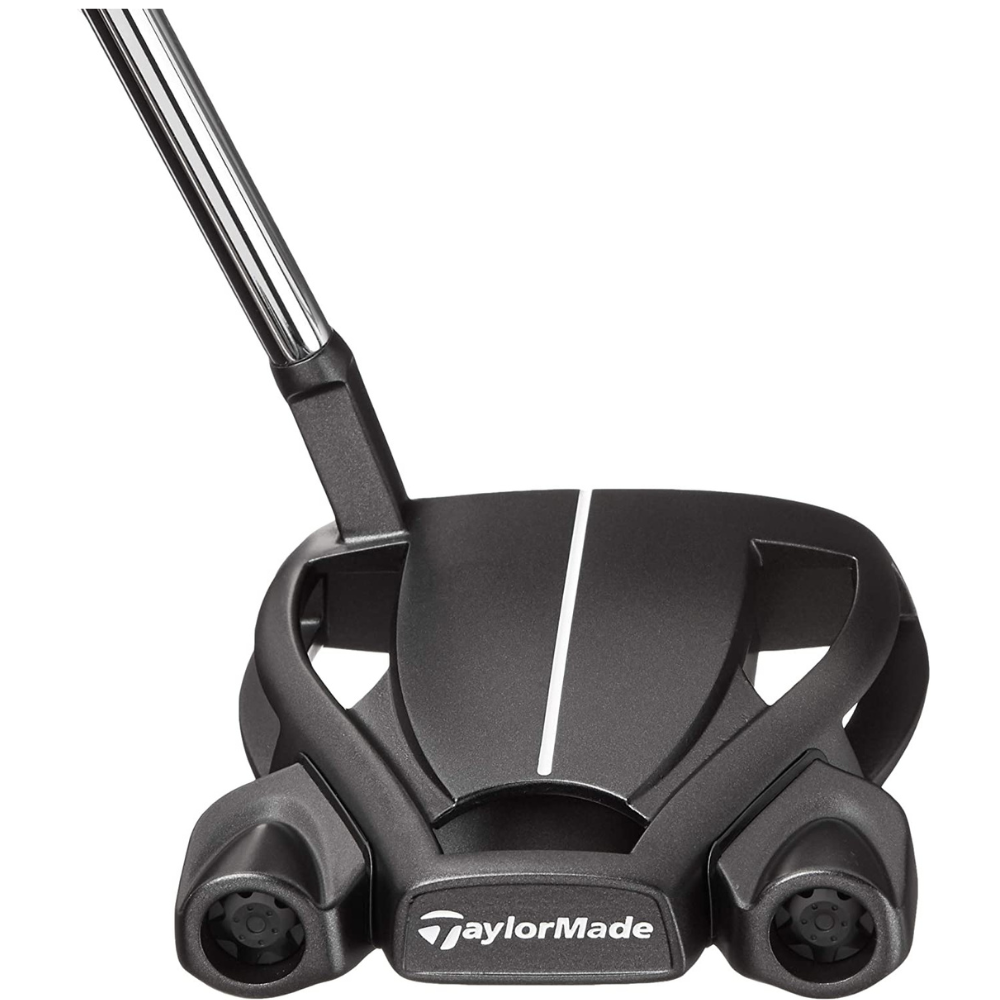 TaylorMade Spider Tour Black Putter
Perimeter Weighting for Added Stability
Check Price On Amazon!
As a beginner golfer, your putting stroke will change and improve from one day to the next. Spider Tour Black Putter is the ideal choice for golfers seeking consistency throughout their rounds. The lightweight core and stainless steel frame give you a pretty good speed coming off the clubface.
In contrast to other large putters, the Spider incorporates vibration-damping PU foam that enhances the feel and sound of the stroke. A Super Stroke GTR grip completes this putter's look, making it the best putter for beginners.
Features
Designed with multi-materials for high MOI and better stability
It features vibration-damping PU foam between the body and frame for enhanced sound and comfort
Robot testing shows Pure Roll grooves increase topspin and improve forward roll
| Pros | Cons |
| --- | --- |
| ✓ The pure roll face improves distance control | ✗ It's a little hard to adjust to the large clubhead |
| ✓ Tour-proven design | |
| ✓ Ensure impressive stability during the impact | |
5. Cleveland Golf Frontline Iso Putter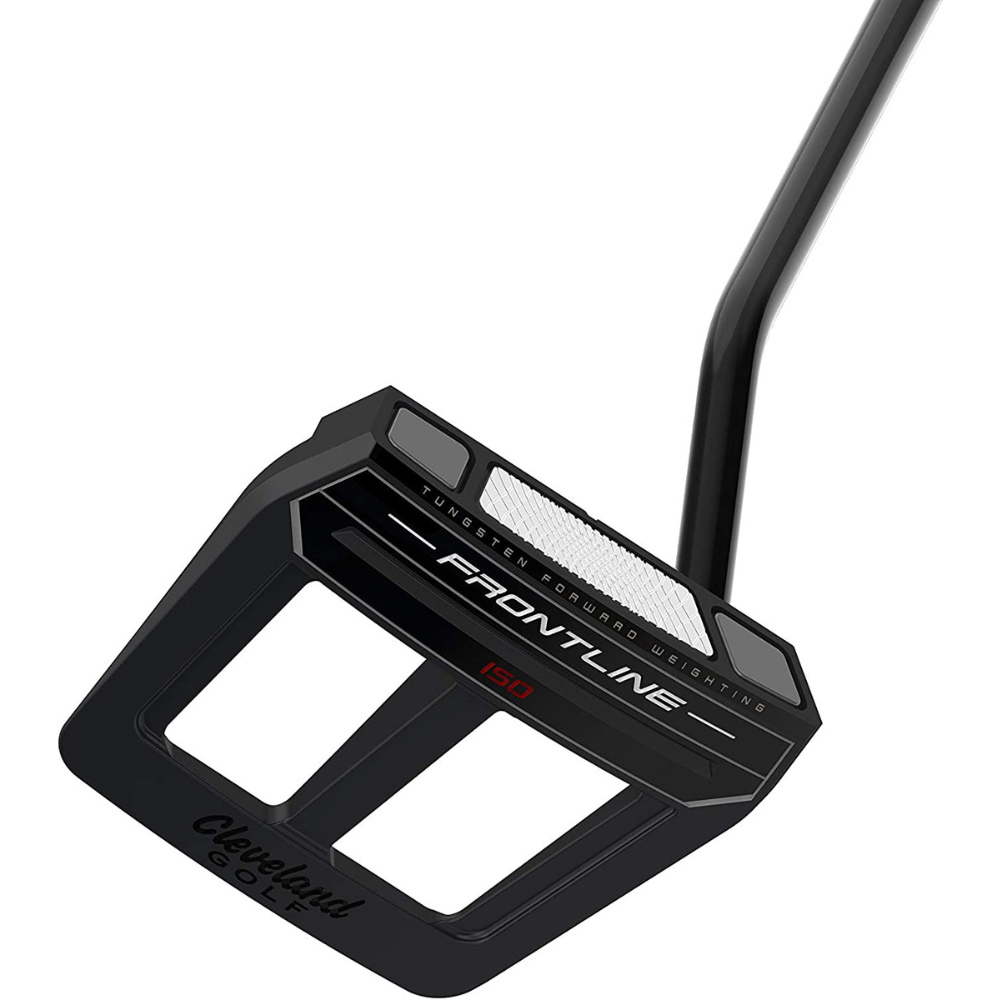 Cleveland Golf Frontline ISO Putter
Tungsten Forward Weighting
Check Price On Amazon!
Cleveland's Front Line putter is also extremely forgiving, making it one of the best putter for beginners. Black contrasts beautifully with the greens.
With the contrast between the colors, it's easy to align the face of the club with the line you want to drive the ball down. Having squares cut out and solid lines running along the back of the ISO model helps you anticipate where the ball will go.
Tungsten in the putter puts the center of gravity in a position allowing consistent energy transmission so the ball goes in more easily.
These alignment aids on the back of the putter are especially useful for short putts. Having confidence that the putter is aligned correctly, you may stand behind it.
Features
It features speed-optimized face technology
This putter features Cleveland's 2135 technology for perfect alignment every time
The design features tungsten forward weighting and a closed center of gravity for maximum stability
| Pros | Cons |
| --- | --- |
| ✓ The black color on the greens is excellent for alignment | ✗ There's no solid sound when it hits |
| ✓ There are multiple shapes and sizes of club heads | |
| ✓ The putter has excellent balance | |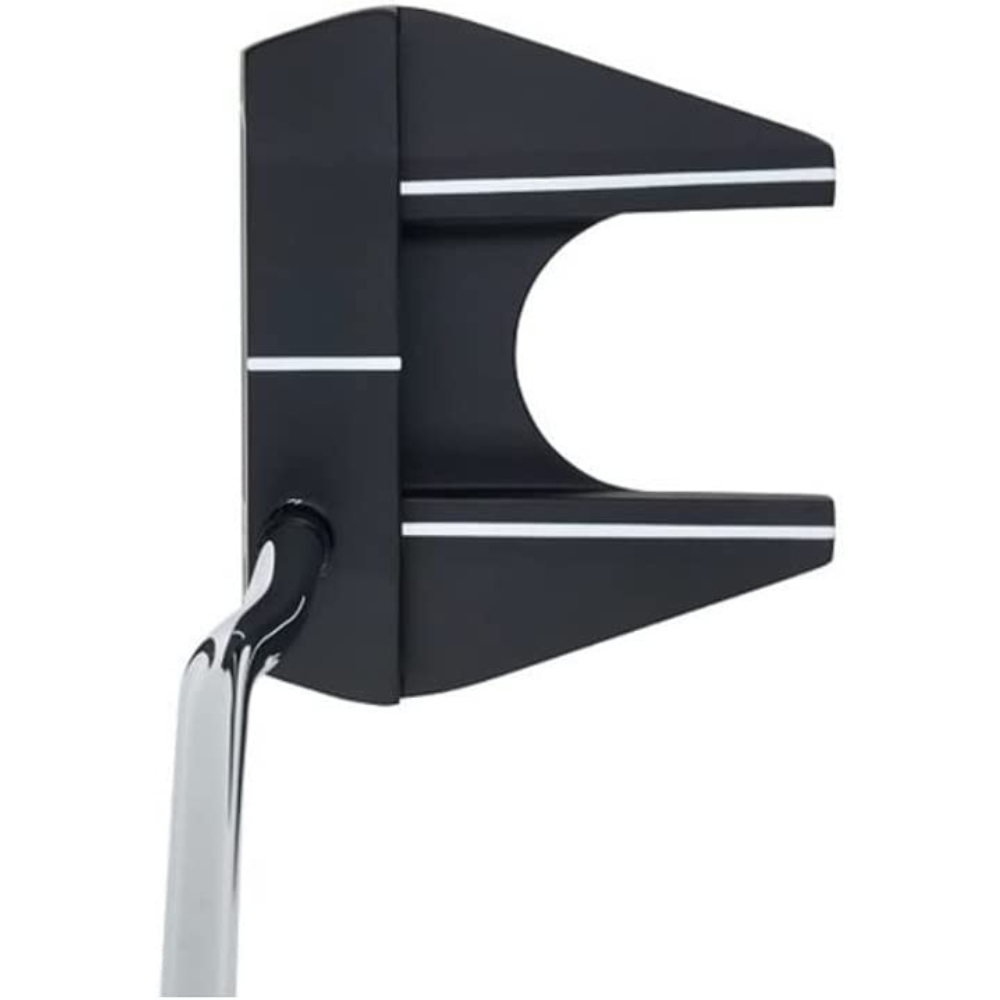 Odyssey DFX Putter
Odyssey's Softest Insert for Golfers Who Want Smooth Feel and Roll
Check Price On Amazon!
This putter features the softest insert technology from Callaway. It offers a soft feel and pure roll, making it the best putter for beginners.
Because of forgiveness, many golfers have to choose between mallet putters and blade putters. DFX putter gives you an efficient feel without sacrificing consistency.
The most notable feature of this product is its DFX Insert. Engineers at Callaway improved the feel and roll of the face with this technology. The soft feel of the material allows you to gauge your stroke force more accurately. In addition, a good forward roll sends your ball up to the hole.
Features
It features Callaway's softest insert technology
This model is equipped with high-performance Odyssey grips
This putter features a stealthy blackhead design from the body to the insert
| Pros | Cons |
| --- | --- |
| ✓ Provides consistent roll performance | ✗ A golfer with an arc stroke may not like the face-balanced design |
| ✓ Ensure efficient alignment assistance | |
| ✓ It has an attractive finish | |
7. Cleveland Golf Soft Premier
Cleveland Golf Soft Premier
Putter Comes With Frontline Cleveland Oversized Grip
Check Price On Amazon!
This putter is a great choice when looking for the finest putter for beginners. The putter has a gray satin PVD finish that is noticeable from afar. Close proximity lends the mallet head a pleasing appearance and reduces glare.
Features
It produces a pure roll and a softer impact feels due to the diamond CNC milling pattern
It comes with Cleveland speed-optimized face technology
The putter is available with two different grip options
| Pros | Cons |
| --- | --- |
| ✓ Provides optimal ball speed on every strike | ✗ A small alignment aid on the gray satin PVD finish is hard to see |
| ✓ High MOI | |
| ✓ The finish is resistant to glare | |
8. Pinemeadow Golf Men's PGX Putter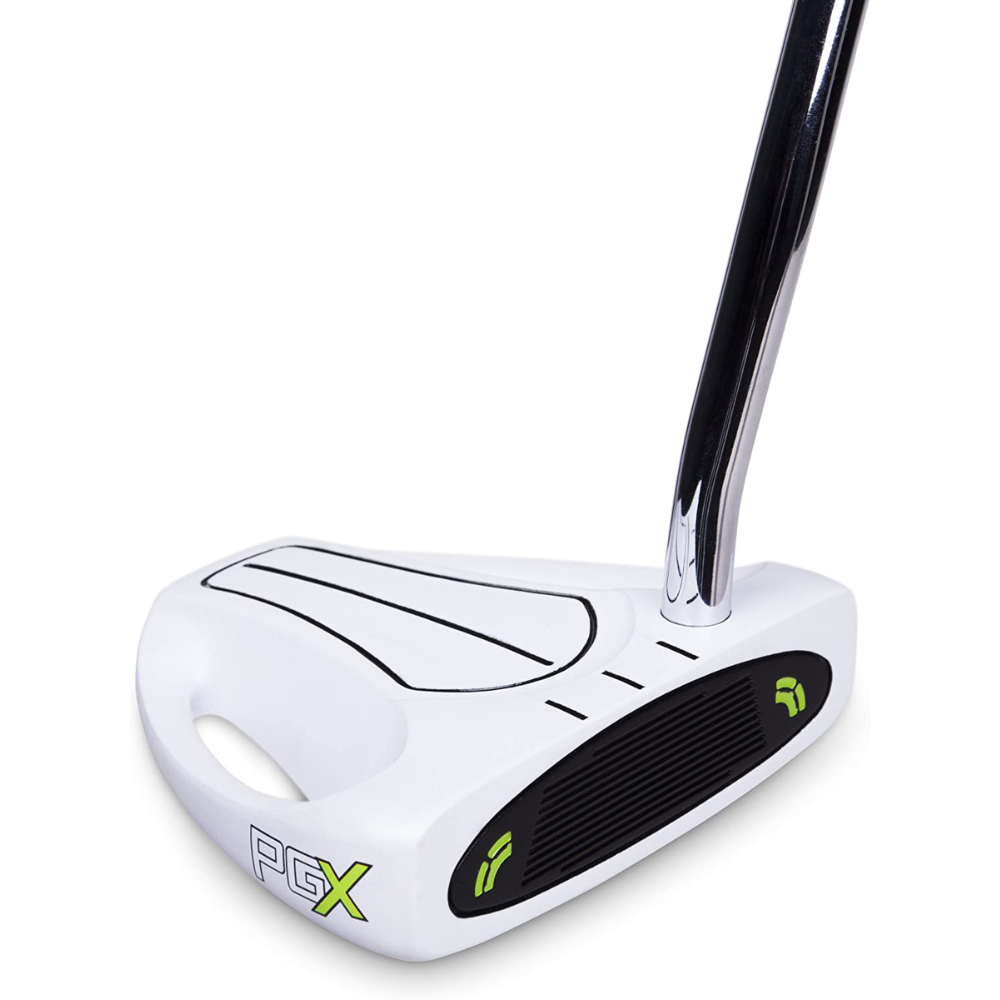 Pinemeadow Golf Men's PGX Putter
White Finish Stands Out When Putter Is In Address Position
Check Price On Amazon!
It is one of the best putters for beginners who are on a tight budget and want to learn the game. The 34-inch golf putter has a white golf head and tour-weighted head for alignment.
PGX Putter, for instance, is a typical mallet-style head. With a contrasting white hue, players can see exactly where their putter is aiming and where it's pointed. You may have difficulty finding a putter with accurate and reliable characteristics like the PGX within its price range.
Features
PGX's white finish stands out when addressing the position.
It includes a PGX custom headcover
It's 34 inches long
| Pros | Cons |
| --- | --- |
| ✓ The price is very reasonable | ✗ The face insert is not present for a softer impact |
| ✓ Integrated anti-shock grip | |
| ✓ Alignment lines are longer | |
9. WILSON Infinite Men's Golf Putter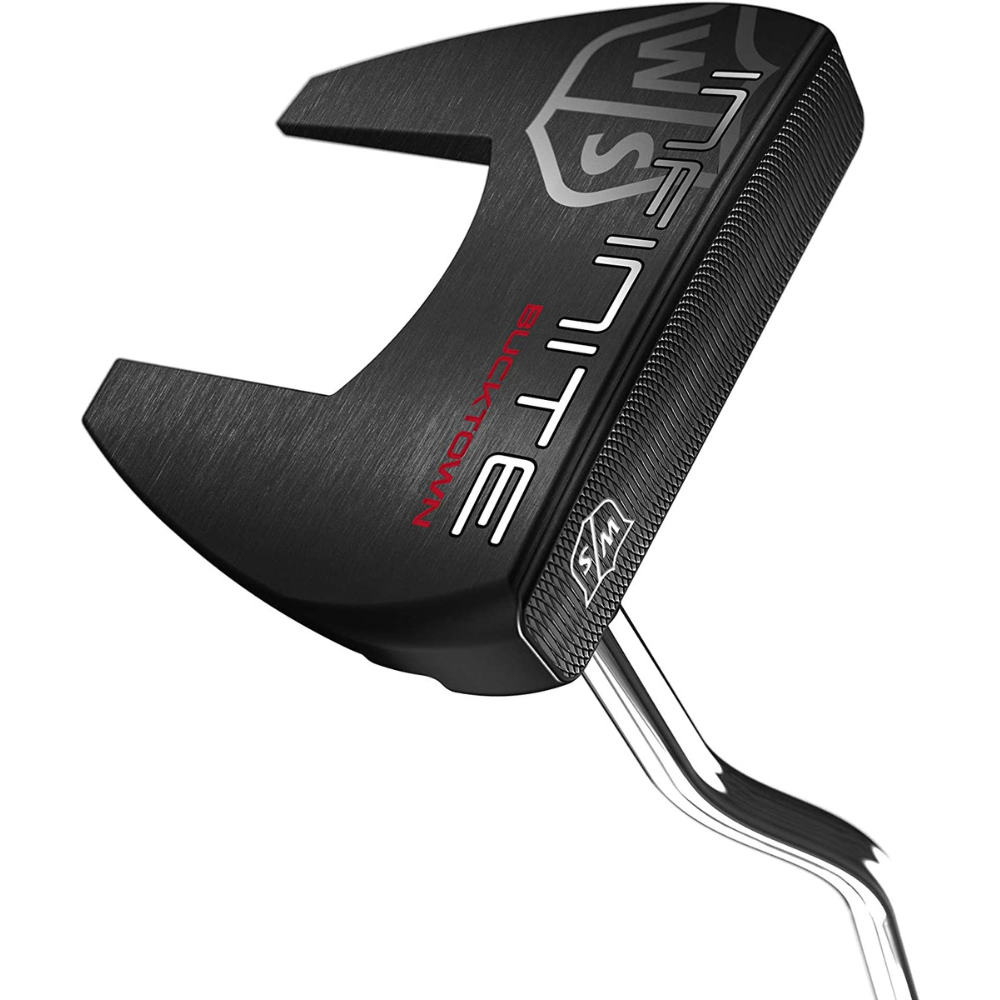 Wilson Infinite Men's Golf Putter
The Wilson Infinite Putter Line Includes Nine Head Shapes
Check Price On Amazon!
This Wilson putter will be a great choice if you're looking for the best putter for beginners. Its affordable price and many great features make Wilson's new putter design a top choice.
An elegant design and cutting-edge technology combine to make the Infinite putter great. Wilson putters have a matte finish to minimize glare and maximize alignment assistance.
Features
Incorporates Counter Balance Technology
It has a new ultra-dark PVD finish to eliminate glare while enhancing sight lines.
Maintains consistent distance, roll, and impact
| Pros | Cons |
| --- | --- |
| ✓ Priced affordably for beginners | ✗ Grip end is a bit heavy |
| ✓ Counterbalanced technology ensures a steady stroke by shifting the balance into your hands | |
10. Odyssey Golf 2022 Women's White Hot OG Putter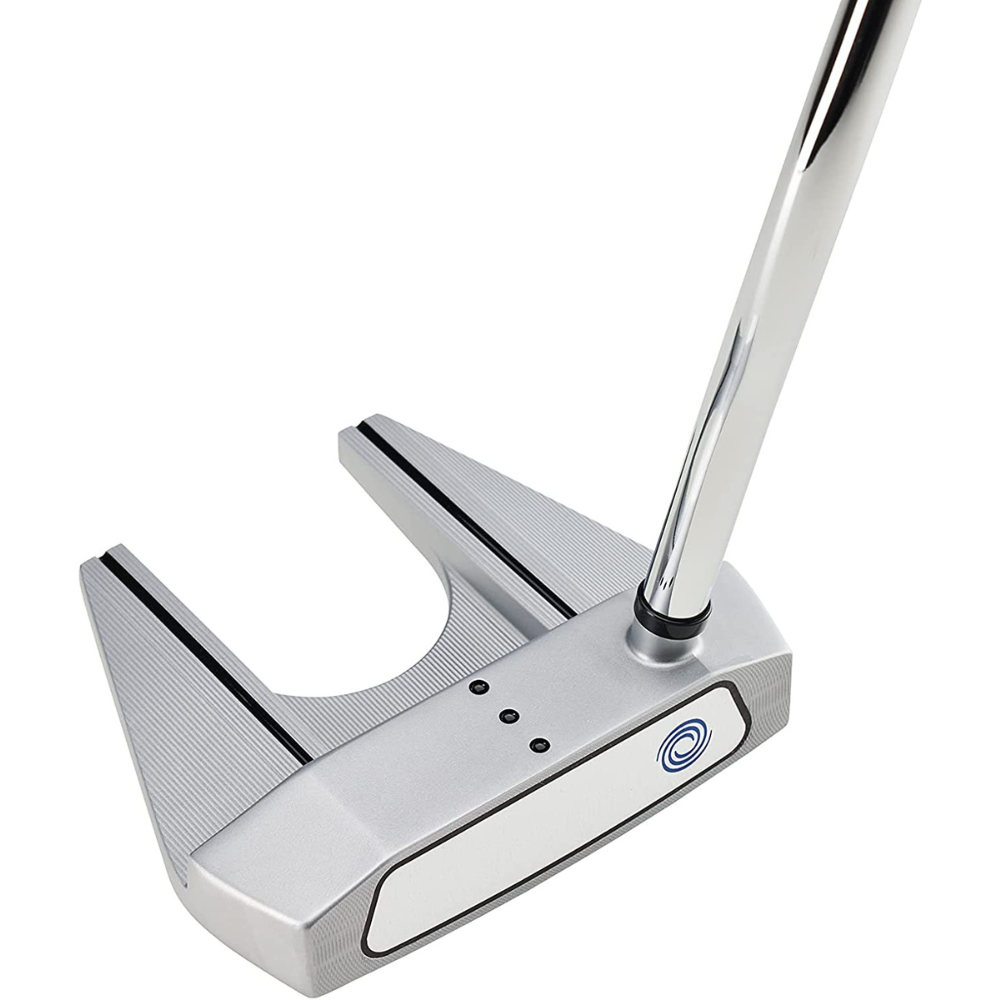 Odyssey Golf2022 Women's White Hot OG Putter
White Hot is the Most Iconic, Most Played, and Most Decorated Putter Insert of all Time
Check Price On Amazon!
It is the best putter to choose if you are a female beginner or are a high handicapped golfer. "White Hot" face inserts offer constant sound, feel, and performance throughout the hitting surface, attracting players for years.
Golfers still sink several putts with the mallet's high Moment of Inertia despite missing the sweet spot on the putter face.
Features
The surfaces have been fine-milled and have a rich silver PVD finish.
Featuring a chrome finish for a sleek, unique appearance
It has a highly stable mallet shape
| Pros | Cons |
| --- | --- |
| ✓ Provide tour-proven stepped steel shaft or premium steel shaft | ✗ In comparison to its alternatives, it is expensive. |
| ✓ The standard pistol grip fits perfectly with shaft options. | |
What to Consider When Choosing the Best Putter For Beginners
When choosing the best putter for beginners, you should keep a few things in mind. The putter you choose today could serve you well even after you have improved with your overall golf game. When choosing a putter for a beginner, consider the following factors.
Blade vs. Mallet
A beginner's most important decision is using a mallet or a blade putter. It's easy to manage distance with a mallet putter, which makes it a popular choice for beginners. Mallet putters have a larger hitting surface, which makes it easier to hit the ball.
Blade putters are designed to help golfers correct their alignment and aim. So, what's more important to you? Distance or accuracy? Price is also important when choosing a putter for beginners.
Better golfers choose blade putters because they look more classic. But it appears that the latest mallet putters on the market are becoming larger and larger and have gone away from the classic look.
You might also want to select a putter that you like the appearance of. If you enjoy putting, you will be able to improve your golf game. It's not a good idea to buy a putter that you don't like just because it is famous. Instead, try out different putters until you find one that feels right to you.
Use conventional mallet-size putters if oversized mallet putters are too large for consistency and distance management.
Length of the Putter
The majority of beginner golfers use putters that are overly lengthy. When choosing a putter for beginners, putter length is an important factor to consider. For beginners, a 34-inch putter works best; if you're taller than six feet, a 35-inch putter is better.
Some golfers prefer a longer putter for better distance management, but this means that your grip will be too long. If you're using a longer putter, consider obtaining a shorter grip or getting the shaft shortened so that it fits your hand size and grip style.
The accuracy of a golf putter suffers if it's too long. With shorter putters, golfers can get their eyes over their golf ball just before hitting a putt.
Putter Grip
Putter grips come in many different shapes and sizes. Additionally, you can get the grip customized on brand-new putters. However, beginner golfers should take into consideration a large, oversize grip.
This will give you a more comfortable and secure grip on the putter. Keep in mind that you'll have to maintain consistency with the grip you choose for each and every putt.
Putting with a large, oversize grip eliminates the need for the hands to assist. Overusing your hands will make it difficult to control your putts and direct the ball correctly.
Ensure your putter has a grip that feels good in your hands and enables you to consistently and squarely return the putter.
Price
The most expensive putters don't necessarily make the best putters for beginners. Choose a putter that matches your height and playing ability instead of buying an expensive one. This will allow you to improve your game and play better as you become more experienced.
There is a difference in the feel of expensive and inexpensive putters. Special materials in higher-end putters make them easier to use and may make the sport more accepted by new golfers.
The first putter you buy doesn't have to be the most expensive to learn how to improve your putting.
Now that you know what to consider when choosing the best putter for beginners, you can choose the best one. Now let's look at some of the best putters for beginners in 2022.
We've done the research to provide you with options to help you choose the one that best fits your needs. Our experts have personal knowledge or read through the reviews to find the ones that offer quality, value, and convenience.
We only recommend products that have 4 or 5 stars and are backed by real customer reviews.
FAQ's - Best Putter for Beginners
What type of putter should a beginner use?
There are many types of putters available on the market, so it can be difficult to choose the right one for a beginner.
Some factors to consider include the length and lie of the putter, as well as the weight and grip. It is also important to find a putter that is comfortable to use and easy to control.
Which putters are most forgiving?
There are a few different factors that make a putter more forgiving, such as the club's weight distribution and the size of the sweet spot.
Some of the most popular forgiving putters on the market include the Odyssey White Hot, Scotty Cameron Newport, and the Ping Anser.
How do I know which putter is right for me?
There's no easy answer to this question, as it depends on a number of factors, including your personal preferences and playing style.
However, there are a few things you can keep in mind that may help you choose the right putter for you.
First, consider the length of the putter - is it comfortable for you to use? Second, take a look at the head shape and weight - does it feel balanced and stable in your hands?
What is the difference between a blade putter and a mallet putter?
Blade putters are more traditional and have a slimmer, more blade-like shape. Mallet putters are usually larger and have a more rounded shape.
Some golfers prefer blade putters because they feel like they have more control over their shots. Others prefer mallet putters because they feel like they are easier to aim.
Will a new putter improve my putting?
There is no guarantee that a new putter will improve your putting, but it may help if you are struggling with your current one.
Sometimes a change in equipment can make all the difference, so it may be worth a try. Ultimately, it is up to you and your own golfing ability to improve your putting.
What is the proper putter length for my height?
There is no definitive answer to this question, as the proper putter length for you will depend on a number of factors, including your height, arm length, and personal preference.
However, a good rule of thumb is to choose a putter that 35 inches if you are 6ft or taller, 34inches if you are 5'9" - 6ft, 33 inches if you are 5'6" - 5'9". If you are 5'6" or taller than 6'4" your best bet is to get fitted for a putter.
What happens if your putter is too short?
If your putter is too short, you may have difficulty making solid contact with the ball, which can lead to inconsistent results. A shorter putter may also make it more difficult to control the speed and direction of your putts.
Bonus Question - How long is Tiger Woods putter?
Back problems have forced Tiger to go with a putter 35-1/2" long.
The Takeaway
That's all for today's roundup of the best putters for beginners. Beginner golfers have a plethora of best options available. Knowing what to look for in a golf putter should help you make an informed decision on the most forgiving putter for your game.
Making decisions as a beginner is challenging. You will find beginner putters useful, whether a beginner or a high-handicapped golfer. Hopefully, this review guide will help you decide which putter is best for you as a beginner golfer.
Thank you for visiting and we hope to see you back soon!