Note: We use affiliate links and may receive a small commission on purchases at no additional cost to you.
Some Things To Consider
Before purchasing any particular belt, you should first figure out what you want the belt to be made of. Belts are currently not just made out of leather, as other materials, such as nylons, polyesters, and other fabrics, are available. Each material offers a unique fit, feel, and look, so knowing what material you want will aid your search.
When it comes to finding the best golf belts for men, there are a few things you need to take into consideration. You want to make sure that the belt is made from a durable material that will withstand the elements and wear and tear.
The second thing to consider is the size. You want to make sure that the belt fits snugly around your waist and doesn't slip or bunch up. Being relaxed in your clothes allows for better performance.
The third is the type of closure. There are three main types of closures for golf belts - a buckle, ratchet or prong. A buckle is the most common type of closure and is very easy to use. Simply thread the belt through the buckle and fasten it closed.
A ratchet simply allows you to slide the belt to your desired position and then snap it shut.
A prong closure is less common, but some people prefer it because it provides a more secure fit. To use a prong closure, thread the belt through the loop and then insert the prong into the hole.
Make sure that the belt has a comfortable fit. Also, keep an eye on the buckle size and make sure it's appropriate for your trousers.
By wearing clothes that correctly fit you and you feel great in, you might gain the upper hand on the green. One aspect that is frequently forgotten in a great golfing outfit in trousers or shorts is the belt. It's not just important that a belt give the proper fit, but it will also allow you to make a fashion statement.
Now it is a matter of either choosing a belt you like the look of or making sure the color goes well with the shirt, pants and shorts you will be wearing for golf that day. Do not select a color that only works with one ensemble, as you want to get the most for your money.
We've provided a list of the 10 best golf belts that are rated 4 or 5 stars for you to choose from.
How We Choose
We've done the research to provide you with options to help you choose the one that best fits your needs. Our experts have read through the reviews to find the ones that offer quality, value, and convenience. We only recommend products that have 4 or 5 stars and are backed by real customer reviews.
adidas 3-Stripes Tour Belt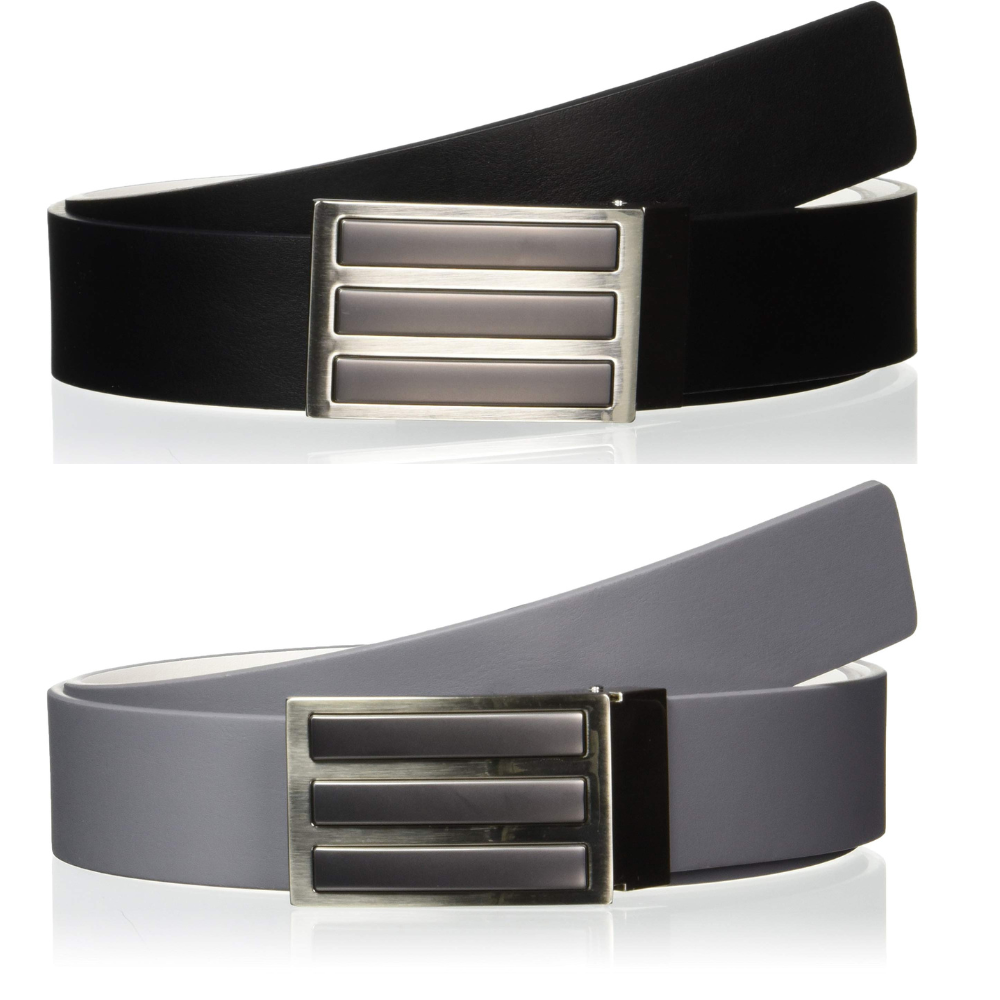 adidas 3-Stripes Tour Belt
Removable Plaque-Style Adjustable Metal Clamp With Raised 3-Stripes
Check Price On Amazon
Why We're Fans
One size fit. 2 sided. Trimmable to size. Sharp modern look.
What To Know
Imported
Clamp closure
Wash By Hand Only
The Plaque-Style Adjustable Metal Clamp Is  Removable and Comes With Raised 3-Stripes
Cut-To-Size & Reversible
Side Two Is Knit
Nike Men's G-Flex Woven Stretch Golf Belt
Nike Men's G-Flex Woven Stretch Golf Belt
Stretch Woven Fabric With Vegetable Tanned Leather Trim
Check Price On Amazon
Why We're Fans
Stretch woven belt made with Nike's g-flex technology, supplying top end motion freedom, extra adjustability, and helpful convenience. Nappa leather trim, gunmetal harness buckle, and brushed matte black enamel prong.
What To Know
10% Leather, 90% Elastane
Imported
Belt closure
Wash By Hand Only
Vegetable tanned leather trim, Stretch woven fabric
Harness buck is brushed gunmetal with black prong matte
The Nike g-flex technology provides an increase in range of motion, with extended sizing versatility and the ultimate comfort
PUMA Golf Men's Reversible Web Belt (One Size)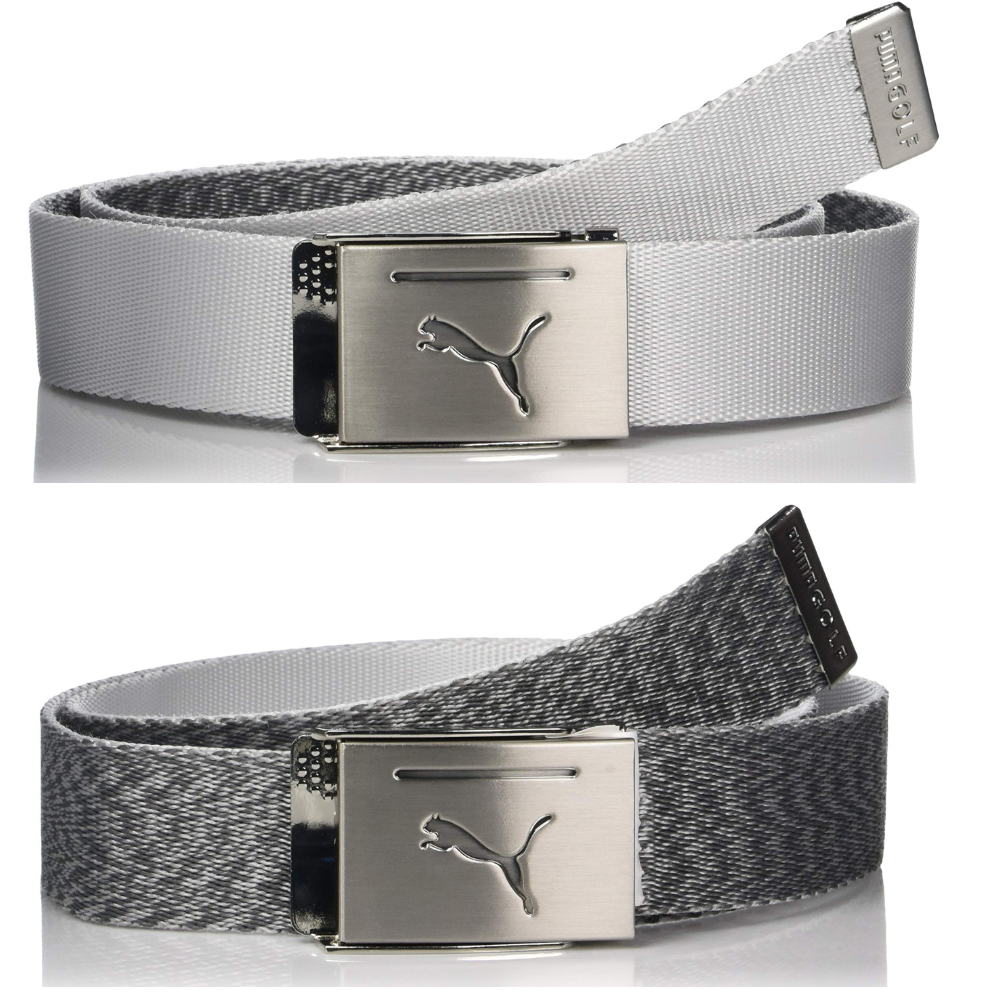 PUMA Golf Men's Reversible Web Belt (One Size)
Bottle Opener On Back Of Buckle
Check Price On Amazon
Fairwin Ratchet Golf Belts for Men 2 Pack
Fairwin Golf Belts for Men 2 Pack
Made From Environmentally Friendly Nylon Material
Check Price On Amazon
Why We're Fans
This ratchet belt was developed to be used in any situation. Comes with a Classic Business Buckle, and it's a great value for both men and women. An everyday belt that will withstand abuse without sacrificing comfort. Great for any outdoor activities not just golf.
What To Know
The belt is made with environmentally friendly nylon material and has a solid antique brass buckle for staying comfortable in everyday use.
A versatile golf belt for everyday use.
Durable ratchet closure
This is a new combination of nylon webbing belt and automatic slide ratchet buckle. Our designer belts for men buckle is made by zinc alloy, which make the buckle be unbreakable.
The buckle features an anti-rust, anti-corrosion, and anti-scratch surface.
Belt has automatic ratchet for quick lock and quick release. Even with only one tab engaged, the connection continues to hold and stay completely closed.
The belt is an excellent gift for any family member or friend. Comes with a 1 year guarantee.
Under Armour Men's Braided Belt 2.0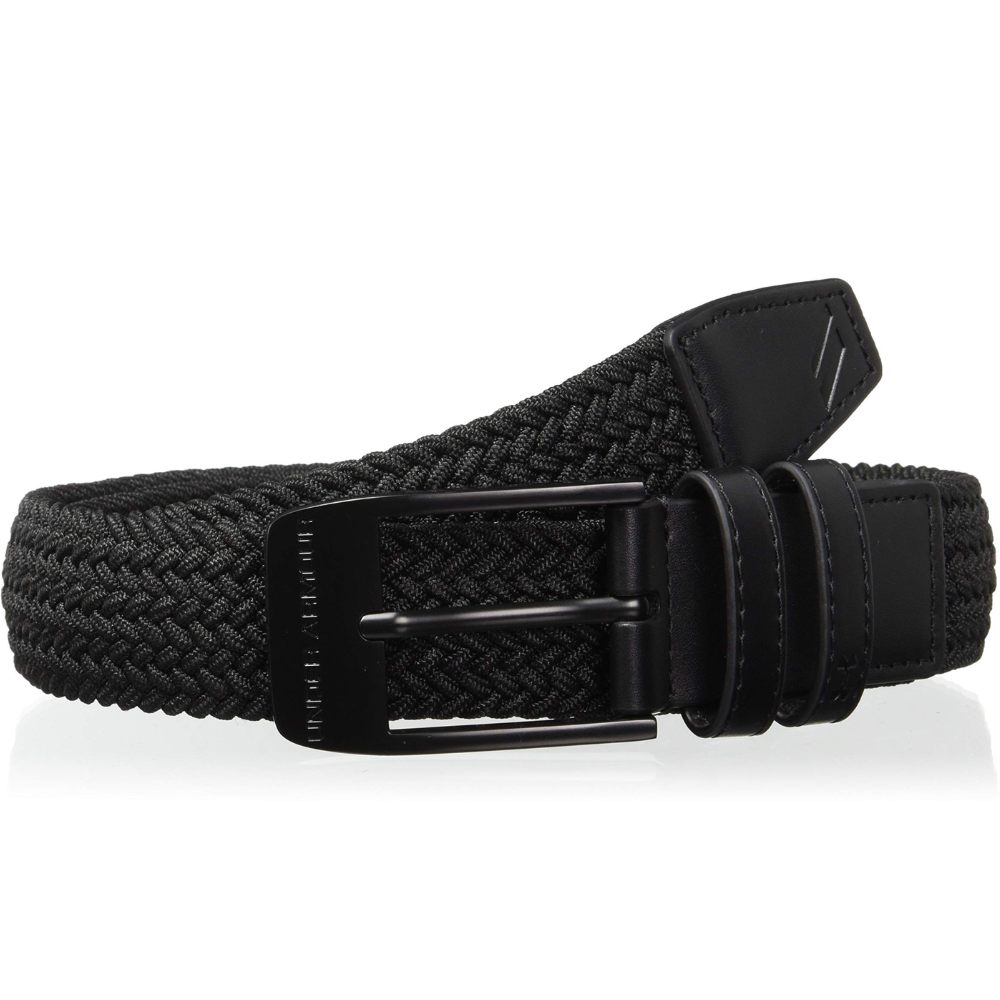 Under Armour Men's Braided Belt 2.0
Stretch-fit Woven Webbing Provides Extra Stretch & Flexibility
Check Price On Amazon
Why We're Fans
Stretch-fit woven webbing enables additional ease of movement and stretch. Leather end pieces for higher fashion. The metal buckle is debossed with a UA wordmark. Comes in sizes 30-42 waist. Width is 1.4" or 3.5cm.
What To Know
84% Polyester, 16% Elastane
Incorporates a buckle closure
Can be machine washed
Extra stretch & flexibility with the Stretch-fit woven webbing
Leather end pieces provides level up style
Metal buckle has a debossed UA wordmark
Fits Size 30-42 Waist
Width: 1.4" / 3.5 cm
Mission Belt Men's Leather Ratchet Belt, 40mm Metal Collection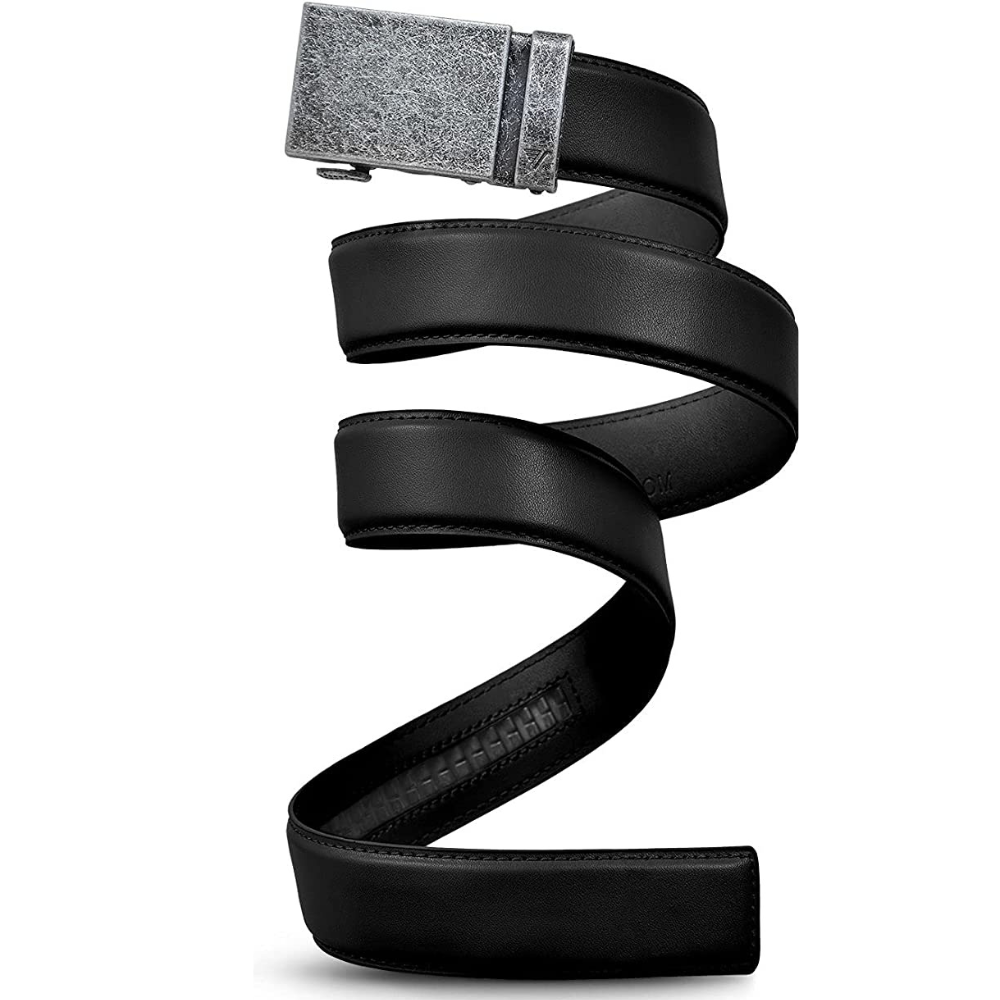 Mission Belt Men's Leather Ratchet Belt
Check Price On Amazon
Why We're Fans
All you have to do is unfasten the clasp, look at the length that fits you best, and cut the belt strap to that length. Reinsert the strap into the buckle and fasten the clasp. Now you have a custom belt.
When you buy a belt you help feed a family - One dollar from every sale goes to combat global hunger!

What To Know
Genuine Leather - 1.5 inches wide, smooth leather with no unneeded holes to wear out or crack.
Scratch resistant, metal ratchet buckle, and 1/4 inch spaced teeth in leather helps you get the exact fit you need.
Removable buckle is handy for passing through security at airport and replacing buckles when needed.
CHAOREN Ratchet Men's Belt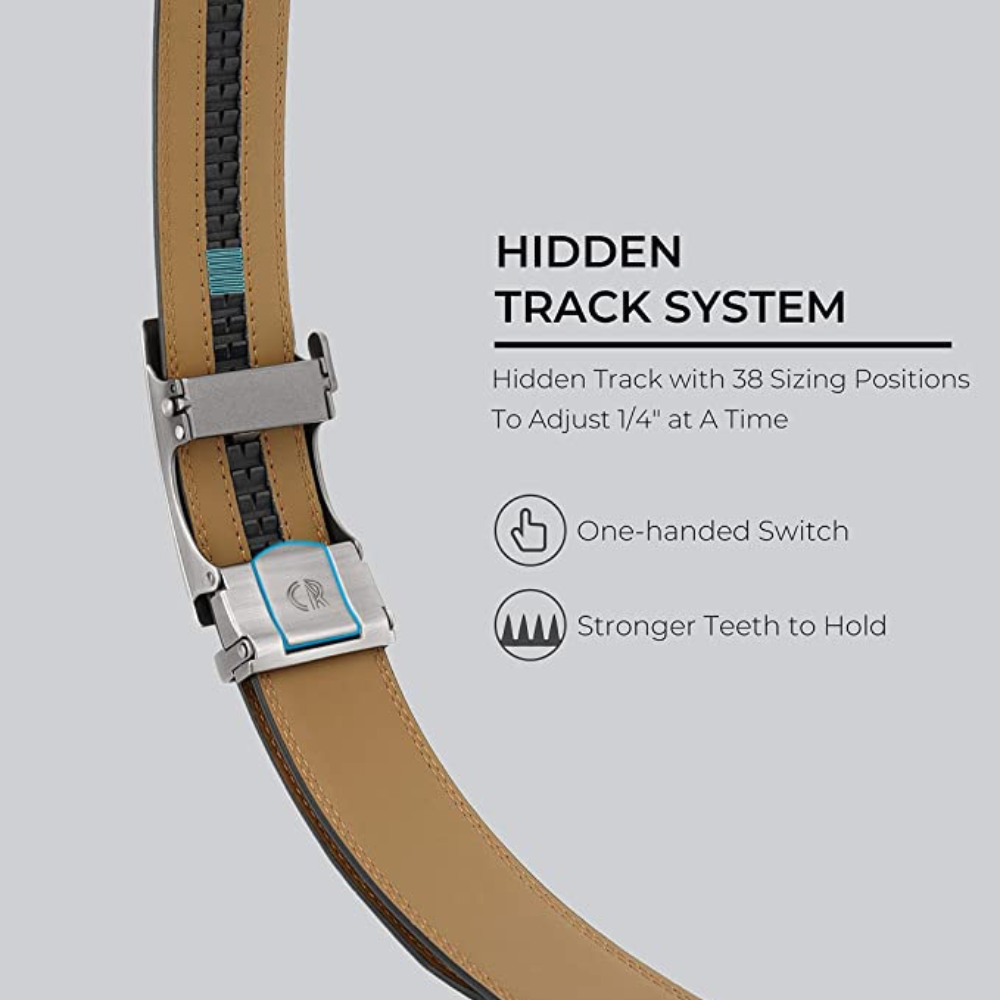 CHAOREN Ratchet Men's Belt
Check Price On Amazon
Why We're Fans
To present guys with a comprehensive style, a belt is crucial, but a normal belt provides only five or six holes and is hard to cut into a proper comfortable size. With CHAOREN's one-click simple belt, it is extremely easy to cut to size with scissors and match the perfect fit.
CHAOREN produces beautiful, durable, and smart ratchet belts.
What To Know
Genuine Leather
Ratchet closure
Clean with a dry cloth
The CHAOREN ratchet belt enables you to revise its size to get a perfect fit for your waist.
Slide your belt into the sliding buckle while simultaneously pulling through the genuine leather belt, the buckle then automatically locks. Push on the lever on the side to open the ratchet-buckle lock. Easy, smooth, and sleek!
The high density designer clasp is light and durable compared and resistant to scratches.
Nike Men's Tech Essential Web Belt, Black, One Size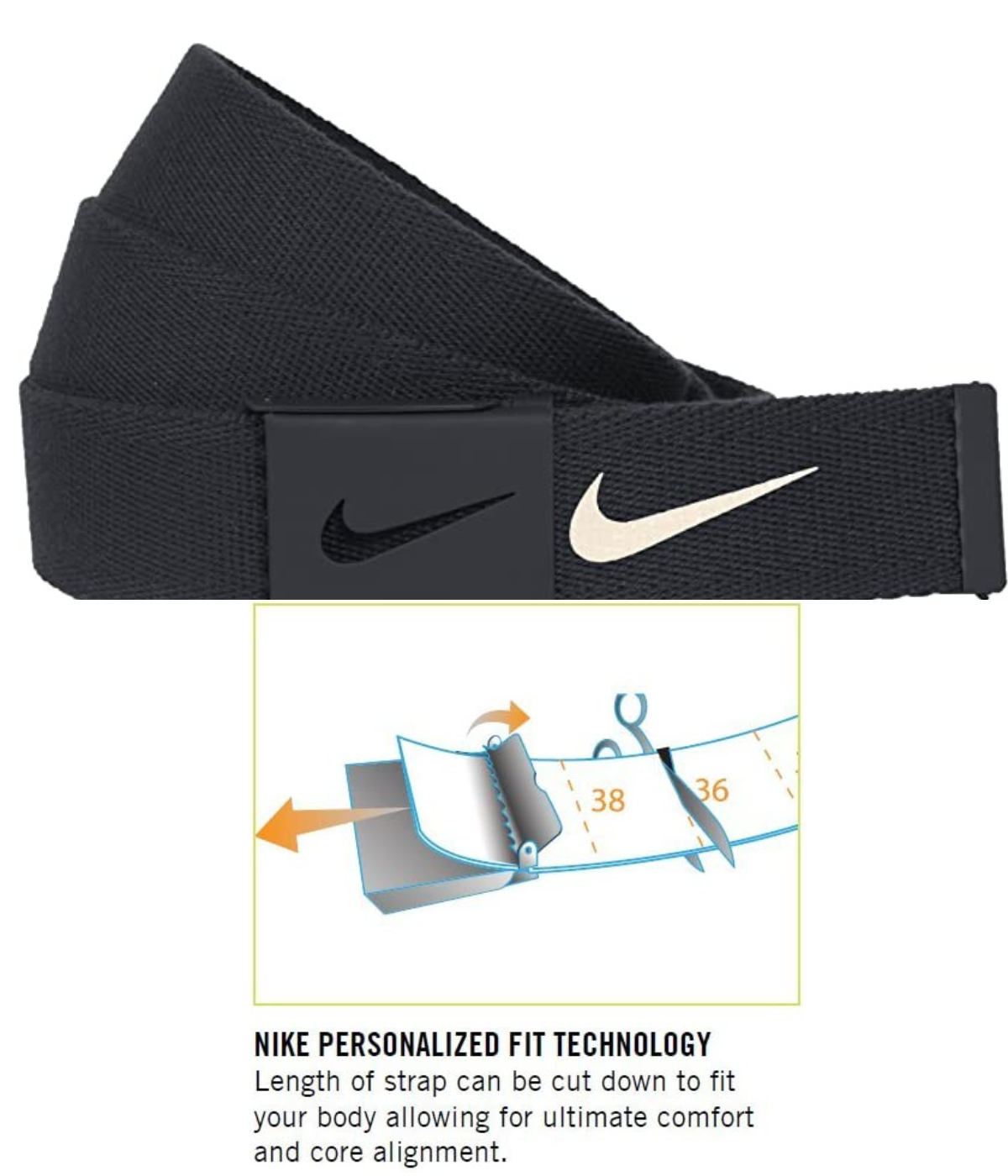 Nike Men's Tech Essential Web Belt, Black, One Size
Coated Military-Inspired Buckle
Check Price On Amazon
Why We're Fans
Nike's reversible cotton web belt has adjustable sizing and will fit most folks up to a size 42. Has a rubber-coated military buckle with a built-in bottle opener.
What To Know
Material - Cotton 100%
Includes an adjustable closure
Can be machine washed
Reversible webbed cotton-belt with a built-in bottle opener as part of the coated military-inspired buckle
Callaway Men's Solid Webbed Belt
Callaway Men's Solid Webbed Belt
Can Be Cut Down To Any Size Required
Check Price On Amazon
Why We're Fans
You are able to cut to a custom length size. Good quality material. The belt fits and looks stylish.
What To Know
100% Polyester
Utilizes a buckle closure
Runs a little wide
Italian Calfskin Genuine Leather Designer Golf Dress Belt 1-1/8"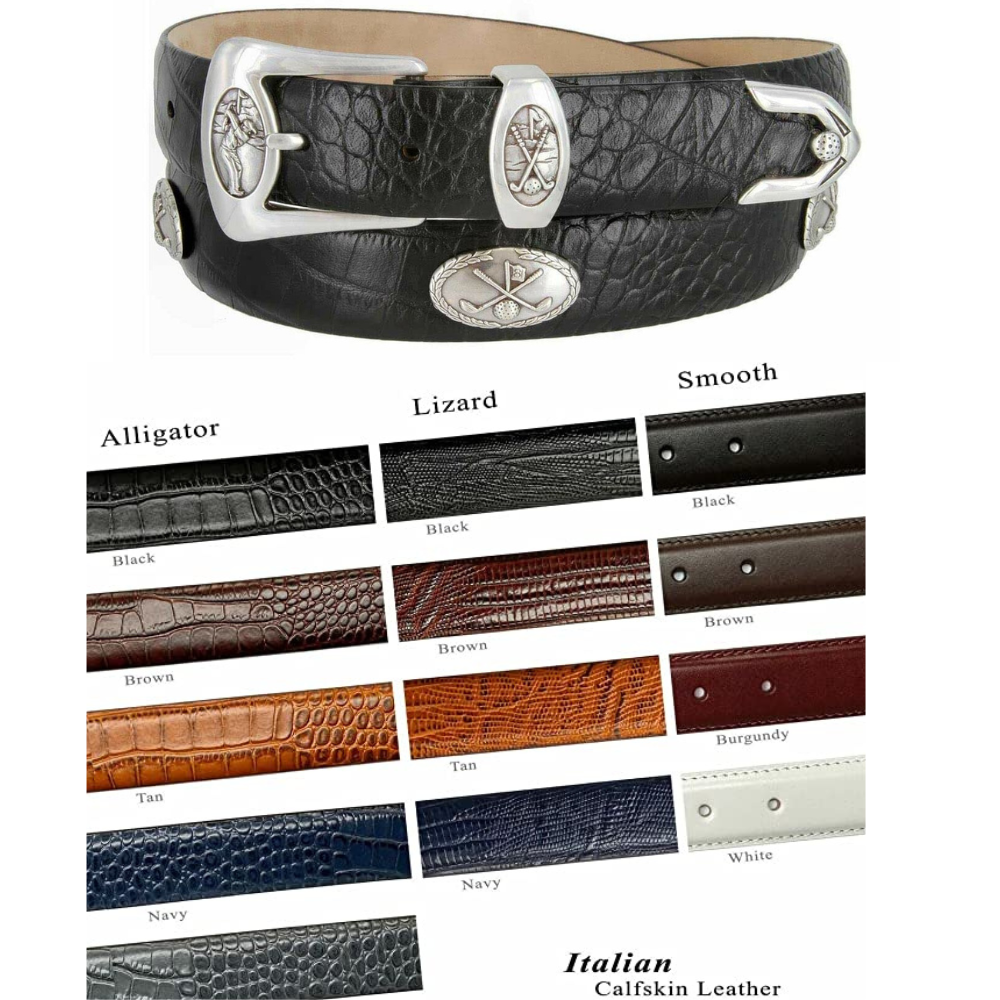 Italian Calfskin Genuine Leather Designer Golf Dress Belt
Italian Calfskin Genuine Leather
Check Price On Amazon
Why We're Fans
This high quality Italian Calfskin genuine leather belt has a hand polished silver and silver gold plated 3-piece buckle set along with 5 conchos. It offers 7 belt holes for flexible adjustment and has a width of 1-1/8".

Includes Alligator and Lizard embossing or choose a smooth leather belt.
What To Know
Genuine leather Italian Calfskin
Assembled and designed in the U.S.A.
Includes buckle closure
Clean with dry cloth
Perfect designer dress belt for any occasion, business or sport.
The best way to measure your belt size is to measure around your waist where you usually wear your belt and add 2 inches to the measurement. These belts are measured from the fold to where the buckle is attached to the hole in the middle.
If using an existing belt it's recommend to measure from the fold to the hole where you wear the belt.
Belts and Apparel
When it comes to looking like a pro on the golf course, it all starts with having the right gear. You don't just have one outfit so why would you have just one golf belt?
For any golfer, golf belts might be among the most elementary piece of golf apparel you're likely to come across. Nevertheless, it's an important part of your golf arsenal.
Golf belts for men typically range in width from 1.5 to 2 inches. The width you choose should be based on your personal preference and also on the size of your waist.
If your waist is large and you want a belt that is wide, a 2-inch belt will fit best. If you have a smaller waist, a 1.5-inch belt is probably more your size. The belt loops on your pants will also determine golf belt width size.
And while there are a lot of different ways to accessorize your golf outfit, one of the most important pieces is the belt. The right belt can really pull your whole look together and make you feel more confident as you take your swing.
The Best Golf Belts to Up Your Style Game - Color and Pattern
Black and brown are two safe options, but it's always a good idea to test new colors as well. Next, it's essential to be certain that the golf belt has a reliable buckle that won't break or diminish over time.
You want to aim for a universal look that complements your golf apparel and makes you appear sharp on the course. Solid colors are a safe bet, but don't be afraid to experiment with many different textures and patterns.
A Guide to Choosing the Best Golf Belt
When it comes to golf, having the right equipment is essential to playing your best game. That includes having a good golf belt. Not only do you need a golf belt that will hold up your pants while you swing, but you also want one that looks good.
With so many brighter colors on the market, it can be tough to know which belt is right for you. Here is a beginner's guide to choosing the best golf belt.
Choose something durable for the belt made of high quality leather, which is appropriate to wear for many rounds of golf. Leather is a traditional choice for golf belts, but it is also popular for synthetic alternatives.
Golf requires a variety of accessories to improve your game. A belt is just one of them. Although belts may not seem like a major contributor to your game, using the right ones can significantly improve how your swing and game as a whole.
Are you planning to be golfing for a long time? If so, look for the golf belt that feels comfortable and is made from quality materials. A comfortable belt is only part of what you should be looking for. You also need to ensure the quality of the belt will maintain strength when it's on.
Best Golf Belts: A Belt for Every Budget
Men's golf belts can range in price from under $20 to over $100. It's important to find one that fits within your budget and meets all of your other criteria. We've put together this buying guide to help you find the best golf belts to meet your exact needs.
Consider how much it is you want to commit on a belt. If you want a higher-end design, we have models that you will benefit from. However, if you prefer a value-conscious option, there are ones that will work for you too. Look for special offers when you buy.
Whether you are searching for a fresh golf belt to add to your private collection or you require a substitute to your worn-out, tattered one, you will get many diverse choices to pick from.
We've rounded up a few of the best selling golf belts. To get you to the best place possible, our list features a belt for every budget.
Conclusion:
The best golf belts are those that look good, feel good, fit well, and are affordable. With so many options on the market, it can be difficult to choose the right one. However, by following these guidelines, you can be sure to find the perfect golf belt for your needs.
FAQ's - Golf Belts
What belt should I wear for golf?
There is no definitive answer to this question, as it depends on personal preference. However, many golfers prefer to wear a belt that is either white or tan in color, as these colors tend to be more flattering and versatile. Additionally, it is important to choose a belt that is comfortable and won't slip during your swing.
Can you use any belt for golf?
Yes, Some people prefer to use a regular belt, while others prefer a golf-specific belt. Ultimately, it's up to the golfer to decide what works best for them.
What does a white belt mean in golf?
Since it can look sharp to match the golf shoes to a belt, golfers sometimes prefer to wear white belts. White belts, too, are worn because they offer a distinctive impression, and they can also work to differentiate certain colors in shirts and pants.
Why do so many pro golfers wear white pants?
There are a few reasons why white pants are popular among professional golfers. First, white pants are a classic look with a white leather belt is a very flattering color and can help golfers look their best on the course. Second, white pants can help keep golfers cool in warm weather. And finally, white pants can help golfers stay visible on the course, which is important for safety purposes.
What is the purpose of a golf belt?
Regardless of whether you favor pants, shorts or golf pants, the optimal belt is an integral part of your golf attire. It's not only functional, but also helps keep your pants and polo shirt in place, and a belt can also give your outfit some additional flair by looking more elegant or personalized.
Do I have to wear a golf belt?
Certainly, you don't have to wear a golf belt. But it's advisable to do for a number of reasons. The first one is that golf belts can improve the rest of your outfit. They can also improve your playing posture and could even keep your trousers from falling down when you play golf.
What color should your golf belt be?
Whatever color belt you are comfortable wearing is what color belt you should be wearing. There are people who say you should never wear two specific colors together, but if you wish to wear a traditional black or brown belt, go ahead and do that.
It's your choice to decide what to wear, whether it be polyester or leather belts, as this decision is only up to you. You don't need to have just one belt. Pick up a collection.
Bonus question - Where do pro golfers get their belts?
Many pro golfers get their golf belts from the House of Fleming located in Atlanta, GA. There are also a few other places that pro golfers can get their belts. Some companies that make golf apparel, like FootJoy, Callaway, adidas and Nike, sell belts specifically designed for golfers. These belts usually have a metal loop in the back that can be used to attach a golf towel. Other places that sell golf belts include department stores and online retailers.
Thank you for visiting and we hope to see you back soon!