When I'm out playing golf, it always pains me to see older golfers struggling with their golf swing. They should be having fun at this stage. Often times it's because they're stiff and sore and tight for lack of stretching and exercising.
With this article, I want to help change that through recommended stretching exercises for golfers over 50. I know this is a surefire way to significantly improve your game quickly.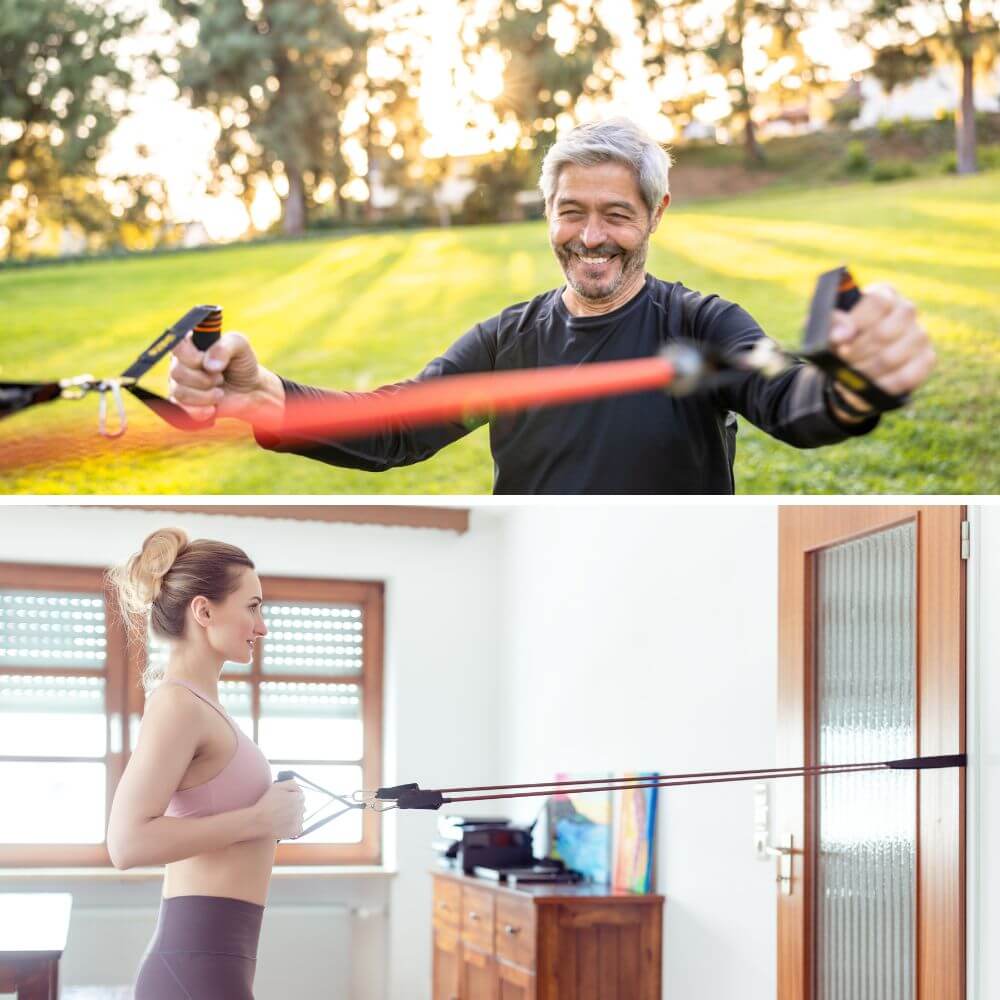 If you want to play golf into your 60's, 70's and beyond, incorporating a stretching routine into your golfing regimen can help enhance your flexibility, prevent injuries, and contribute to a fluid swing for years to come.
Stretching exercises for golfers over 50 are vital for maintaining good golf form and preventing muscle stiffness and discomfort.
Here are some exercises you can incorporate into a stretching routine:
1. Hip Flexor Stretch: Facing forward, start in a lunge position with your right foot forward and your left knee on the ground. Slowly shift your weight forward, feeling the stretch in the front of your left hip. Switch sides after 30 seconds.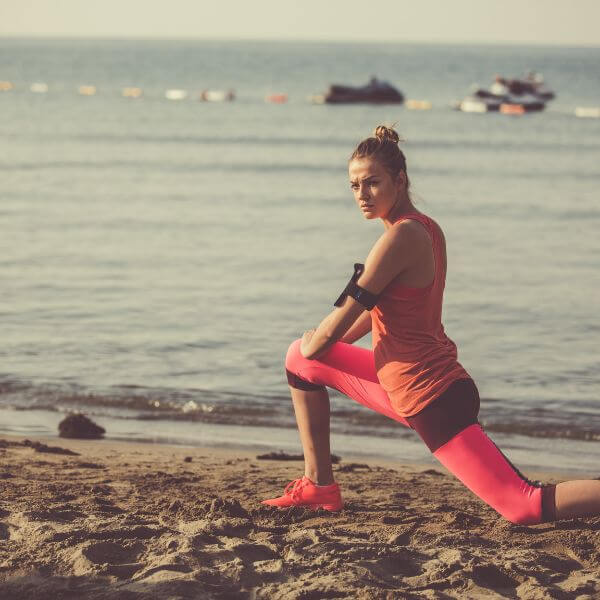 2. Thoracic Rotation: Sit on a chair with your feet flat on the ground. Place one hand behind your head and the other hand on your opposite knee. Slowly rotate your upper body to the side, looking over your shoulder. Switch sides after 30 seconds.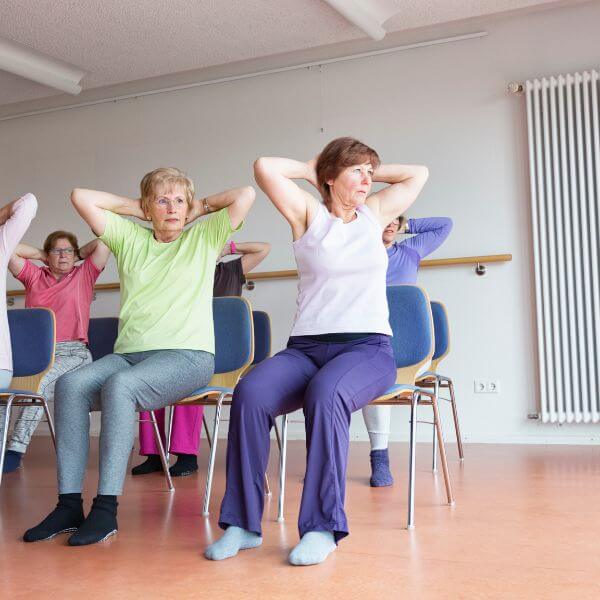 3. Hamstring Stretch: Sit on the edge of a chair and extend one leg straight in front of you with your heel on the ground. Keeping your back straight, lean forward from your hips until you feel a stretch in the back of your thigh. Hold the stretch for 30 seconds and repeat with the other leg.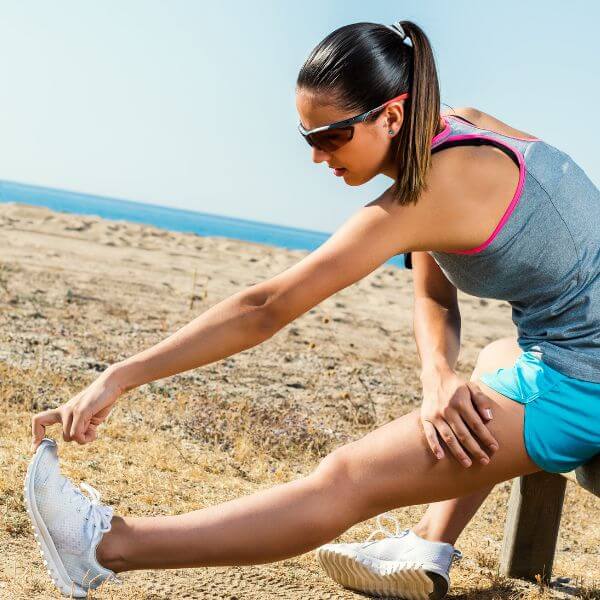 4. Shoulder Stretch: Stand upright and place one arm across your chest, using the opposite hand to gently pull the elbow towards your body. Hold the stretch for 30 seconds and repeat with the other arm.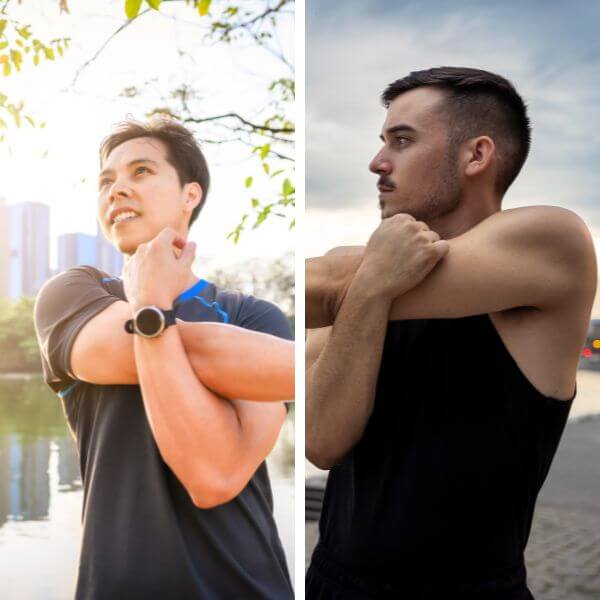 5. Calf Stretch: Stand facing a wall with one foot forward and the other foot back. Lean forward, placing your hands on the wall, and keep your back leg straight while bending your front knee. You should feel a stretch in your calf muscle. Switch sides after 30 seconds.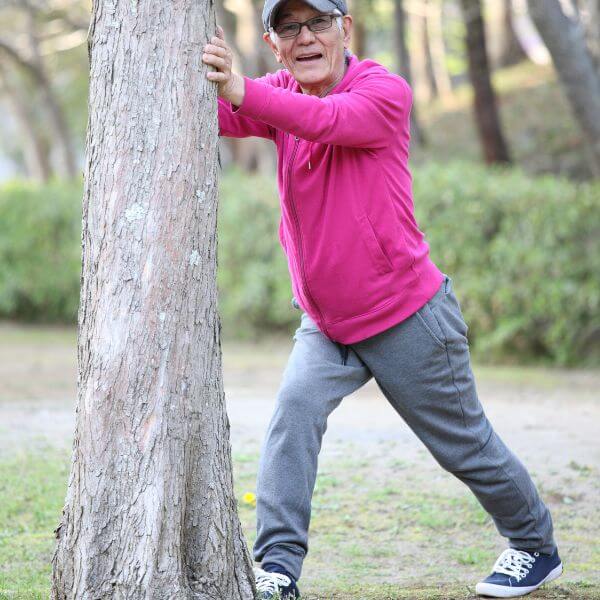 6. Spine Rotation Stretch: Start by lying on your back with your knees bent and feet flat on the ground. Raising your left arm place your left hand on your right knee and gently twist to the right, keeping your back flat on the ground. Switch sides after 30 seconds.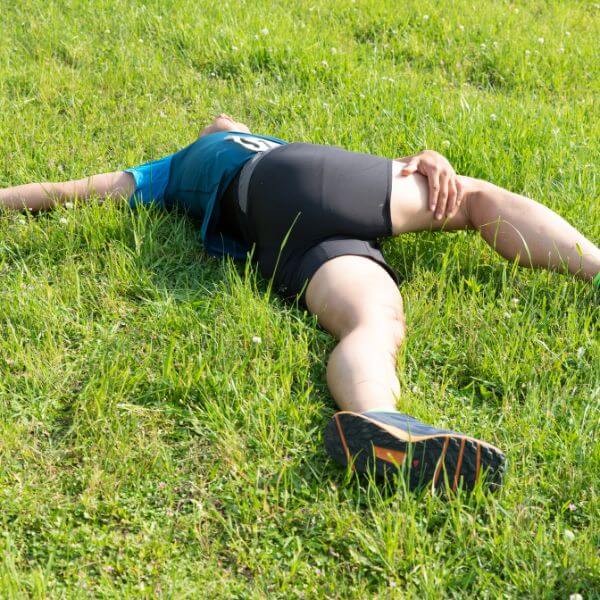 Note: The information provided here is based on general knowledge and recommendations for stretching exercises for golfers over 50.
It's always advisable to consult with a healthcare professional or a certified golf fitness specialist to create a personalized exercise program based on individual needs and limitations.
Enhancing Your Golfing Experience
Stretching is an integral part of any fitness routine, and golf is no exception. By focusing on exercises to increase golf swing flexibility, you can optimize your body's range of motion.
This will improve your swing mechanics, and ultimately enhance your overall golf game. Here are some key aspects of stretching exercises for golfers over 50:
1. Golf Stretches for Flexibility and Range of Motion
Incorporating golf-specific stretches into your routine can help improve your flexibility and increase your range of motion. Golf stretches for seniors target essential muscle groups, such as the lower back, hips, hamstrings, and shoulders, which are crucial for an effective golf swing.
2. Strengthening Exercises for a Fluid Swing
To achieve a fluid golf swing, it's essential to strengthen the muscles involved in the golfing motion. By targeting key muscle groups, such as the core, glutes, and legs, you can improve your swing speed, stability, and overall muscle strength. Here are a few exercises to consider:
a. Weighted Golf Club Squats
Hold a weighted golf club across your shoulders, standing with your feet hip-width apart. Lower into a squat position, keeping your back straight and your knees aligned with your toes. Repeat for 10-15 repetitions.
b. Standing Rotational Twists
Holding a weighted golf club with both hands, stand with your feet shoulder-width apart. Rotate your torso to the right, then back to the center, and then to the left. Perform 10-15 repetitions on each side.
c. Single-Leg Balance
Stand on your right leg, slightly bending your knee, while lifting your left leg off the ground. Maintain your balance for 30 seconds, then switch legs. To challenge yourself further, close your eyes during the exercise.
Lower Back Care and Stance Stability
Maintaining a healthy lower back is crucial for golfers of all ages, especially for those over 50. A strong and flexible lower back helps prevent injury and ensures stability throughout your swing. Here are some additional tips to care for your lower back and maintain a stable stance:
1. Engage Your Core
Strengthening your core muscles, including the abdominals and obliques, helps support your lower back during the golf swing. Incorporate exercises such as planks, Russian twists, and bird dogs into your fitness routine to improve core stability.
2. Maintain Proper Posture
Maintaining good posture throughout your swing can alleviate stress on your lower back. Keep your spine neutral, avoid excessive rounding or arching, and engage your abdominal muscles to support your posture. Practicing proper posture during everyday activities can also contribute to a healthier back on the golf course.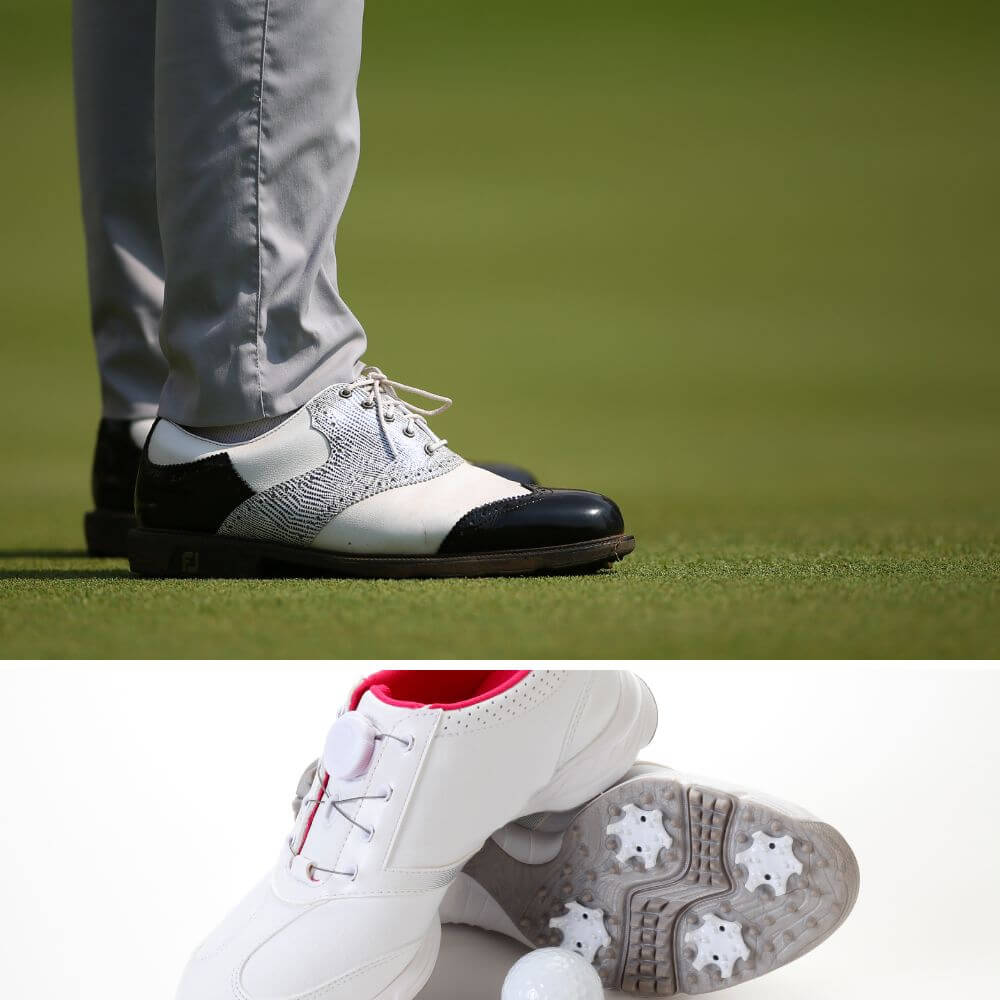 3. Improve Hip Mobility
Flexible hip joints are essential for a fluid golf swing and can alleviate strain on the lower back. Include exercises that target hip mobility, such as hip rotations, hip flexor stretches, and lateral leg swings, to improve your range of motion and overall stability.
Preventing Injuries and Enhancing Recovery
As we age, our bodies become more susceptible to injuries. However, by incorporating proper stretching techniques and recovery strategies into your routine, you can minimize the risk of injuries and optimize your golfing experience. Here are some essential tips to consider:
1. Warm-Up Before Each Round
Golf warm-up exercises are essential to start your round off right. Prioritize a dynamic warm-up before hitting the golf course.
Perform exercises that increase your heart rate, activate your muscles, and mimic the movements of your golf swing. This warm-up routine prepares your body for the physical demands of the game and reduces the risk of injury.
2. Hydrate and Fuel Your Body
Staying hydrated and properly fueling your body with nutritious foods is vital for maintaining energy levels and optimizing performance on the golf course. Drink plenty of water throughout your round and consume a balanced diet that includes lean proteins, whole grains, fruits, and vegetables.
3. Listen to Your Body
Pay attention to any signs of discomfort or pain during or after your golf rounds. Ignoring these signals can lead to further injury. If you experience persistent pain or discomfort, consult with a healthcare professional or a certified golf fitness trainer for guidance and appropriate exercises to address your specific needs.
Golf Stretching Routine for Older Golfers - FAQs
Are there any specific stretching exercises for senior golfers to alleviate back pain?
Yes, there are several stretching exercises that can help alleviate back pain in senior golfers. These include the cat-camel stretch, seated forward bend, and knee-to-chest stretch. Consult with a certified golf fitness trainer for proper guidance and modifications based on your specific condition.
Can golf stretches improve my swing speed?
While golf stretches primarily focus on flexibility and range of motion, they indirectly contribute to improving swing speed. By enhancing your body's ability to move freely and optimizing your swing mechanics, golf stretches can help you generate more power and increase your swing speed over time.
How often should I incorporate stretching exercises into my golf routine?
It's recommended to include stretching exercises at least three times a week as part of your golf fitness routine. Consistency is key to improving flexibility and reaping the benefits of stretching.
Are there any warm-up exercises I should do before playing golf?
Yes, warming up before playing golf is crucial for preparing your body for the physical demands of the game. Prior to teeing off, consider incorporating exercises such as arm circles, trunk rotations, gentle shoulder stretches, and hip swings to loosen up your muscles and increase blood flow to the working areas.
Can stretching exercises help prevent golf-related injuries?
Absolutely! Stretching exercises play a vital role in injury prevention for golfers. By improving flexibility, joint mobility, and muscle strength, you can reduce the risk of strains, sprains, and overuse injuries. It's important to combine stretching with proper warm-up, technique, and rest to maintain optimal physical health on and off the golf course.
Final Thoughts
Congratulations! You've learned the importance of golf exercises for improved performance. Stretching exercises for golfers over 50 can significantly improve your game. By incorporating a regular stretching routine, focusing on flexibility, strengthening key muscle groups, and prioritizing injury prevention, you can enhance your golfing experience and continue enjoying the sport for years to come.
Remember, golf is not only a game of skill but also a journey of self-improvement and enjoyment. Embrace the process, stay committed to your fitness routine, and keep challenging yourself both mentally and physically. With dedication and perseverance, you can achieve your golfing goals and experience the joy of playing the game you love.
Remember, before starting any exercise program or incorporating new stretches into your routine, it's always recommended to consult with a healthcare professional or a certified golf fitness trainer. They can provide personalized guidance based on your specific needs, fitness level, and any underlying medical conditions.
Incorporating stretching exercises for golfers over 50 into your fitness routine can be a game-changer. So grab your golf clubs, hit the practice range, and embrace the journey to becoming a better golfer while taking care of your body along the way. Happy golfing!
Thank you for visiting, and we hope to see you back soon!