Note: We use affiliate links and may receive a small commission on purchases at no additional cost to you.
Top 5 Best Golf Shoe Bags for 2023: A Comprehensive Review & Guide
If you're the kind of person who prefers walking to riding, then you probably know how essential it is to carry your shoes around with you wherever you go.
If you're just an occasional player, however, you might find yourself torn between your desire to carry your golf shoes and the need to keep them organized and clean in between uses.
The perfect solution? Investing in a great golf shoe bag that will keep your golf shoes safe while allowing you to carry them in your vehicle for easy access. These best golf shoe bags protect your golf shoes for long term use and our top-rated golf shoe bags also provide easy to carry convenience.
Benefits of Using Golf Shoe Bags
Golfers spend all day outside in the sun, and this can cause the leather on their shoes to dry out, crack, and tear more easily than if they were kept inside where it's cool and dry.
Keeping your golf shoes in high-quality golf shoes bag will help protect them from the elements so you can use them over and over again without any problems. Plus, they'll look better than ever! Here are the top benefits of having golf shoe bags to keep your shoes safe from harm and looking great at the same time.
Protect Your Golf Bag From Your Golf Shoes: Throwing your golf shoes into one of the sleeves of your golf bag can damage both items. The shoes can take up too much room and cause you to stress the pockets when trying to add other things in. Your shoes can become twisted and contorted being forced into tight places. A good shoe bag will help keep them looking new.
Prevent Wear And Tear On Your Nose: One of the biggest advantages of using golf shoe bags is that it may help keep your shoes from deteriorating and provide air flow to allow odors to dissipate.
Save The Heavy Lifting For The Gym: Keeping your shoes in shoe bags will reduce weight in your golf bag.
Carry A Variety Of Shoes: Having a Golf Shoe Bag can double up when needed and allows you to carry any type of shoes you prefer.
How We Choose the Best Golf Shoe Bags
We've done the research to provide you with options to help you choose the one that best fits your needs. Our experts have read through the reviews to find the ones that offer quality, value, and convenience. We only recommend products that have 4 or 5 stars and are backed by real customer reviews.
Top 5 Best Golf Shoe Bags for 2023
CaddyDaddy Golf Shoe Bag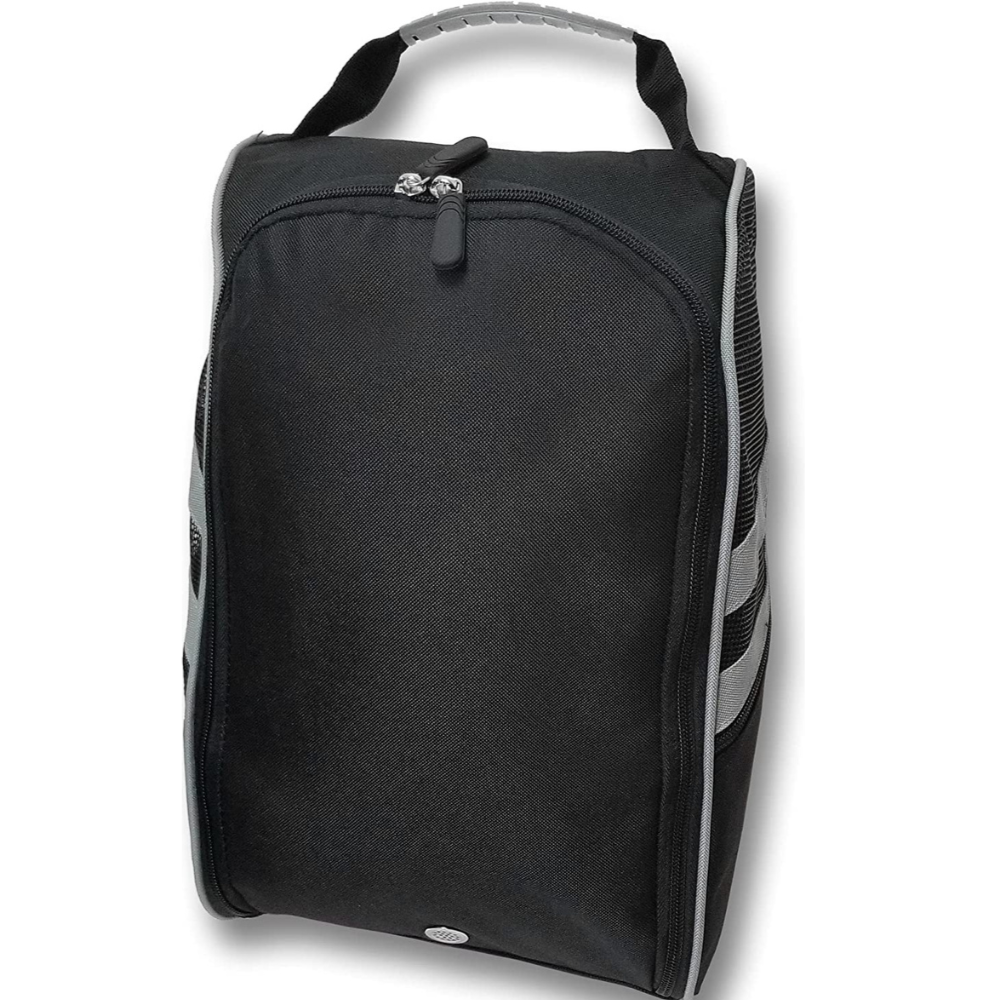 CaddyDaddy Golf Shoe Bag
Stylish, Modern Golf Shoe Bag
Check Price On Amazon
Why We're Fans
The recently upgraded Modern golf shoe bag provides outstanding ventilated mesh front door, center divider to keep shoes scuff free and 3 zippered pockets for tees, balls and socks. You can store all of your equipment such as cleaning supplies and spikes. The easy-grip rubber carry handle makes it easy to carry and the bag can double up to be used for any type of shoe you prefer should the need arise.
What To Know
STYLISH, MODERN GOLF SHOE BAG: The CaddyDaddy storage bags for golf shoes provides an easy way to carry your shoes separate from your golf bag. Designed from long-lasting, high-quality 600D fabric, the storage bag features an opening with a horseshoe design in the front for easy access and will last well into the future.
VENTILATION TO KEEP THE STINK AWAY: Ventilation mesh holes are provided on both sides of your bag to facilitate the elimination of odors and air out the smell. This allows the material of your shoes to breathe, thus keeping them from harboring unpleasant-smelling smells.
INTERNAL REMOVABLE DIVIDER: An internal partition is also included to keep the shoes apart and prevent scuff damage. The divider is removable should you wish. This unisex shoe bag is perfect for both men and women and can handle shoe sizes up to males' size 14.
EXTRA POCKETS: The bag also includes two side zippered pockets and a large back pocket, providing enough room to store all additional golf-related equipment like tees, socks, balls, gloves, smartphones, and so forth.
EASY CARRY, LIGHTWEIGHT, VERSATILE: The bag is versatile and can carry any type of shoe you or your family own, dance shoes, soccer shoes, gym shoes, travel boots, cycling shoes, work boots, etc.. The bag is large enough to be utilitarian and can be used for a range of other things as well.
Athletico Golf Shoe Bag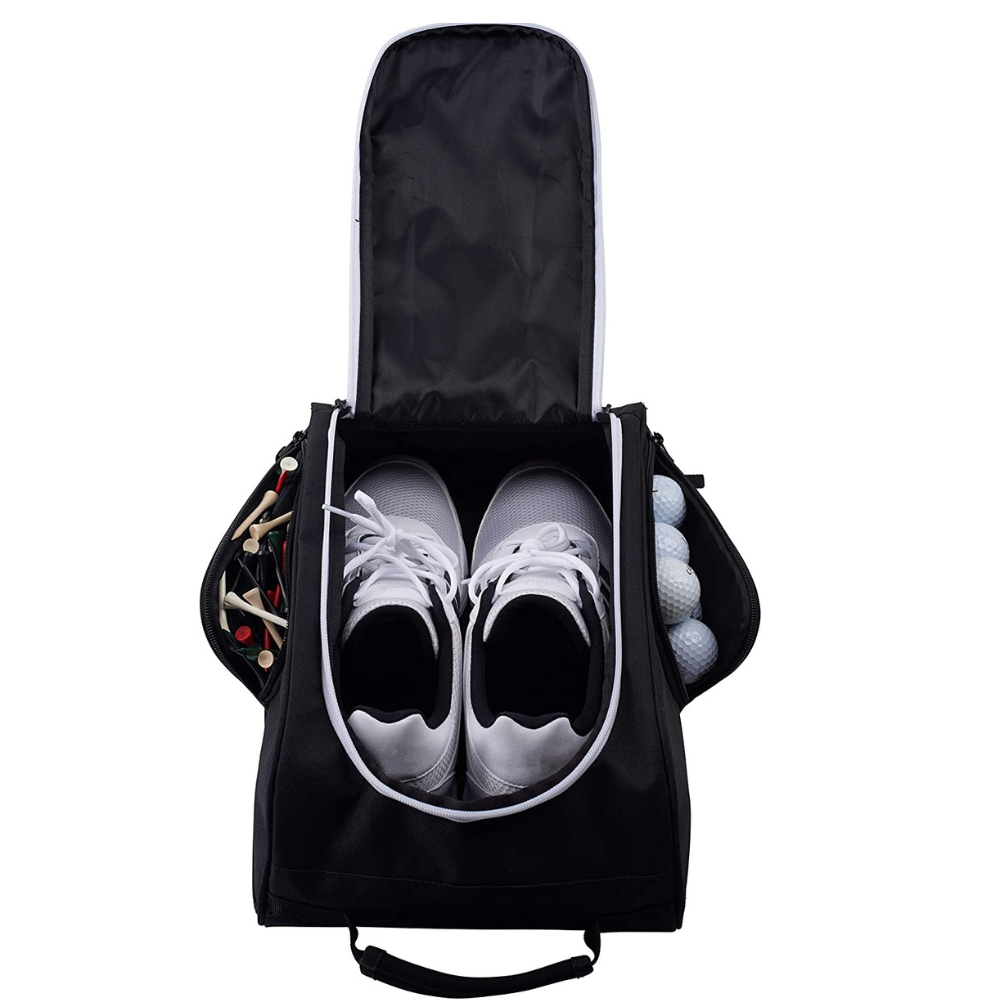 Athletico Golf Shoe Bag
Great Size, Not Too Bulky!
Check Price On Amazon
Why We're Fans
The mesh runs along both sides of the bag top to bottom. The bag is sturdy and will last a long while.
Enough room in the zippered pocket for golf shoes, shorts, shirt, and a couple of pockets on the side make this the perfect golf shoe bag. There are ventilation vents to help combat those unavoidable odors, and the sturdy polyester fabric makes it simple to clean.
What To Know
KEEP YOUR SHOES WITH YOU AT ALL TIMES - The Athletico golf shoe bag enables you to easily have your golf shoes with you at all times. Just keep them stored in your car for when you're ready to hit the course. Side pockets are available to store miscellaneous items, be they tees, extra shorts or top, golf balls, and socks.
BUILT IN VENTILATION KEEP THE STINK OUT - Mesh side ventilation is provided to enable air to freely circulate through the bag, allowing your shoes some time to completely dry out and dissipate odor.
PERFECT TO CARRY SHOES FOR ANY OCCASION - Made with the golf game in mind, this bag will also work well off site for any type of athletic footwear - baseball, basketball, soccer shoes. You can use it to travel and tote your work shoes, dress shoes or high heels even.
EASY ON YOUR WALLET BUT BUILT TO LAST - This golf shoe bag was designed so that it would be cost-effective in price but not in quality. The durable 600D polyester fabric will last for a long time and is water resistant.
Adidas Stadium 2 Golf Shoe Bag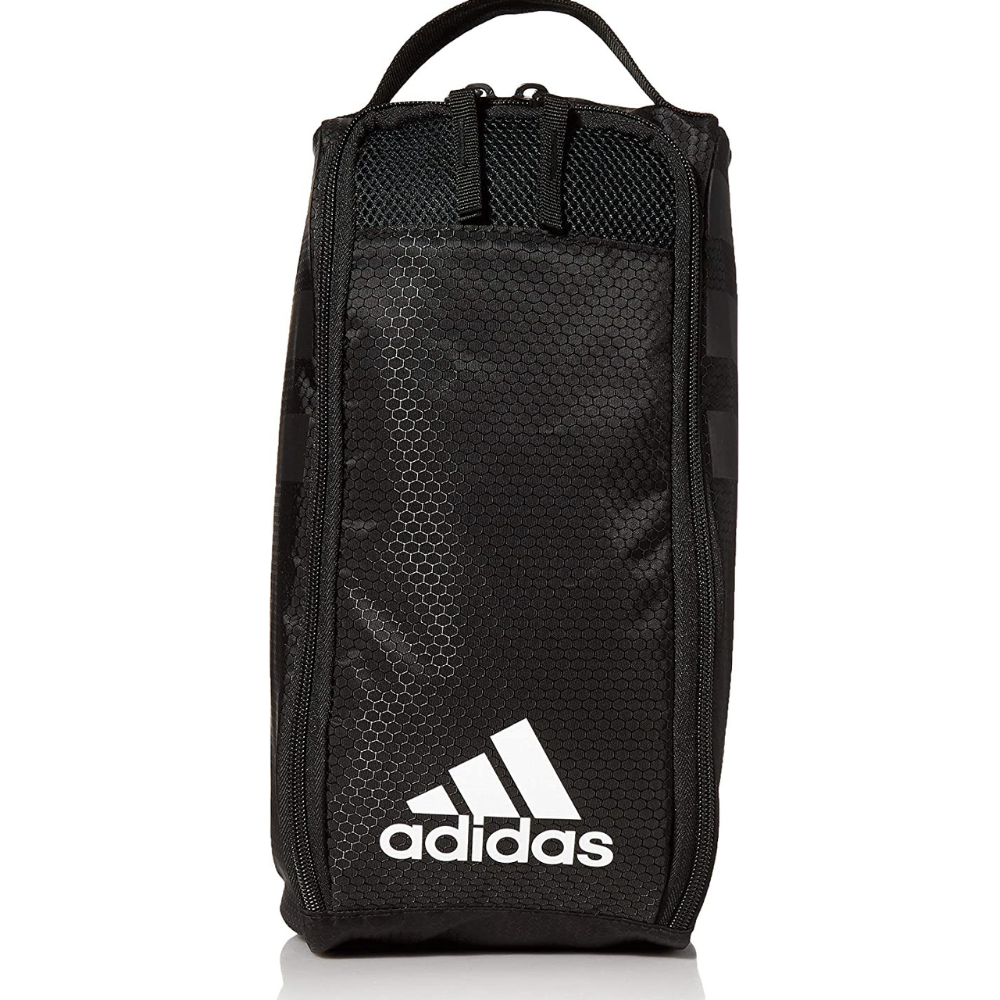 adidas Stadium 2 Golf Shoe Bag
Check Price On Amazon
Why We're Fans
This adidas shoe bag is ideal for carrying your golf shoes. The Stadium 2 is versatile and works well for any sports shoes. The polyester design is made with excellent construction, as is expected by adidas.
The comfortable webbing loop handle is easy on the hands with the top of the bag having a Fresh Pak ventilation area to help air out your shoes after a long day of golf.
What To Know
This shoe bag has ventilation to allow shoes to dissipate sweat and dry out.
Main compartment is lined.
The handle is made of webbing for easy carry.
Callaway Golf Female Uptown Shoe Bag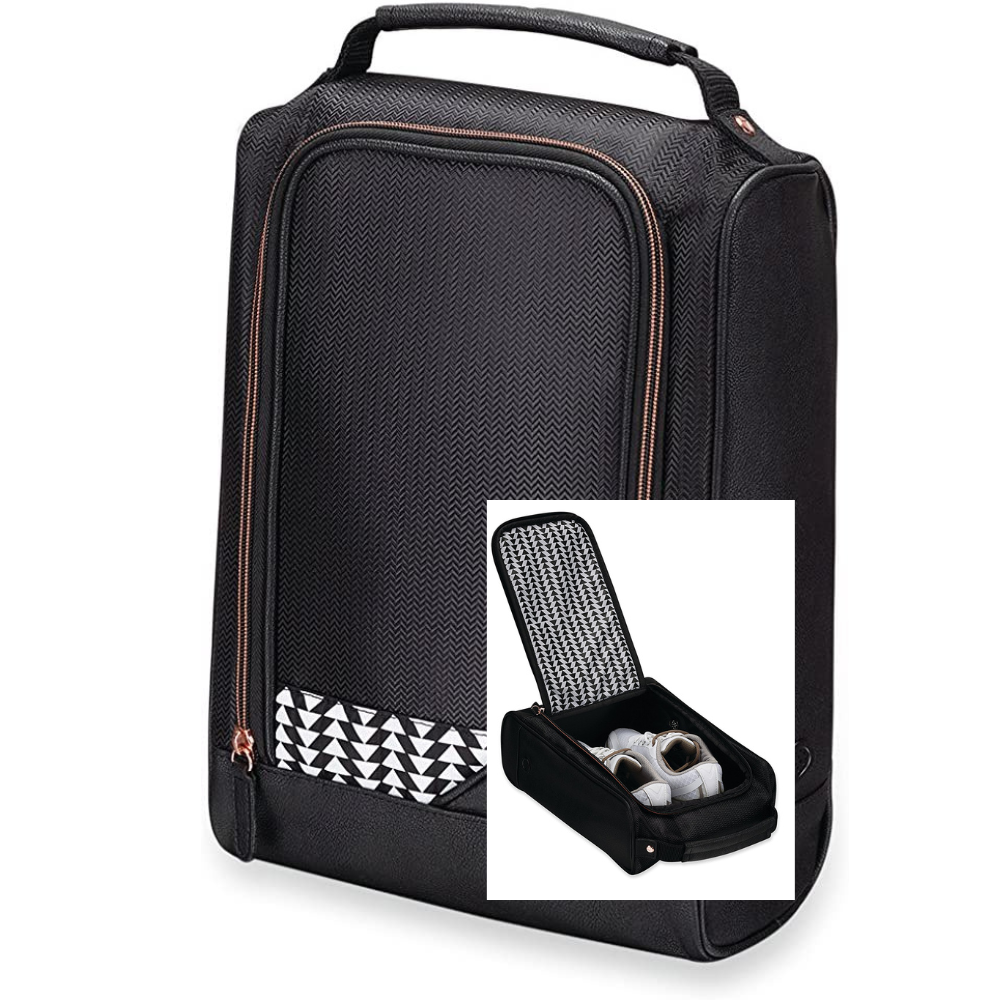 Callaway Golf Female Uptown Shoe Bag
Easy Open Zippered Front Access
Check Price On Amazon
Why We're Fans
Although the above mentioned bags can be utilized as unisex, women sometimes want their own specifically designed bag. This bag meets the requirements and would make a great gift for golfing wedding bridesmaids, birthdays, etc..
What To Know
Front access to easy open zipper
2 venting grommets
Grab handle on top for ease of carrying
Fits most shoes
Murray Sporting Goods Golf Shoe Bag for Men and Women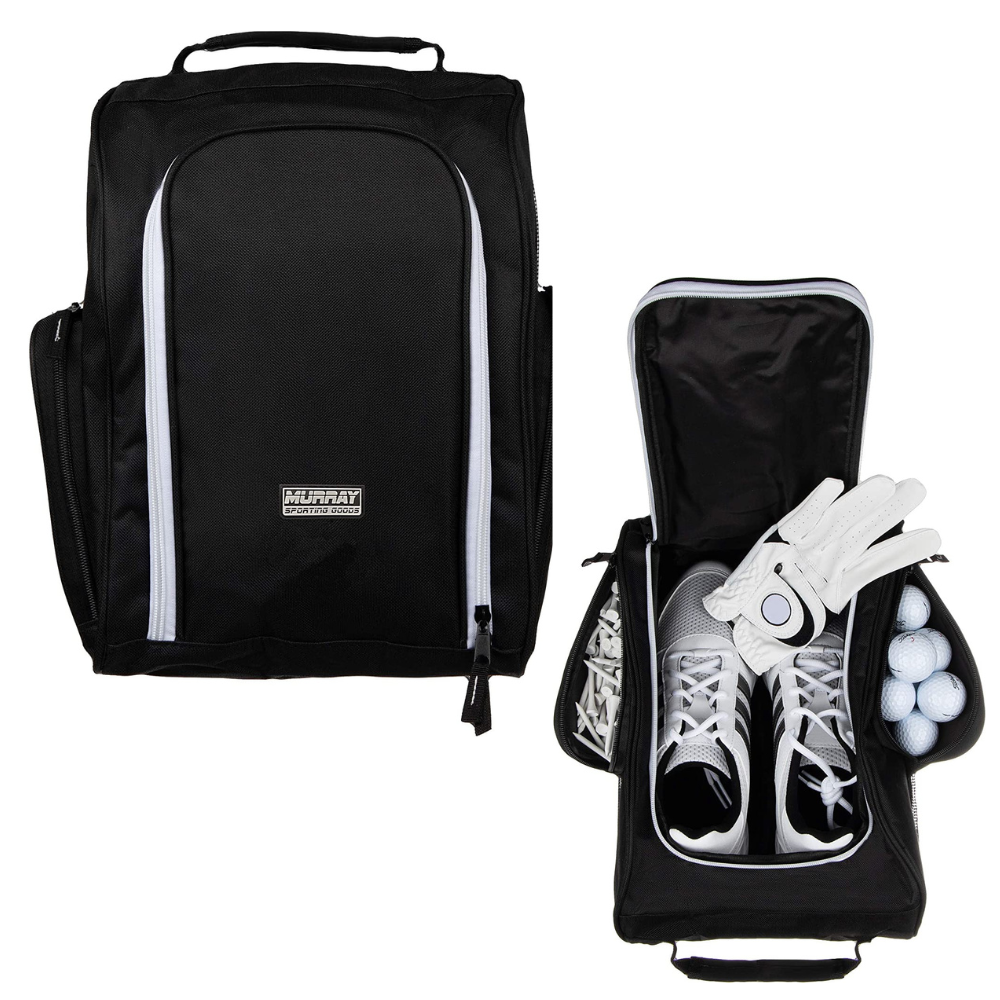 Murray Sporting Goods Golf Shoe Bag for Men and Women
MAXIMUM AIRFLOW WITH BUILT-IN VENTILATION
Check Price On Amazon
Why We're Fans
Keep your golf shoes packed and ready at your fingertips with the help of the Murray Sporting Goods Golf Shoe Bag. This golf accessory shoe bag is also great for all shoes sports, ballet shoes and dress shoes. Handles shoes up to a men's size 14.
The sports shoe bag comes with two large side pockets for storing your necessary accessories, i.e., tees, divot tool, balls, socks, etc.. The bag comes in a black color with white zipper. Made with a trouble-free glide zipper to facilitate ease of use while removing your shoes from the bag.
What To Know
BAG TO PROTECT YOUR GOLF SHOES: Breathable and lightweight the design ensures your golf shoe bag is your go to for carrying any type of shoes you desire.
MAXIMUM AIRFLOW WITH BUILT-IN VENTILATION: The easy-glide zipper lets you get your shoes in and out with ease. The side mesh vents provides ventilation to reduce the smell of sweat from your shoes. Also comes with two golf accessories pockets for storage.
PORTABLE CUSHIONED HANDLE: A robust handle makes transport of your golf accessories and bags much easier to do.
PERFECT FOR ANY OCCASION: This durable shoe bag is produced using 600D polyester material.
Frequently Asked Questions About Golf Shoe Bags
Is a golf shoe bag necessary?
No, a golf shoe bag is not necessary. You can store your golf shoes in a regular ol' duffle bag or backpack. However, if you want to keep your golf shoes looking nice and clean, then a golf shoe bag is a good idea. Plus, it's an easy way to keep your shoes from getting mixed up with the rest of your gear.
What is the purpose of a golf shoe bag?
To keep your golf shoes together and organized! A golf shoe bag is a great way to store and transport your golf shoes, keeping them clean and protected from the elements.
Do golf shoes fit in golf bag?
Yes, golf shoes fit in golf bags. In fact, some golf bags have a special compartment for storing golf shoes. This helps to keep the shoes from getting dirty or scuffed while they're being transported. Most people end up using the compartment for storing other items and consequently end up purchasing a golf shoe bag.
Bonus question - How do you travel with golf shoes?
There are a few things to keep in mind when traveling with golf shoes. First, make sure they are clean and dry before packing them. Second, pack them in a bag that will protect them from getting scuffed or damaged. And finally, if possible, try to avoid checking them as baggage on flights.
Conclusion
In conclusion, the golf shoe bag is a must-have for any golfer. It is durable, lightweight, and has plenty of space for all of your golfing gear.
With its many pockets and compartments, you can easily organize your things and keep them within reach. So don't forget to pack your golf shoe bag the next time you hit the links!
Thank you for visiting and we hope to see you back soon!