Note: All products featured on GolfOften.com are researched and selected by our editors. However, when you buy something through us, we may receive a small commission at no additional cost to you.
When you go to the golf course, do your hands start to sweat? Sweaty hands are an inevitable part of playing golf. Moreover, golf is a game that demands extensive use of your hands.
As a result, sweaty hands can interact with gripping your golf club correctly, which can negatively impact your game. Like picking the perfect putter grip it is important to also look for the perfect grip for your irons.
The thing to remember when playing golf is to be as precise as possible. The key to achieving this goal is maintaining a firm grip on the club. So, when your hands are sweaty, you'll need the right golf grips to grip the club properly.
Several golf grips available on the market are suitable for sweaty hands. So in today's review guide, we will shed some light on the best golf grips for sweaty hands. Let's dive in.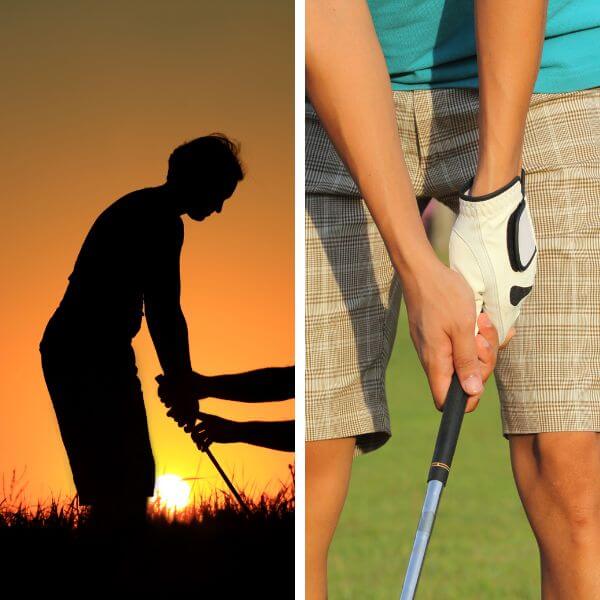 What to Consider When Choosing Golf Grips for Sweaty Hands
There are many great grip options out there, so before buying one, think about the suggestions below. So, make sure your grips meet each of these criteria before you order and as a result, you'll most likely end up with your dream grip.
Size
An essential factor to consider is choosing the correct size. Golf grips come in various sizes and thicknesses, so choose a grip that fits your hand perfectly.
Golfers with larger hands will obviously need larger grips. While women and juniors will be best served choosing smaller grips.
If you use the best-fitted golf grips, you'll experience excellent shock absorption.
The Texture
It is then necessary to consider the texture of the grips. You'll want a grip with an easy-to-hold texture. If your hands are sweaty, you should choose rougher grips to hold the clubs more firmly.
Several smooth grips are available on the market now, which are great for some golfers, however, you should avoid using these grips if your hands tend to sweat.
The grip surfaces with smoother textures are more slippery and make it harder to control the club.
Design
The design of the grip is also an essential factor to consider. However, this depends on the preferences of the individual.
However, since your top hand is the source of most of your power, the design should prioritize supporting it.
Choosing something with more texture, such as a wrap design, might be better. It has a comfortable feel and a superior surface, making it an excellent choice.
Feel
Finally, we want to emphasize the importance of how the grips feel. Your grip greatly influences how comfortable you feel when gripping your golf club.
You must consider these certain factors when choosing golf grips for sweaty hands as it can make all the difference in the world to your game.
Best Golf Grip for Sweaty Hands
Below you will find our top ten choices for some of the best golf grips for sweaty hands you can select from.
How We Choose
By researching the market, we have provided you with a variety of options so that you can select the one that best fits your needs.
Our professionals have chosen products that combine reliability, affordability, and efficiency based on the reviews.
We only recommend products that have 4 or 5 stars and are backed by real customer reviews.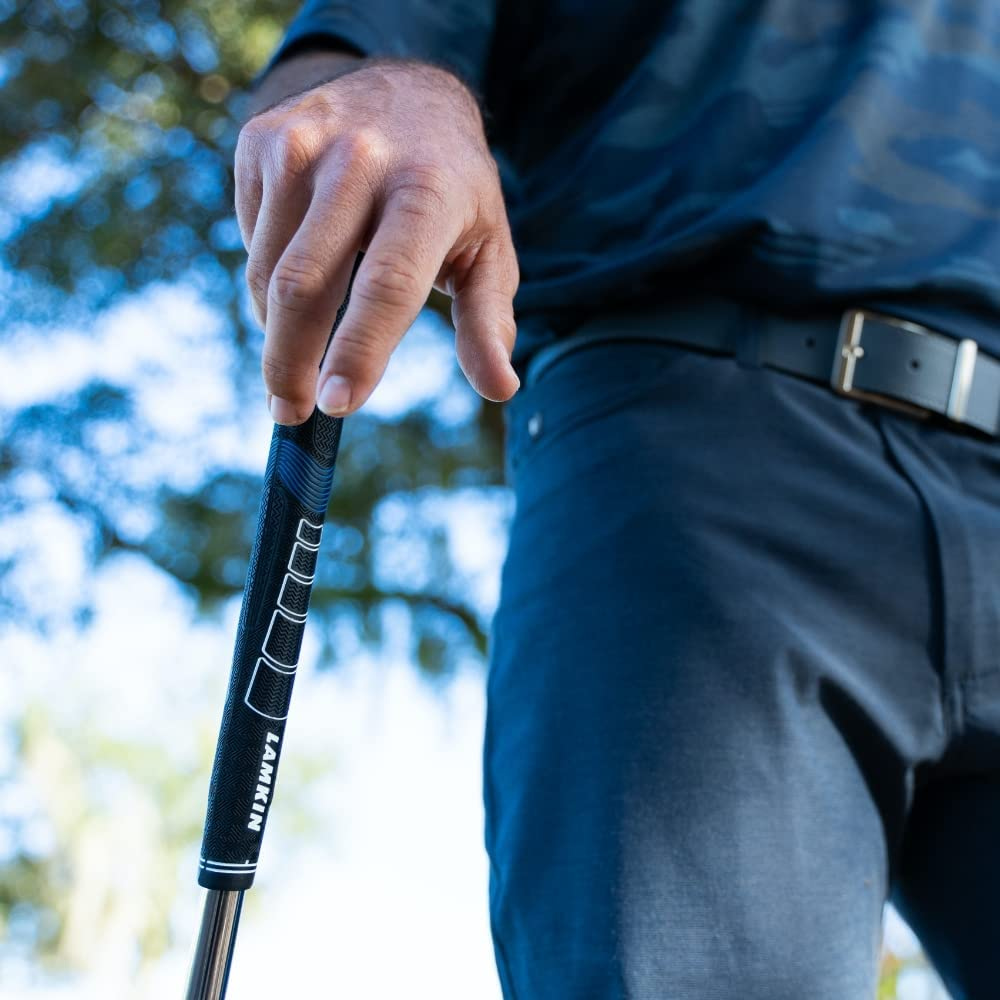 Easily Maintain Grip Pressure and Reduce Moisture
Check Price On Amazon!
There is no doubt that Lamkin Sonar golf grips are one of the best golf grips for sweaty hands. With this golf grip, you can easily maintain your grip's pressure points while keeping moisture away.
Lamkin has created this grip using a proprietary process to provide a microtextured surface. Throughout the grip, there are a series of tiny grooves that run diagonally. The modest groove size contributes to increased sensation.
Moreover, this product has a less tapered shape than others, contributing to its effectiveness. Consequently, your bottom hand has a bigger surface area to produce friction and grip.
The grip comprises hybrid rubber composites, a softer outer layer, and a durable core. Golf grips like this are popular with those who prioritize their short game. The grip should feel good, and you should be able to trust it not to twist.
Pros
Lamkin Sonar golf grip has a unique traction pattern
It has a less tapered shape compared to others
It features a micro-textured surface
The sonar pattern keeps moisture out
The material is a hybrid rubber compound
Cons
Grip only, no sticky tape provided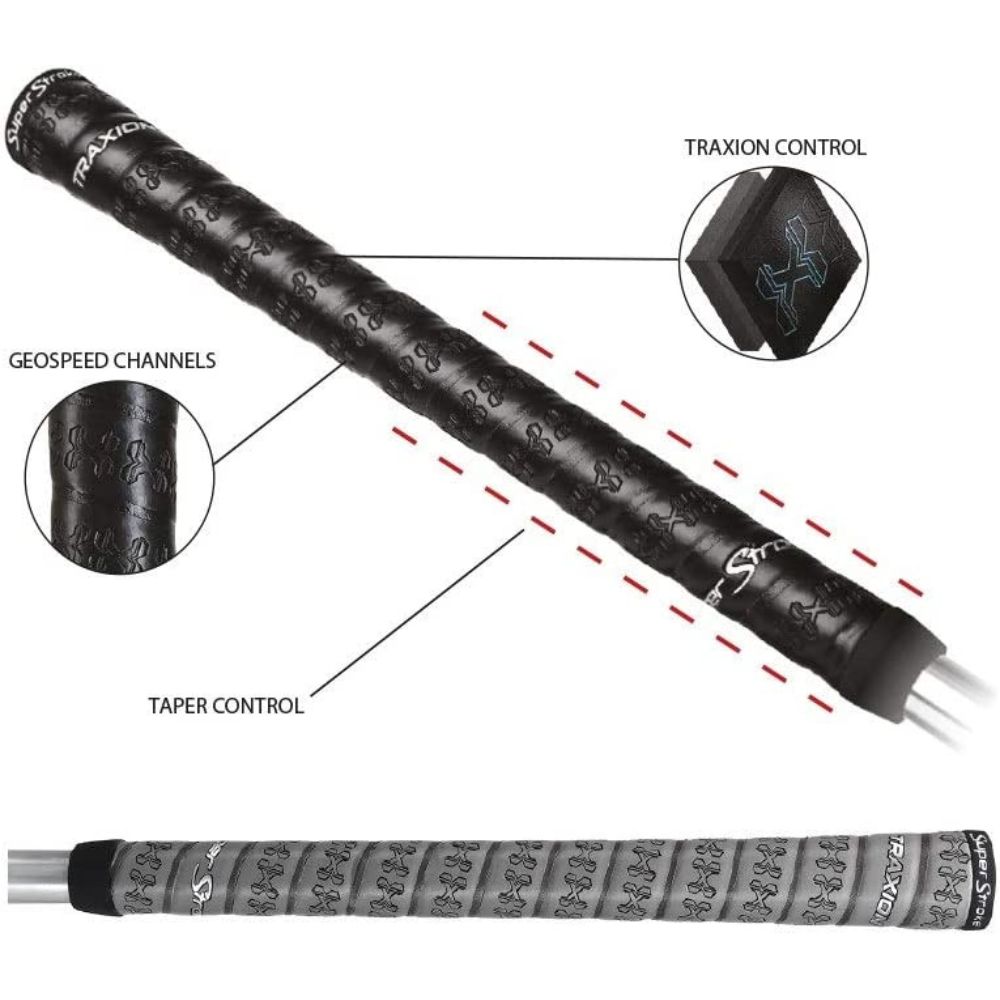 Perfect Balance of Tackiness and Comfort
SuperStroke Traxion Wrap Golf Grip
Check Price On Amazon
The SuperStroke putter grips have been dominating pro shops for over a decade. There are so many industry veterans already established, like Golf Pride, it is hard to break in. This grip might make a difference.
An innovative, multi-layer construction gives this grip the perfect balance of tackiness and comfort. It's perfect for players worried about accuracy from 50 yards away.
The exterior polyurethane is super soft and grippy, and the rubber core is super stable.
With its X-shaped treads, this grip drains moisture away from your hands, making it great for sweaty hands. In other words, your hands will only contact the driest portion of the grip.
Geo-speed channels wick moisture away while giving the appearance of a classic wrap grip. As a result, you can consider this grip one of the best golf grips for sweaty hands.
Pros
It has an innovative design with multiple layers
The treads are shaped in an X pattern
A layer of soft-touch polyurethane provides a comfortable feel
The taper is minimal to expand the surface area
Cons
Difficult to get on the shaft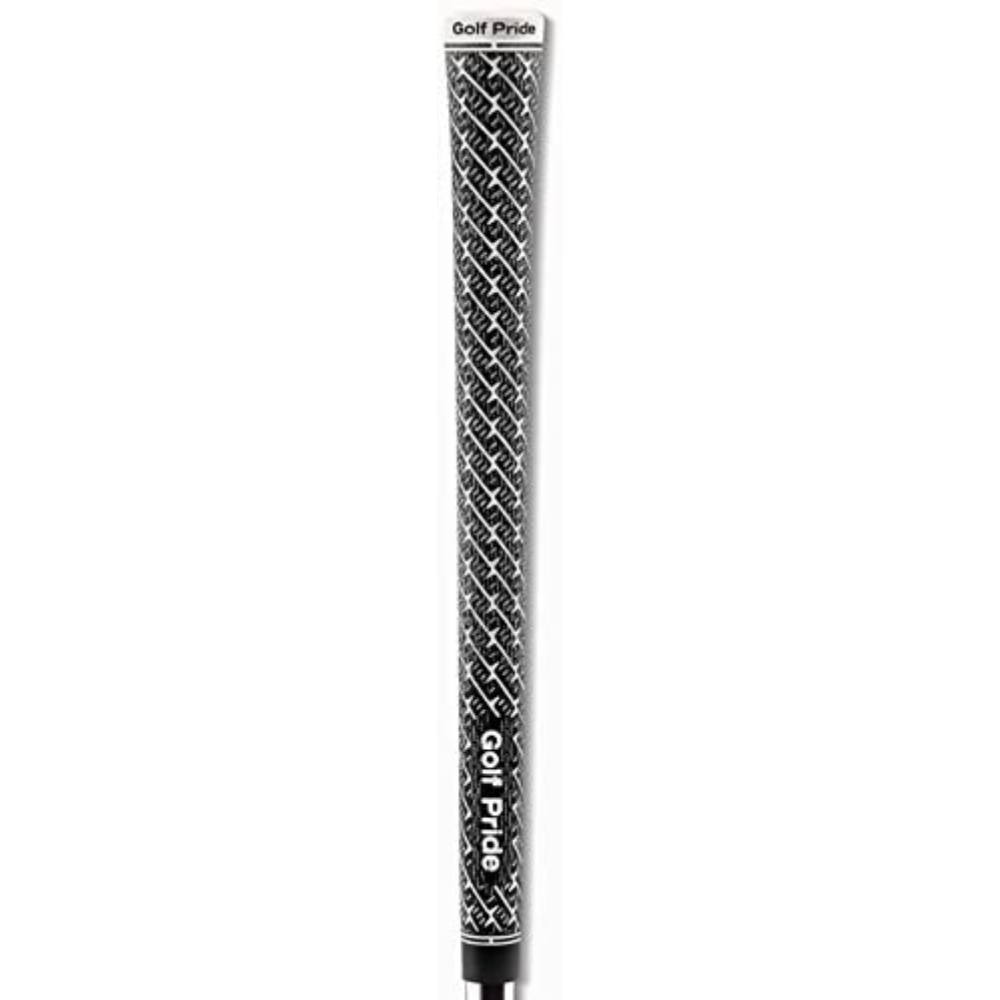 The Cord Provides a Good Grip With Moist Hands
Golf Pride ZGrip Align Grip
Check Price On Amazon!
The grip also utilizes cord, although it is less obvious than others. The cord is enough to provide a good grip, even with moist hands.
Though it's subtler than other patterns, this one's tackiness is unexpected, so it's popular with good golfers. It keeps your hands firmly in place and repels moisture thanks to Z-shaped grooves.
Consequently, it looks fantastic. This grip is easily recognizable from a distance, but it's not as flashy as grips like Iomic.
This grip is extremely functional, off the tee and around the greens. It isn't easy to find a grip that is both robust and flexible enough to handle driver swings and provide excellent green control. That's what makes this one stand out.
You can roughen the surface with sandpaper with corded grips if a part begins to wear out. Therefore we recommend this grip as one of the best golf grips for sweaty hands.
Pros
The cords are subtly woven into the design
The perfect grip for both short and long games
Feel is consistent throughout your set
The grooves are shaped like a Z to keep moisture away
Its style is understated but instantly recognizable
Cons
It's only available in one color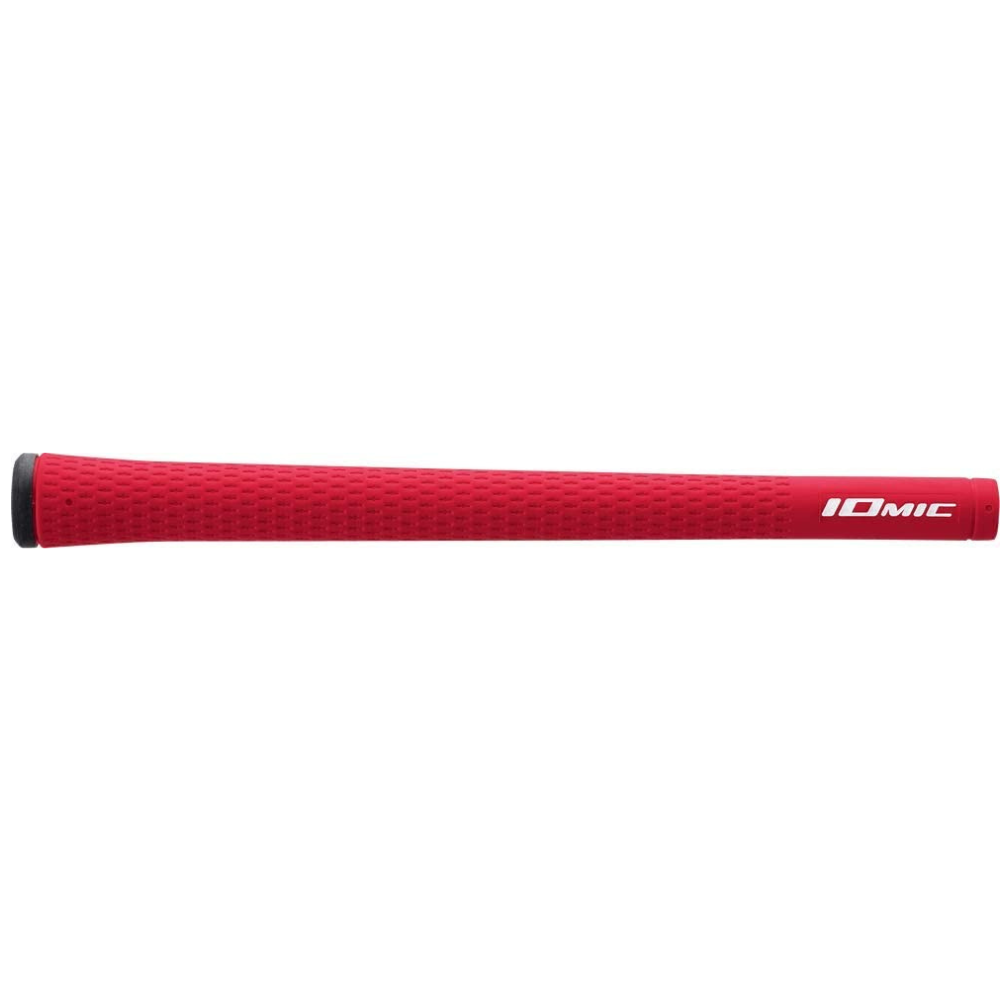 One of the Best Grips for Sweaty Hands
Iomic Square Sticky 2.3 Grip
Check Price On Amazon!
The Iomic golf grip company is a relative newcomer to the industry, yet they are competent. There are a lot of sticky grips available, but some players find this one too sticky.
Therefore, it will be one of the best golf grips for sweaty hands. The reason for this is their construction approach. The process involves the use of elastomer in conjunction with high-pressure injection molding.
When you have an Iomic grip in your hand, you don't even need to look down to know what it is. The procedure has not resulted in any loss of feeling as well.
The material is soft enough to prevent your hands from twisting when you hit off-center. It is popular among users because of its simple grip pattern.
With deep carvings, the square shapes provide the user with a uniform feel throughout. The grip even emits negative ions, which make you more accurate on the greens by increasing your hand's blood flow.
Pros
A proprietary material creates a surface that is ultra tacky
Deep squares prevent moisture from accumulating
It has an overall consistent grip pattern
High-pressure injection molding makes the outer layer soft
There are many colors available
Cons
Some find the grip promotes a consistent draw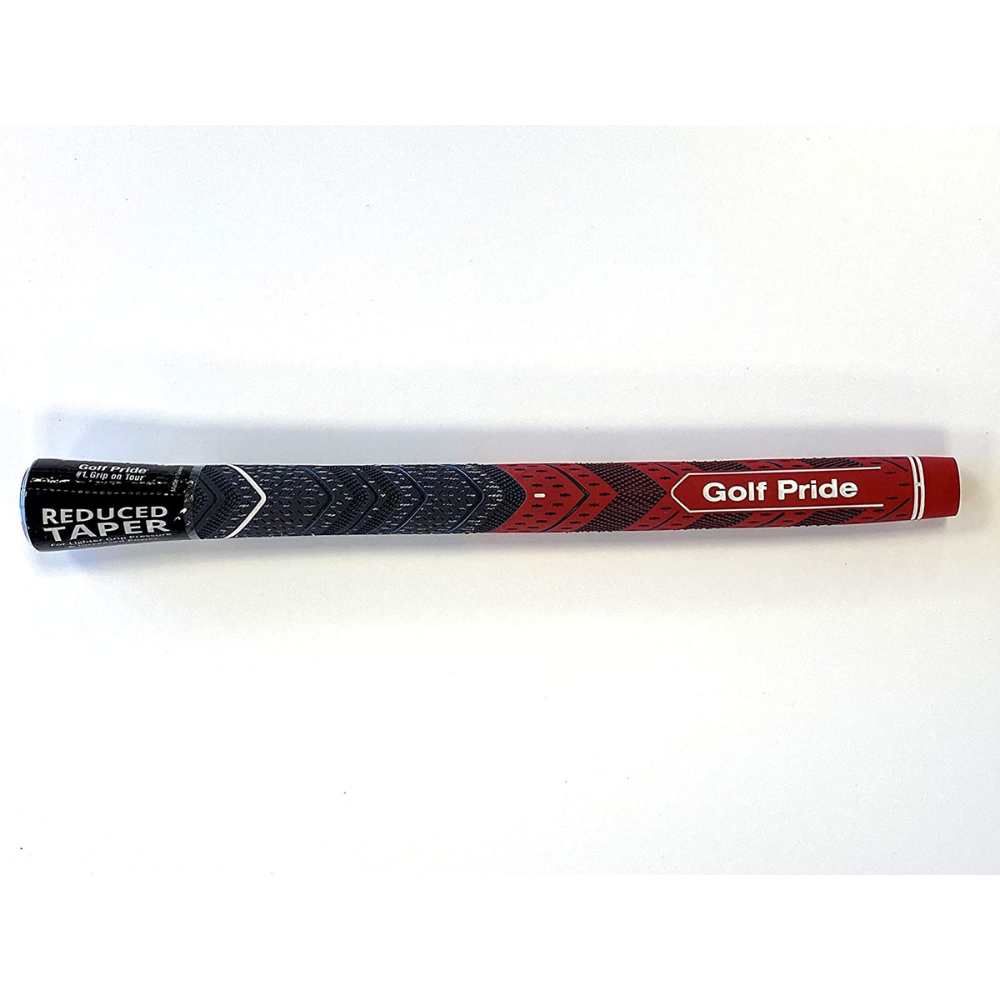 High-Durability Design Pattern
Golf Pride MCC Plus4 Align Grip
Check Price On Amazon!
This golf grip from Golf Pride is one of the best golf grips for sweaty hands available in the market today.
With this golf pride mcc plus 4 grip, your top hand and bottom hand are each experiencing it in a slightly different manner. Force and tactility characterize the upper, while a controlled feel characterizes the bottom.
The cord makes this grip one of the best golf grips for humid weather, despite those who oppose cord usage.
Moreover, there is a wide choice of colors to choose from. You can match them to your golf bag, preferred sports group, or country of origin.
Pros
This grip provides a different feeling for each hand
It has a High-durability design pattern
The grip is ideal for humid weather
The added cord increases friction
A wide variety of colors are available
Cons
Some may find the grip too rough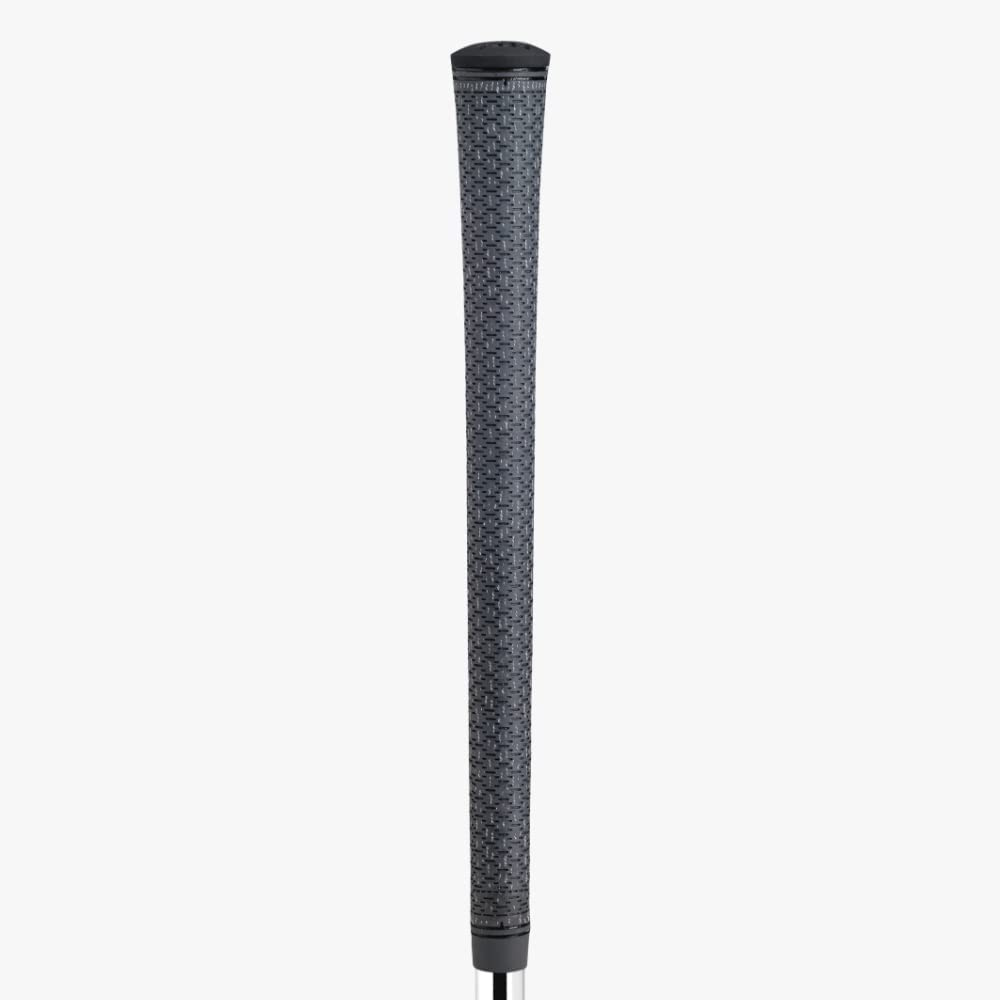 Tri-layer Blend Material is Used to Make This Grip for Sweaty Hands
Check Price On Amazon!
Lamkin has been around among the top golf grips manufacturers for a while. The skill they possess is evident from their work.
The UTX grips from this company also make a great addition to the best golf grips for sweaty hands.
With the slightly widened grip, you'll feel great about your hands and arms after finishing a bucket of balls on the range.
Tri-layer blend material is used to make this grip for sweaty hands. You won't lose grip even if your hands become damp due to the material's unique balance of tackiness and feel.
You can continue swinging well throughout the game because of the nice grip pressure.
Pros
For a more tactile experience, minimal cords are used
All clubs can benefit from the simple traction pattern
Softer grip with the new ACE foundation material
It is designed with multiple layers to absorb shock
Contains a bottom layer that prevents twisting
Cons
It is only available in standard and mid sizes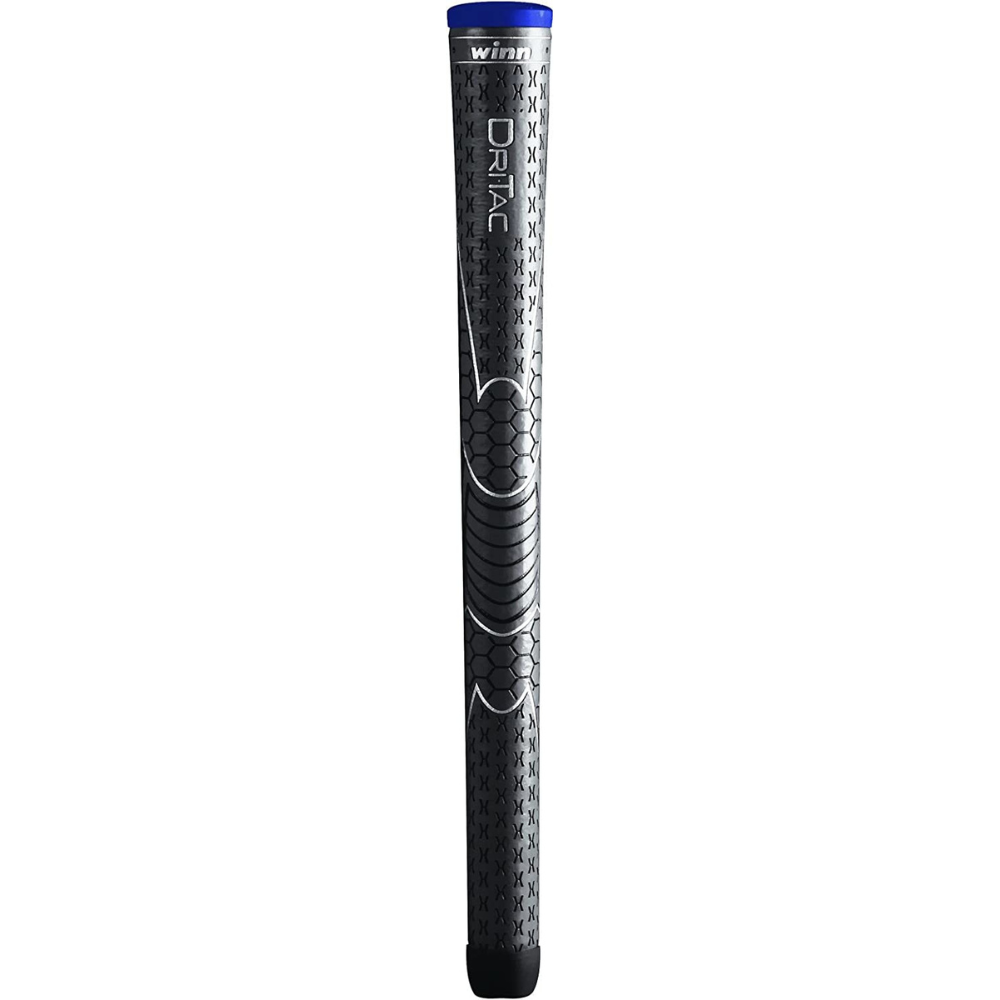 The Unique Polymer Material Provides Improved Grip When Wet
Check Price On Amazon!
The Winn golf grip is another best golf grip for sweaty hands. In addition to its soft feel, the unique polymer material offers more grip when wet.
A further benefit of this feature is that it offers excellent shock absorption. They'd be a big help to beginners struggling to hit the sweet spot. It is perfect for golfers of all skill levels in cold weather.
The design pattern is extremely basic and barely draws the viewer's attention. It helps beginners align their thumbs by squaring up their clubfaces.
Pros
Unique polymer materials prevent moisture at bay
It has a simple design pattern that makes it ideal for beginners
The consistency of thick compounds absorbs shock well
Cons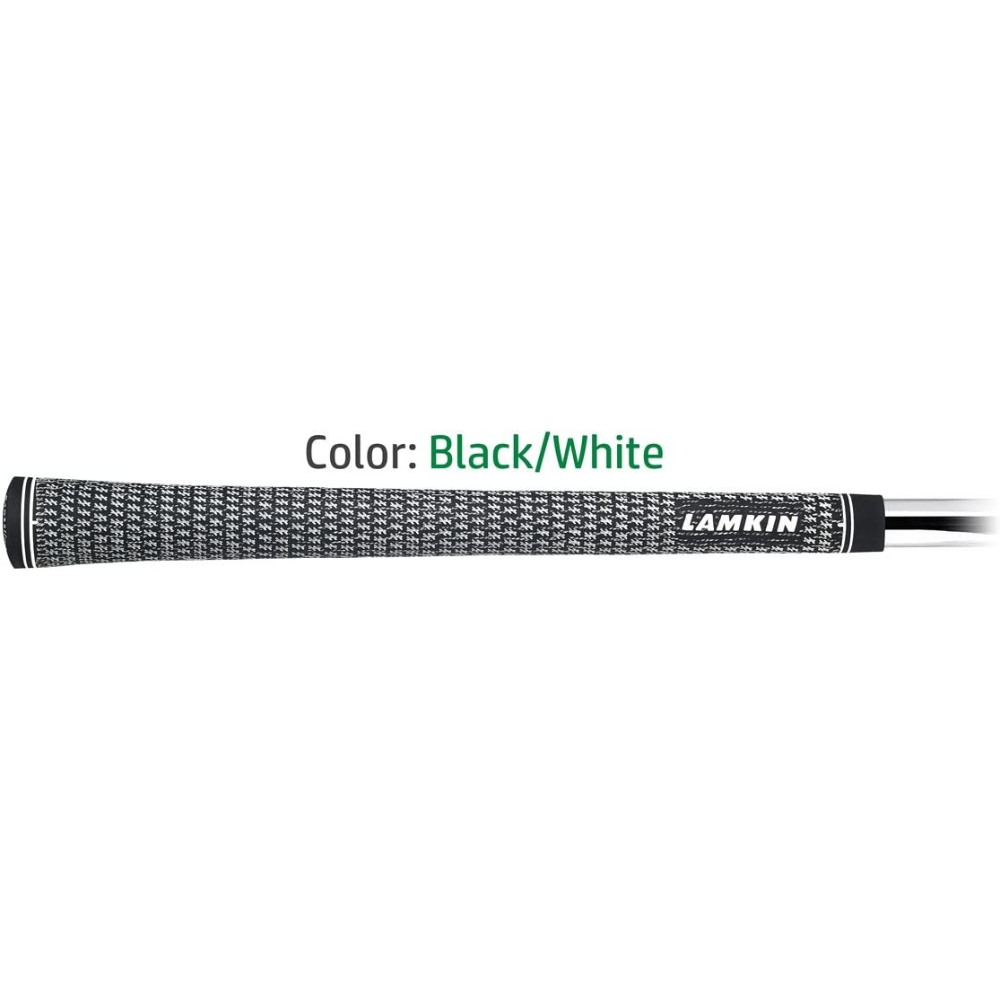 Perfect Grip for Sweaty Hands
Lamkin Crossline Cord Grip
Check Price On Amazon!
If you want the best golf grip for sweaty hands, this cord grip from Lamkin is a great choice. With its rough and robust surface, you feel confident that the grip will not slip.
Some might find it too rough, but it's perfect for sweaty hands who don't want gloves. Also, the grip is significantly harder than the other grips on this list, so it's great for 7-irons and above but not so good around greens.
Pros
Suitable for high swing speeds
Ideal for people who have sweaty hands
This grip is also suitable for use as a driver's grip
Cons
A single color is available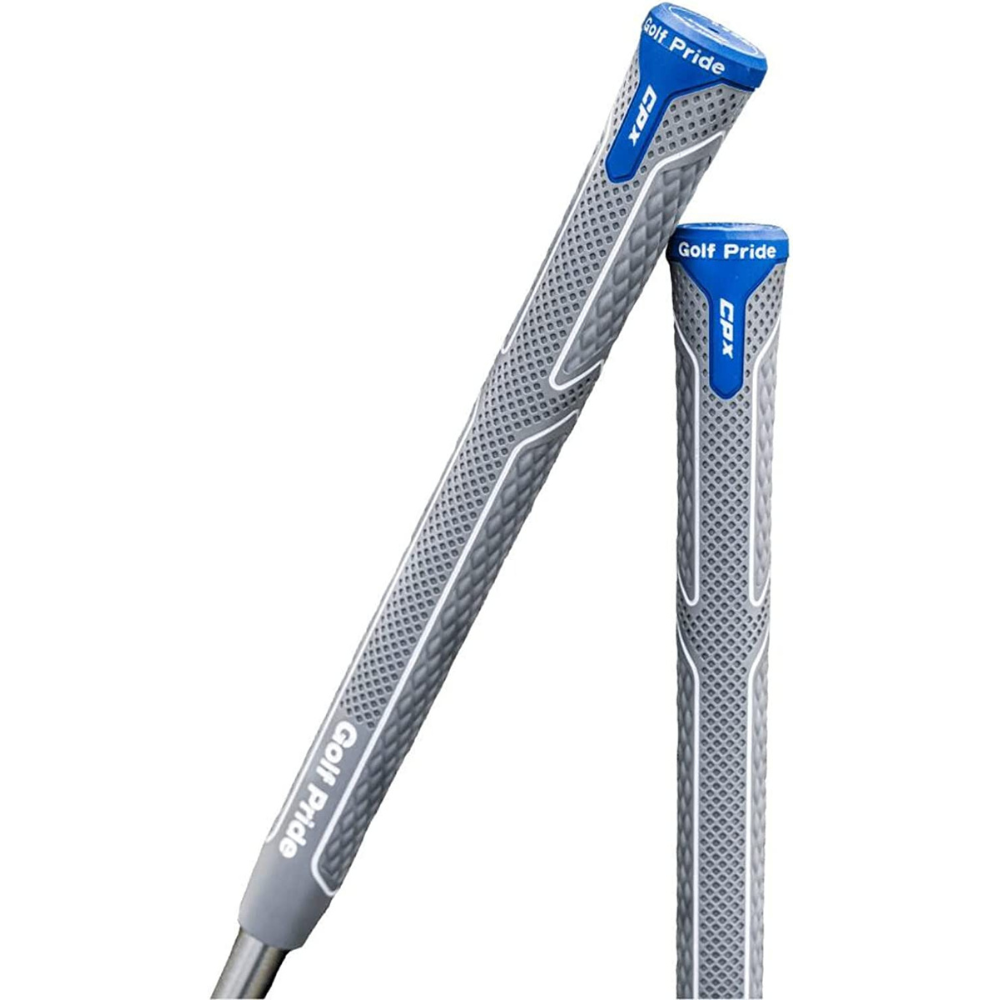 The BMX Bike Grip inspired the 45-Degree Design on This Soft, Sticky Material
Check Price On Amazon!
This golf grip is another excellent option for sweaty hands. In the rain, you'll feel better about using them because it wicks moisture away.
This grip features the company's first raised EXO diamond-quilted design. BMX bike grips inspired the 45-degree design on this soft, sticky material.
Pros
The Golf Pride CPX Grip provides an excellent tacky feel
People with Arthritis will love the oversized one
You can put the grip on both sides
Cons
Initially, you might not like it because they're so different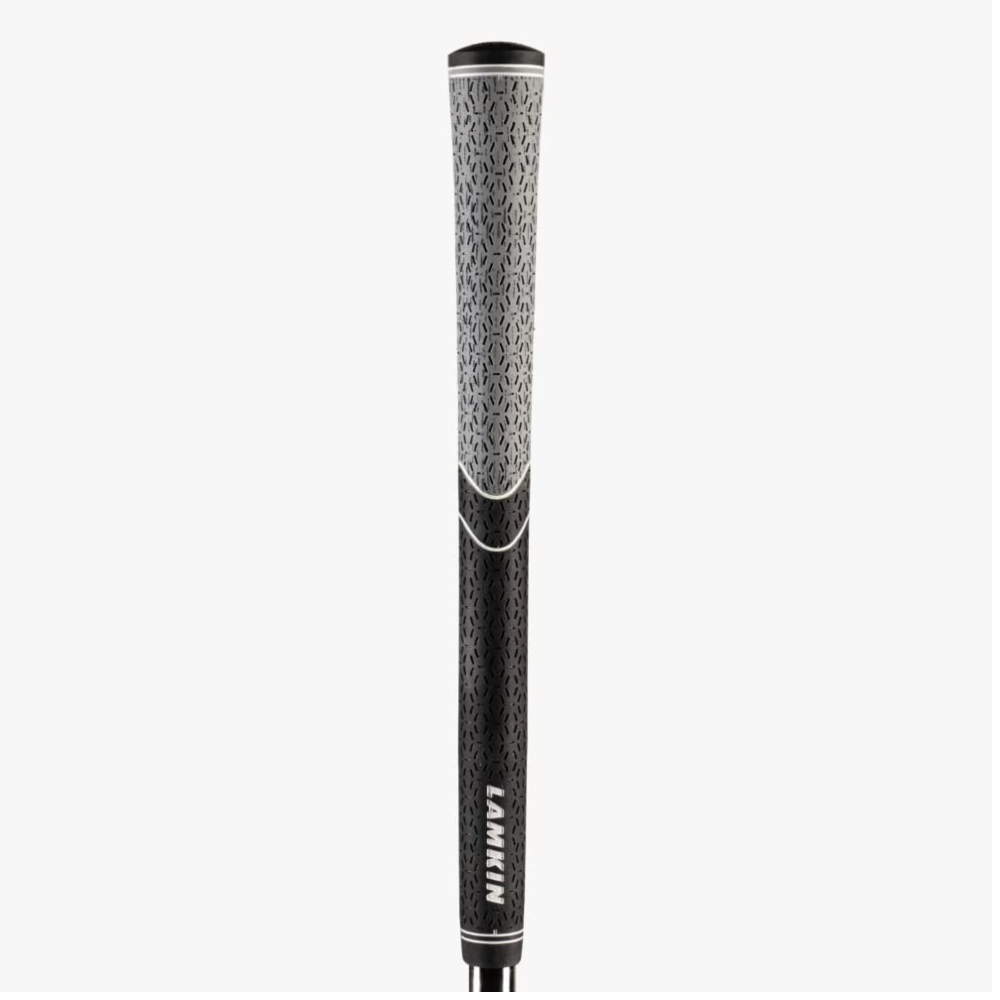 The Hybrid's Lower Area Has a Smooth Finish and the Two Extra Layers Provide Improved Stability
Lamkin ST+2 Hybrid Golf Grip
Check Price On Amazon!
If you are looking for the best grips for sweaty hands, this grip from Lamkin has a lot to offer.
It offers a fantastic tacky surface that will perform in all conditions. The hybrid lower area has a smoother finish, and the extra two layers provide more stability.
With the top half's infused cord and Smooth Tack, you get plenty of control.
Pros
This grip provides a great deal of stability
It gives a great deal of control and comfort
Designed to last for a long time
Cons
Top half of grip is a little less tacky than the bottom
FAQ's
What golf grips are good for sweaty hands?
There are a few different golf grips that are good for sweaty hands. The first is the Tour Lock Pro, which has a special material that helps absorb moisture.
The second is the SuperStroke Traxion, which has a textured surface that helps grip the club. Finally, the Lamkin Crossline is a good choice for those with sweaty hands, as it has a tacky surface that helps keep your hands dry.
How do I stop my hands from sweating when I play golf?
There are a few things you can do to stop your hands from sweating when you play golf. First, try to keep your hands as dry as possible. You can do this by using a towel or wiping them off with a dry cloth before you hit each shot.
Second, wear the appropriate apparel to avoid getting too hot and starting to sweat. If you start to feel sweaty, take a break and cool down for a few minutes. Finally, try using a golf glove.
Third, use a lighter grip pressure when holding your clubs. This reduces tension which can cause you to inadvertently sweat.
Are cord grips better for sweaty hands?
There is no definitive answer to this question, as it depends on personal preference. Some golfers find that cord grips help them keep a better grip on their clubs, even when their hands are sweaty.
Others find that they prefer the feel of leather or synthetic grips. Ultimately, it is up to the individual golfer to decide what type of grip works best for them.
What are the best golf grips for wet weather?
There are a few different types of grips that work well in wet weather. First, there are grips that have raised patterns or ridges.
These help to provide traction and prevent the club from slipping in your hand. Second, there are softer grips that are made from materials like soft rubber material. These grips can absorb moisture and help to keep your hands dry.
Third, there are grips that have a tacky or sticky feel. These can also help to prevent the club from slipping in your hand.
Are thin or thick grips better?
There is no definitive answer to this question. Some golfers prefer thin grips because they feel they have more control over the club, while others prefer thicker golf grips for a more comfortable grip.
Ultimately, it is up to the individual golfer to experiment with different grip sizes to see what works best for them.
Bonus Question - What are the 3 most common golf grips?
The 3 most common golf grips are the Vardon (overlapping), the interlocking, and the baseball.
Conclusion
That's all from our roundup of the best golf grips for sweaty hands. As a golfer, you will eventually experience sweaty palms.
Everyone experiences hand sweating, but some people experience it more than others. It is unnecessary to ruin your fantastic round because of damp hands and grips.
A thorough search in advance will help you find grips to prevent your hands from slipping. Our review guide will provide insight into the best golf grips for sweaty hands so you can choose one that works for you.
Thank you for visiting and we hope to see you back soon!