Note: *All products featured on GolfOften.com are researched and selected by our editors. However, when you buy something through us, we may receive a small commission at no additional cost to you.*
The Magnetic Golf Towel is the perfect solution for anyone looking for a golf towel that won't blow away in the wind! This type of towel has a built-in magnet that will keep it firmly in place on your golf bag, so you can always have it handy when you need it. The price for these towels is very easy on the budget as well.
Introduction
The Magnetic Golf Towel is an essential accessory for any golfer. The towel easily attaches to your golf bag with its built-in magnet, and it even has a clip for attaching to your golf bag's strap. The towel is made of super absorbent microfiber towel fabric, so it will keep you dry and comfortable on those hot days out on the course.
The Best Magnetic Golf Towels on the Market
No matter your level of experience, having a good golf towel is important. Not only does it keep your clubs clean, but it also helps you stay focused and relaxed while playing. Not all golf towels are created equal--if you want a top-notch towel that will improve your game, you need to know what qualities to look for.
If you're on the hunt for a great magnetic golf towel, be sure to look for the following features:
-A golf towel that is the right size is important. It should be large enough to fit your needs but not to large where it becomes cumbersome.
-Powerful magnets. The best magnetic golf towels have strong magnets that will keep your towel securely in place. You don't want your towel coming loose or getting tangled in your clubs while you're trying to play.
-Choose a golf towel with a comfortable grip so you can hold it easily while playing. You don't want to have to readjust your grip or fight to keep hold of your towel.
-A good golf towel should have a sturdy hook as well so it can be easily attached to your bag if there is no area for the magnetic feature.
How We Choose
By researching the market, we have provided you with a variety of options so that you can select the one that best fits your needs.
Our professionals have chosen products that combine reliability, affordability, and efficiency based on the reviews. We only recommend products that have 4 or 5 stars and are backed by real customer reviews.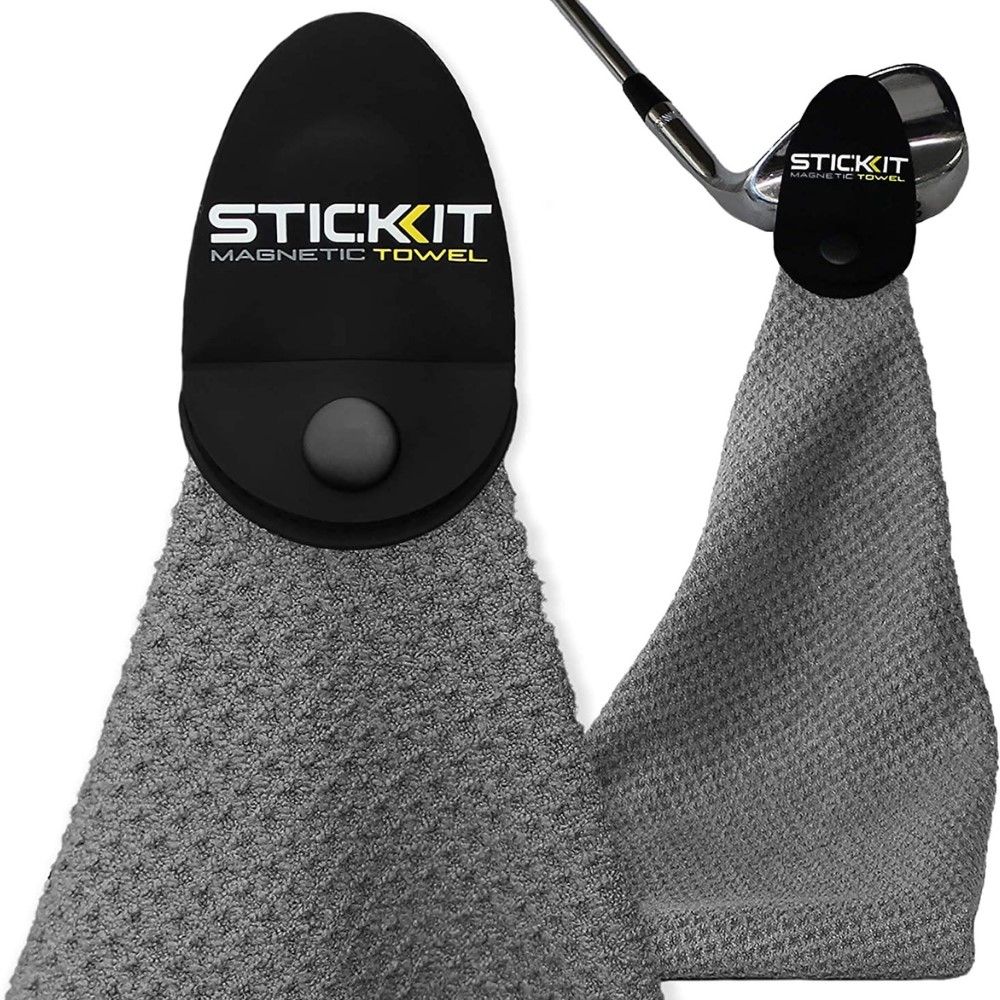 Superior Water Absorption
StickIt Magnetic Golf Towel
Check Price On Amazon!
This StickIt Magnetic Golf Towel from Monument Golf is a superior water absorption towel with rapid dry time when the round is completed. The Magnetic Golf Towel measures 29" by 29" and features special waffle pockets that are deep which helps clean grooves faster and more thoroughly.
The towel sticks to your golf clubs and/or golf carts for easy access with an industrial strength magnet. You will need 25 pounds of pull strength to release it from a metal surface, so you can be comfortable it stays in place. You can remove the magnetic patch to machine wash and dry the towel. It's perfect for use from tee to green and the silicon patch protects against water and moisture.
With the built in magnet The STICKIT Magnetic Towel is always in reach. The strong magnet provides ultimate convenience. You can stick it on your clubs or golf cart, or any other convenient metal spot on your bag
This super strong magnet requires 25lb of pull strength eliminating any concerns or worry of losing the towel from your bag or cart
The 29" microfiber material offers a superior absorption of water while quickly drying after a round of golf. The deep waffle pockets are designed to clean grooves faster and more thoroughly and trap dirt and debris so it doesn't get spread on the clubs or balls surface areas
The towel is easily machine washed and dried with the removable of the magnetic patch
The all-weather patch made of silicon protects against any water or moisture
You can snap the towel to irons, wedges, and putters for a quick pickup around the green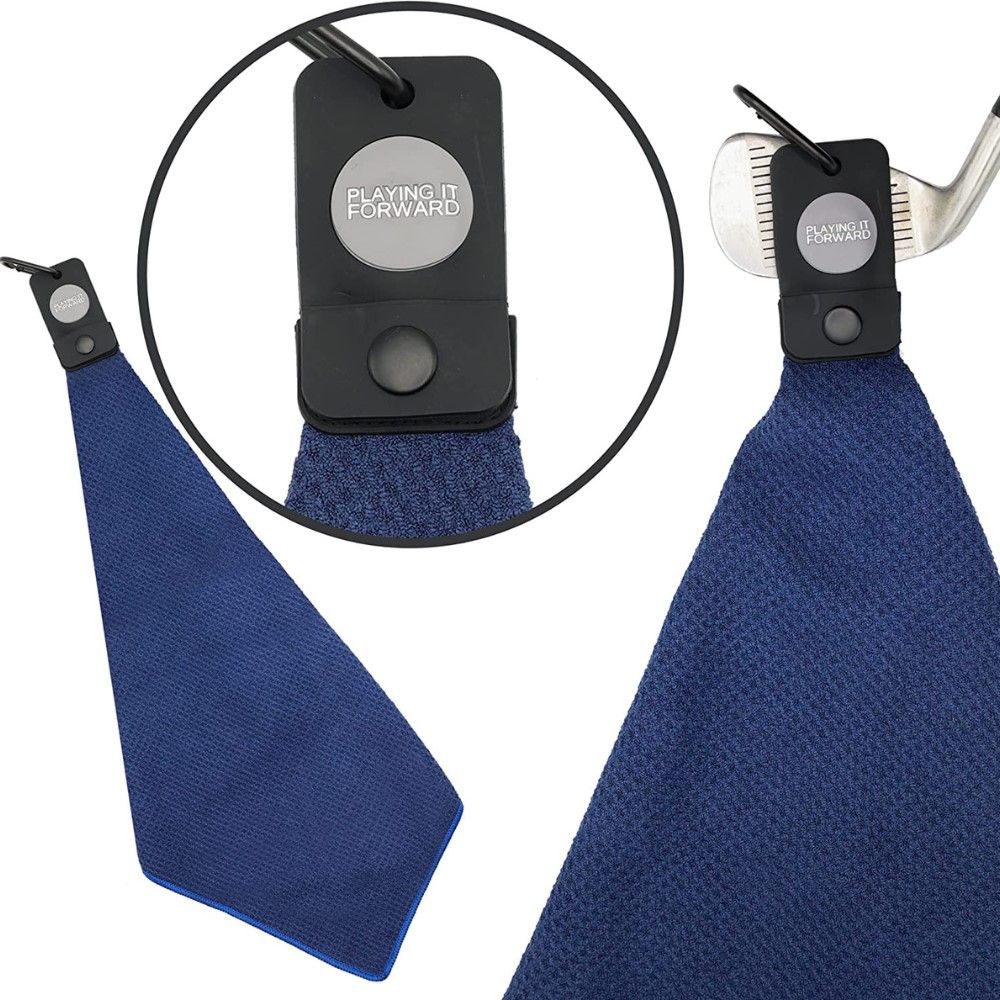 Keep Your Clubs Clean Tee To Green
Playing It Forward Magnetic Golf Towel
Check Price On Amazon!
With this towel you won't have to worry about back bending. Keeps your clubs and balls clean and neat from tee to green. Features a carabiner clip hook that easily attaches to your golf bag or your belt loop.
The strong magnet sticks to golf clubs or golf cart for conveniently cleaning of club and ball. You can use this towel to clean your shoes, dry your hands or anything else you can think of. When you keep your clubs dry you minimize the risk of clubs rusting.
Also, wiping your grips dry helps to ensure a good grip on your clubs when hitting shots. Using this towel for ball cleaning on the green will ensure your golf ball rolls true and straight. The microfiber fabric has superior absorption is soft and stays lint free!
This is an oversized 16" x 20" Microfiber Golf Towel including Heavy Duty Removable Carabiner Hook Clip. Easily attaches to your golf bag, belt loop, golf cart, pull cart or push cart. Great gift for the golfer in your life. Comes stylish colors to match your golf bag and even your golf apparel.
The microfiber waffle weave fabric is light-weight, absorbent and ultra-soft. Quickly and easily removes dirt and debris with the microfiber waffle weave texture that is durable and quickly dries. Care is easily accomplished with a machine washable design that is resistant to fading and wrinkling. For both men and women
The afore mentioned waffle design provides for quick work of dirt, sand, mud, and grass and performs better than cotton towels. Microfiber is a more absorbent material than cotton. It dries faster is lint free and resists scratching. Stubborn dirt and grime are removed easily from club grooves and golf ball dimples. It will keep you playing your best
Comes with a removable lightweight aluminum alloy heavy duty utility carabiner hook clip. Both the hook clip and the magnetic pouch can be removed easily for machine wash. The magnet attaches to irons, wedges, and putters so you can quickly pick the towel up from the green.
This is a perfect magnetic microfiber golf towel for golfers of all playing abilities. You can easily take this to the green edge and lay your club down on it to keep your grips dry. The magnetic attachment is removable so you can wash it when necessary.
No need to bend over to pick up your towel since you can use a club to grab the towel via the magnet. Cleans your club face, golf balls, hands and grips with the highly absorbent microfiber fabric.
Magnetic attachment is removable . The answer to no bending over, just pick up your towel with any metal putter or wedge. Attach towel to your irons or any metal spot you have available. Removeable magnet when you want to launder your towel
Bring your lightweight and compact towel with you to the green with your putter and wedges. Lay the towel down on wet grass and place your putter or wedge grip on top to keep them dry. Easily pick up your towel with the magnetic attachment.
This highly absorbent microfiber waffle-weave material is usable wet or dry. The material does not pick up loose dirt or debris from the course but retains the super cleaning and scrubbing ability of microfiber
The wedge shape is compact and allows the towel to snap around the magnetic attachment to not take up much space on your golf bag. It's like getting twice the towel in 1/2 the space. Measurements are 24inch long by 16inch wide and folds to 8inches when attached to the magnet
Comes in 3 Pack with 3 Towels and 3 Magnets
The Benefits of Using a Magnetic Golf Towel
There are several advantages to carrying a magnetic golf towel while you're playing. A few of these benefits are:
-They help keep your clubs clean and organized.
-They can be used to clean your balls.
-They can be used to clean your clubs after a shot.
-You can use them to clean your shoes too.
-They help keep your hands and grips dry and prevent slipping.
How to Use a Magnetic Golf Towel
A magnetic golf towel is a golf towel that attaches to your golf bag using a magnet. They are a convenient way to keep your towel with you on the course without having to carry it in your hands or put it in your pockets. Here is how to use a magnetic golf towel:
1. Attach the towel to your golf bag using the magnet.
2. If you need to use the towel, simply detach it from the bag and use it as necessary.
3. After you're done using the towel, put it back on the bag using the magnet.
4. Continue this process as necessary during your game of golf.
Conclusion
The magnetic golf towel is an essential and convenient tool for any avid golfer. Not only does it keep your clubs clean, but it also eliminates the need to carry around a bulky traditional towel.
With its unique magnetic design, it conveniently attaches to your bag so you can quickly find it when you need it. Plus, its sleek and stylish look adds an extra touch of sophistication to your game. It's a great gift for the golfer in your life!
Thank you for visiting and we hope to see you back soon!