Note: We use affiliate links and may receive a small commission on purchases at no additional cost to you.
Looking for the best kids golf bag in 2023 so your kids can have a ton of fun playing golf? You might want one of these golf bags for kids if you're golfing prodigy likes to walk but not be weighed down.
Having golf bags with attractive designs and hues is great since that's what kids prefer. Plus, you can help prevent your kid from getting injured and over-tired with the right kids golf bag.
Finding the right item among thousands of options is a very difficult task. We've done the research to provide you with options to help you choose the one that best fits yours and your child's needs.
Our experts have read through the reviews to find the ones that offer quality, value, and convenience.  We only recommend products that have 4 or 5 stars and are backed by real customer reviews.
We compiled a list of the best 10 kids golf bags currently available so you can make the right choice. Let's get into the details now.
What to Consider Before Selecting Kids Golf Bag in 2023
Before buying a kid's golf bag, you must think about a few things. Several factors affect the quality of a golf bag. These things will make your purchase more useful if you consider them:
Size/Age
An important factor to consider is age. Choose a bag that's the right size for your kid since they'll be able to carry it alone and enjoy the round. Bags with shorter lengths are better suited to young children. Kids golf bags come in various sizes, so choose one that is shorter if your golfer hasn't had a growth spurt yet.
The Dividers
Golfers often complain about their bags lacking adequate dividers. Some aren't long enough to hold clubs, some are too delicate, and some aren't well-organized.
Therefore, it is important to pay attention to dividers. Depending on your needs, you can get a golf bag with a 6-way divider or a 15-way divider.
Strap
The straps of a bag are crucial since they affect its ergonomics. You can also get golf bags with two straps or just one strap.
Consider how comfortable the straps will be for your child while carrying the bag. Look for padded straps which should make carrying the bag more comfortable.
Pricing
Each person has different financial priorities. Establish a budget, then limit your options. You'll find the right product for your budget.
The price of a product reflects its quality and functionality. You get what you pay for. The kids golf bags available on the market are priced fairly and perform well.
User-Friendliness
Before delving into product details, it is important to consider how well the golf bag for kids will work. How important is user-friendliness?
An easy-to-use product will not benefit you. An easy-to-use golf bag for kids should be easy to install and set up.
Now you have a good understanding of what to consider before selecting a golf bag for your kids. Look at the best kid's golf bag available in the market today.
Best Kids Golf Bags in 2023
Below are some of the top kids golf bags on the market.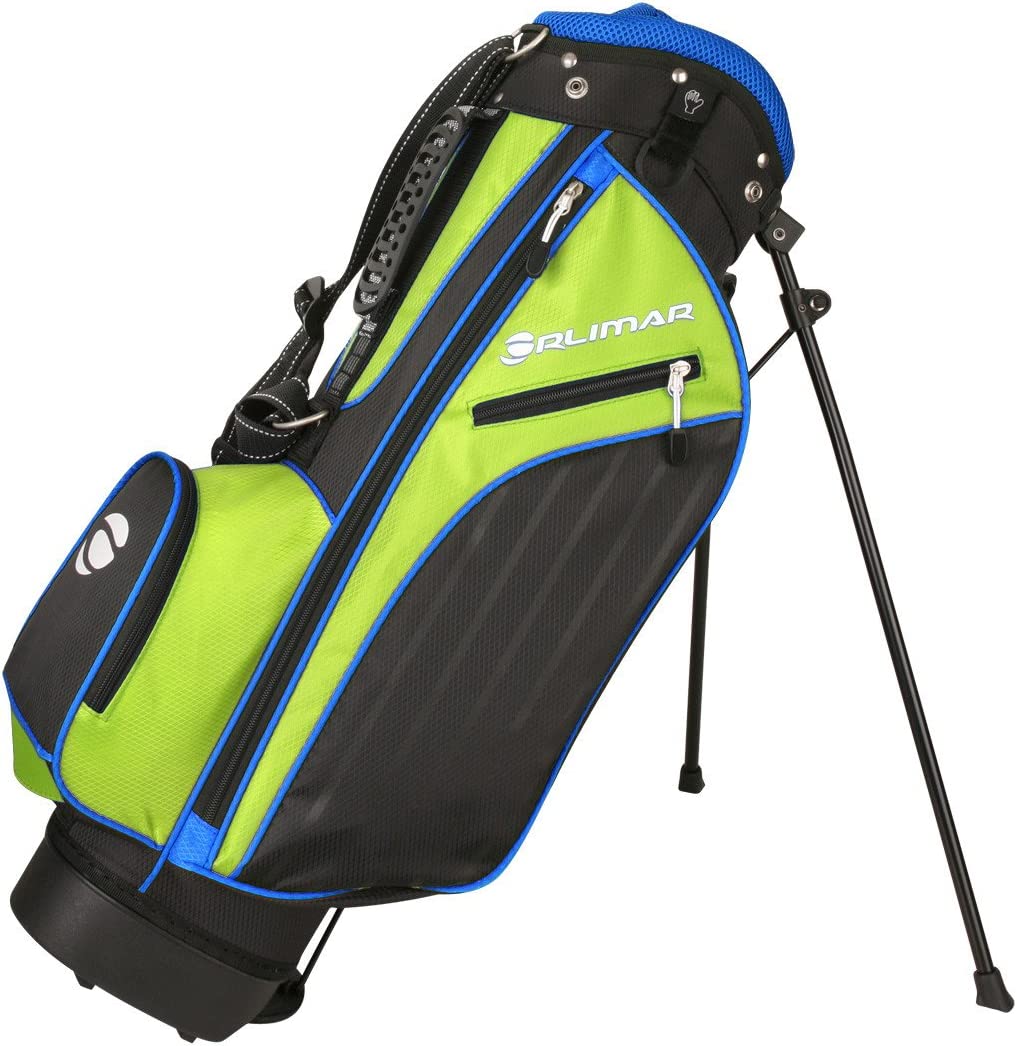 Orlimar Golf ATS Junior Boy's Golf Bag
A Real Eye Catcher Design
Check Price On Amazon!
This Orlimar kids golf bag is perfect for a kid who's just starting to get into club swinging. You can get these bags in sizes for kids from three to twelve. There is no doubt that this bag is well-designed and long-lasting.
Everything inside the bag will remain intact no matter how your child handles it. It's made and modeled after the "Orlimar" brand. The Boy's Stand golf bag is a real eye-catcher with an attractive lime and blue color scheme.
Features
The bag is lightweight and perfect for kids
The ergonomic design makes carrying it easy
It features a well-designed construction
Accessible and spacious external pockets provide ample storage
Pros
Dividers keep the clubs organized
User-friendly
Different sizes are available
The price is affordable
Cons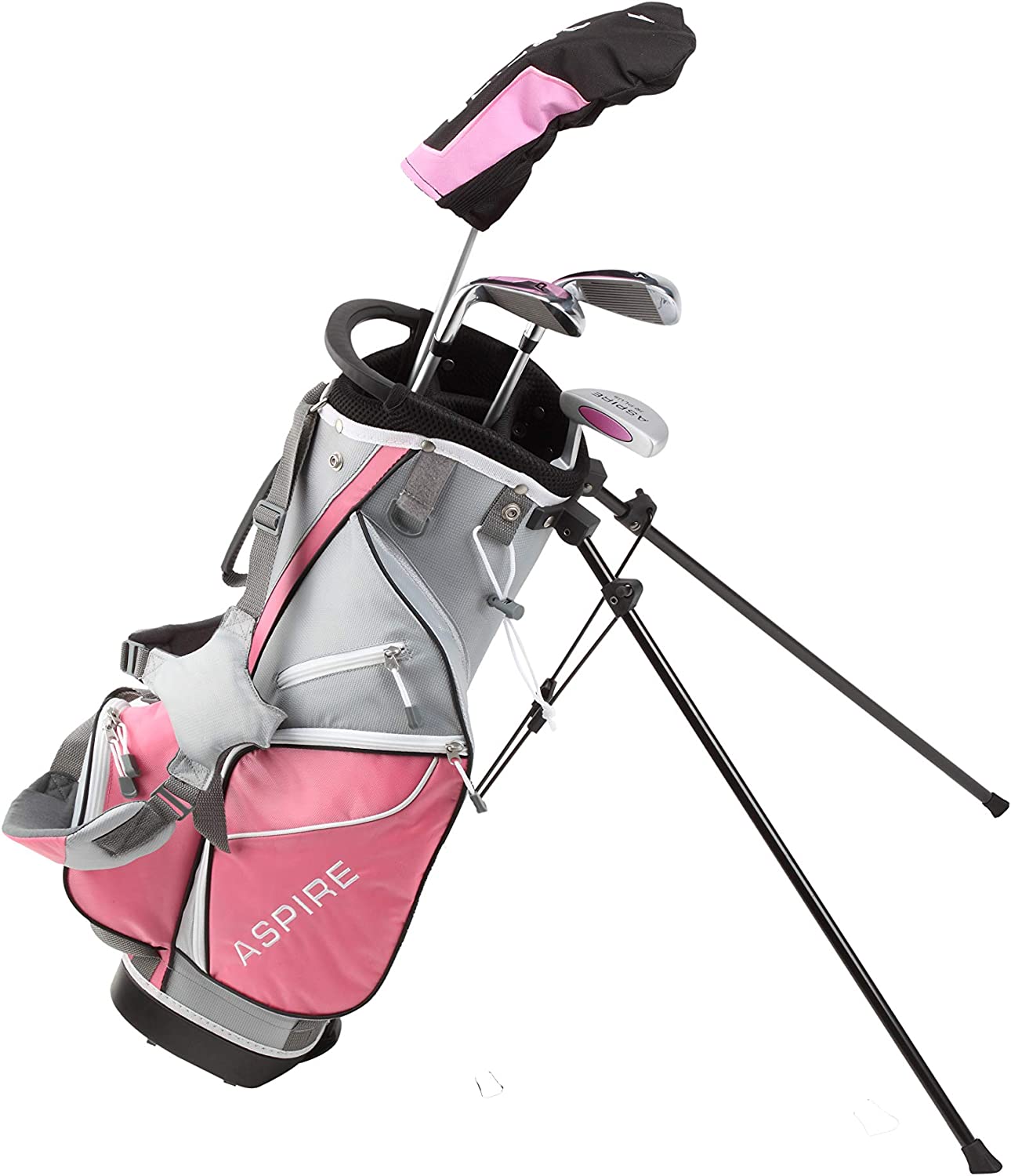 Aspire Junior Plus Complete Golf Bag
Check Price On Amazon!
Are you looking for a stylish and durable golf bag for your kids? Then this kids golf bag from Aspire golf is a great choice. The golf bags come with golf accessories specially designed for five age groups (ages 3-4, 5-6, 7-8, 9-10, and 11-12).
The bag comes in a lightweight design with a stand that makes it easy to access and store clubs.
A lift handle makes it easy to move, and the bag has dual straps so one can carry it like a backpack. Getting a lightweight golf stand bag with a set of golf accessories is an affordable option for you.
Features
Aspire Junior Plus kids golf bags feature a lightweight design with a 5-way top
It includes two full-length dividers
It comes with padded dual shoulder straps
Contains a mesh pocket and 4 zippered pockets
Pros
The bag includes golf accessories
Provide adequate storage for valuables
Easy transportation for lift handle and Stand
Cons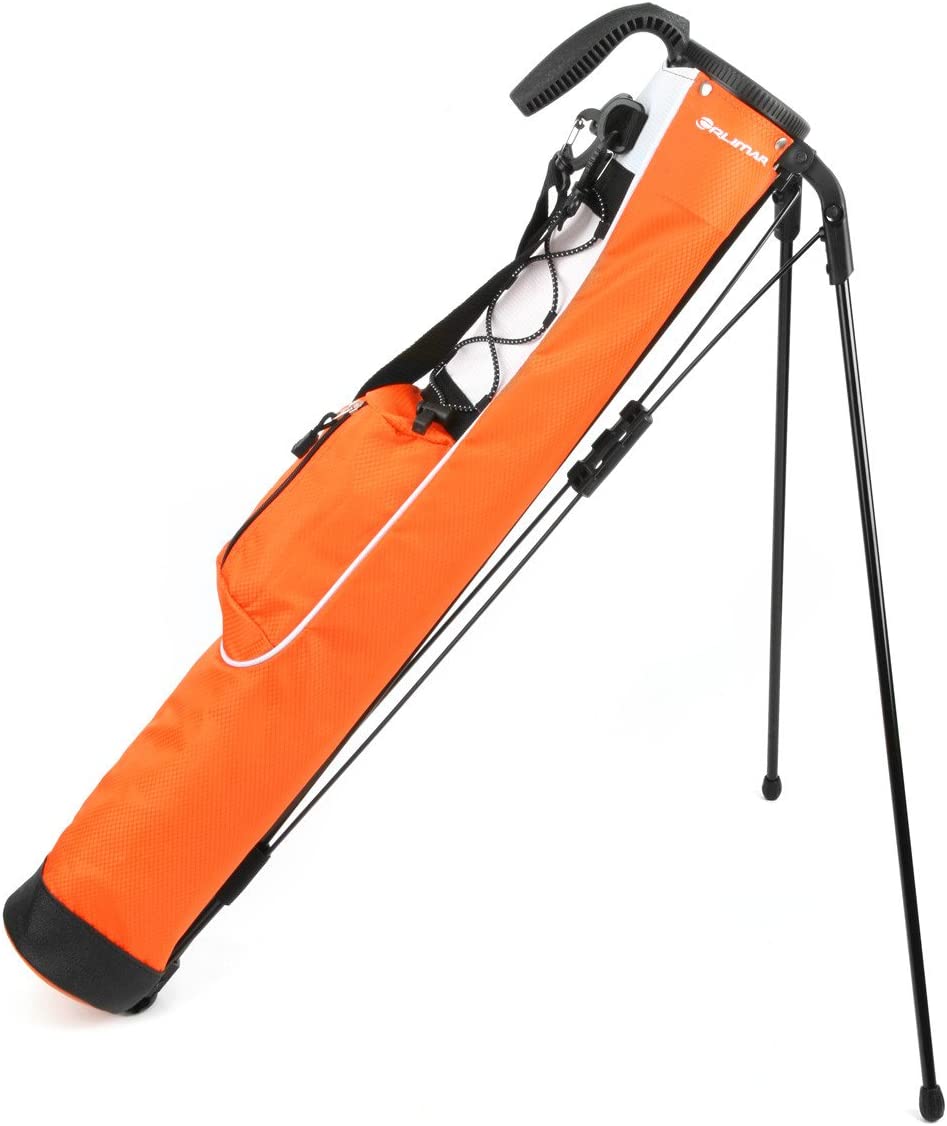 Orlimar Pitch and Putt Golf Bag
Check Price On Amazon!
When you're looking for a high-quality kids golf bag, this one from Orlimar is the best. This golf bag is durable and portable with its sturdy carry handle, accessory pocket, two compartments, and ultra-lightweight materials. The bag's top aperture measures 3.25" x 4.25" and is 31.5" long.
Features
The Orlimar Pitch and Putt golf bags for kids feature ultralight construction
It comes with a two compartment top
It features a durable carry handle
It comes with a pocket for accessories
Pros
Easy to carry because it's lightweight
The design is ultralight
Easy access to clubs with two compartments
Transport is easy with the durable carry handle
Storage pocket for accessories
Very affordable
Cons
Some people find the strap can be a little uncomfortable.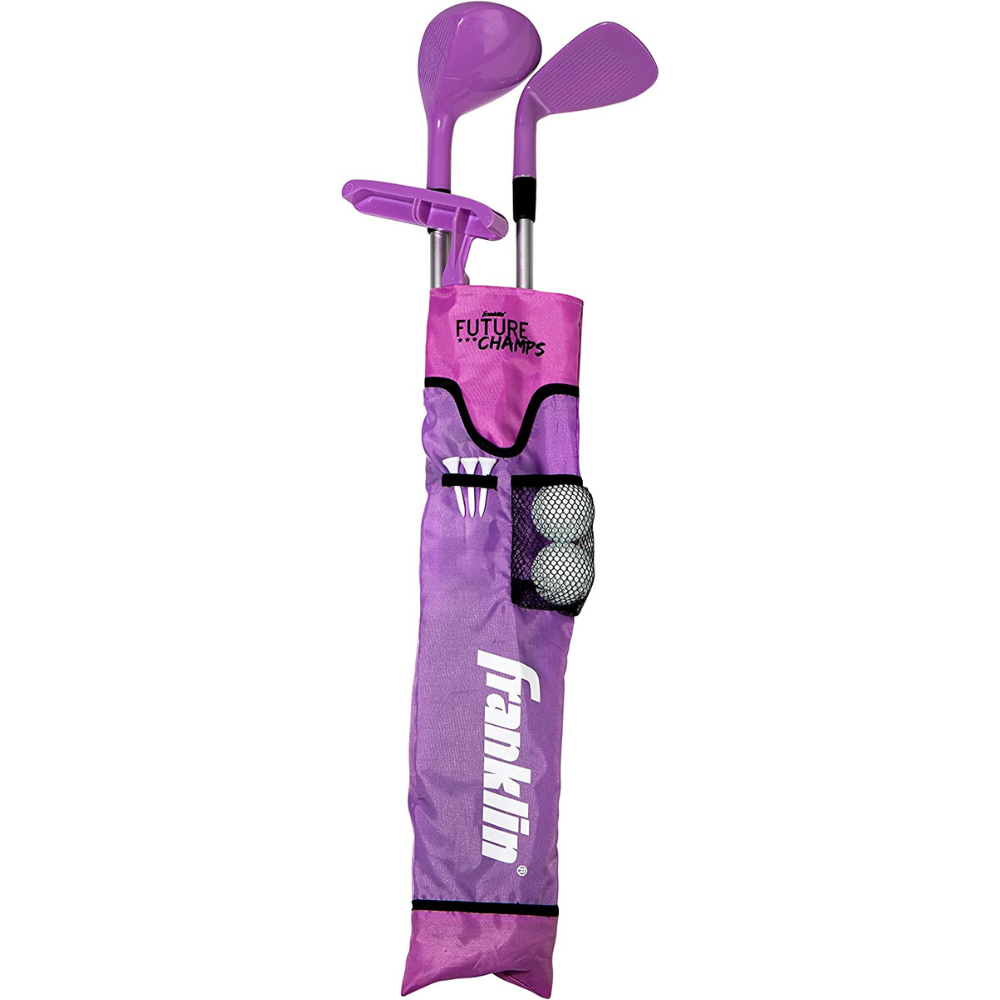 Franklin Sports Kids Golf Bag
Check Price On Amazon!
The Franklin Sports kids golf bag is the perfect choice for parents looking for an inexpensive kid's golf bag. A full set of golf accessories is included in the bag at a reasonable price, including an adjustable putter, an iron, a driver, and foam golf balls. The clubs adjust as your child grows.
Kids who travel with their set will appreciate the bag's shoulder strap and storage slots for balls and tees. Therefore, you can take advantage of all these features at a reasonable price.
Features
A full set of adjustable putters, driver and iron, two foam golf balls, and three tees are included
Each club feature Franklin adjust-a-sport technology
It features a shoulder strap for ease of use
The bag is equipped with pockets for golf balls and tees
Ergonomic hand grips are featured in every club
Pros
The shoulder strap makes it easy for children to travel with their sets
Each Club has an ergonomic hand grip that teaches optimal hand positioning
The price is affordable
Cons
Durability may be an issue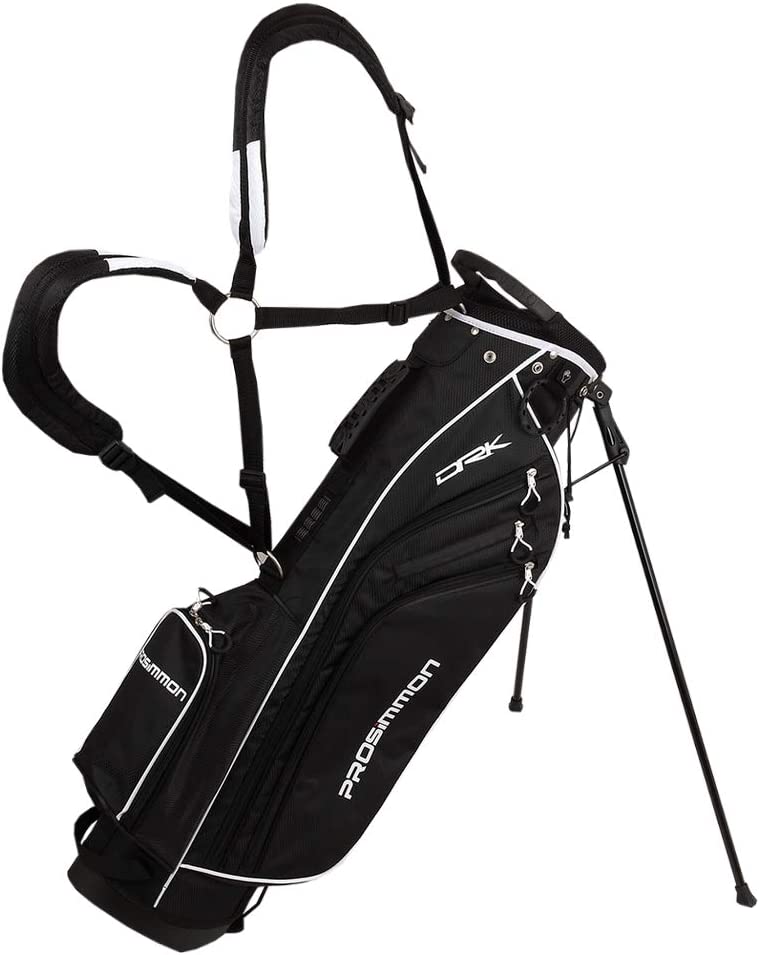 PROSiMMON Golf DRK 7" Golf Bag
Check Price On Amazon!
The PROSiMMON brand makes stylish and affordable kids golf bags. It is a wonderful choice for kids looking for a lightweight bag.
This bag has a four-way partition top that provides plenty of room for your child's belongings. Dividers are big enough to hold a whole set of clubs. Moreover, thanks to five roomy pockets, your child can carry all their your gear.
Having a weight of about 3 pounds, it's one of the lightest golf bags on this list. Due to its nylon construction, it is also extremely durable and long-lasting.
One of the great things about this bag is its variety of colors. There is a good chance you will find this bag in a shade that suits your preferences.
Features
DRK 7" PROSiMMON Golf Bag features dual shoulder straps that spread the weight evenly.
This product is lightweight, weighing only 3 pounds
It is made of nylon, which is a durable material
Pros
Ample storage space
Ensures durability with high-quality materials
A lightweight golf bag for kids
The straps are adjustable for a comfortable fit
Cons
The legs could be a little more sturdy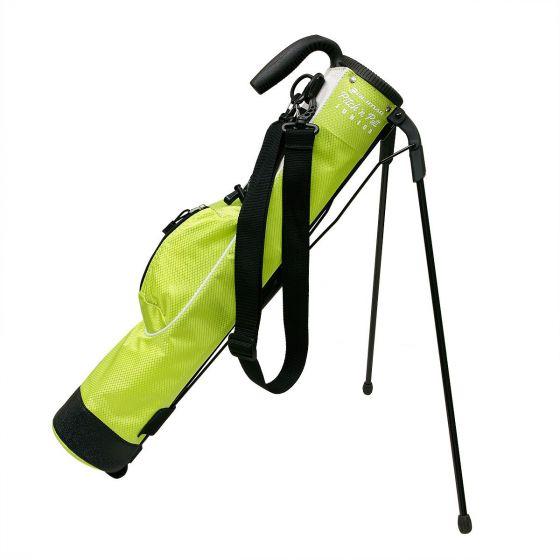 Orlimar Pitch'N Putt Golf Bag
Check Price On Amazon!
Its lightweight design makes the Pitch' N Putt Junior Lightweight Stand Golf Bag an ideal choice for kids. This bag has two compartments for clubs, a pouch for accessories, and retractable legs to make accessing clubs easy.
The weight of this kids golf bag is only 1.95 pounds. In addition to its sturdy construction, the bag has a carry handle and an adjustable shoulder strap.
Features
This golf bag for kids comes with an ultra-lightweight design
There is one accessory pocket included with it
The top is equipped with two compartments for organizing clubs
It features an ergonomic carry handle and shoulder strap
Pros
The lightweight design makes it easy to carry
Using the golf bag will give you enough room for 6 clubs
The polyester construction makes it durable
Cons
There is only one color available.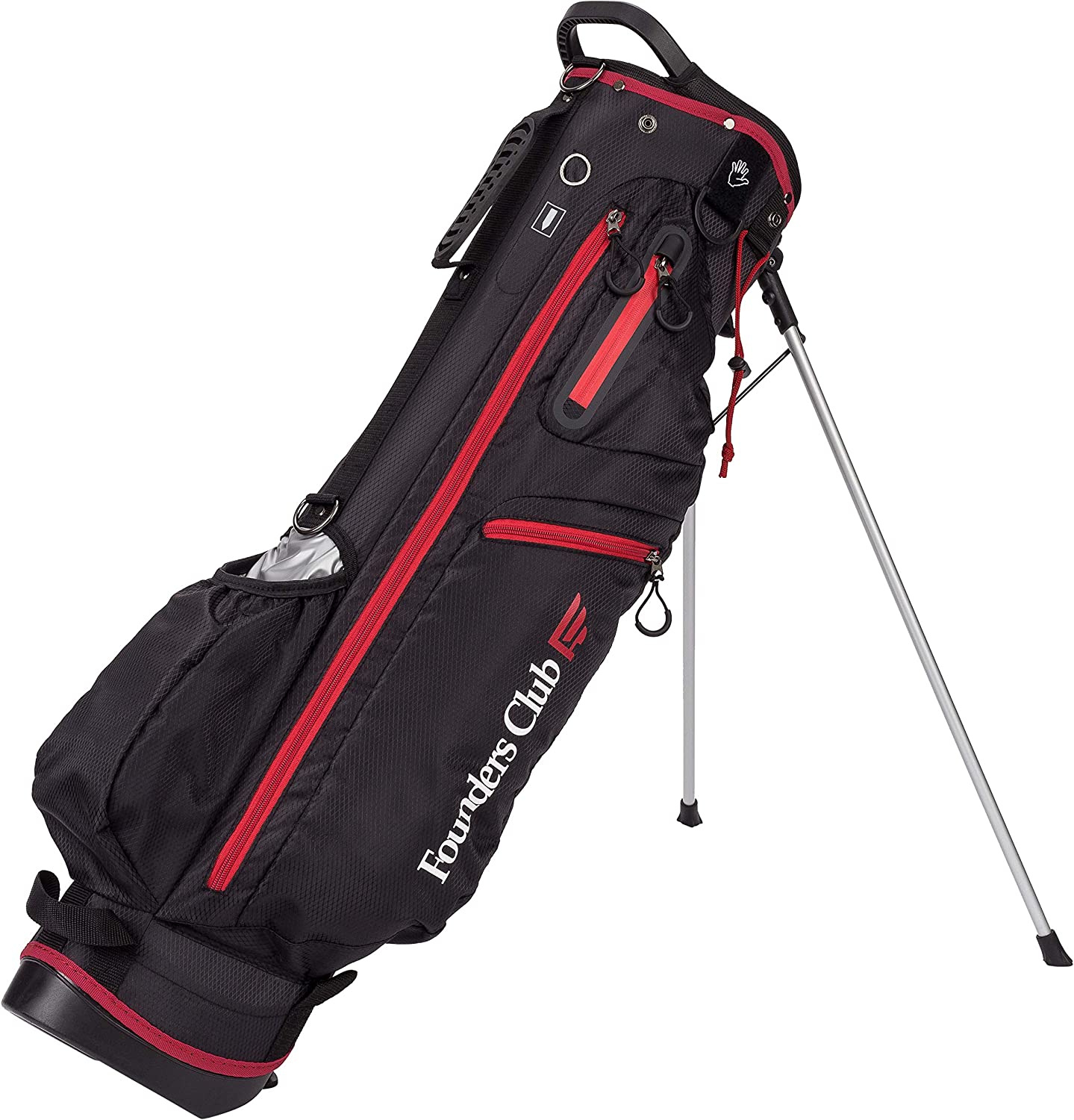 Founders Club 7" Mini Golf Bag
Includes Full Length Dividers
Check Price On Amazon!
Adults love Founders Club bags because they are one of the best golf cart bags available. In 2018, they introduced this kids golf bag to maintain its popularity in the children's market.
They have had great success in the kid's market, which is unsurprising. There are many features on the kid's golf bag, including pockets, durability, and ergonomics. It is also a reasonably priced golf bag.
The bag comes with full-length divider compartments and stand. You can put a full set of clubs in it, and the dividers are full-length, unlike many other bags.
It has three pockets for golf supplies, one for valuables like a phone, sunglasses, rings, etc., and an insulated pocket for water bottles.
It's robust and has plenty of features, yet it weighs only four pounds. Due to its lightweight design, it is among the best golf bags for walking. It is ergonomically designed to ensure no muscular discomfort.
Additionally, the bag comes with a rain cover, a D-ring, and several useful holders. In addition to the Stand's strength, it can also hold several accessories. This bag fits conveniently in a car thanks to its small size.
Features
It features an ultra-lightweight design
It comes with a rain cover, an umbrella holder loop, and a D ring for a towel clip
It comes with 5 pockets for storage
The bag has a top handle, grab handle and bottom lifting strap
Pros
It's lightweight and weighs only four pounds
It fits anywhere thanks to its compact design
Holders provide an extra level of convenience to the kids
The product comes with a 1-year warranty
Cons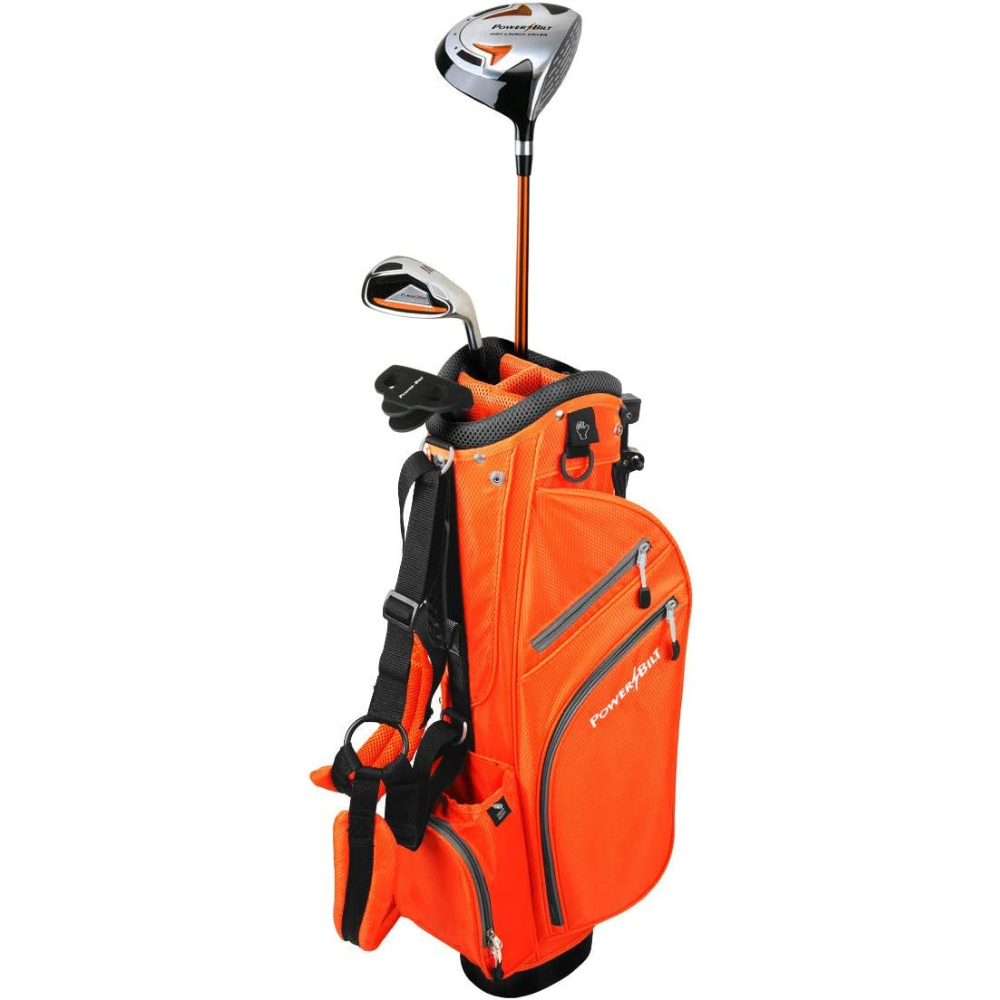 Powerbilt Junior Kids Golf Bag Set
Large Shoulder Straps Provided
Check Price On Amazon!
The "Powerbilt" junior golf bag comes in hypnotic blue and orange shades, enhancing its quality. With 48 x 12 x 14 inches, this golf bag weighs 3.56 kilograms and comes with a 3-club set. Aside from that, the design of this equipment is pleasing to the eye.
Whether your kid is athletic or not, he won't have any problems carrying this backpack around the course.
Thanks to the bag's two shoulder straps, he can wear it as a backpack. Besides that, Powerbilt is pretty similar to most junior golf bags.
There are lots of exterior pockets you can access easily. Comes in different sizes for kids 3-12+ yrs old.
Features
It features a lightweight design
Depending on bag selected comes with set of three, four or five clubs
It features padded dual shoulders
Three zipper pockets are included in the design
Pros
The shoulder strap makes it easy to carry
An ultra-lightweight design
A lot of storage for valuables
Cons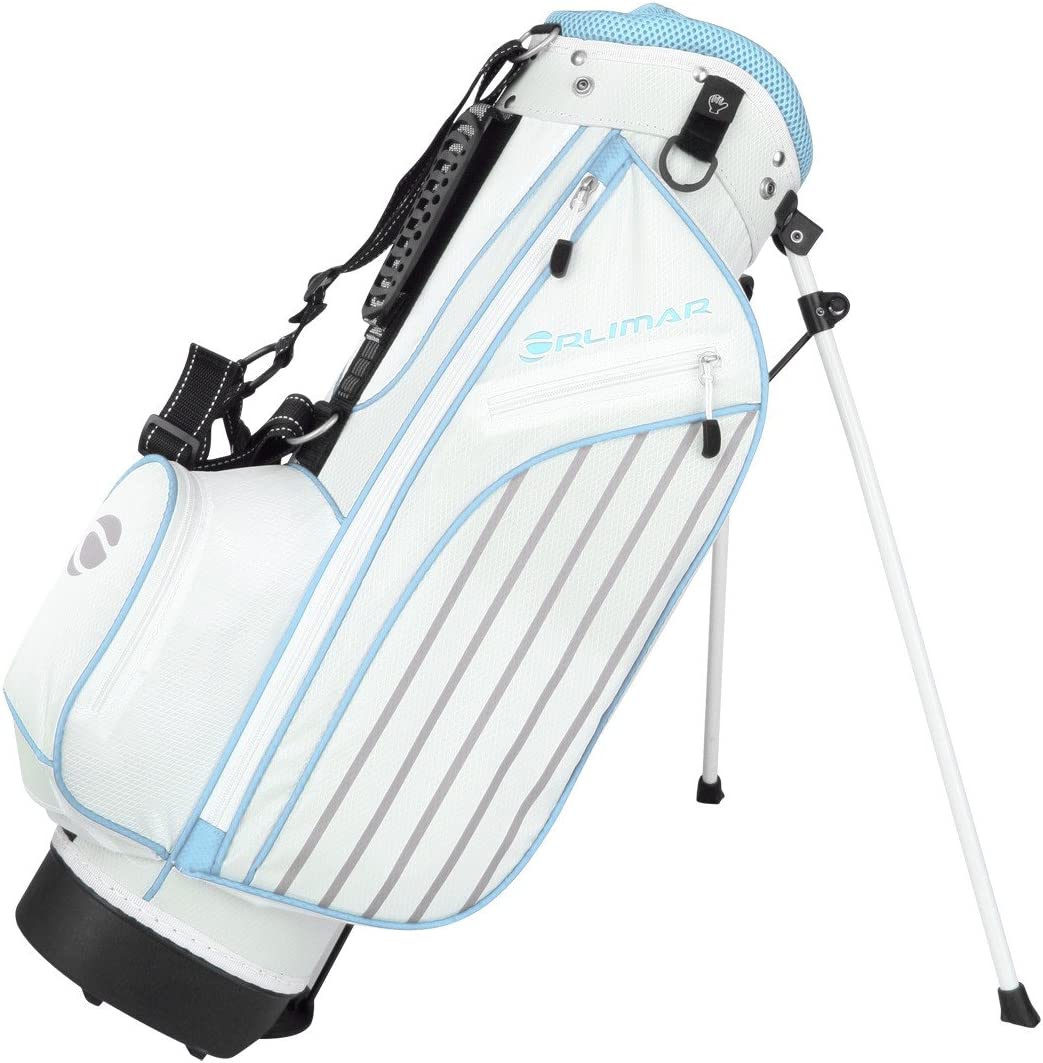 Orlimar Golf ATS Girl's Stand Golf Bag
Check Price On Amazon!
This kid golf bag is specifically designed for junior golfers, so you should check it out. The bag comes in a stylish sky blue design that stands out on the golf course for girls aged 9-12.
In addition to a cooler pocket, the bag has an umbrella holder and a rain hood. When your young golfer is out on the course, this bag will be an invaluable tool for organizing their gear.
Features
It comes with a stylish sky-blue design
There are 5 dividers in the Orlimar kid's golf bag for girls
It features 4 storage pockets
Pros
Designed for kids golfers ages 5-8 and 9-12
The material is durable and long-lasting
A stand makes it easy to access and store
Carrying this bag is easy and lightweight
Very affordable
Cons
The product is available in two colors only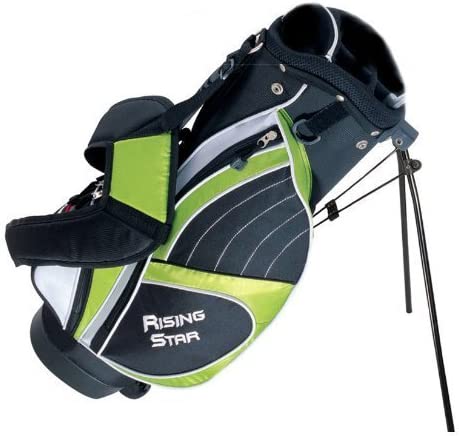 Paragon Rising Star Junior Golf Bag
Check Price On Amazon!
There's no doubt that Paragon makes some of the best junior golf equipment. Over the years, they have developed the best equipment for people of all sizes and ages. Despite being competitively priced, this bag has a lot to offer.
This bag is lightweight, so your child will have no problem moving it around. Besides being durable, the bag is incredibly strong to withstand typical kids abuse.
There is a good amount of storage space in the compartments. They have six compartments, which is more than enough for an entire set. You will not be disappointed with this kid's golf bag if your kid is in need of a new golf bag.
Features
Paragon's Rising Star Junior Bag features a lightweight design
It has padded shoulder straps
The design features 6 dividers
Pros
Compartment with ample space
Two straps make this a versatile golf bag
It can accommodate 7 clubs
The construction is durable
Cons
FAQ's - Kids Golf Bag
What age is a junior golf set for?
How tall is a junior golf bag?
A junior golf bag is typically 35" tall.
What size golf clubs does a 6 year old need?
The size of golf clubs a 6 year old needs depends on their height and strength. If they are on the taller side, they may need adult-sized clubs. If they are shorter or weaker, they may need junior-sized clubs.
You can also find child-sized clubs, which are made specifically for kids. The best way to figure out what size clubs your child needs is to take them to a golf shop and have them fitted by a professional.
What size golf clubs should a 5 year old use?
There is no definitive answer to this question, as it will depend on the individual child's height, strength, and ability. However, most golf clubs for children aged 5-7 years old are between 26 and 29 inches in length.
How do I size my child for golf clubs?
There are a few things to keep in mind when sizing golf clubs for children. First, consider the child's height and weight. Second, think about the child's age and skill level. Third, take into account the child's grip size. Fourth, factor in the length of the child's arms. Finally, choose clubs that are specifically designed for children.
What size golf clubs should a 10 year old use?
A 10 year old should use clubs that are appropriate for their height and strength. If they are too big, they will have a hard time controlling the club. If they are too small, the club won't be effective.
Bonus Question - Are there different size golf bags?
There are three general sizes of golf bags: carry bags, cart bags, and tour bags. Carry bags are the smallest and lightest, designed to be carried by the golfer. Cart bags are larger and heavier, designed to be carried on a golf cart. Tour bags are the largest and heaviest, designed to be carried by a caddy.
Conclusion:
The kids golf bag is a great way to get your child into the game of golf. It is also a great gift for any occasion. With its many conveniences, the kids golf bag is sure to make your child's golfing experience more enjoyable.
Well, that's all for today's roundup about the best kid's golf bags in 2023. Kids should be able to use their kid golf bags for at least a couple of seasons.
We recommend investing in a high-quality, lightweight kids' golf bag that your child will enjoy carrying at the range and on the course all day.
Hopefully, we have brought you some enlightenment after reading this review guide.
Thank you for visiting and we hope to see you back soon!