Golf Attire Basics
One of the great things about golf is that the golf dress code is quite simple. If you belong to a private golf club you would need to follow the dress code for members.
If you are like the rest of us who play at public golf courses then you should dress in clothes that would be appropriate for a casual setting. Golf wear should be comfortable as well as stylish, so let's go over some basics.
Choose clothing that is comfortable and breathable
Women's golf clothes have come a long way in recent years, but there are still some key elements to remember when playing this sport.
Comfort and breathability are two of the most important factors when it comes to selecting clothing for golfing.
Below are suggestions on the types of pieces women can wear while enjoying a leisurely afternoon on the course.
Choose fabrics such as cotton and polyester blends, which offer optimal flexibility and breathability. During summer months, lighter weight fabrics that wick sweat away from the body are ideal.
Avoid garments created with fabrics that tend to restrict your movements or soak up moisture––merino wool, flannel and other materials that tend to absorb more moisture should be avoided.
Consider the weather when selecting your outfit
When selecting your golf attire, you should always consider the weather. In hot weather, a women's golf outfit usually consists of shorts or capris paired with a golf shirt or tank top; and in colder weather, golf pants are often preferred.
Additionally, layering can be a great way to stay comfortable in all temperatures. For instance, if it is cooler on the course than expected and you don't want to be too bundled up for your swing, you could wear multiple layers that can easily be added or removed as needed.
For example, wearing a long-sleeve shirt as an under-layer beneath light slacks might provide an appropriate layering option while still ensuring maneuverability during your swing.
Dress appropriately for the golf course
It is important to respect the dress code when playing golf. Women should dress smartly and appropriately for the golf course, as a respectable attire is an integral part of the game.
Clothing that is lightweight, comfortable and appropriate for physical activity should be worn. Depending on the temperature and weather conditions, golfers may opt for shorts or long trousers.
Shirts should be collared or turtleneck in nature with sleeves either long or short, as preferred. Shirts may be golf-specific styles or regular sportswear like polos and other tasteful tops, however tank tops are generally not appropriate for women playing golf although many courses do not prohibit them.
Layering pieces such as sweaters and jackets may also prove useful depending on the weather conditions.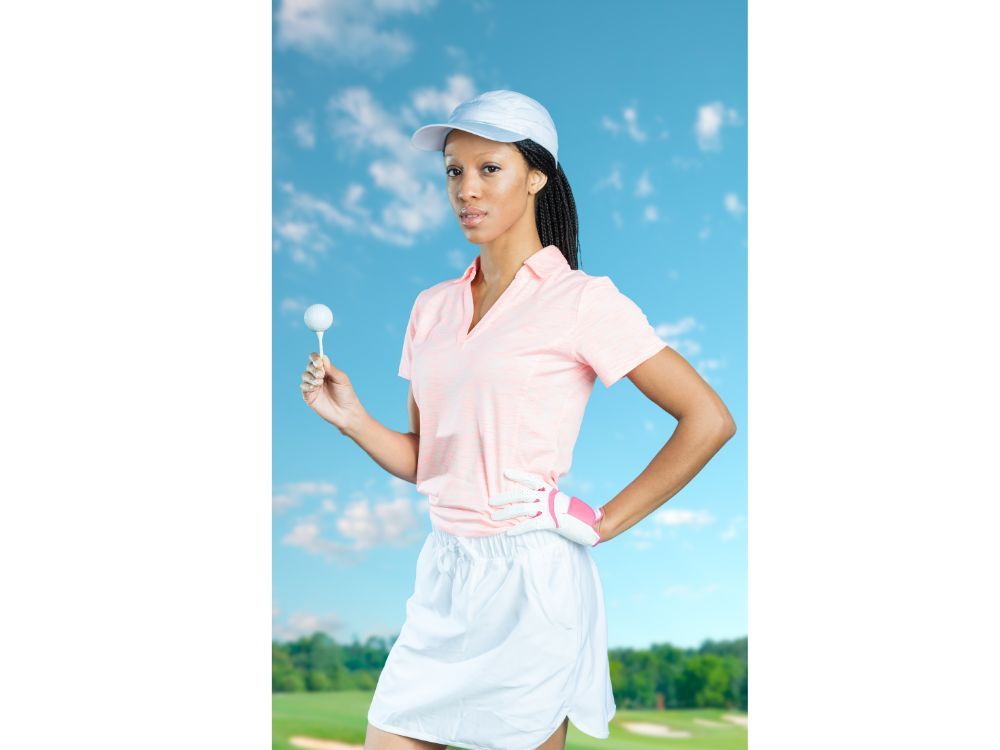 Golf Shirts
Women's golf shirts are an important part of their golf wardrobe. Fashion has come a long way in the golf world and now, women have a variety of stylish shirts to choose from.
From ultra-feminine to more traditional color palettes and designs, there is something for every golfer.
Select a golf shirt that fits your body type
Various silhouettes, designs and cuts are available in golf shirts to suit different body types. To enhance your golf performance and look great on the course, it is important to choose a shirt that is comfortable with the right fit.
Women's golf shirts come in various fits from slim fit to full cut and from fitted golf tops to button sweater vests. Here are some tips for selecting a women's golf shirt that will flatter your figure:
If you have a fuller figure or don't want to show too much skin while playing, choose a golf polo shirt that has two-way stretch fabric, which will move and flex with you as you swing your club.
If you prefer more coverage and would like to stay warm on cool days out on the course, try a mock turtleneck or zip up version.
If you have an hourglass figure, go for fitted styles that hug your waist giving you an enviable silhouette while swinging through the links.
Once again, look for sleek fabrics with two-way stretch fabric designed specifically for movement. For added sophistication layer shirts with cardigans or vests - opt for ones with light colors and feminine cuts like buttons or embellishments.
Finally, if you have more of an athletic build opt for lightweight corporate polo's in bright colors with bold prints which can add visual appeal - avoid wearing heavy fabrics as they may be uncomfortable when moving through multiple rounds of play throughout the day.
Choose a shirt with a collar or a mock collar
Many shirts today are made with moisture wicking technology so that you can stay cool and dry while playing a round.
Women's golf shirts typically have a collar or a mock collar, making them suitable for the course and professional environments.
A collared shirt gives the breeze more windbreak than other styles. The material often has stretch and is lightweight, providing flexibility in movement.
With various colors, cuts and designs offered for women's golf apparel, you are sure to find something that suits your style preferences as well as your body shape regardless of whether you're petite or plus size.
Make sure to find something with UPF protection from UV rays in order to optimize your comfort on the course!
Golf Bottoms
Women who play golf often wonder if it is more appropriate to wear pants, skirts, shorts or skorts when playing on the course.
I'm happy to say any of these are appropriate in today's golf world. There are some factors to consider when deciding between them, such as the weather and the overall dress code for the golf course.
Select pants or shorts that are lightweight and breathable
When considering what type of bottoms to purchase when playing golf, it is important to select a pair that are lightweight and breathable.
A pair of lightweight bottoms will keep you cool and comfortable during a game. Choose breathable fabrics such as cotton, nylon and spandex since these materials wick away moisture from the skin. Avoid fabrics such as wool as they trap moisture and make you feel hot.
Golf bottoms for women come in different styles. Look for features like adjustable waistband widths, belt loops, side pockets, zipper closures on leg openings for rolling hems up or down and sewn-in creases along the front legs to provide a stripe pattern look during play.
Color options vary but darker tones tend to look nicer on the golf course rather than bright or light shades which may become see-through in sunlight if wearing white undershorts underneath is not practical or desirable.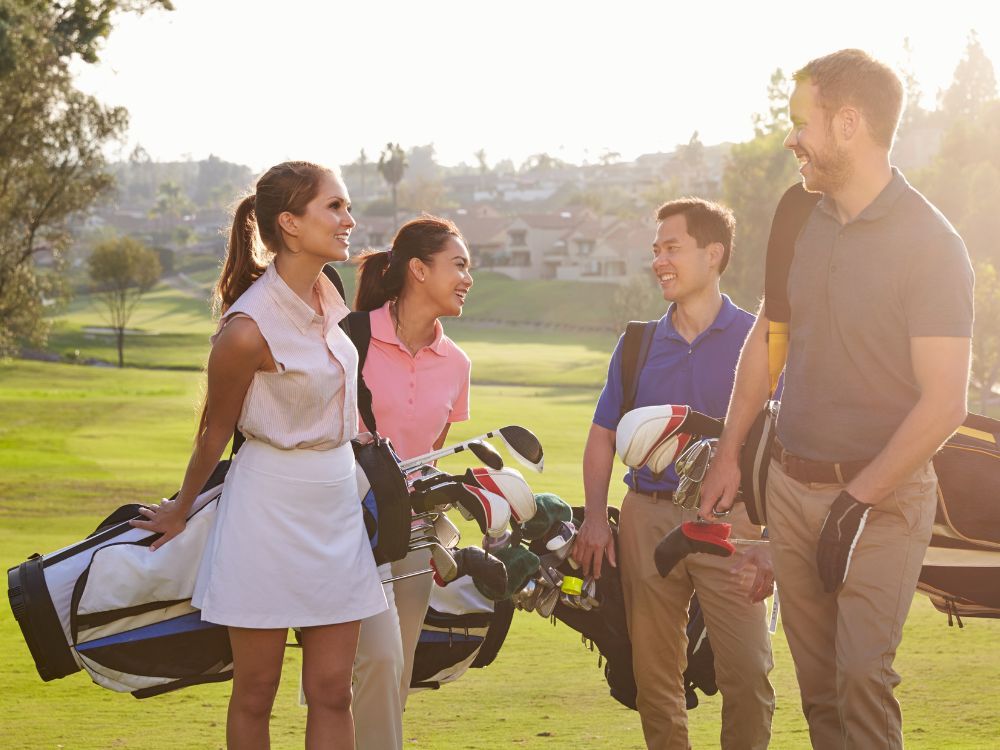 Choose Bottoms with pockets
When selecting golf bottoms it's important to consider the design and function of the garment. The most functional golf apparel has plenty of pockets to keep your accessories and personal belongings secure as well as having a place to keep your balls and tees.
Women's golf apparel also comes in a variety of styles and materials, such as pants, skirts, shorts, capris and even skorts–shorts with an attached skirt! Many professional women golfers can be seen wearing skorts in tournaments.
When choosing bottoms for golfing make sure they fit comfortably in all the right places but also allow you full movement without feeling restricted or too tight .
Look for pants or shorts that are made from moisture-wicking fabric like polyester or nylon–this type of fabric can be machine washed or dry cleaned with ease and cut down on drying time too.
Additionally consider the length; shorter shapes like capris are ideal for summer months as they help keep you cool by allowing air flow around your legs.
Golf Shoes
As with golf clubs, golf shoes are essential to a successful and comfortable round of golf. All golfers, regardless of gender, must wear golf shoes for their round in order to get the most out of their game.
But, golf shoes for women are specifically designed to fit the needs of female golfers. Let's break down what golf shoes for women look like and their benefits.
Select shoes that provide stability and traction
When selecting the right golf shoes for you, there are a few key features to consider. Firstly, you'll want to make sure your golf shoes provide sufficient stability and traction while walking.
This is especially important for female golfers who have less body mass displacement on the course than male golfers.
While it may not seem like much, standing and gripping for long periods of time can cause fatigue in the legs more quickly than males if not properly supported.
Choose shoes with cushioned insoles for comfort
Women's golf shoes should include specific designs that support the arch and forefoot—with generous cushioning in both areas—while providing unique characteristics as well such as enhanced heal-toe/ball drop ability, or occasional heel lifting during shots since women tend to hit with a flatter swing than men do.
Cushioning around crucial points of contact along the foot are also important elements of fit and feel when playing female golfers should ensure their shoes give them the support they need so they can play better for longer amounts of time without discomfort.
Look for shoes that are waterproof
Waterproof golf shoes are essential when playing in wet or damp conditions. Not only do waterproof shoes provide greater protection against the elements, but they also help to keep your feet warm and comfortable on the course.
Look for golf shoes that have Gore-Tex technology, which helps to block out moisture while allowing air to pass through, keeping your feet dry and comfortable without adding too much weight.
When shopping for waterproof golf shoes, consider shoes with rubber outsoles and waterproof uppers — these features help to enhance your grip, traction and stability during a round of golf.
Additionally, waterproof golf shoes should be lightweight to reduce fatigue and pack a bit of support for your arch so that you can make sure you remain mobile on the course throughout your rounds.
Accessories
Select a hat or visor to protect from the sun
Head protection is essential when playing golf, as exposure to the sun's harmful UV rays can cause sunburn, heat exhaustion and dehydration.
When choosing a hat or visor for golf, make sure it has a brim to keep the glare of the sun out of your eyes. Additionally, look for a cap with ventilation holes in order to keep your head cool while walking around the course.
It's important to note that baseball caps may lack suitable brim styles and are often not ventilated enough for hot days. Pick a hat or visor in white or light colors as darker hues absorb more heat from the sun.
If possible, select a style with reflective accents so you can stay visible from dusk to dawn on courses where many players tee off after dark.
Choose a golf glove to improve grip
Golf gloves can not only help improve your grip on the club, but also offer protection from blisters and skin damage.
In addition to matching your outfit for the day since they come in so many colors. When selecting a golf glove it is important to find one that fits properly.
To ensure you get the best possible fit for your hand you should look for a glove made with compression-fit technology, which helps keep the glove close to the hand without bunching or wrinkling up in an awkward position while playing shots.
We hope this answers the question of, what do women wear to golf?
Thank you for visiting and we hope to see you back soon!
Note: We use affiliate links and may receive a small commission on purchases at no additional cost to you.