Note: *All products featured on GolfOften.com are researched and selected by our editors. However, when you buy something through us, we may receive a small commission at no additional cost to you.*
Golf is a popular sport for people of all ages, but children especially enjoy the sport. Taking part in this sport can improve their coordination and even teach them sportsmanship.
If you want your kids to have the best-golfing experience, you should find the best golf clubs for kids. Despite this, choosing golf clubs for kids can be difficult because there are so many types to choose from.
The best youth golf clubs are sized right, weighted right, and made from high-quality materials.
To make things easier, we have compiled a list of the best golf clubs for kids. A key advantage of these kid's golf clubs is that they're adaptable and offer adequate space to develop your child's skills.
Best Youth Golf Club for Kids
How We Choose
By researching the market, we have provided you with a variety of options so that you can select the one that best fits your needs.
Our professionals have chosen products that combine reliability, affordability, and efficiency based on the reviews. We only recommend products that have 4 or 5 stars and are backed by real customer reviews.
The following are some of the best golf clubs for kids you need to know to make the right purchase.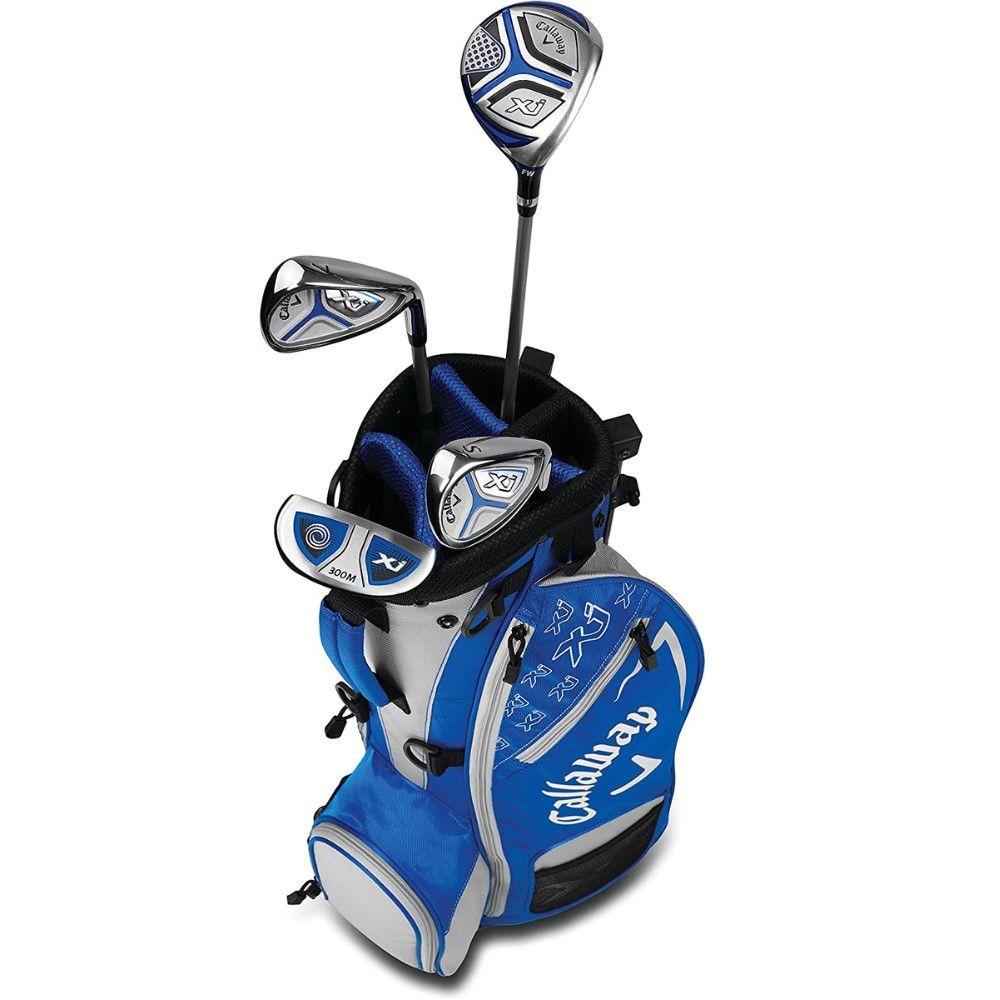 Recommended for golfers 9-12 Years Old
Check Price On Amazon!
Undoubtedly, Callaway is one of the best brands in the golf industry, and their golf clubs for kids are no exception. Callaway Junior XJ is one of the best options if you want the best golf club for kids.
Callaway junior clubs are recommended for golfers 9-12 years old and between 54-61 inches tall.
With its lightweight graphite shaft and titanium driver, you'll get maximum forgiveness and distance. The side spin is minimized to maintain a straight and precise ball flight.
Kid golfers can get the most forgiveness with large irons with undercut cavities and maximum perimeter weighting.
With the help of a two-ball Odyssey putter, the 12-year-old golfer will learn the importance of alignment when putting.
You can't go wrong with this Callaway golf club for 12-year-olds who play serious and competitive golf.
Why We're Fans
The driver is made of lightweight titanium that's durable
It comes with comparatively superior irons
There are different sizes available
The club uses wood technology and hybrid technology to elevate the ball quickly for longer distances
It features Callaway's Odyssey 2 ball design putter for maximum accuracy
There is a sturdy and optimal bag included with the club set
What to Know
Pricey compared to similar options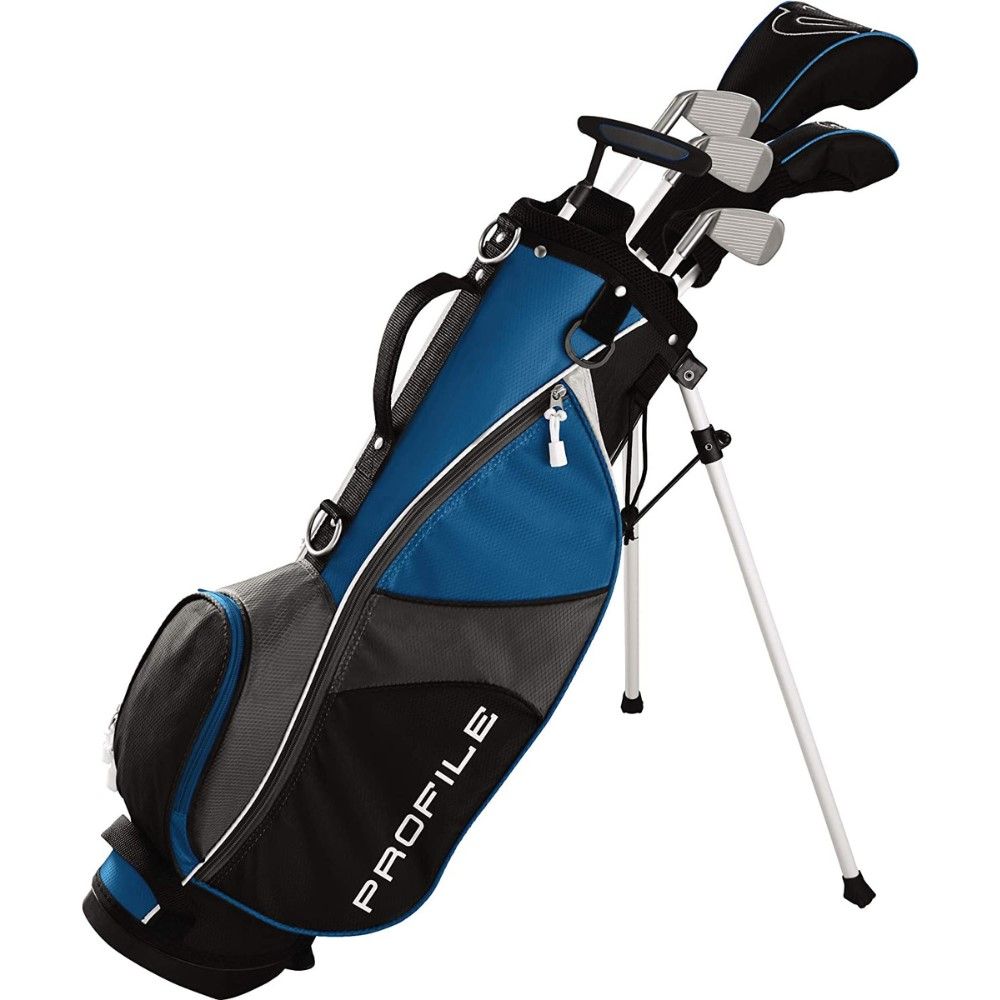 Durable - Made To Survive The Rigors Of Junior Golf
Wilson Profile Junior Golf Clubs
Check Price On Amazon!
Over the past century, one of the most recognizable brands has amazed many golfers as one of the greatest golf clubs for kids. Wilson Profile Junior clubs are good for kid golfers between 11 and 14 years old.
For a decent price, Wilson Profile Complete Set is one of the best kids' golf club sets. Well-made junior golf clubs are made with materials that can survive the rigors of junior golfers honing their skills.
For beginning junior golfers, the clubs have a larger clubhead to help them strike the ball more effectively.
In addition to the flattering hybrid with its large sweet spot, fairway woods are effectively lofted to get the ball in the air.
With an alignment aid and a heel/toe weighted putter, a kid golfer can improve accuracy and make more putts.
With the help of a lightweight stand bag with padded straps, your kids can carry their clubs around the course comfortably.
A long history, high quality, and reasonable price make the Wilson Profile Junior Golf Club the best golf club for kids.
Why We're Fans
There are left-handed and right-handed orientations available
Kids beginner clubs with decent materials and construction
There's an alignment tool on the putter
The shaft flexes the right way
Priced affordably
Provides proper sizing to all juniors
What To Know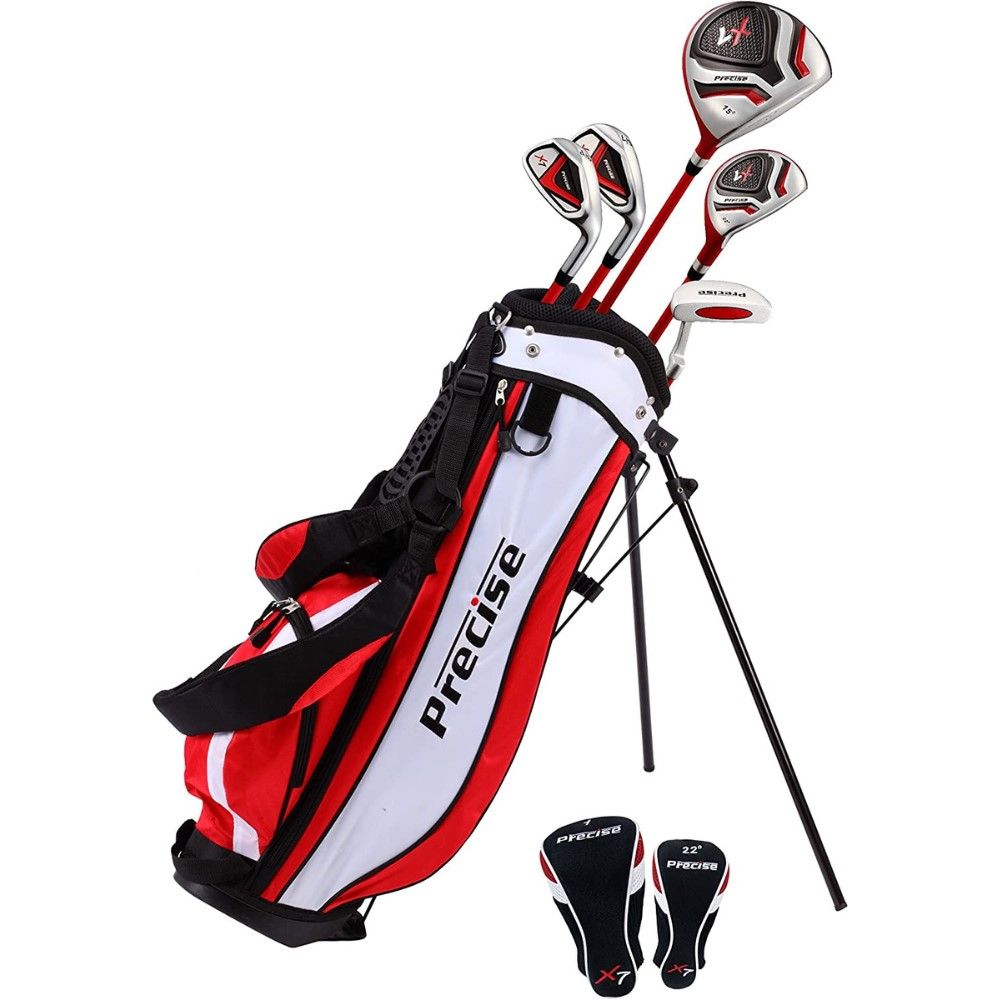 Everything Your kid Needs To Start Playing Golf Without Breaking The Bank
Precise X7 Junior Complete Golf Set
Check Price On Amazon!
This Precise X7 Junior Set has everything your kid needs to start playing golf without breaking the bank because it's both affordable and good.
A good first golf experience is important for kid golfers' future enthusiasm. Therefore, you should ensure your kid gets the right golf equipment for their size, strength, and skill level.
Precise X7 junior set combines proven technology with lightweight, forgiving, easy-to-hit kids' clubs. It will make your little golfer hit a long-distance shot that launches high. Depending on the size and color, you can choose this golf club for both boys and girls.
Getting your kids involved in various clubs is crucial when they're starting. The goal is to show them how effortless hitting a driver or wedge is. That's exactly what this golf club set offers.
With these lightweight clubs from Precise, your kid can smash the ball more easily and extend his or her range.
The junior sets use hybrid woods to replace the longer, more difficult irons.
All clubs have junior flex and lightweight graphite shafts that make it easier to stroke the ball. Furthermore, the stand bag with dual straps lets kids carry their clubs like backpacks.
The Precise kid's golf club set is a great option if you want the best golf club for kids.
Why We're Fans
Boosts the accuracy and distance of shots
Easy-to-use raised handles to provide comfort and convenience on the bag
The product is available for both left-handed and right-handed juniors
An affordable price
What to Know
Other clubs have more durability
The shafts may be shorter than expected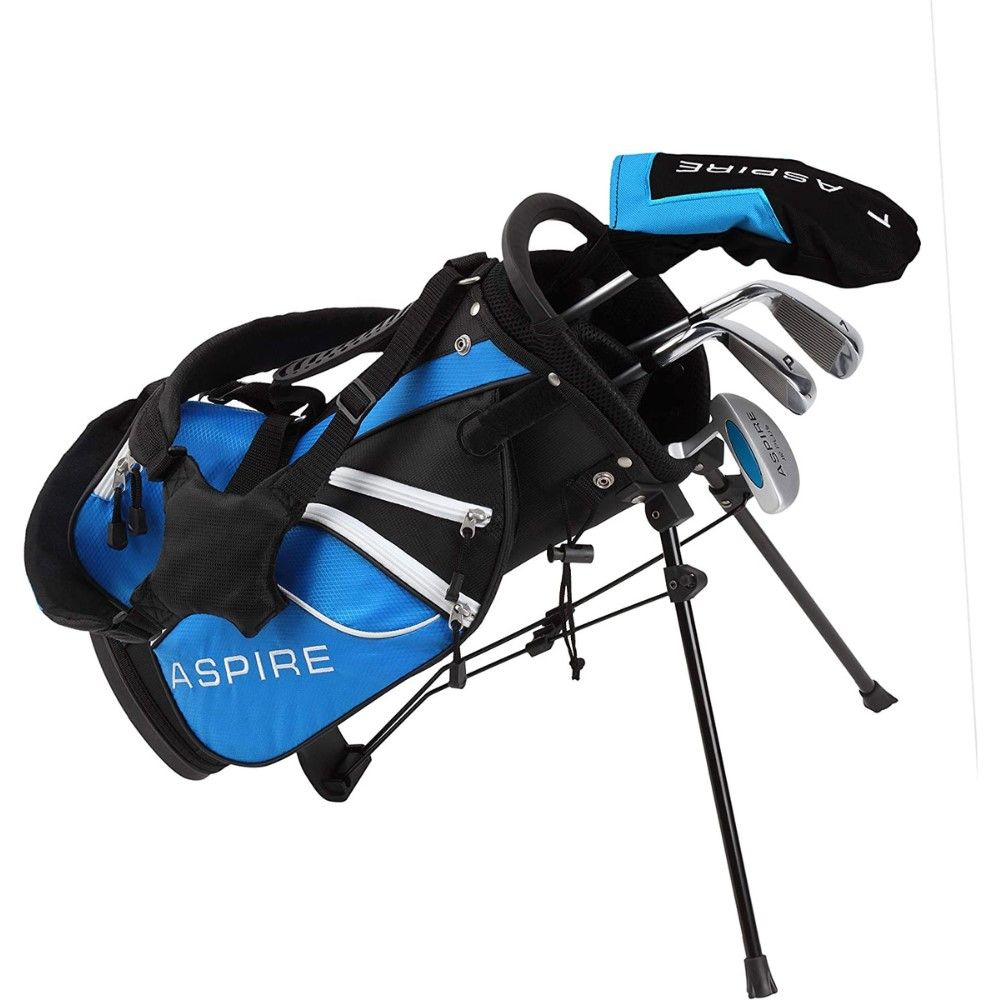 The Aspire Junior Plus Shafts Use The Progressive Flex System, Which Adjusts The Flex Based On Age.
Aspire Junior Plus Complete Golf Club Set
Check Price On Amazon!
In reality, kids can be irresponsible. If they're not swinging their clubs like a lightsaber, they leaving them outside on a chilly winter night.
In this case, a sturdy club set like Aspire's Junior Plus is the best choice. It is important to consider the strength of a golf club when choosing a set of clubs for your kids.
Before your kid is ready for adult-size equipment, you'll probably have to replace their cheap, low-quality clubs a lot. Thus your kids need sturdy golf clubs they can use as they grow and develop so they can enjoy golf for years to come.
You can relax your mind and ease your wallet with the Aspires Junior Plus Complete golf club set. Kids will love this club set, which has a kid-friendly style and comes in different sizes.
The golf club sets typically come with a hybrid, a driver, a putter, and two irons.
However, there will be various club head sizes and weights depending on the age group.
Older age groups have larger and thicker club heads, while younger age groups have smaller and lighter clubs.
Aspire Junior Plus shafts use the Progressive Flex System, which adjusts the flex based on age. Each age group has a different graphite shaft. It ensures that the kid has the right length golf club for their speed and swing strength.
Junior Plus iron heads are 15% bigger and 20% lighter than regular junior irons. The use of aircraft-quality aluminum results in larger sweet spots and smoother swings.
It's easy to carry on the golf course with two straps and a comfortable handle on the golf bag. A sturdy stand lets it stands while playing shots, and you can wear it like a backpack.
Combining all these features makes this a great option when choosing a golf club for kids.
Why We're Fans
Sturdy and durable
Designed to fit each size's profile
It is suitable for kids of all ages
Bag with straps that is lightweight
A variety of colors are available
What To Know
Left-hand orientations are not available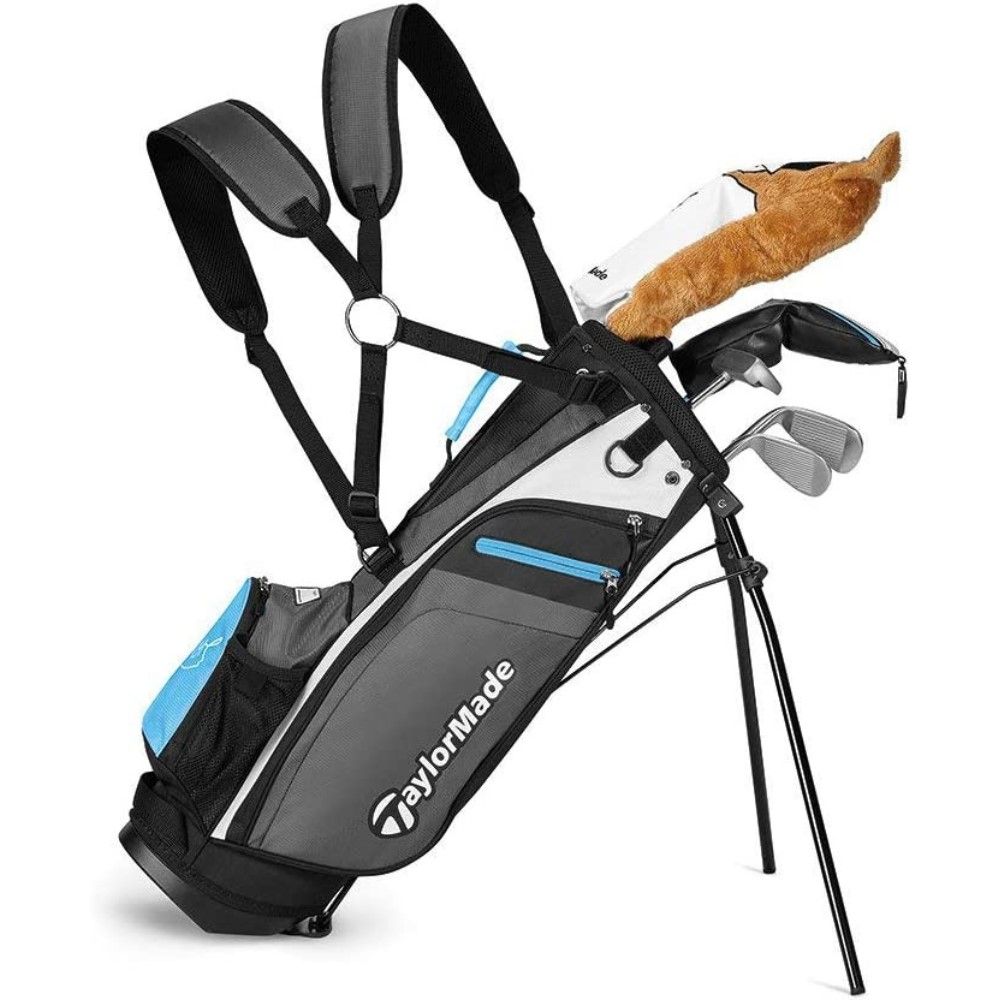 Offered In Both Right and Left Hand Versions
TaylorMade Rory Junior Golf Set
Check Price On Amazon!
Your child will like these clubs from TaylorMade's "Rory Junior Set," another renowned golf brand that offers junior equipment. The six-piece set is offered in both right- and left-handed versions for both boys and girls.
Each set has been carefully designed to provide the ideal lengths, lofts, and shaft flexes to encourage the right swing mechanics in young players.
Rory 400cc titanium driver is designed to produce high-launching drives off the tee, while fairway and rescue are made to promote easy launch and more forgiveness.
By contrast, irons are designed with loft configurations that launch the ball straight and high. The center-shafted mid-mallet putter was designed for short-game improvement because of its higher stability and simple alignment.
Therefore, this TaylorMade set will fit the bill if you're looking for reliable golf clubs for kids.
Why We're Fans
It comes with a lightweight, ergonomic stand bag
A fairway wood and rescue club that's easy to hit and launches high
Featuring a St. Bernard headcover and a 400 CC titanium driver
This putter has a center shaft that makes alignment a breeze
The irons are perimeter weighted and super forgiving
What To Know
A little more expensive as compared to others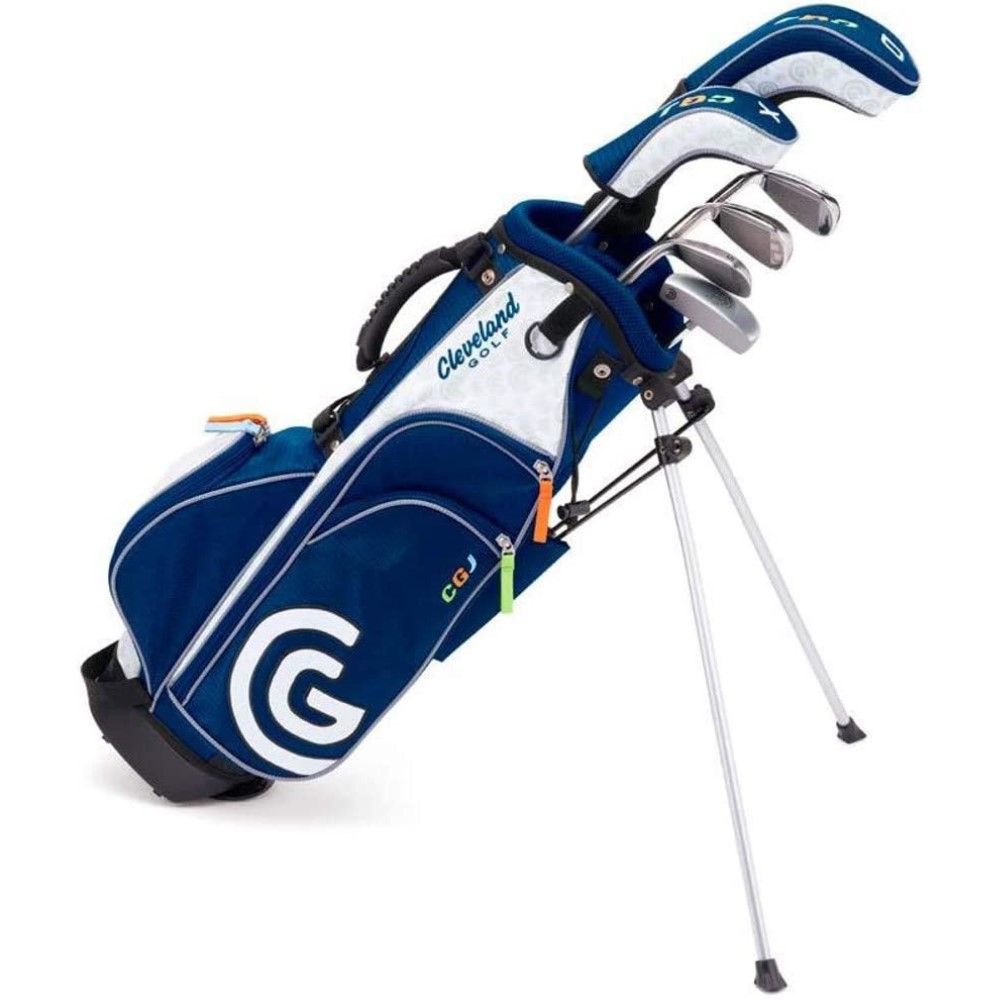 Cleveland Offers Quality Clubs In Three Different Sizes
Cleveland Golf Junior Set
Check Price On Amazon!
This golf set from Cleveland is a great option if you are searching for the best golf clubs for kids. A junior golfer will need high-quality equipment at some point, which is why Cleveland Golf offers this quality product in three sizes: small, medium, and large.
In addition, they feature three, six, and seven clubs, respectively.
A vibrant and contemporary golf bag caught our attention immediately, and the clubs have enough loft to launch the ball.
This club also allows you to generate club head speed for distance with its lightweight graphite shafts and Cleveland logo in the middle of the face. It identifies the user's objective.
Why We're Fans
Construction and materials of good quality
There are different sizes available
Stylish clubs and durable bag
Affordably priced
What To Know
The left-hand orientation is not available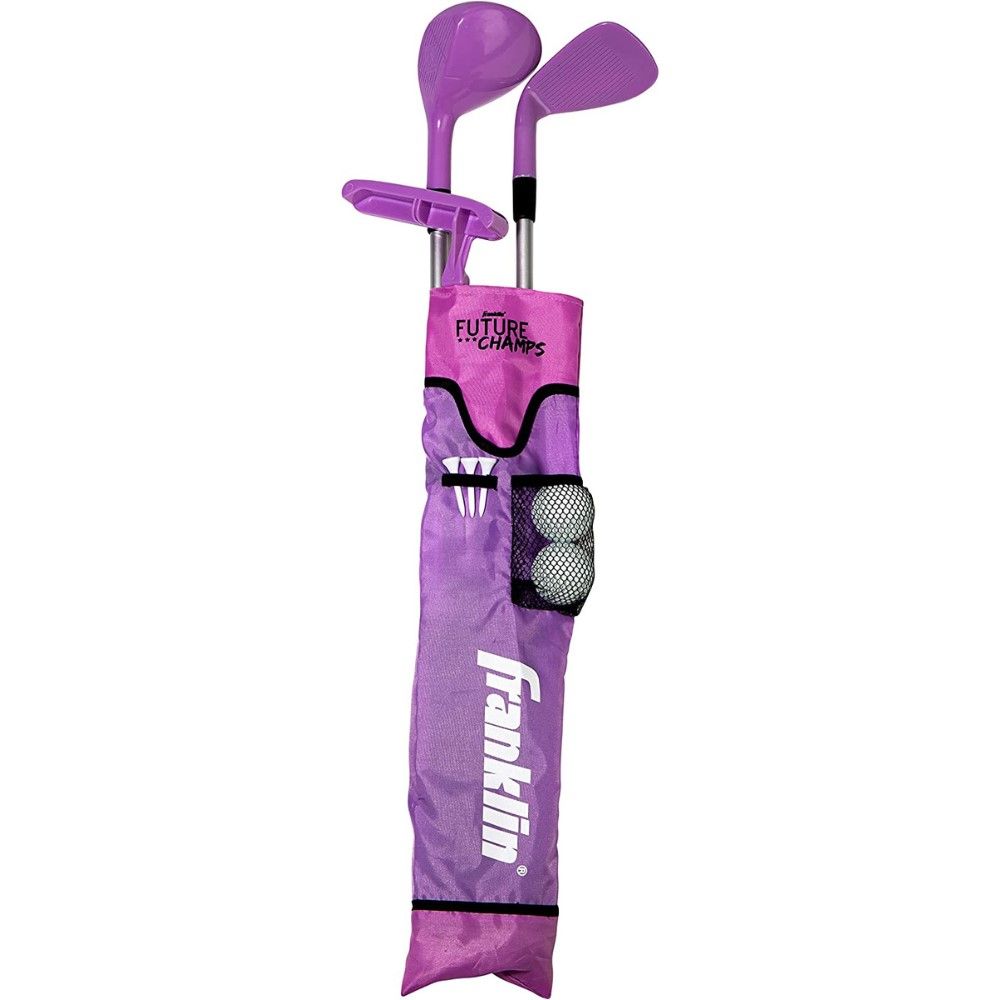 Comes With The Franklin ADJUST-A-SPORT Technology, Each Club Can Be Adjusted For A Custom Fit And Encourages Optimal Swing Techniques.
Franklin Sports Kids Golf Set
Check Price On Amazon!
Franklin Sports kids golf set is a great option for parents looking for a cheap kids' golf club set. In addition to a foam golf ball set, an adjustable putter, iron, and driver, your kid will get a golf set with everything he needs to play.
With Franklin ADJUST-A-SPORT technology, each club can be adjusted for a custom fit and encourages optimal swing techniques.
Those who take their sets on the road will appreciate the bag's shoulder strap and ball and tee storage slots. Therefore, you can get all of these benefits for a good price.
Why We're Fans
The ergonomic hand grips of each club teach optimal hand placement
Franklin adjust-a-sport technology is featured in each club
There's a full set of adjustable putters, a driver, irons, two foam golf balls, and three tees.
Affordably priced
What To Know
Made from plastic so not as durable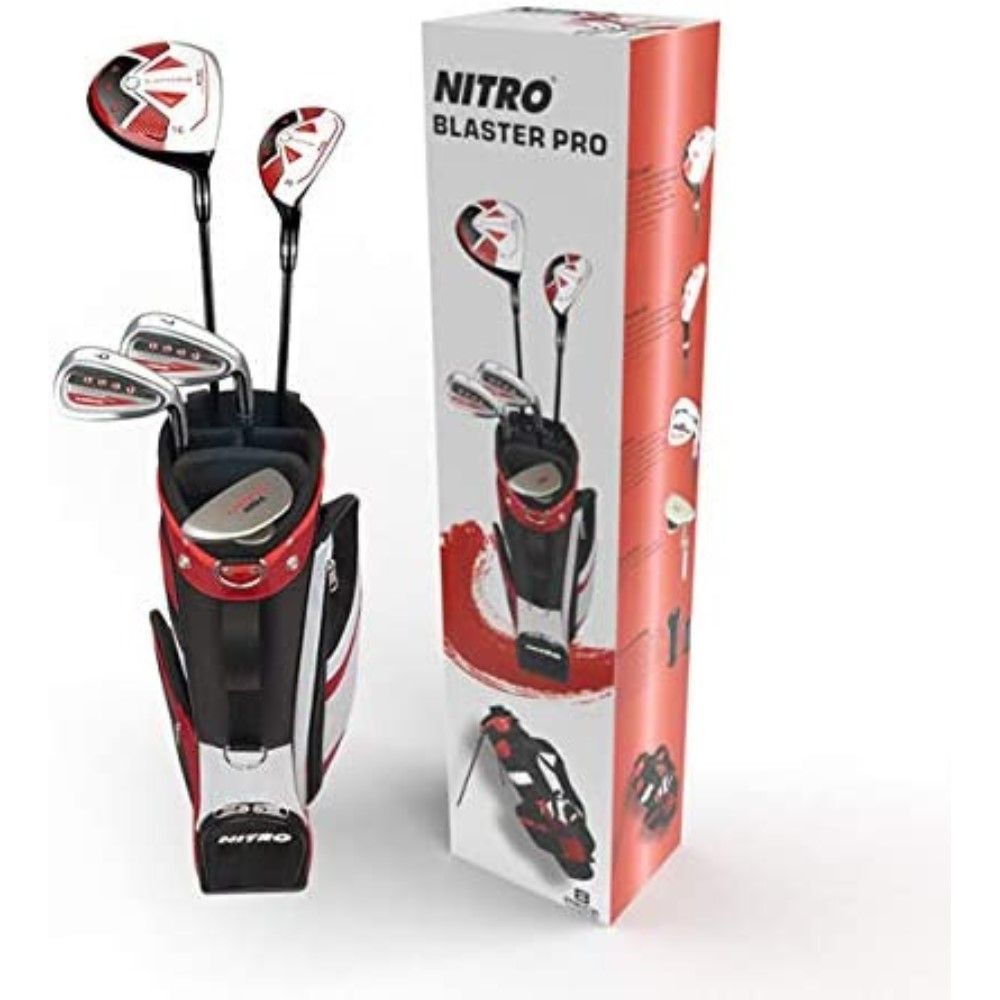 One Of The Few PGA of America-Approved Sets
Nitro Blaster Pro Golf Set Junior
Check Price On Amazon!
Nitro Blaster Kid's Golf Set, one of the few PGA of America-approved sets, is designed for kids aged 9-12. Although PGA certification can't guarantee better golf, you can be confident that your kid's golf club set is built well.
Buying a decent set of Nitro clubs won't break the bank if your child wants to advance their golfing skills.
It is constructed using a combination of plastic, steel, graphite, and other lightweight materials. Nitro Junior golf clubs are awesome for kids who want to improve their game.
Using less expensive materials in its construction, Nitro keeps its prices low without compromising quality.
Why We're Fans
The construction is made of steel, graphite, and plastic
The putter features a 2ball style
It features a 16-degree driver fairway wood
It is easy to clean and care for
What To Know
The left-hand orientation is not available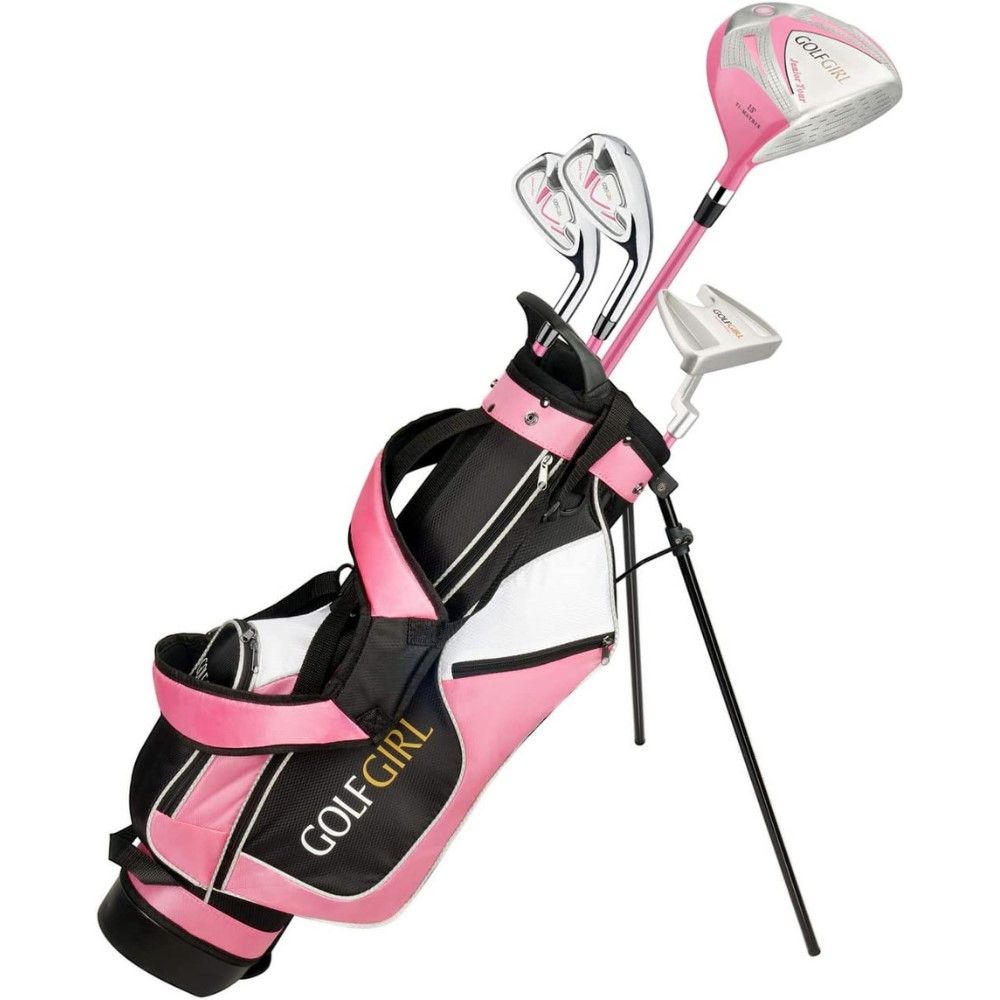 Comes With Confidence Boosting Mallet Putter
Golf Girl Junior Girls Golf Set
Check Price On Amazon!
When you want your girl kids to spend more time outside, get them this Golf Girl set. In addition, she should be attracted to the color pink.
These golf clubs are ideal for kids between 8 and 12 (although even those as young as 8 seem to be using them pretty well).
In addition, it comes with a good quality stand bag with a carry sling. It comes with a large sweet spot on the driver, cavity-back irons, and a beginner-friendly mallet putter.
Why We're Fans
The perfect golf starter set with distance-boosting, forgiving clubs
The stand bag and clubs are of excellent quality
Consistent putting with high MOI putter
Stunning pink color
What To Know
Available in one color
The left-hand orientation is unavailable
Left Handed Clubs
Confidence Junior Golf Clubs Set
Check Price On Amazon!
The Confidence Junior Golf Club is an esteem-boosting golf club for kids ages 4 to 7. For a four- or seven-year-old taking golf lessons, it's a set of golf clubs you can't find these days.
The clubs are well-sized and incredibly durable. It is especially true considering their left-handed orientation!
This lightweight junior set of golf clubs has graphite shafts. In addition, it is very forgiving and swings easily. It is also commendable that the company included a high-end golf bag with double shoulder straps and pop-out legs.
Why We're Fans
Every golf club has a graphite shaft to boost speed
It comes with a stand bag that's sturdy, strong, and lightweight
Putter alignment aid ensures consistent putting
Clubs with large faces make solid contact with the ball
What To Know
Right-hand orientation is not available
The above are all the best golf clubs for kids available on the market. The above guide has taught you that club size is an important thing to consider.
So, you can wonder how to size golf clubs for kids or how to measure golf clubs for kids. Let's have a look.
What Should You Consider When Choosing A Golf Club for Kids
When choosing the best golf clubs for kids, you must keep a few things in mind. First, you must buy kids' golf clubs that feature the right size and age for your kid, not adult clubs.
As you'll see in our list of the best golf club for kids, various kinds of clubs are available for kids.
When trying to buy the best jr golf club for kids, the following are some things to consider.
Sizes and Ages
One of the most important things to consider when buying a golf club for kids is this. Be sure the club has the right size, height, and weight for your child.
For kids' golf clubs, it's always good to know their height range and level of play before you buy. As a result, you'll get a club length appropriate for your kid's height.
Brand
In many cases, clubs are of poor quality. Often, they are poorly constructed and have problems with the head, shaft, or grip. Choosing companies with a good reputation in the golf community is worthwhile since they'll build quality products. The prevalence of Callaway and TaylorMade is a good example.
Putter
You should also consider the putter with each set of kids' golf clubs. Most putters were once blades, but today you can also find mallets or high MOI models. In general, we recommend a mallet or high MO style putter.
Putters like these are easier to hit, more consistent, and extremely forgiving when you're off-center. Golf is much more enjoyable when you're confident on the greens and feel self-assured.
Graphite Shafts
There is no doubt that kid clubs are distinguished from standard clubs most by their shafts. With a graphite shaft, the golf club for kids is much lighter, making it easier for them to hit.
Therefore, if you are interested in providing your kid with a lightweight golf club, you should consider a golf club with graphite shafts.
Colors
Golf clubs for kids today come in a wide range of vibrant colors, so you can choose a style they will enjoy.
Price
The last thing you should consider is the cost of a golf club for kids. Beginner and intermediate clubs are extremely affordable.
Technology-rich and complete kids' golf clubs are usually more expensive, but they come with sets of the club.
Now that you understand what to consider before choosing a golf club for kids, you can make an informed decision. Let's look at the best golf clubs for kids.
How to Measure Golf Clubs for Kids
You should measure your child's toes to their breastbone and navel to determine their golf club size. The size of golf clubs and drivers is determined by measuring from the club's heel to the top of the grip cap.
If the measurements you took from your kid match the size of the golf club, the club will be perfect for them.
FAQS
What's the Best Kids Golf Clubs?
The Professional Golfers' Association (PGA) reports that many parents modify adult-size clubs for their beginner golfers to practice with. According to the PGA, these clubs aren't made for their tiny stature and may interfere with their swing.
It may take years to correct this balance mistake. In the early stages of your child's golf career, you should emphasize technique and purchase lightweight, easy-to-swing clubs.
Which Size Golf Club Should I Buy for My Kids?
It is a good idea to start by considering their age and height, as you can see in our guide. Besides, you should consider how much more they will enjoy the game if you spend a little more on junior golf club sets that fit them. If they're new or haven't shown much interest, choose a set with fewer clubs and accessories.
At What Age Should Kids Start Playing Golf?
The time to develop a passion for golf and other sports is never too early. It's okay for your child to learn the golf rules from 18 months to adolescence. Many golf courses let kids play nine holes when they're eight, and most schools start accepting kids at three. Just make sure they have a junior golf set and not modified adult clubs.
Which Accessories Should I Get For My kids' Junior Clubs?
It would be useful for your kid to have a golf glove. Wearing fitted gloves while playing golf prevents blisters and the club from slipping out of your kid's hands.
Buy colorful golf balls for the putting green or sparkle-infused sunscreen for their golf bags to encourage children to love golf. Additionally, dress them appropriately. Providing your child with the proper athletic clothing, clubs, bags, and sun protection gear is important.
Conclusion
That's all for today's round-up about the best golf club for kids. There are several high-quality golf clubs available for kid golfers in the market. In this article, we have discussed some of the best golf club sets for kids available.
The clubs are highly recommended for parents wanting to introduce their children to the game. Remember that developing a passion for golf is crucial to becoming a good player.
Therefore, parents need to provide their young golfers with a variety of club options so they can explore their strengths.
Thank you for visiting and we hope to see you back soon!